The Rivalry will be coming out with a series of articles featuring the Toyota basketball team as a prelude to the 50th golden anniversary this year which will be celebrated with a grand homecoming of all Toyota / Komatsu players to be held on February 18, 2023 in Makati City.
The Rivalry lists down 50 things you may or may not know about the Toyota basketball team.
1. The team was formed in 1973 and used the Komatsu brand when they played in the National Open and the PANAMIN Cup. They converted to Toyota when they played in the MICAA.
2. Their popular moniker back then was the Comets. In the 1976 Third Conference, they were re-christened to the Silver Tamaraws. They became known as the Tamaraws in 1977 before becoming the Super Diesels in 1981. The year after, they were called the Super Corollas. And on their final year in 1983, they were known as the Silver Coronas.
3. Toyota defeated the Concepcion Motorolas, 81-75, in Game 3 of the best of three finals, to win its first ever MICAA title. The Comets came from behind a 45-42 deficit in the first half courtesy of Sonny Jaworski's 14 points, the timely outside sniping of Ompong Segura and Tino Reynoso and a vaunted transition attack built on a 45-29 advantage in rebounds.
4. In a 1973 survey conducted by the Philippine Princeton Poll, at least 3 players who suited up for Toyota were included in the Top 12. These were Jaworski, who ended up 2nd behind Freddie Webb, Danny Florencio, then playing for Crispa who finished at 4th, and Big Boy Reynoso who wound up at 7th place. Jaworski was tied for first in the survey conducted in Ilocos Norte with Manny Paner of SMC, while placing 2nd in Manila, Albay and Rizal, averaging a lofty 25.8% rating. Florencio logged 11.8% while Reynoso scored 6%.
5. The noted baseball pass is normally crystallized with Andy Fields, in perfect form, using his right hand, to heave a touchdown pass to a searing Toyota finisher for an easy two. But Toyota used the baseball pass as a weapon even when it was just starting off in 1973. Ulysses Rodriguez, Reynoso, Fernandez, Jaworski – all were capable of fielding the baseball pass to a rushing Ompong Segura or Tino Reynoso or Orly Bauzon or Oscar Rocha at the frontcourt.
6. Toyota's famous Bel-Air headquarters along Zodiac Street in Makati was perhaps the plushiest among all the PBA teams. Not only did it house the players, particularly the single ones, it also provided unlimited food and beverage. Plus, it also had a swimming pool, a billiards table, a fitness gym, a viewing room with state-of-the-art audio video equipment that helped the coaching staff scout their opponents. Management spared no expense in taking care of its players.
7. Prior to its Bel-Air headquarters that was put up in middle of 1976, Toyota had their players quartered in another house located along Balmori Street, San Lorenzo Village, Makati. Much smaller compared to Bel-Air, this was used from 1973 to 1976. In an interview with The Rivalry, 1976 Rookie of the Year Gil Cortez described the Balmori headquarters as a fun place to stay, especially for a young player like him, because this was near Assumption College.
8. The company retained its MICAA franchise even after putting up a professional basketball team in the PBA. The team carried other brands like Crown Motors, MAN Diesel and Frigidaire. In 1977, Crown Motors went on to beat Solid Mills to win its first MICAA title since 1973. They then ended up runners-up to Imperial Textile Mills (ITM) in the Invitationals of the same year.
9.     Ramon Fernandez, Gil Cortez, Orly Bauzon, Oscar Rocha and Ompong Segura were just some of the fixtures at the Bel-Air headquarters. Those who were married already like Jaworski and Arnaiz went home to their families but went there daily to exercise prior to proceeding to their 4PM practice. During game day, all players were expected to be at Bel-Air at around 11AM for lunch then proceed to the venue together.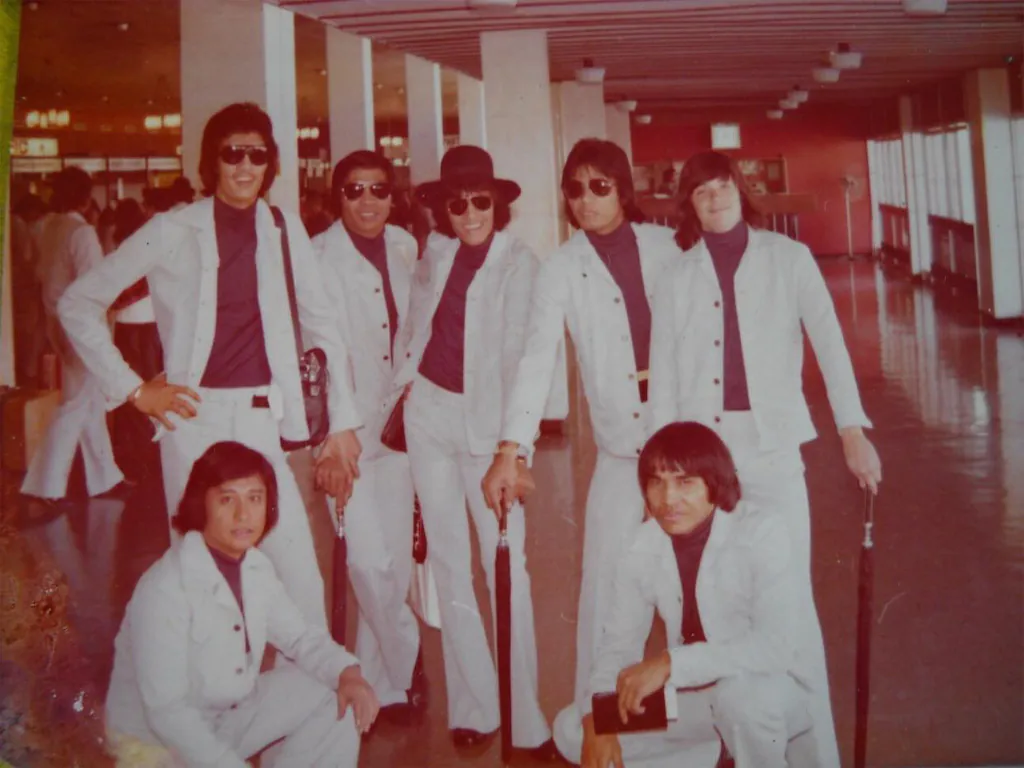 10. Those who stayed at the headquarters had individual rooms for themselves, with shared bathrooms in between rooms. The transient players like Jaworski and Arnaiz who would sleep at Bel-Air on the eve of crucial games would share a room.
11. Who made up the Toyota Comets that won its first championship as a team? These were, in alphabetical order: Ronald Acosta, Fort Acuña, Francis Arnaiz, Orly Bauzon, Ed Camus, Ed Cañamo, Roberto Concepcion, Mon Fernandez, Sonny Jaworski, Big Boy Reynoso, Tino Reynoso, Ulysses Rodriguez and Ompong Segura. Their first coach was the eminent Nilo Verona.
12. Jaworski and Big Boy Reynoso's first team after the Meralco disbandment and serving their suspension was Komatsu. They were part of the pioneer Komatsu team and quickly made an impact with the team upon their return. Jaworski topped the scoring parade in the PANAMIN Invitational tournament with 24.8 points per game. Ed Camus was Komatsu's second leading scorer with 12.4 points per game while Ompong Segura chipped in 11.6 points per game.
13. Komatsu first played in the PANAMIN Cup, a tournament organized by Manda Elizalde. In that tournament, Ramon Fernandez was still donning the SMC jersey and was the team's 5th leading scorer with 8 points per game, behind Manny Paner, Estoy Estrada, Dodie Miego and Ernesto Morales. YCO topped the tournament, beating Mariwasa, 105-103.
14. Sometime August, 1976, Toyota and U/Tex figured in Sports Weekly Magazine's game of the week which saw the Weavers pull off a 113-103 victory over the Comets. At halftime, Dante Silverio made a pledge of PHP50,000 – broken down into PHP14,000 at PHP1,000 per player and PHP36,000 from management for the victims of the Mindanao earthquake that hit the island a few days before.
15. Virgilio "Gil" Cortez will be remembered in the history of the PBA as the first ever player to win the Rookie of the Year award in the PBA. He averaged 5.5 points and 2.5 assists per game in 49 games in an injury-hit season.
16.  Toyota won the first two championships of the PBA and nearly won the first grand slam, only to lose to their arch rivals the Crispa Redmanizers in the 3rd conference of the 1975 season.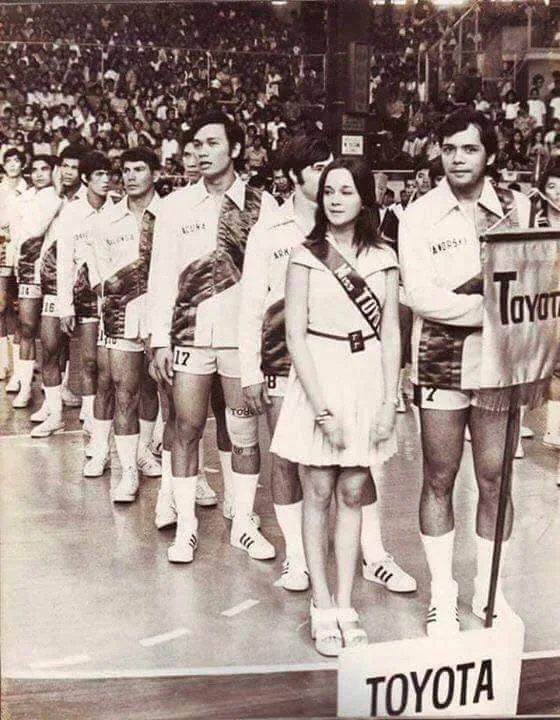 17. A total of 16 imports reinforced the franchise in their nine-season history in the PBA. These were Byron "Snake" Jones, Stan "Sweet" Cherry, Howard Smith, John "Dr. I" Irving, Bruce "Sky" King, TJ Robinson, Carl Terry, Andrew Fields, Archie Talley, Melton Wertz, Victor King, Arnold Dugger, Donnie Ray Koonce, Kevin Porter, Julius Wayne and Ralph Brewster.
18. Toyota had two players who won MVP awards – Jaworski in 1978 and Fernandez in 1982. Arnaiz was close runner-up to Bogs Adornado in 1975. It's not a surprise that these three years were the best seasons of the franchise, when it won two of the three championships at stake.
19. Toyota also had two players who won the ROY award. These were Cortez in 1976 and Arnie Tuadles in 1979. Terry Saldaña would have been the third one in 1982 but was disqualified after figuring in a skirmish with a South Korean player in the Asian Invitationals.
20. Toyota had their share of "enforcers" in the lineup. The most notable were Aurelio "Boy" Clariño and Oscar Rocha. They were noted defensive players who guarded the best local or import of the opposing team and who were not to be messed around with.
21. Cortez and Abe King are two of the youngest players to turn professional. Cortez was 19 years and 4 months old while King was 19 years and 8 months old when they donned the Toyota Tamaraws jersey in the 1976 and 1977 seasons, respectively. The youngest remains to be Kerby Raymundo, who was 19 years and one month old when he turned pro for Red Bull in the 2000 season.
22. On the other hand, while there were reports that Terry Saldaña was only 17 years old when he turned pro for Toyota in 1982, he was actually 23 years already that time. This stemmed from birth certificate issues at the Olongapo City Hall.
23. Ompong Segura was Toyota's leading scorer in the 1975 season, averaging 21.9 points per game in 57 games. Most of his points were made as the finisher of Toyota's vaunted transition game.
24. Toyota has always donned the finest-looking jerseys in the PBA. In 1977, they commissioned no less than world-renowned fashion designer Pitoy Moreno to create the two-toned jerseys (yellow and white, red and blue), while being the first PBA team to use the V-neck jersey in the 1980 season.
25.  Because of Crispa's dominance in the 1976 season led by import Cyrus Mann, Toyota opted not to bring back Jones after playing two consecutive seasons. Instead, they brought in bomber Bruce "Sky" King and the menacing John Irving to keep up against Mann and the Redmanizers. The result? A championship in the Invitational conference.
26. Toyota was the best PBA team to go up against international competitors. They swept the Palmeiras of Brazil, carrying the brand Emtex Sacronels made up of at least 4 national team players, in the 1977 Invitationals, defeated eventual world champion Yugoslavia and eventual 5th placer Canada in pre-tournament exhibition games in 1978, and wound up runner-up to Nicholas Stoodley in the 1980 Invitationals.
27. Toyota infused fresh blood on their roster in the 1977 season after Crispa's gran dslam. Gone from the lineup were Rolly Marcelo, Jake Rojas and Boy Clariño. They acquired in Jess Sta. Maria and Rino Salazar from different teams and brought in rookies Abe King, Emer Legaspi, Ambo Javier and Nic Bulaong in a major revamp to shore up their bench.
28. Two superstars, Danny Florencio of U/Tex and 7/Up and Estoy Estrada of Royal Tru Orange, made headlines in 1978 when Toyota secured their services, beefing up their forward lineup. As a result, they had to give up Bauzon, Segura and Cortez, who all moved to Honda.
29. Florencio was the league's leading scorer at the end of the 1977 season with a scintillating 32.3 points per game, still a PBA all-time record, while playing for the 7/Up Uncolas. When he moved to a superstar-laden Toyota squad, his offense didn't diminish, becoming the team's top gun with 23.0 points per game.
30. Arnie Tuadles is the first ever rookie to crack the Mythical Five selection in the 1979 season. He was named the league's best small forward and stood side by side with Mythical team co-members Fernandez, Jaworski, Atoy Co and Philip Cezar.
31. In an interview on the online sports show, "An Eternity of Basketball," Atoy Co revealed that he and his Crispa teammate Freddie Hubalde were interested in joining Toyota in the late 70's. This came about when the two players' contracts were expiring and they felt that they could snag a better salary package at the Tamaraws' camp. The two were able to meet with team manager Pablo Carlos but nothing came about from the discussion.
32. A never-ending discussion among Crispa and Toyota followers was which team had the better first five. Crispa had Abet Guidaben, Cezar, Hubalde (Adornado until 1976), Co and Bernie Fabiosa. Toyota had Fernandez, Abe King, Arnie Tuadles (Segura in 1975 and 1976, Florencio in 1978) starting 1979, Jaworski and Arnaiz. Curiously, while Crispa beat Toyota 65 times in 123 games in their matchup and had a total of five MVP awards versus their rival's two, the Toyota starters churned out better careers in the post-rivalry.
33. From the roster of Toyota imports, perhaps the most talented among all of them was the 6'5 Carlos Terry. A replacement for TJ Robinson, Terry dazzled everyone with his all-around game on both ends of the court. It came to a point when Crispa's Jimmy Javier, in trying to stop Terry, tore off his jersey, a first in league history.
34. While Terry may have been Toyota's shortest import in a "no height limit" conference, the person he replaced, TJ Robinson, was the Tamaraws' tallest import ever at 6'11. Robinson, however, turned out to be ineffective and couldn't hold his own inside, forcing Toyota to rely more on Sky King.
35.  The Fields-King combo was so effective that the team brought them back for two straight seasons in 1979 and 1980. In 1981, Sky didn't come back as Toyota went to another King, this time Victor, to backstop Fields.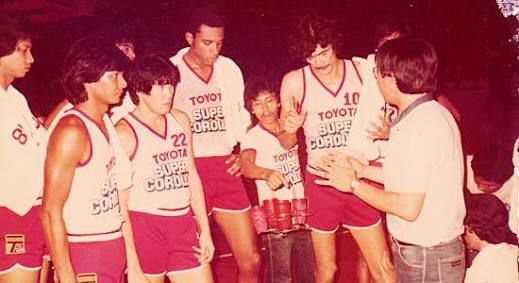 36. The last new player to have joined the Toyota franchise was Chito Loyzaga in the 1983 season, replacing Terry Saldaña who moved to Gilbey's Gin. Ed Merced and Florencio also left the team after the 1982 season with Florencio moving to Galerie Dominique. Loyzaga and Saldaña, along with Ed Cordero, were the youngest players who suited up for Toyota in the 2003 reunion game against Crispa.
37. In 1981, Crispa shocked everyone when they brought in APCOR stars Yoyoy Villamin, Bay Cristobal, Mon Cruz and Padim Israel to beef up their roster. Toyota saw the need to bring in younger players as well. The year after, they brought in Cordero, Ricky Relosa, Saldaña and Tim Coloso, increasing their total number of locals from 11 in 1981 to 14 with Rino Salazar formally retiring. The Super Corollas won two titles in 1982.
38. Speaking of 1982, Toyota's dominance that year reflected in the Mythical 5 list as three Super Corollas made it. Fernandez, who also undisputedly won his first MVP award that year, Arnaiz and King joined Crispa's Co and U/Tex's Adornado in the Mythical team. It was the second time that Toyota was able to field three players in the list in one season, the first one in 1979.
39. Perhaps the most painful loss that Toyota suffered was in the 1980 Open Conference Finals against the U/Tex Wranglers. Up by four points with 16 seconds left, Toyota allowed Aaron James to score an easy layup then lost the inbound pass to Glenn McDonald who was eventually fouled and scored two free throws to send the game into overtime, 94-all. Adornado made the last basket in the low-scoring extension to give the Wranglers the final lead of the game, 99-98, and the top prize.
40. Perhaps the most credentialed import that Toyota secured was Kevin Porter in the 1983 Reinforced Conference. Only 5'11, Porter was an 11-year veteran in the NBA, averaging 11.6 points and 8.1 dimes per game. This included four NBA assist titles and becoming the first player to register 1,000 assists in the league. While playing for the New Jersey Nets, Porter registered an all-time record of 29 assists in one game against the Houston Rockets. This record stood for 12 years until Scott Skiles tallied 30 dimes in the 1990 season. When Porter debuted for Toyota against Tanduay, he scored 50 points, showcasing his vast offensive dimension. Unfortunately, Porter couldn't carry the team to a winning record and was replaced by former U/Tex reinforcement, Julius Wayne, after eight games.
41. There may have been only three left-handed players who suited up for Toyota in the PBA. These were Tino Reynoso, Ed Merced and import Snake Jones.
42. Toyota and Crispa met 10 times in the PBA Finals, with the Redmanizers winning 6. Toyota, though, won their last matchup in the 1981 Open Conference, perhaps the grittiest, most intense series between the two teams. The Super Diesels beat the Redmanizers, 103-97, in the fifth and final game as Andy Fields took over and ran roughshod against his two rival Crispa imports, James Hardy and Snake Jones.
43. The franchise had four head coaches. Nilo Verona gave them their very first MICAA title in 1973. Dante Silverio was their first head coach in the PBA. Fort Acuña took over from Silverio in 1979 while serving as his assistant starting in 1978. The last one was Ed Ocampo, who prior to joining Toyota, already won one PBA title for Royal Tru Orange in the 1979 Open Conference. Ocampo officially joined the team in the 1981 season.
44. The Toyota players were known for their glamour and good looks. It wasn't surprising that 'colegialas' from exclusive schools would watch their practice games at the San Agustin gym or hover at their Bel-Air headquarters hoping to get a glimpse of their favorite players. Not surprising as their very own head coach, Silverio, was a fashion prince as well.
45. When Ramon Fernandez was released by San Miguel Corporation in 1973, his services were immediately secured by Toyota. Curiously, the very first game that Toyota won officially as a team in the National Open was against the Braves, 73-66.
46. Big Boy Reynoso's trademark offensive move was the hook shot. This trademark was deadly and effective – perfect for an undersized big man at 6'2 who had to contend with taller defenders. With Reynoso posing as an interior threat, he and younger brother, Tino, came up with several give and go plays that wreaked havoc on the opposing teams' defense.
47. There were three different champion coaches in the 1978 season – Silverio in the All Filipino, Tommy Manotoc for U/Tex in the Open, and Acuña (who temporarily took over from Silverio) in the Invitationals. The defunct Sports Weekly Magazine, in their year-end issue, named Silverio as the Coach of the Year, giving weight to his accomplishment in winning the All Filipino against the Billy Robinson-led Filmanbank Bankers. It's interesting to note that when Silverio is thrown out, a tactic he employs is to provide his assistant coach with a radio where he can relay instructions to him, another first of its kind in the league.
48. The Yugoslavs and the Canadians were no slouches when they faced the Tamaraws in the pre-FIBA World Cup exhibition games. Yugoslavia suited up the likes of Dragan Kikanovic, Drazen Dalipagic, Zoran Slavnic, Kresimir Cosic, Mirza Delibasic, among others. Kikanovic, Dalipagic and Cosic made it to the 1978 All-Tournament First Team. On the other hand, Canada bannered the likes of former NBA players Jay Triano, Leo Rautins, Tom Bishop and former Honda import, Jim Zoet.
49. When asked by media why his game seemed to be more fitted in the pros, Arnie Tuadles explained that the outlawing of the zone defense in the PBA was better suited for him. "While it is true that basketball is a lot tougher and physical in the PBA, there will be a better chance for an offense-oriented operator like me to display my wares in the PBA simply because the amateur still has the zone defense which is harder to penetrate, while in the PBA, sini-single mo ang iyong guwardiya. But it is only in this department na nakakalamang sa hirap ang amateur. Because in the PBA, one has to develop all the aspects of the game. In the PBA, one has to be extra good in both offense and defense," said Tuadles.
50. Toyota won three straight Invitational titles from 1977 to 1979 and nearly won the 1980 tournament, only to lose out to Nicholas Stoodley in the finals.