It was a gathering that could not have happened 45 years ago.
In the 70's, Crispa and Toyota (or Toyota and Crispa) players avoided each other like the plague. Toyota's Gil Cortez and Ompong Segura, Crispa's Philip Cezar and Atoy Co, when they guested on the online sports show, "An Eternity of Basketball," admitted that whenever they want to entered a discotheque or a bar, they would first check if there were personalities from the other team inside. If they found out the Crispa players were inside, the Toyota guys would leave and look for another place. It was the same with the Redmanizers.
In 2003, when PBA Commissioner Noli Eala organized the reunion game between the two protagonists and got everyone to be in one place at the same time, the players remained with their teammates. There were less hostilities, but they didn't mingle much with one another, except perhaps for then Senator Robert Jaworski, who eagerly chatted with both parties.
Twenty years after, on February 18, Toyota had a grand reunion in celebration of the team's 50th founding anniversary. After the party, Cortez expressed his desire to this writer to have a gathering between the two greatest rivals of Philippine basketball. Cortez pursued this herculean task and gave Atoy Co a call. "I called Atoy because I thought if there was one player from Crispa who could speak on behalf of his teammates, that would be him. I proposed to Atoy to marshal the Crispa team and have their own grand team reunion first. Unlike Toyota which had an 11-year run as a team in the MICAA and the PBA, Crispa's history is longer since they started in 1956," said Cortez.
Cortez felt once Crispa consolidated their group, they could now work on a bigger reunion featuring both teams to be staged at the end of the year, a perfect time since most of the players based overseas would be home for the holidays. "Mas madali ma-gather yun mga players and get their commitments for the grand Crispa-Toyota reunion – which would make the gathering even more star-studded."
Co expressed interest in the idea although he told Cortez he would need to seek the blessing of Dave Floro, the son of Crispa team owner, Danny Floro. The amiable team manager passed away in 1995 and Co believed that if the younger Floro supported the planned Crispa bash, it would be more successful.
Understanding the need to sustain interest, Cortez worked out a mini-gathering that would include the Toyota personalities and a few Crispa players to initially plant the seeds for the December gig. "Osbok (Dante Silverio), to date, remains a social animal. He loves meeting up with old friends kaya when I told him Ramon (Fernandez) would be back in Manila (from Cebu) on the last week of April, sinabi nya na magkita-kita kami ulit. To make it more fun and different, I proposed to Osbok to invite a few Crispa players para mapag-usapan yun grand reunion," Cortez explained.
Contrary to what many thought, Friday night's party wasn't the grand reunion. "No, hindi pa ito yun grand reunion. Nakakahiya naman maisip ng tao na konti lang yun Crispa players na pumunta. Parang launch party lang to – a leadoff to the grand reunion preparation." Co even joked about this – "sinakop tayo ng mga taga-Toyota. Tatlo lang tayo, lagpas sampu sila, sa teritoryo pa ni Coach Dante. Dapat mabait tayo!" 
A few days ago, Co announced he got a call from Floro, who gave the green light to hold the Crispa grand homecoming, to the collective delight of everyone. "Excited din kami to hold our own reunion, kailangan naming mag-isip ng theme for this kasi baka sabihin nag-gather lang kami dahil yun Toyota, tapos na. We'll think of something."
The early birds were, apart from Silverio and Cortez, Ompong Segura, Emer Legaspi, Oscar Rocha, Ed Cordero, Ed Camus, siblings Ulysses and Arlene Rodriguez, and Pol Herrera. For Crispa, earliest to arrive was 1977 MVP Freddie Hubalde who was warmly received by everyone. He found a seat in between his former Shell teammate, Cordero, and Legaspi.
PBA Commissioner Willie Marcial arrived early as well and sat in between Silverio and Fernandez. Marcial paid the ultimate tribute to the two teams, exclaiming, "ang Crispa at Toyota, ang PBA. Wala ang PBA kung wala ang Crispa at Toyota." After being briefed by Cortez about the plan to stage a grand December gathering, Marcial didn't think twice and gave his thumbs-up sign. "I-expect niyo po ang full support ng PBA sa pagtitipon na yan." The genial Commissioner kiddingly cited the difficulty of gathering the legends. "Kapag ini-invite namin ang mga legends na ito sa PBA, ang hirap papuntahin. Kaya nun sinabi sa akin ni Gil na may gathering na ganito ngayon gabi, sabi ko, ako na nga pupunta sa kanila!"
Former PBL Commissioner and veteran broadcaster Chino Trinidad easily connected with his audience. Being a Crispa fan who was a constant visitor in the Gilmore headquarters of the team, Trinidad highlighted how the legends gave integrity to the game."
When Co and Cezar arrived, the excitement level grew tenfold. Co later explained that he had to pick up Cezar at San Juan coming from Pasig for a two-hour drive going to Makati. "Ayaw ata ni Philip pumunta mag-isa, baka makuyog," Co jestingly said. Co, who is also the chairman of the PBA Legends Foundation, Inc., also invited everyone to take part in the Foundation's latest project, the 2nd PBA Legends Foundation golf tournament to be held at the Manila Southwoods Golf and Country Club. The tournament, sponsored by OKBET, is an 18-hole, one-day competition on May 9 is a charity fundraiser intended to provide medical assistance to former PBA players.
But the highlight of the night was when Trinidad asked Cezar to speak. The Scholar, by then, was already engaged in friendly banter with the others, claiming he avoided Rocha because "para kang mina-masahe kapag magkatabi kayo." He also admitted that "yan si Ed Camus ang unang naka-palpal sa akin sa laro." As for Herrera, the long-limbed forward said, "masakit sa katawan bantayan yan si Pol, kung saan-saan lumilipad ang braso at tuhod. Eh kita mo naman yun muscles, hanggang pisngi, meron!"
When asked by Trinidad to formally introduce his arch rival Fernandez to go on stage, Cezar gave a deep breath, paused for a second, and then cracked, "Mon, halika na dito," sending laughter to everyone. El Presidente, not wanting to be outdone, then locked Cezar's elbows and said, "ganyan ako bantayan niyan dati."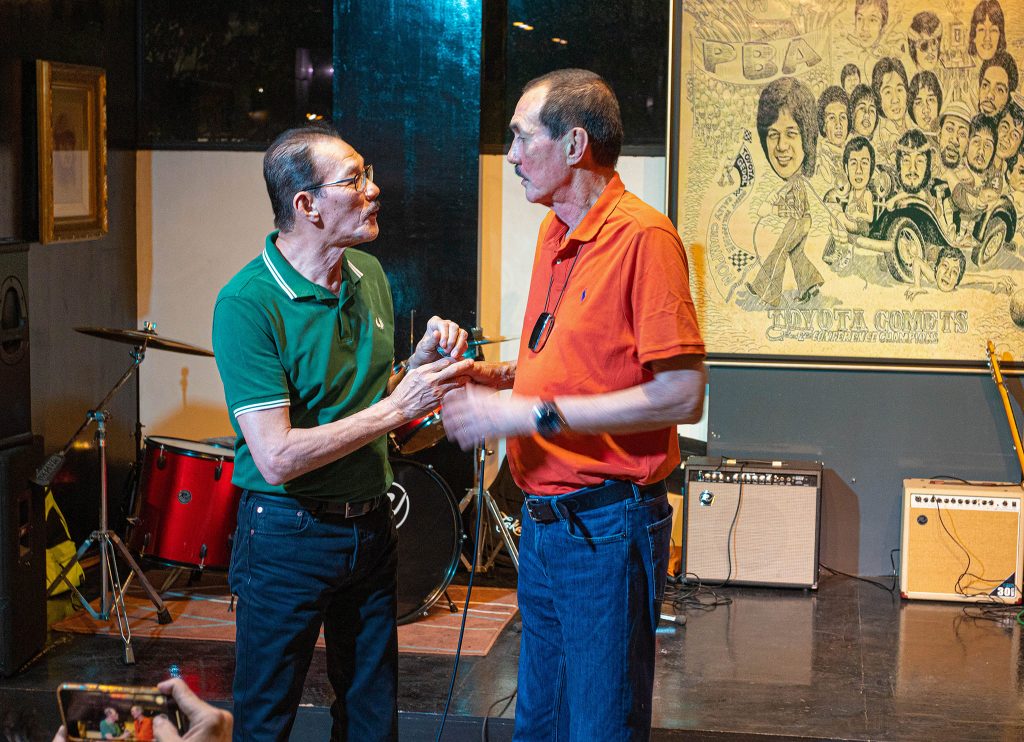 That exchange broke the ice. Whatever concern by anyone of any hostility disappeared almost immediately when the two superstars continued to rib each other.
Silverio then welcomed everyone to his Gaslight Alfresco events place along Pasong Tamo Extension. The former race car driver turned coach / manager of perhaps the most glamorous team ever in PBA history, described the event as "the end of the rivalry – the time for reunification." Speaking in the vernacular, he paid tribute to the three Crispa MVP's and hoped for more gatherings to follow soon. "Sobra ako natutuwa at nagpapasalamat kina Atoy, Philip at Freddie dahil andito sila. Sana marami pang okasyon na magkikita-kita tayo ulit."
Later on, Rollie Marcelo, who played for the Comets in 1976, and Joseph Galonga, a pioneer of the franchise when it started as the Komatsu Comets in 1973, arrived to complete the cast. Silverio's friend, former Shell executive Fred Moto, was also there. Genuinely missed from the event was Jaworski as Trinidad asked for a moment of silence to pray for the restored health of the iconic Toyota leader.
A buffet dinner care of Alex III filled the hungry tummies of the guests while a video, courtesy of the AEOB group, PBA Archives and WTHAW, detailing the classic rivalry between the two teams from 1973 to 1984, served as a fitting backdrop.
The revelry continued up to the late hours of the evening, as the players belted out classic songs from the 60's and 70's mostly from the Beatles, and accompanied by Silverio's live party band. Co unabashedly took the mic and sang "Handog" as a tribute to Silverio's wife, Belen, who gamely joined the fun. That same Florante classic was sung later by the group to end the festivities. All night long, Cezar refused to sing but in this case, he took the cudgels and led the singing as nostalgia filled the warm Friday air.
As Co described in his FB post, "it was a memorable evening." Cortez can't wait for the next one – "the stars have aligned…greater and better things to come on December" – he wrote. Indeed, with a kickoff party like that, the entire galaxy can't wait for the grand bash in seven months!