Basketball players since time immemorial have been given monikers or nicknames for various reasons. Some players, because of their superstar status, more than deserve such nicks. Other less deserving players got one simply because of certain obvious characteristics or traits that broadcasters and fans can't pass up on.
Nicknames come from various possibilities. One could be because of the way they play the game – names like "The Blur" referring to Jayson Castro's speed, or "Skryus" for Cyrus Baguio's high-flying acts, or Francis Arnaiz's "Mr. Clutch" or "Big Game James" for James Yap for their ability to score in pressure situations or Yoyong Martirez's "Sultan of Swipe" for his uncanny ability to steal the ball. Let's not forget Mark Caguioa and Jayjay Helterbrand's "Fast & Furious," which was spun off from a movie franchise but endeared by fans because it was a perfect description of how the duo played together. Calvin Abueva's "The Beast" given by the late Rolly Manlapaz when the former was still playing with San Sebastian in the NCAA fit like hand to glove.
Others are handed out monikers with how they physically look – Alvin Patrimonio's "The Face," Marlou Aquino's "Skyscraper," Bonel Balingit's "Gentle Giant" or "Mount Balingit" and Emman Monfort's "Minion" come to mind. What about Joel Dualan's "El Aparador" or "Extra Rice," referring to Rain or Shine's beefy duo of Beau Belga and JR Quiñahan, and "RakenRoll" for Raymond Almazan for his uncanny resemblance to the late, great rock star Pepe Smith?
There are others whose nicks were carried from their surnames. Ali Peek's "Mountain Peek," Fortunato "Atoy" Co's "Fortune Cookie," Ato Agustin's "Atom Bomb" and Peter Simon's "The Scoring Apostle" were classic examples. The big names are given their tags simply because they've earned these – "El Presidente" or "The Franchise" for Ramon Fernandez, "The Big J" or "The Living Legend" for Robert Jaworski, Sr. speaks volumes of how these two superstars changed the dynamics of the local game.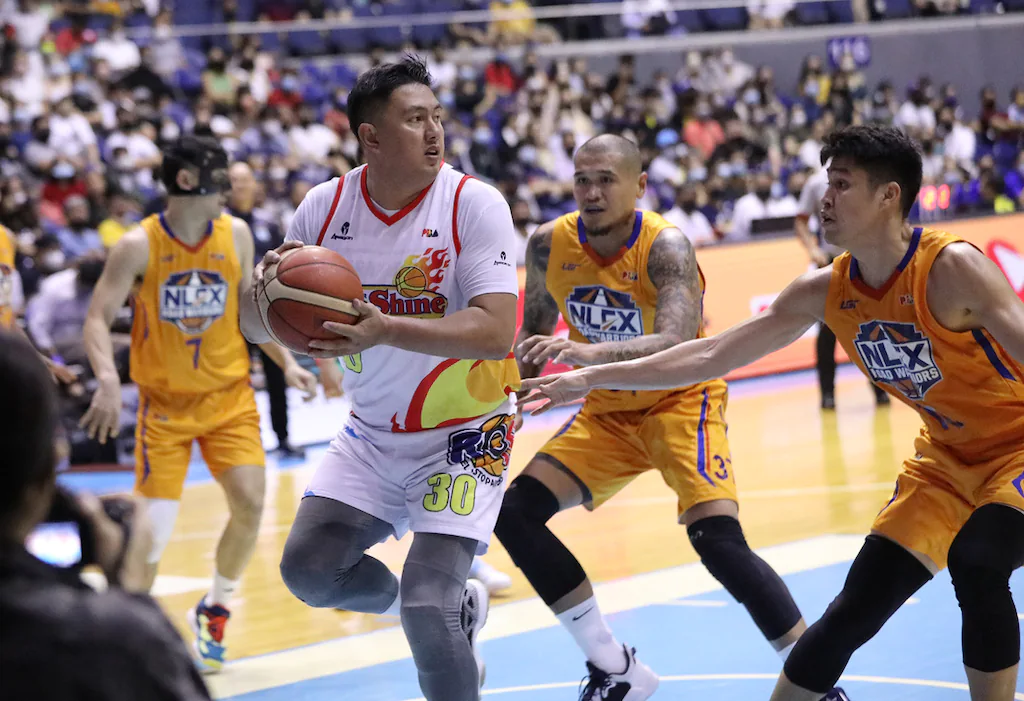 Unique real names
On the other hand, we all remember when we were kids how we make fun of some of our classmates' unusual surnames. Teachers were fond of calling their students with their surnames, hence, if you owned an unusual family name, you're bound to receive never-ending ribbings from your peers. The PBA isn't any different. You have fantastic names like Amomompon for Mariwasa's Gavino Amomonpon, or Mariwasa's Lucrecio Dacula – a name played around by adding the letter "R" between D and A. It came to a point when Dacula decided to have his name officially changed to "Dator," taking the first syllable of his parents' surnames (Dacula and Tortor). Other unusual names include Ginebra's Dylan Ababou (can be played around with "lababo" – the vernacular for sink), Gido Babilonia, Israel Catacutan (scary!), Aris Dimaunahan (what happens if he doesn't place first?), Bryan Gahol (lacking), Lou Gatumbato, Rob Labagala, June Longalong (must be a lengthy one), Leo Paguntalan (Visayans really have very Filipino surnames), among many others.
Geography and color
Curiously, the PBA wasn't lacking in providing geography lessons to the fans. The names of a lot of players, including imports, would provide a sneak peek on what can be viewed in the world map. Names like Efren Manila, Hubert Filipinas, Markus Leite (Emtex Sacronels), Danny Basilan, Josel Angeles, Junthy Valenzuela and Cyrus Baguio allow us to appreciate the 7,000 plus islands that the Philippines has. Overseas, we had the likes of Derrick Canada, Derrick Holland, Larry Boston, Byron Houston, Leo Austria, Padim Israel, Jerome Jordan and Tyrone Washington to help us navigate.
Similarly, there are names that provide color to every discussion. Locals or imports alike, these names take away whatever dull or bland aspects of the game as they dazzle us visually just by their names. Among the locals, we've had the likes of Ricardo Brown, Kevin White and Roel Bughao. From the import ranks, names like Norman Black, Sylvester Gray, a couple of Greens that include Brian and Sean, several Whites like Leon, Tony, Rodney, Wayland and Willy came to shore. (Black eventually earned his own nickname "Mr. 100%" that reflected his work ethic.) There was also a Warren Rosegreen who suited up for Purefoods in 2002. What's fascinating about Purefoods in 2002 was that they suited up at least three imports that year that betrayed then Coach Ryan Gregorio's partiality to "colorful" personalities. Apart from Rosegreen, Leon White and Derrick Brown also played for the Hotdogs. In fairness, Gregorio was able to produce maximum dividends by copping the Governors' Cup that year. The Browns, of course, contributed the most with names like Ricky, Derrick, Johnny, Raheim, Robert, Lew, Andre, Eric, Ira, Ernest, among others.
Occupations
To underscore the players' versatility, they're not just basketball players. By their names alone, you can surmise they hold dual responsibilities. Most esteemed of course, at least in the Roman Catholic religion, is David Pope, who played for Tanduay Rhum Makers in 1985. Last season, Tony Bishop came to our shores. There were several royalties – like Abe King, Bruce King and Victor King of Toyota and Chris King of Ginebra. Fascinating coincidence that all these "monarchs" got to play alongside the acknowledged "king of Philippine basketball," Robert Jaworski, Sr. A king won't be complete without a partner and this is where Darren Queenan of Añejo and Purefoods come in. They have an able bodyguard in the 6'10 mastodon Dan Knight, who played for the U/Tex Weavers in the 1976 season. Then, you have a couple of stitch workers to provide fashion like Jay, Jess, Alyun and Cornelius Taylor, along with a close relative, Omar Weaver or educators like Brandon Dean of Coke. Servicing their needs are exceptional food handlers and helpers like Maurice Baker (TNT), James Brewer (Shell), Lenny Cooke (Purefoods), Reginald Butler (Purefoods), Duke Crews (ROS), Kevin (Toyota) and Chris (Ginebra) Porter. There have also been nicknames referring to government positions. Jerry Codiñera was known as "The Defense Minister" for his shot-blocking skills, but he is outranked by Gabe Norwood, who is called "Mr. President" because he bears a resemblance to former US president Barack Obama.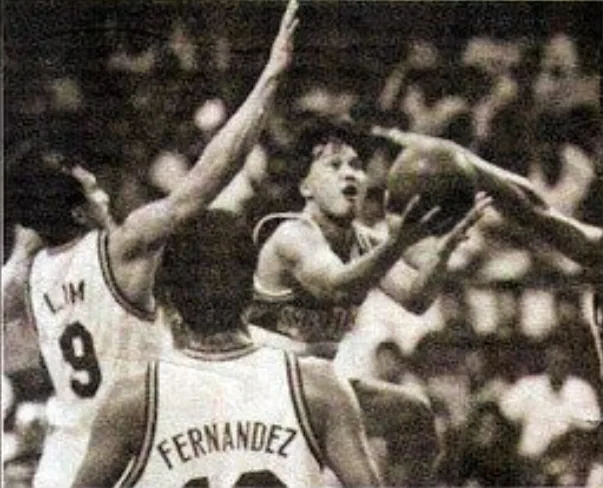 Memorable monikers
Going back to monikers, there are fancy names that have been produced that can make it to any fan's top ten list. Some good ones though were aped from the NBA – names like the "Bruise Brothers" that referred to Alaska's Yoyoy Villamin and Ricky Relosa starting in 1987 was actually taken from the San Antonio Spurs in the 1980 season featuring the likes of Dave Corzine, Mark Olberding, George and Reggie Johnson, among others. They were called "Bruise Brothers" because of the imposing defense they create inside the paint making their opponent think twice about penetrating the lanes. The "Human Eraser," a nick given to Presto and Alaska import Winston Crite in 1990 and 1992 because of his ability to block shots, was actually taken from Marvin Webster of the New York Knicks in the late 70's and early 80's. Jaworski's "Big J" wasn't also an original, as Jaworski was given the moniker "Big Hands" back in the late 60's by the late broadcaster Willy Hernandez. It was later changed to "The Big J" for his similarity in play to the NBA's legendary Oscar Robertson, christened "The Big O." But by the time he was in his forties, he had already become "The Living Legend." And of course, James Yap's "Big Game James" was actually for James Worthy. Nonetheless, original or not, they deserve the tag simply because they fit snugly to how they played.
A personal all-time favorite though is Paul Alvarez's "Mr. Excitement." You have to hand it to the person who invented this – anyone from the Vintage panel back in 1989 – but there's no other nickname worthy for the former San Sebastian Stag than "Mr. Excitement." Dante Gonzalgo's "Bicol Express" was another fitting term for the Bicolano native as he was a speedster who bulldozed his way like a wrecking train inside the paint. He also added spice to the Ginebra game with his ability to play two-way at both ends of the court.
In terms of high flying monikers, Vergel Meneses' "The Aerial Voyager" and Samboy Lim's "The Skywalker" are also memorable.
Alex Cabagnot's "Cool Whip" may not have stuck well in the imagination of fans but it was a fantastic nick. For whatever reason, the TV5 panel prefers the Quinito Henson-coined "Crunchman" for A-Cab's ability to score in the crunch. Personally, I thought "Cool Whip" is ten times cooler.
Then, you have "Phenom" for Kiefer Ravena, a moniker given to him when he was still a King Eagle for Ateneo. It further helped that Coach Yeng Guiao gave him the leadership mantle at NLEX, which only reinforced the phenom (for phenomenal) description.
Monikers coming from animals are not uncommon, and the PBA has quite a number. Jimmy Alapag's "Mighty Mouse," Nelson Asaytono's "The Bull," Mike Cortez's "Cool Cat," "Hawk" for Bong Hawkins, Lauro Mumar's "The Fox" which was later passed on to his son, Larry, who became "The Little Fox," Rey Nambatac's "Stingrey," the "Raven" for Bong Ravena, Norbert Torres' the "Bear" and Enrico Villanueva's "Raging Bull" stand out. There is also a mythical creature, June Mar Fajardo's "The Kraken."
There are also your favorite superheroes, as evidenced by Arwind Santos' "Spiderman," Billy Ray Bates as the "Black Superman," Kenneth Duremdes' "Captain Marbel" (he hails from Marbel in Cotabato), "Robocop" for Alvin Teng, Terry Saldaña's "Plasticman," the "Daredevil" for the legendary Danny Florencio and later used by Jared Dillinger, the "Antman" for Mark Cruz, among many others. Marvel's The Avengers and DC's Justice League won't hold a candle against these PBA superstars.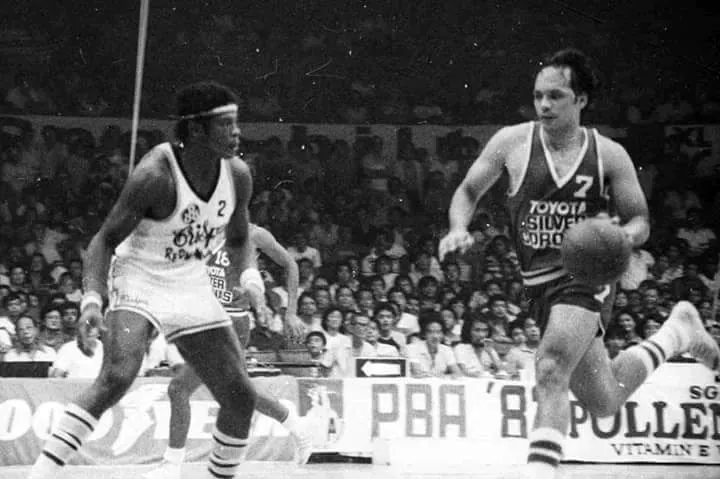 No nicks
On the other hand, believe it or not, there are at least three MVP winners – all Crispa players – who never had a nickname for themselves. Collectively, Bogs Adornado, Abet Guidaben and Freddie Hubalde share six MVP awards among themselves yet surprisingly, no one ever came up with fitting moniker for them. Perhaps, Adornado's real nickname, "Bogs" was more than enough – it wasn't uncommon to be described as "Bogs" whenever you swish a shot from afar. Some scribes described him as "The Tender Tornado" but it didn't fit. Hubalde, perhaps the game's best bank-shot artist, would have been described as "Freddie In The Bank" but they never did. Up to his final season with Añejo Rum 65 in 1990, he never got his own moniker. Guidaben would have been the "Camiguin Cog" as the two-time MVP hails from that province. Guidaben played for nearly two decades but despite being acknowledged as one of the best centers in PBA history, he never earned a moniker that would most fit his game. Instead, a hobbit who became a mini-celebrity after appearing in a couple of movies back in the early 80's was actually called "Guidaben."
Giving out monikers to players is an art – broadcasters and writers have this special gift of coming up with such. Hernandez, Cantada, Pengson, Sarmenta, Ildefonso, Arcilla, Eala – they're primarily responsible for these memorable monikers made.
What matters though is putting in the perfect fit for the player – that special tag once heard can only relate to one basketball player. Caloy Loyzaga, perhaps the greatest Filipino basketball player ever, was called "The Big Difference" back in the 50's. You don't even need to ask how special Loyzaga was once you hear his moniker. That's how nicknames are made and legacies built.