The Philippines got a much-needed win in the 2022 AFF Mitsubishi Electric Cup with a 5-1 thrashing of Brunei on a cool Friday night at the historic Rizal Football Stadium.
The Azkals thus notched their first three points in the tournament following a painful 2-3 defeat to Cambodia on Dec. 20.
"Of course, we needed these three points after that loss to Cambodia," Azkals coach Josep Ferre said. "We needed to score in the first half to build up our confidence."
Kenshiro Daniels broke the ice in the seventh minute after gathering a long ball from Paolo Bugas and beating Brunei keeper and captain Haimie Nyaring with a grounder from within the box for this third goal of the competition.
The Azkals continued to press, with Bugas firing straight to the keeper in the 12th minute. A minute later, Sandro Reyes doubled the score with a fine strike from the left side of the box off an assist from Mark Hartmann.
In the 34th, Daniels had a golden chance to notch his second straight brace with a well-placed strike to the bottom left corner, but Nyaring was up to the task with a beautiful save.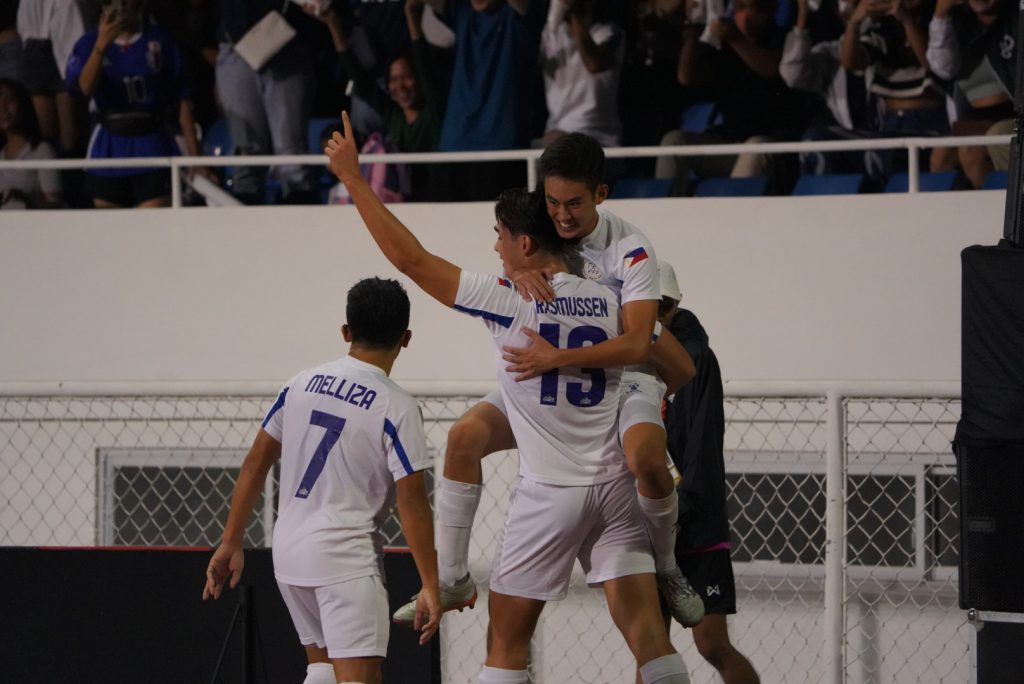 After the break, Jhan-Jhan Melliza found the back of the net with a rocket from the left of the box in the 50th to make it 3-0. Barely a minute later, substitute Jens Rasmussen, who came in for Daniels at halftime and was making his senior team debut, added another goal with a running strike from the left.
"Happy ako kasi first goal ko sa international," said Melliza, who was playing his first senior match at the Rizal Stadium.
Razimie Ramlli pulled one back for Brunei in the 70th minute with a six-yard strike off a corner kick before Rasmussen made his senior debut a memorable one with a second goal in the 88th minute off a shot from close range.
Ferre shook up his starting XI by making five changes to the lineup that lost to Cambodia, bringing in goalkeeper Julian Schwarzer, Reyes, Melliza, Bugas and Audie Menzi.
"I only arrived here a week ago," Ferre explained. I did not have too much time to see the players in a real game. I have to see the players on the pitch to see who will perform at this level. If you notice, most of the players are below 25. They are young players fighting to get a chance at the next level."
The Azkals take on defending champions Thailand on Dec. 26 in Bangkok before closing out their group stage campaign at home on Jan. 2 against Indonesia. Brunei lost its second straight after a 0-5 drubbing at the hands of Thailand.
Lead photo credit: Philippine Football Federation