The National University Bulldogs booked a Final Four ticket in the UAAP Season 85 Men's Basketball Tournament with a 67-57 victory over bottom team University of Santo Tomas Sunday at the SM Mall of Asia Arena.

The Bulldogs improved their record to 9-3 behind four straight wins. This victory marked the first time NU made the postseason since Season 78 when the program was under the tutelage of coach Eric Altamirano.

"What's next? Kailangan namin mag-ensayo tomorrow. We have to be ready against La Salle," said NU coach Jeff Napa. "We have to be ready for our last two games in the second round kasi hindi lang naman Final Four yung tina-target namin dito eh."
Down 52-54 after a basket by UST's JC Garing, NU dropped a 12-0 run to lead 64-54 with 1:51 remaining in the contest courtesy of shots from Steve Nash Enriquez, Omar John, Michael Malonzo, and John Lloyd Clemente.

Clemente led NU with 19 points and five rebounds while Omar John contributed 12 points. Kean Baclaan had 10 points, six assists, and five rebounds for the Bulldogs.

Malonzo also provided six points, six rebounds, four assists, and one steal for NU.

The Bulldogs forced the Growling Tigers to commit 15 turnovers, which led to 14 points off turnovers. NU also had 16 offensive rebounds and 12 second-chance points compared to UST's eight and four respectively.

"Bad win for us but still naka-survive sa UST," added Napa. "Wala ng pressure si UST. They played their hearts out. Binigyan kami ng problema pero good thing, second half we came back, at least nag regroup kami. Nakuha namin yung panalo."

The Growling Tigers' record fell to 1-10 on the back of 10 straight losses. UST, with only eight players fielded by Coach Bal David, is now officially out of Final Four contention.

Nic Cabañero was the bright spark once again for the Espana school with 20 points and six rebounds while Adama Faye followed his lead with 11 points, 15 rebounds, and three blocks.
The scores:
NU (67) – Clemente 19, John 12, Baclaan 10, Malonzo 6, Manansala 6, Palacielo 4, Figueroa 4, Enriquez 3, Galinato 3, Mahinay 0, Yu 0, Tibayan 0, Padrones 0, Minerva 0.

UST (57) – Cabanero 20, Faye 11, Pangilinan 8, Garing 6, Calimag 5, Manaytay 4, Duremdes 3, Manalang 0.

Quarters: 11-20, 29-36, 46-44, 67-57.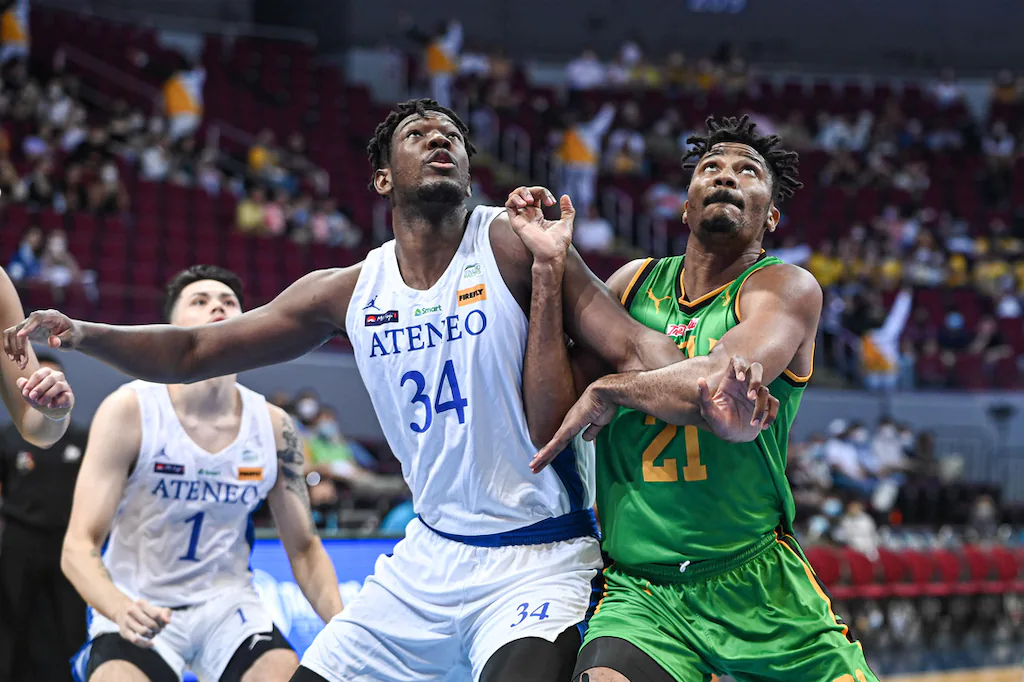 Blue Eagles erase 19-point deficit, gain Final Four playoff
Earlier, the Ateneo Blue Eagles pulled off an impressive comeback to demoralize Far Eastern University Tamaraws, 71-65, to stay within striking distance of NU and the UP Fighting Maroons.
With the win, Ateneo extended its winning streak to three games and improved to 8-3 is assured of at least a playoff for the Final Four.
"That win was just heart and some decent execution in the fourth quarter," said Blue Eagles mentor Tab Baldwin. "Up until then, we were pretty bad really in most aspects of the game."
Down by 20-39 at the 2:39 mark of the second quarter thanks to a Xyrus Torres three, the Blue Eagles executed a blistering rally that was capped off by a Paul Garcia three to lead 56-55 at the 8:34 mark of the final period.
The Tamaraws were able to level the ballgame off an L-Jay Gonzales basket at 65-65 with 1:22 remaining in the contest. Angelo Kouame then converted two free throws to give Ateneo the lead at 67-65 with 1:03 to go.
FEU then failed to convert on three straight possessions, which allowed Forthsky Padrigao and Dave Ildefonso to sink four unanswered charities to seal the win.
Kouame led Ateneo with 20 points, 14 rebounds, three assists, and one block. Padrigao followed with 13 points, six assists, and five rebounds. Ildefonso had eight points, nine rebounds, and two assists as well.
The Blue Eagles' bench mob was hugely productive with 16 points compared to the Tamaraws' five. Ateneo also had 14 second-chance points against FEU's seven.
"I feel very blessed and I thank the Lord that we got the win in the end," added Baldwin. "That takes us a little bit closer to where we want to go."
On the other hand, FEU fell to a 4-8 record behind three consecutive defeats.
Torres led the Tamaraws with 19 points behind 5-of-15 shooting from the three-point line followed by Gonzales' 15 points, four rebounds, and two assists.
Patrick Sleat had 10 points and six assists while Patrick Tchuente contributed 13 rebounds along with eight points.
The scores:
Ateneo (71) – Kouame 20, Padrigao 13, Andrade 9, Ildefonso 8, Garcia 8, Ballungay 5, Koon 4, Lazaro 2, Daves 2, Chiu 0, Quitevis 0.
FEU (65) – Torres 19, Gonzales 15, Sleat 10, Tchuente 8, Anonuevo 8, Bagunu 3, Bautista 2, Alforque 0, Sajonia 0, Sandagon 0, Tempra 0.
Quarters: 14-21, 27-41, 49-54, 71-65.