Cignal outwitted F2 Logistics in a frenetic fourth set endgame as it carved out a huge 25-21, 20-25, 25-14, 25-20 victory to assure itself of at least a tie for the fourth and last semifinal berth in the PVL Reinforced Conference Saturday at the Smart Araneta Coliseum.
The victory put the HD Spikers at solo fourth at 4-3 while dropping the Cargo Movers to joint fifth at 3-4 with the Choco Mucho Flying Titans although the final Final Four cast will only be known after the final elims playdate on Tuesday.
Cignal plays Choco Mucho while F2 Logistics takes on third semifinalist Petro Gazz.
A victory by the HD Spikers will complete the semis cast but a reversal coupled with the Cargo Movers win over the Angels would force a three-way tie for fourth. Ties will be broken via points system.
RELATED: A front row seat to the F2-Creamline five-set classic
Angeli Araneta tricked the Cargo Movers' defense with a clever drop shot to dash whatever hopes F2 Logistics had had coming off a huddle, clinching the crucial victory for the HD Spikers, who blew a four-point lead midway in the set but recovered in time to pull off the win aided by a couple of F2 miscues down the stretch.
A Lindsay Stalzer kill put F2 Logistics within, 20-22, but Elaine Kasilag's off-time tip that came short stymied their charge, giving Cignal a three-point cushion and a costly miscommunication by the Cargo Movers in the ensuing play put the HD Spikers at match point.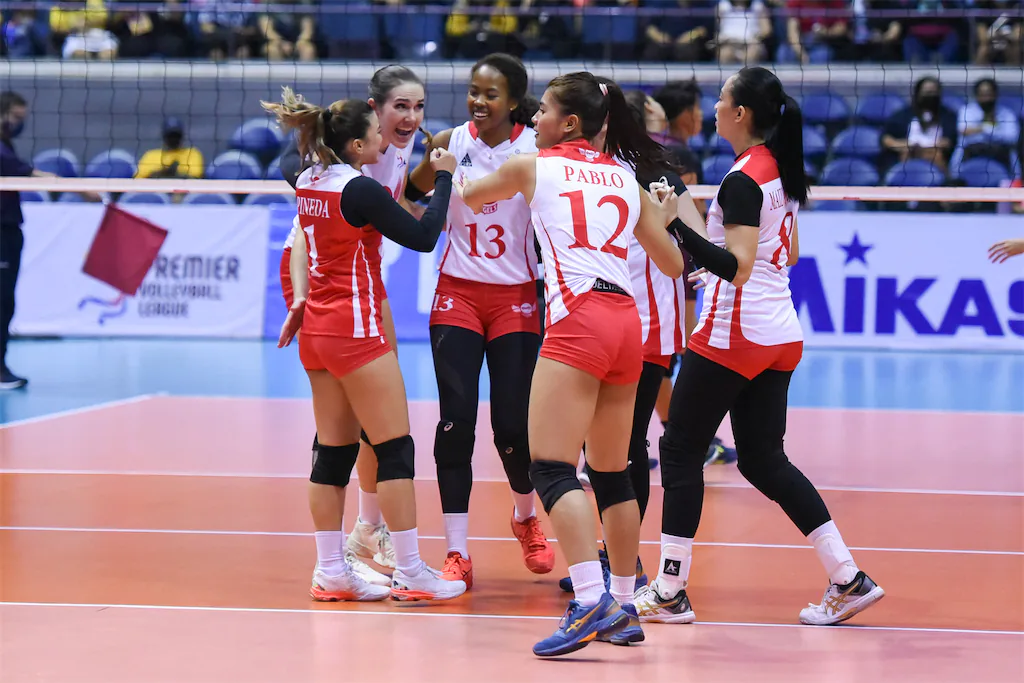 In the first game, Petro Gazz moved into the semifinal round in near-effortless fashion after going through a pair of wringers that produced contrasting results, gunning down UAI-Army, 25-13, 25-12, 25-19.
Save for the Lady Troopers' brief resistance midway through the third set, it was all Angels as the 2019 champions overpowered the former with their crisp hits, superb blocking and superior all-around game.
"We enjoyed every point we scored and stayed focused on our goal," said Aiza Pontillas, whose 12-point outing, laced by 10 attacks, helped anchor the Angels' one-hour, 22-minute romp that netted them the all-important fifth win against two losses.
"It's our objective (to win) regardless of who our opponents are since we want to build momentum going to the semis. It's a good thing, we got it in three (sets)," said Petro Gazz coach Rald Ricafort.
Petro Gazz thus joined Creamline and Chery Tiggo in post-elims play. The last elims playdate on Tuesday where Cignal battles Choco Mucho and F2 Logistics faces Petro Gazz will decide the final semis slot.
Army, meanwhile, ended its elims campaign in the nine-team field the way it started it – on a losing note.
The Lady Troopers kept it close in the third, 5-all, and 11-13 on a Mary Anne Esguerra hit but the Angels took the next three points, capped by back-to-back blocks on their way to victory spiked by a Myla Pablo blast against former teammate Ivy Perez.
Lindsey Vander Weide hammered out 14 kills and finished with 20 points while MJ Phillips added 10 hits and Pablo and Remy Palma combined for 17 markers as the Angels produced 42 attack points, 17 more than the Lady Troopers.
"I told the team that I want to feel good going to our F2 match and I think we did that in this game," said Vander Weide. "So it feels good. We have F2 as our last game. Obviously, we gonna win that and go strong into the semifinals."
With Vander Weide also coming through with four blocks and Palma adding three, Petro Gazz finished with 15 against Army's measly three block points.
Import Laura Condotta scored 12 points but coach Kungfu Reyes failed to draw any other double-digit output from the rest with Jovelyn Gonzaga ending up with five points and Nene Bautista and Jeanette Villareal scoring four points apiece.