Creamline came through in a duel of spurts in the opening frame, dominated the next then rallied to snatch the third and complete a straight-set 25-21, 25-20, 25-23 victory over Petro Gazz at the start of the semifinal round of the Premier Volleyball League Reinforced Conference at the Philsports Arena yesterday.
The Cool Smashers further underscored their superb all-round game anchored on their explosive hitting, burying the Angels with 53 attack points with import Yeliz Basa and Jema Galanza combining for 28 before winding up with 17 and 14 points, respectively.
Creamline likewise put up a solid reception all game long, yielding not even one ace while scoring six of their own. And though the Angels lived up to their billing as the league's top blocking team, 9-5, and barely edged the Cool Smashers in overall reception, 35-33, the grand slam-seeking crowd favorites lorded it over the rest in stats.
They finished with 47 excellent digs against their rivals' 43 with Jia de Guzman putting up another sterling 19-excellent set performance, seven more than counterpart Djanel Cheng.
"Wala naman problema kahit ilang set, basta manalo," said Creamline coach Sherwin Meneses, whose wards stared at defeat in the third after trailing 14-18 on a Lindsey Vander Weide's off-the-block hit.
But the Angels surprisingly settled for drop shots, enabling the Cool Smashers to counter with Tots Carlos and Galanza scoring on back-to-back hits with another pair of Basa and Galanza blasts capping a 4-0 run that forced a tie.
Still, Petro Gazz refused to crack and fought back to surge ahead again at 23-22 on a Vander Weide power tip. But a costly MJ Phillips net miscue stymied their charge while virtually helping set the stage for the Cool Smashers' decisive closing 3-0 run.
And Ced Domingo stepped up again the way she did in their past matches, scoring on a quick hit off a broken play then completing another brilliant de Guzman feed that bounced off Shiela Pineda's arms and which Vander Weide had failed to save.
"Everyone really went back to the basics when we were trailing. The team stayed composed," said de Guzman. "Until they score 25, we knew we can still chase them."
"Malaking bagay sa amin ito (win), lalo na three sets kasi siempre, yung mga points napakahalaga kung mag-tie before the finals. So just like sa elims, maraming nagkatalo sa points. So it's an advantage for us to score three points here," said Meneses.
"Hopefully, next game, maglaro pa kami ng maganda at ma-improve ung team kasi malayo pa, dalawang games pa," he added.
The Cool Smashers take on the Cignal HD Spikers on Sunday before facing the Chery Tiggo Crossovers on Tuesday.
ALSO SEE: PVL semifinal schedule
Vander Weide finished with 16 points while Phillips and Aiza Pontillas added 11 and 10 points, respectively, for the Angels, who beat the Cool Smashers in the finals of this conference in 2019 at the Ynares Center in Antipolo.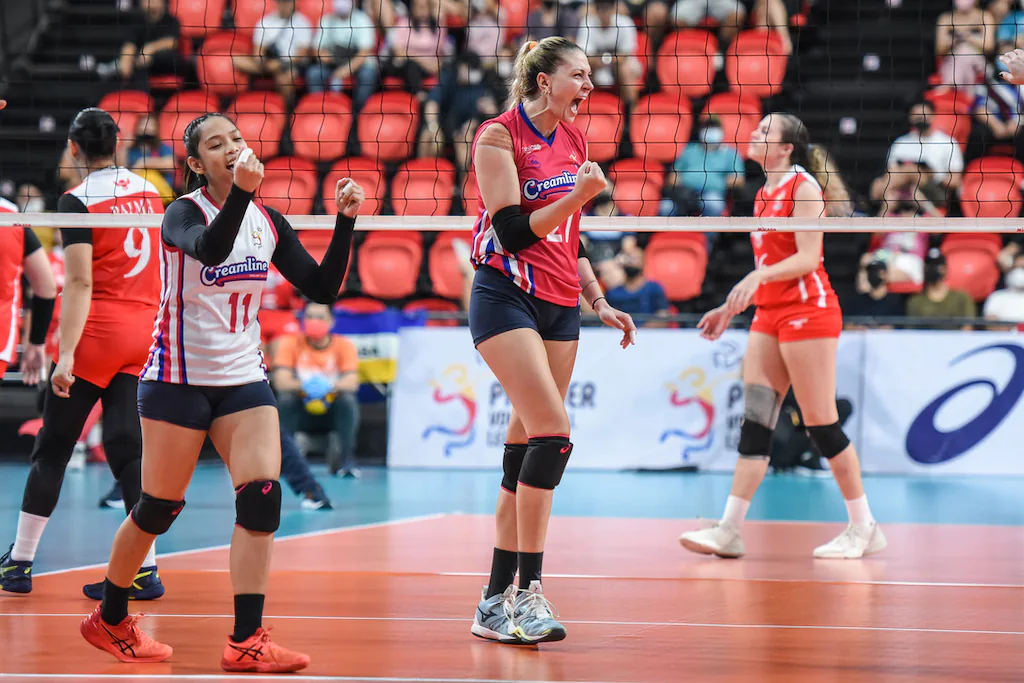 But coach Rald Ricafort only drew three points each from Myla Pablo and Remy Palma as the Angels finished with just 37 attack points.
The Angels started out strong and seized a 10-7 lead but the Cool Smashers struck back to grab the lead at 16-15 before racking up five straight points to pull away by six. Petro Gazz, however, countered with its own five-point binge to threaten within one but Creamline held sway behind Alyssa Valdez's power hits to pound out the four-point win in the first set.
The Cool Smashers kept their momentum and controlled the second early, 7-1, and fended off the Angels' series of rallies while bucking their wobbly stints from the service line to go two sets up.
Petro Gazz then battled Creamline in a back-and-forth duel in the third before wresting a 17-13 led on a power tip by Vander Weide and aided by a Domingo attack error. But after Carlos and Vander Weide traded hits, the Angels failed to launch their attacks and settled for drop shots which the Cool Smashers turned into points before the latter got the better of the former in the clutch.
Cignal sweeps Chery Tiggo
Cignal likewise came away with a 28-26, 25-17, 25-23 victory over Chery Tiggo in practically the same fashion as Creamline's win over Petro Gazz.
The HD Spikers saved a set point and bucked a couple of blown chances in the protracted first set then turned a fierce, furious second set skirmish that featured 11 deadlocks into a runaway triumph. Like the Cool Smashers, the HD Spikers also trailed majority of the third but stepped up their assault in the stretch and hacked out the inspiring victory.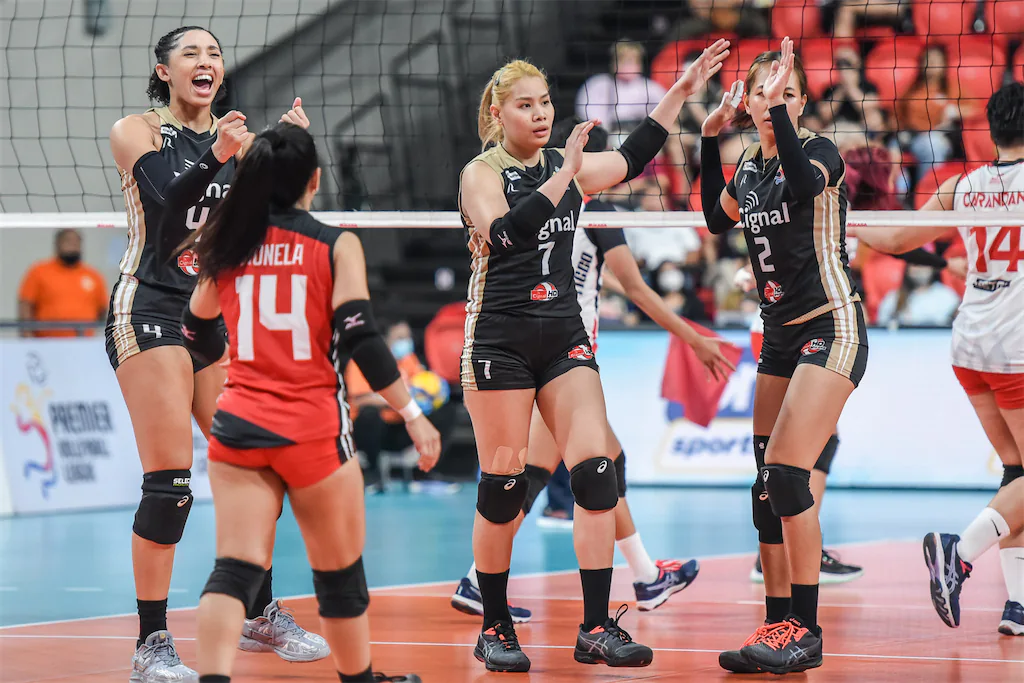 "Every victory is a blessing. I just need to keep working and keep getting better," said Cignal import Tai Bierria, who lacks the explosiveness of her counterparts but packs a game that has helped carry the HD Spikers past the elims and now in a share of the lead with the Cool Smashers in the Final Four.
She ended up turning in a career-high 21 points, unloading a series of hits in the second frame then sustaining her pace in the third as the HD Spikers outhit and outplayed the No. 2 Crossovers.
The victories set up No. 1 Creamline and the fourth-ranked Cignal in a crucial face-off Sunday back at the Smart Araneta Coliseum in the round robin semis with the winner to inch closer to a dream final stint.
It actually took a while before Cignal could log the win as Chery Tiggo went for a block touch challenge on a Mylene Paat blast that sailed long that was, however, ruled unsuccessful.
Rachel Anne Daquis failed to hit double figures with nine points while Riri Meneses and Roselyn Doria added eight points apiece and Ces Moline struggled for just five points. But with Bierria on the firing end and Cignal denying Chery Tiggo of any set, the HD Spikers found themselves matching the fancied Cool Smashers' straight-set romp.
Paat finished with 11 points while import Jelena Cvijovic and EJ Laure added 10 and eight points, respectively, for the Crossovers.