Asia's first grandmaster, Eugene Torre, is regarded as the most influential chess player in the continent. Even with the success of India's Viswanathan Anand, a former world champion, Torre symbolically drapes the flag of the entire continent around his shoulders. Anand himself learned how to play chess when his family was based in Manila in 1978, while closely following Torre's then burgeoning career.
Torre, who turned 71 last November 4, is presently in the West Coast to participate in the American Open tournament where he was invited to play. He sat down with hosts Dominic Menor, Chito Sagana and this writer in an episode of "Four Corners – All Sports" and talked about his incredible chess journey.
Early years
Torre revealed that chess was his first sport. At a young age, he recalls his father buying chess books at the Popular Bookstore near Torre's school, Mapua, on payday. "Talagang mahilig ang daddy ko bumili ng mga libro, mga classic books nila Capablanca, Alekhine, Botvinnik and Petrosian. Nakatulong sakin yun kasi wala naman references and writeups nun, very limited."
In 1960, there was a national junior tournament where his father told him to join. "I was only 9 or 10 years old that time, pero ganun yun pamilya namin nun kamahal ang chess, pinalaro pa ako sa national juniors. I scored around 50% of my games back then," Torre remembers.
Being part of a chess-playing family, specifically brothers, also helped. "Buti na lang, I also come from a chess-playing family. Eh alam niyo naman ang chess, kailangan may kalaro ka. Si Jess, si George at si Vic, at si Vic, naging national master pa yun. Tapos, si Vic nakasama pa yan sa 1978 in Buenos Aires. I'm not sure if there was ever a time when siblings actually represented a country in the Chess Olympics. Dun sa mga kapatid ko nakakuha ako ng praktis, kasi wala naman gaanong tournament nun."
He was fortunate that there were chess aficionados who went all out to support the game, despite the lack of financial backing. "Cooperation and total support of chess lovers, primarily the late Florencio Campomanes. Campomanes, one of the greatest pillars of global chess, was also the country's prime mover of the sport.
"Dati, hindi kasama ang chess sa Gintong Alay, kahit sa PSC, tapos wala din chess sa Asian Games, sa SEA Games before," Torre added. "Si Mr. Campomanes ang kumukuha ng ticket namin para maka-attend sa mga tournaments abroad, lalo na sa Chess Olympics. Last minute na siya humihingi ng tulong for the team, yun hinihingan niya, either businessmen sa private sector or officials from the government. Tapos, sinasadya niya na humingi ng last minute, kasi mas mabilis ang paglabas ng pera because of that."
Bobby Fischer
Recalling the rematch game of the Fischer-Spassky series in 1992 held in Yugoslavia, Torre disclosed how he was heavily influenced by Fischer. In 1967, with Fischer visiting Manila, Torre would take the bus with his dad just to watch Fischer in action at a Meralco station. "Idol ko na si Bobby Fischer dati pa," admitted Torre, "Nalalaro ko na yung mga games niya, talagang fantastic yung mga laro niya. At the same time, dun tayo sa bida na madalas na nabubugbog, kalaban kasi niya ang dami, mga Ruso, magkakampi. Bukod dun, maganda talaga yun chess niya."
Torre acted as Fischer's second in the series, which the American won handily, 10-5, with 15 draws. It was called the unofficial world championship back then, and a rematch of their 1972 world championship tussle. Fischer took away the world title from Spassky, beating the Russian, 12.5-8.5, in Reykavik, Iceland. The series, dubbed as the "Match of the Century," also happened at the peak of the Cold War and the hostilities spilled over outside the chess board.
There was also a time when Torre would interview Fischer live on the Elizalde-owned DZRH radio station in the 90's when Fischer was still living in seclusion. In 1996, Torre was actively involved in the formal launching of Fischer Random chess authored by the American world champion.
Prime years
Chess fans will never forget the heroics of Torre in the 1982 Interzonals held in Toluca, Mexico when he finished first in a tie with Hungarian Lajos Portisch to qualify for the Candidates Matches. He bested the likes of former world champion Spassky, Lev Polugaevsky, John Nunn, Yasser Seirawan, Artur Yusupov, among others, to score 8.5 points in 13 rounds, only losing to Ivan Ivanov while winning five games and drawing eight.
The win made him the first Asian to crack the Candidates Matches, which is the stepladder to the world championship finals. In the quarterfinals, he faced Hungary's Zoltan Ribli held at Alicante, Spain. The first four games ended in draws but Ribli got the edge and won back-to-back games in Rounds 5 and 6 to take a two-point advantage. Torre went for the win in Round 7 with the white pieces and succeeded to reduce the lead to one point, 4-3. Two more draws occurred in Rounds 8 and 9, and with Torre going for broke in Round 10 with the black pieces, succumbed to fall 6-4.
"That was my highest accomplishment, I was hoping to qualify in the semifinals, but it was difficult that time. I lost to Zoltan Ribli of Hungary, masakit yun talo ko dun," explained Torre, who achieved his highest ranking of 20th in the FIDE rankings in 1983.
In the succeeding interzonals in 1985, Torre was once more in the thick of the fight for another shot at the Candidates Matches. Going to the last round, Torre only needed a draw against Gyula Sax of Hungary to make it to the Candidates. Unfortunately, he made a mistake in his last move prior to time control and suffered a heartbreaking loss. "I was almost there,' Torre said. "Nasa Biel Interzonals, I just needed a draw against Sax (Gyula), pero yun last move ko, nagkamali ako, na-two squares ko yun pawn ko, naging losing position ako."
Torre explained the difficulty of going up against mostly Europeans in the tournament. "May disadvantage din ako kasi mag-isa ako sa Asia, although andun yun taga-China, pero di ko ka-buddy. Si Sax wala na, siguro kung kapwa European ang kalaban niya, nag-draw na yun. Pero dahil hindi ako close sa kanila, hindi ako makahingi ng draw. Kung Asian siguro yun kalaban ko, magtinginan lang kami, ok na sana. Susuportahan ka pa para mag-qualify ka. Nothing to gain na din naman kasi sa kanila."
On Wesley So
Torre's eye for talent is just as impressive as his positional strategies. In the early 2000's, after seeing a very young Wesley So play, he already knew that the kid was going to be a world-beater. Torre said, "Suportahan natin si Wes, because he's a rare find, dapat suportahan natin, and he was only 10-11 years old. When I saw him that time, ang ganda na ng chess niya. On his own, napo-promote na niya yun pieces niya. Pala-aral pa at marunong mag-aral, may gift siya pag-nag-aaral, naa-accumulate niya kaagad yun ideas."
RELATED: Wesley So takes inaugural Chess.com Global Championship
He also understood So's decision to play for the United States. "Ok naman sakin kung maganda yun opportunities, if it'll help his ambitions. Ang importante lang, wag niya kalimutan na galing siya sa Pilipinas. Ipaalam sa mundo na kaya din siya gumaling kasi nakatulong ang Pilipinas. And one thing about Wesley, he's very proud to be a Filipino, he even wears his barong when he becomes a champion to show the world he's a Filipino. Maganda din kung sasabihin niya that this is a victory not only for the US but also for the Philippines."
On giving up the #1 position
There was a time when Joey Antonio, Mark Paragua and Wesley So took over as Board 1 in the Chess Olympiad, taking over Torre's slot. Asked how he felt about young Turks taking over his position, Torre was quick to reply. "It's a welcome development for me, happy ako pag meron na magaling na mag-occupy ng Board 1. Mabigat na challenge din yun Board 1, kasi nakakalaban mo dun, yun best ng bawa't country. Nagkaka-edad na din tayo, hindi na katulad dati yun stamina and endurance ko, yun katawan at isip mo."
He always felt that Paragua, aside from So, was his heir apparent. "The same with Ollie Barbosa. What matters though is if they can maintain the consistency, kung parati ka bang nasa taas, yun rating mo. Yun ang nakita ko kay Wesley So. Napaka-consistent niya. Hindi madali yun maintain mo yun lofty standing mo lalo na kapag world-class na kalaban mo. Pero si Wesley, magaling na bata talaga."
Words of wisdom
Torre felt that his inconsistency was his biggest bane. "May mga moments na talagang angat ang laro ko, fantastic ang result katulad nga nun Loyola Classic nun 1976, may moments na talagang down. Hindi ako katulad ni Petrosian (Tigran) na bihira matalo."
The grandmaster was referring to his scintillating win in the 1976 Marlboro-Loyola Kings Challenge Tournament played in Manila which featured the Asian champion, Torre, the world champion, Anatoly Karpov, European champion, Lubomir Ljubojevic of Yugoslavia and the American titlist, Walter Browne. Torre ended up undefeated in the tournament, beating all three players once and drawing with them once as well. He earned 4.5 points in six rounds, way ahead of second-placer, Karpov, with three points. At that time, Karpov was considered as "unbeatable" making the conquest even more impressive.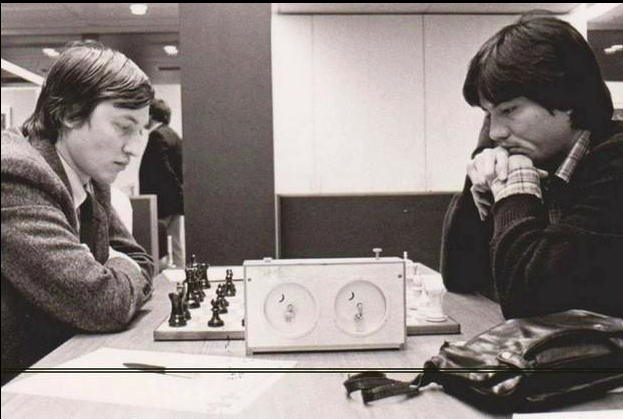 While many regarded the sport as purely mental in nature, Torre was quick to dispel this. He noted that it is imperative for chess players to be physically fit to be competitive. This explains why he has also taken tennis as his second sport to keep himself in condition. "Hindi puede mahina katawan mo, tapos malakas lang utak. Hindi din naman puede mahina utak mo, tapos malakas katawan mo. One cannot be without the other, they go hand in hand, in promoting the mental and physical traits natin."
He then mentioned one more element that's needed to make one more competitive. "But let me add another aspect that needs to be included, and that's spirituality."
Fitting final words from the 1982 Sportsman of the Year and the man responsible for making chess the most popular board game in the Philippines.
(Top photo courtesy of Chess.com)
Special thanks to Four Corners – All Sport PH executive producer Dennis Principe.