Before last week, it had been years since Renato "Etok" Lobo had seen a UAAP game in person. Since leaving the Philippines for the United States permanently in 1989, Lobo had not had the opportunity to watch his alma mater, the FEU Tamaraws, play live.
The Tamaraws have been the league's most successful team, having won 20 championships, including seven since Lobo left for the US. It even achieved a rare three-peat from 2003 until 2005, an accomplishment that Lobo is very familiar with.
Older fans recall Lobo's exploits, as he was a King Tamaraw himself back in the mid-70's. In 1975, FEU placed second behind the defending champions, UE Red Warriors, who were led by Emerito Legaspi and Tito Varela. There was a controversy earlier that season when Lobo's teammate, Federico "Bokyo" Lauchengco was found ineligible due to academic issues, forfeiting FEU's four won games. Still, with Lobo, alongside Anthony Dasalla and Marte Saldaña, leading the charge, the Tams were able to earn a Finals seat, losing a heartbreaker courtesy of a crucial steal by Varela in the closing seconds.
But in 1976, the Tamaraws unleashed their fangs and ran roughshod over their rivals, winning the championship by sweeping the two elimination rounds. During that time, when a team ended up unbeaten after the eliminations, it wa automatically declared champions. Lobo became the league's best player as he upstaged his UE rival and fellow hotshot Jimmy Manansala. Consequently, both players became teammates in several national teams like the 1977 ABC, the 1977 Asian Youth, the 1977 SEA Games and the 1977 Pesta Sukan. Not surprisingly, Lobo and Manansala were the top two gunners.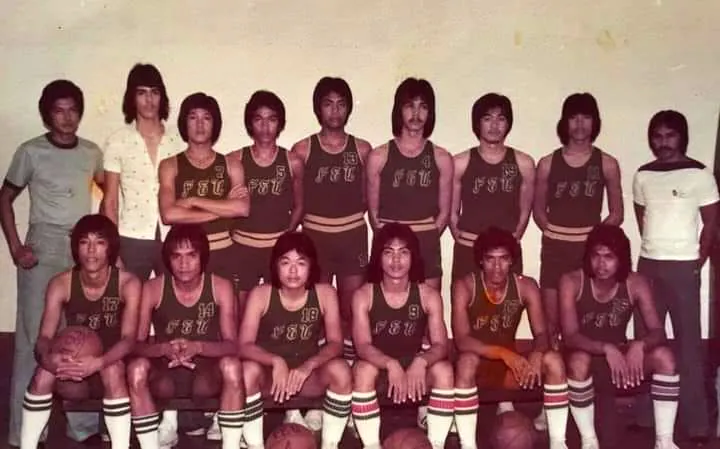 Lobo then joined the PBA in 1978 and won a championship in his second conference with the U/Tex Wranglers. In 1980, he suited up for the new team Galleon Shippers, then rejoined his U/Tex coach, Tommy Manotoc, at San Miguel Beer in 1982. He eventually retired in 1986.
Lobo along with wife Lina finally got to see the Tamaraws at the Mall of Asia Arena last Wednesday afternoon, November 2. It was a surreal moment for the barrel-chested deadshot to see his school go up against the De La Salle Green Archers.
The first thing Lobo intimated to this writer was the venue. Thoroughly impressed with the MOA Arena, he couldn't help but compare this with his own experience at the Rizal Memorial Coliseum. Lobo was amazed with the jumbotron. And while it's not exactly the first time he saw this, having been a regular viewer at the United Center in Chicago where he's based, he smiled and said, "Nun time namin, manual pa yung isang scoreboard."
RELATED CONTENT
He also recalled the chicken wire fence that separated the bleachers from the lower box at the RMC. He cited how the fence was put up to avoid the more passionate fans from spilling over to the box seats. It also prevented irate fans from throwing foreign objects like coins and bottle caps thrown to the court when the calls didn't go their team's way.
Lobo also took a closer look at the shiny FEU jerseys. He noted the sharper yellow hue and wondered what the white patch above the school letters. When he learned it was from a corporate sponsor, he chuckled and wished, "Sana nun time namin, meron din kaming ganun."
His wife, Lina, focused her attention on the cheering band at the upper box section. There would be occasions when she'd ask, "Ano raw?" not understanding the words that came out from the cheerleaders. She then proudly recited the old FEU cheer of her time heartily, not missing a beat and the words.
At halftime, Lobo met up with FEU coach Olsen Racela, who he met one time at a PBA Legends game in the United States. Prior to that, on a Manila vacation sometime in the late 90's, he checked out his friend, Biboy Ravanes, at a San Miguel Beer practice. He recalled Racela approaching him and shaking his hand, acknowledging him as "idol," a gesture that endeared him to Lobo. True enough, the very first words that Racela uttered after recognizing Lobo was "Uy, idol, kumusta?" The two exchanged a short conversation about their PBA Legends experience.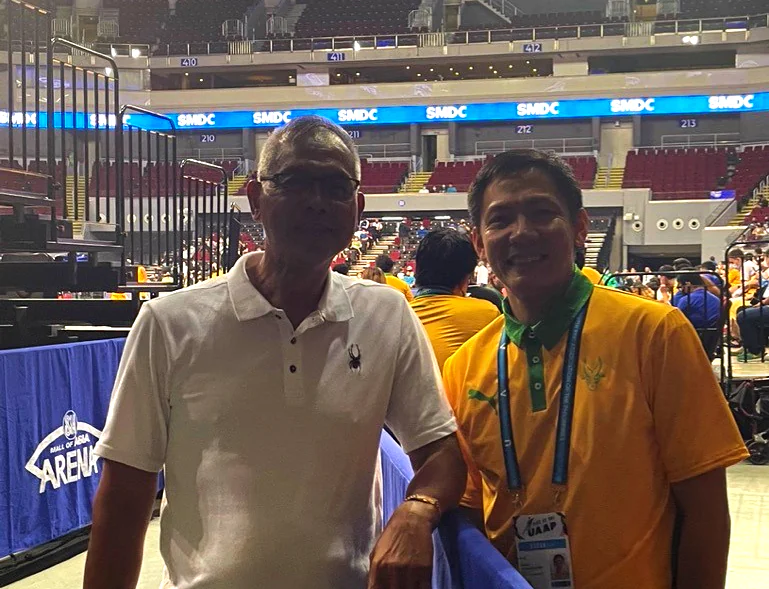 Lobo remembered his mentor, Turo Valenzona, one of the greatest collegiate coaches ever. One reason why he decided to go home for this November vacation was to celebrate Valenzona's 80th birthday. Greatly indebted and grateful to the three-time PBA champion coach, he remembered how Turo molded him into the phenomenal offensive weapon that he became. "Magaling si Turo mag-design ng plays para mapalibre ako. Madalas nao-open ako kaya dumadali ang laro sa akin," said Lobo.
He noted how both coaches Racela and Derick Pumaren seemed to put more emphasis on defense, particularly setting up halfcourt traps. "Si Marte (Saldaña)," added Lobo, "sobrang galing niya mag-break ng press. Maaasahan mo talaga magbaba ng bola, bale wala ang full court press sa kanya."
After seeing Xyrus Torres' three-point shooting, he couldn't help but admire the athleticism of today's young players. Lobo felt that Torres was closest to his game among the present crop of Tamaraws, particularly his outside shooting. Torres topscored for FEU with 12 points.
Lobo also professed admiration to their foreign student athlete (FSA), Pat Tchuente, particularly his defensive skills. Tchuente scored all his five points in the fourth quarter, and added eight boards, four swats and two steals to help the Tamaraws beat the Archers, 57-53.
Another player that caught Lobo's attention was LJay Gonzales. Aside from his quarterbacking, it was his speed that impressed him, and how he ran after another speedy player, Mark Nonoy, and blocked his transition layup.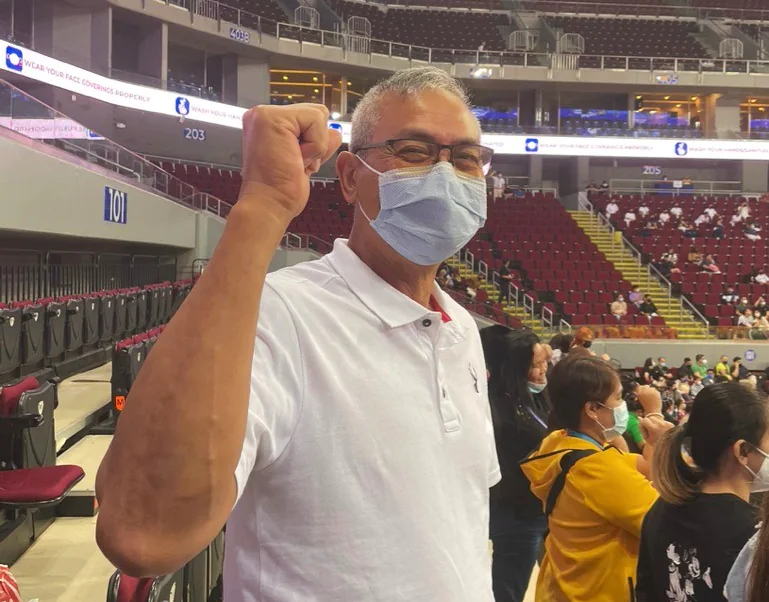 Lobo did say that the game was more physical during his time. Known as a finesse shooter, he had to deal with rugged defenders who would do everything to stop him from scoring. He noted that today's rules are stricter and dirty plays are outlawed to the benefit of the offensive player.
The Tamaraws' win was their fourth straight after losing their first five games to find themselves bunched in the middle of the pack, still in contention for a Final Four seat. Lobo hopes to watch as many FEU games as possible while wishing that the Tamaraws would be able to replicate his team's feat in 1976.
Etok and Lina had grins on their respective faces as they walked towards the carpark. Obviously delighted with the win, they also enjoyed the experience of watching their first UAAP game after 33 years. And who knows? The couple may have brought that extra amount of good luck to give FEU its fourth win. A few more weeks here in Manila and perhaps, a few live FEU games to watch, they may bring positive fortune to FEU's hopes for its 21st championship.