And in the end, there were two.
After a dramatic Universities Athletics Association of the Philippines (UAAP) Season 85 men's basketball elimination round, the defending champions University of the Philippines (UP) Fighting Maroons and the Ateneo de Manila University (ADMU) Blue Eagles will meet again in the best-of-three finals series starting this Sunday. The much-awaited rematch of last season's finalists is expected to be another thriller just like last time. In Season 84, UP upended Ateneo in Games 1 and 3, both in extra periods. This season, the two top teams are 1-1 in the elims, with the Maroons taking the first round, 76-71, and the Eagles getting back at them in the second, 75-67. This final dance will be dictated by adjustments from both brilliant bench tacticians – UP's Goldwyn Monteverde and Ateneo's Tab Baldwin. There's no doubt that both these coaches are the best in college basketball today. It would be very interesting to see what adjustments they have prepared, and what surprises they are going to pull out in this intriguing championship tussle.
Here are five factors to watch out for in the three-game finals:
Tempo control
Without a doubt, both teams love to run and score in transition. Both teams are adept in applying the full-court pressure to force turnovers and get more opportunities for easy baskets. But when these two sides collide in the finals, the one that gains control more often is likely to be victorious. It's one thing to keep the pace high and go run-and-gun. It's another to push the ball and see if there are opportunities, but hold back when there are none. In short, the smarter team – the one that makes better decisions on the floor and limits turnovers – is likely to rule the series. Now, between the two schools, UP has the better transition numbers. In fact, the Maroons are best in fast break points this season with 12.8 points per game (PPG). In contrast, the Blue Eagles are a distant seventh, with 9.4 PPG. However, UP is the worst in the league in taking care of the ball, with 18.93 turnovers per game, while Ateneo is a little better with just 16.6. This is where tempo control becomes crucial in the series. You can run, but don't force the issue. It's what Gilas coach Chot Reyes describes as "disciplined intensity." Or controlled tempo. Not necessarily slowing down the pace. It's being smart, finding the best opportunities to score, and being aware of the time, score, and situation. Having said that, the point guards will have the biggest roles in the series. They have the power to control the tempo.
Ateneo's Forthsky Padrigao has come out of his shell this season, even figuring well in the MVP race, eventually losing it to UP's Malick Diouf. But the sophomore playmaker from Ateneo high school has emerged as the team's leader on the floor, dishing out a league-second best 5.47 assists per game (APG), on top of 11.33 PPG, 4.27 rebounds per game (RPG), and 2.33 steals per game (SPG). But more importantly, he directs Baldwin's vaunted offensive system very well, which is a key factor in the Eagles' success this season so far. How Padrigao will perform in the finals will be a huge indication if Ateneo can have its redemption over its Katipunan neighbor school.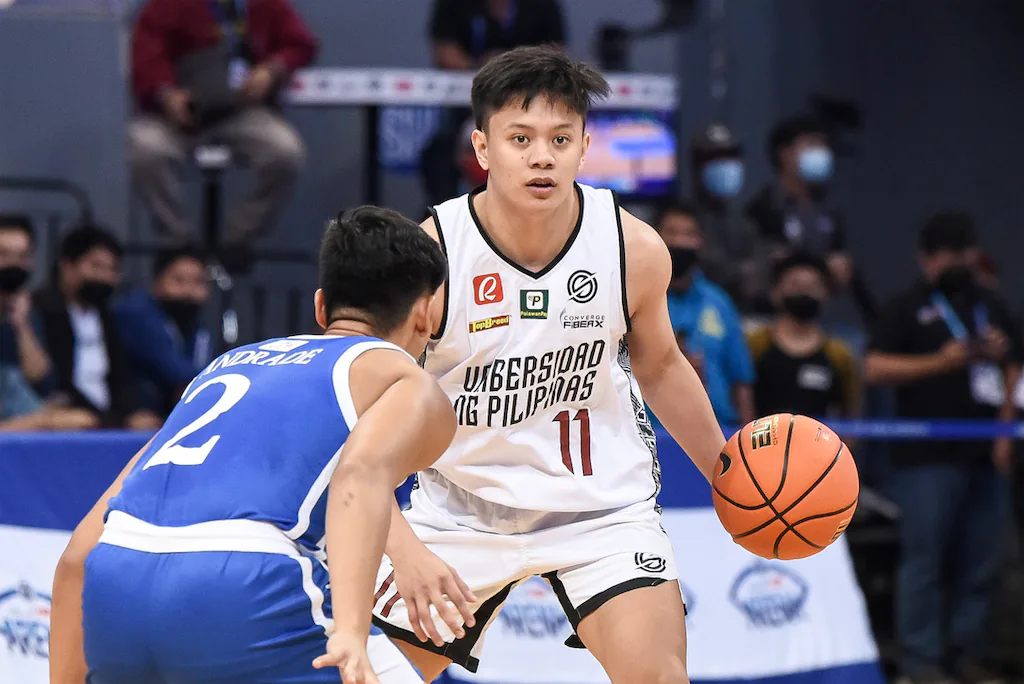 On the other hand, the Fighting Maroons have two of the finest court generals in the UAAP today in Terrence Fortea and Season 84 finals hero JD Cagulangan. Fortea has been solid for UP this season, averaging ten markers on 40.33% shooting, 3.92 assists, 2.5 boards, and a steal. His sniping from downtown is outstanding, unloading a team-high 27 treys the entire tournament. As Cagulangan missed the early part of the season due to injuries, the former National University Bullpup more than stepped up in his absence, and earned his starting position in the team. Fortea's chink in the armor is his turnovers, with 3.58 per game – the second-worst in the league. But UP fans need not worry as Cagulangan appears to be ready for another stellar finals performance. JD has only played nine games this season but he looks to improve by the day. Playing just a little over 20 minutes per game this season, his stats are still noteworthy – 6.56 PPG, 4.89 APG, 3.11 RPG, and 1.11 SPG – despite coming from an injury. More importantly, JD thrives in big moments as what we witnessed in Game 3 of last season's finals when he hit the winning triple at the buzzer.
Padrigao will have his hands full versus Fortea and Cagulangan. His back-up point guard, be it Vince Gomez, Chris Koon, or Paul Garcia, must be ready to rise to the occasion as well.
Inside battle
Another critical engagement in the finals will be the clash of the titans – the teams' big men. Without a doubt, the UAAP's best inside operators will be seeing action in the finals – Ateneo's Ange Kouame and Kai Ballungay, and UP's Diouf, Carl Tamayo, and Zavier Lucero. These fellas are going to have a lot of weight in where the finals will go. Aside from controlling the tempo, the interior warfare will be significant – rebounding, inside points, second-chance points, interior defense, etc. We can expect these warriors to be a little physical than usual when they tangle in the paint.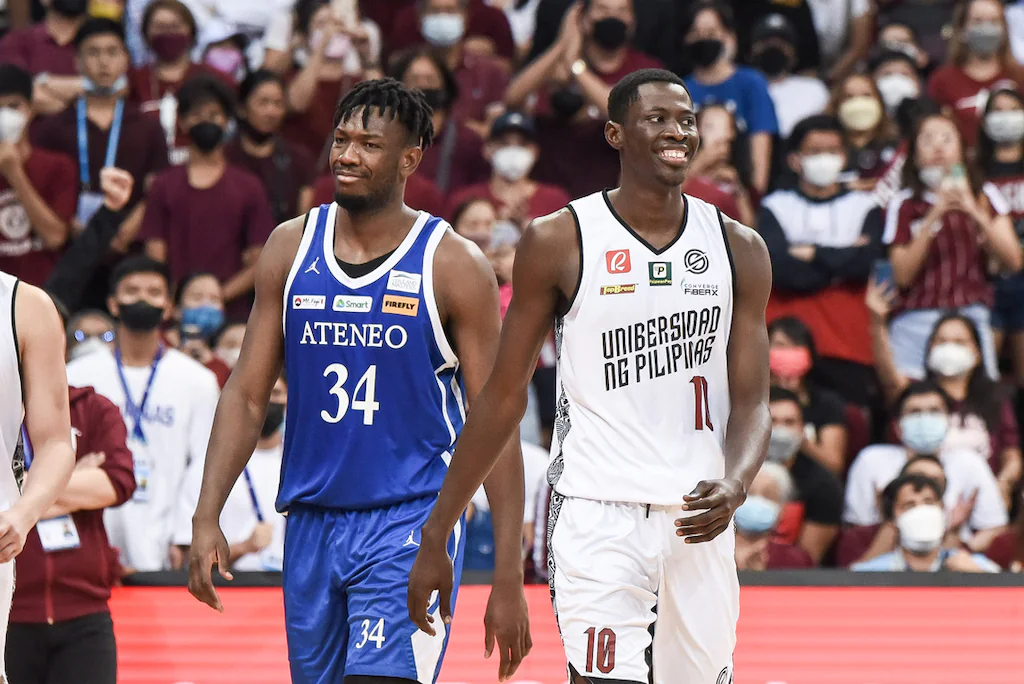 Season 85 Most Valuable Player (MVP) Diouf of UP is second-best in rebounding in the tournament with 11.53 RPG, just behind Santo Tomas' Adama Faye's 12.23. At third spot is Kouame with 11.33 RPG, even as he leads the league in offensive boards with 5.27 per game. Tamayo, on the other hand, is also showing MVP numbers of 13.27 PPG (team-best) on 45.06% shooting, 7.27 RPG, and 1.4 APG. The Gilas forward also loves big moments in the game and is willing to take the big shots.  Meanwhile, Lucero is a tough match-up defensively because he can play inside and outside. At 6'7", he is quick, athletic, and skilled. The former US NCAA Division II standout averages 11.4 points, 5.67 caroms, 2.13 dimes, and 1.47 steals this season. He can also hit from behind the three-point arc. Ateneo's prize rookie Ballungay is also impressive and has become more reliable in the last few games of the Blue Eagles. Averaging 11.33 points on a superb 56.36% shooting, 5.6 rebounds, and 1.07 assists, the California native will be another vital cog in the finals. Joshua Lazaro (2.8 PPG, 4.87 RPG) should also be able to provide quality minutes for the Blue Eagles.
Outside artillery
Perhaps what will separate these two excellent squads will be the long-distance ammunition. As in last year's finals, the Maroons fought back late in the game by means of their prolific three-point bombs. When the defense becomes tight in the shaded lane, the better outside shooting team will gain a humongous edge in the series. UP leads the league in three-point field goals at 30.75%, although Ateneo is not far behind at third place with a 30.19% shooting clip. These numbers won't matter though in the title duel. The big guns will be coming out to play no matter how well they shot in the elims. Expect Cagulangan, Fortea, James Spencer (fired 18-of-56 treys this season), Harold Alarcon (33.33% 3FG), and Gerry Abadiano to be UP's main gunners from downtown. For Ateneo, Dave Ildefonso will undoubtedly be the most reliable three-ball sniper. After all, he leads the team in points (12.0 PPG) and adds 8.33 RPG and 2.73 APG. In the finals, Dave will have to have his guns blazing for Ateneo to take down the giant that is UP. Padrigao and BJ Andrada (9.53 PPG, 34.67 3FG, 2.73 RPG, 2.13 APG) can also unload multiple triples, which would be invaluable for the Blue and White. A few timely bombs from Koon, Gomez, and Garcia will certainly boost their chances. So, when the teams' behemoths cancel each other out, the war can be won by the better outside artillery.
Bench depth
In a grueling and physical encounter, the bench depth can be a deciding factor. Strength and conditioning, and avoiding injuries will surely come into play. In this area, the Fighting Maroons will have the advantage. They clearly have the deeper bench. Eleven Maroons play over ten minutes per game, while only eight Eagles log double-digits in minutes played. This is where player rotation becomes pivotal, even as both coaches are masters in this department. It's just that UP has more spark in its bench with the likes of Henry Galinato, Daylan Andrews, RC Calimag, and even Bismarck Lina raring to cut the mustard, especially in the championship arena. But Baldwin can also come up with his own "magic bunot," as he still has veteran slotman Matthew Daves and 6'8" Geo Chiu at his disposal.
End-game heroics
I expect no less than a nip and tuck tussle that will go the distance, just like in last season's finals. Looking at the numbers and performances of both camps this season, even with an imposing second round triumph by Ateneo over UP in the second round, I still foresee a tight series that could be decided in the final few ticks, just like in Game 3 of Season 84. It will be more than a test of skill but of character and guts. The team with the bigger heart will end up hoisting the Season 85 trophy. Again, the big names – Diouf, Kouame, Tamayo, Ildefonso, Cagulangan, Padrigao, Lucero, Fortea, Andrada – will be under the spotlight.
Who is willing to take the winning shot? Who will be the next JD Cagulangan in this narrative?
Expect fireworks to come early this Holiday season.