By most standards, Jayvee Gayoso had a decent PBA career. He played 10 seasons with Ginebra and Tanduay, averaging 6.0 points per game in 370 appearances. The fifth overall pick in the 1991 rookie draft, Gayoso won two championships with the Ginebra franchise, with whom he will always be identified.
With his matinee idol looks and energetic style of play, Gayoso easily became a favorite of the Ginebra faithful. He came off the bench for most of his playing career, serving as a bridge between two championship teams of Ginebra lore: the Distrito-Loyzaga-Gonzalgo era and the Aquino-Locsin-David period.
But before he entered the PBA, Gayoso had to go through what he called the most difficult time of his life when the most damning accusation an athlete could experience was leveled against him.
Early days in blue…and green
As a prepster, Gayoso won a UAAP juniors title with the Ateneo Blue Eaglets. But he raised several eyebrows when he opted to enroll in La Salle for college. As he explained during a recent guesting on An Eternity of Basketball, Gayoso's reason for choosing Taft over Loyola was simple: Ateneo didn't offer him a scholarship, while La Salle did.
"It was an opportunity for me to get a scholarship, and we badly needed it at the time," Gayoso recalled. "I asked Ateneo if they could shoulder my tuition, but nobody was there yet. Hindi pa uso 'yon."
The Green Archers were in between collegiate leagues at the time, having left the NCAA and still not part of the UAAP. But they did play an exhibition game against the Blue Eagles at the Loyola Center. For Gayoso, this meant facing his former classmates and teammates while wearing a green uniform. It didn't play out well.
"I got a lot of jeers from the Ateneo crowd," Gayoso said. "And my friends, I waved to them and they gave me not a wave but one of those fingers that are in your hand.
"All I did was just try to help my dad. That's all it was, getting the opportunity for a free education."
Gayoso eventually found his way back to Ateneo, and was a vital part of the Blue Eagles' first UAAP championship in 1987. That run included a dramatic come-from-behind win in the championship game, where the Blue Eagles overhauled a 20-point deficit in the last 10 minutes to beat the UE Warriors by two.
"That became the Hail Mary team. We were down by 20 against UE. There were pictures of Gene Afable and other players holding the rosary on the bench. That's why we became the Hail Mary team."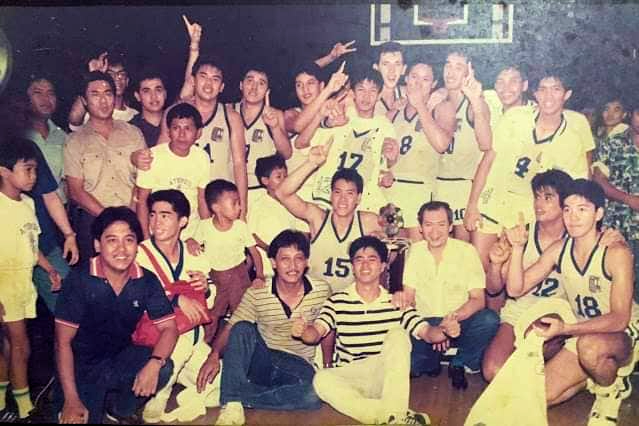 Accused
Ateneo was heavily favored to repeat in 1988, which they did. But Gayoso was no longer there at the end of the season to celebrate with his teammates. The Blue Eagles won their first six games handily, and he was a big reason why.
"The first half of the season, I found out I was top four in several categories. I just wanted to be the best that I could be. I scored 27 points against FEU," he recalled. "And in that game, La Salle was watching. And I knew they were there. That's why I went all-out. And I said, I'm ready."
The Green Archers were the only team standing between the Blue Eagles and a first-round sweep. DLSU was on the rise that year, with Dindo Pumaren, Johnedel Cardel and Dickie Bachmann, and were just a game behind at 5-1. It was easily the most anticipated Ateneo-La Salle game since their NCAA days.
A few days before the game, Gayoso received a phone call.
"And then came our last game against La Salle and I received an offer not to play all-out. And I reported that. By the time we came to the game, I was used sparingly."
In front of an overflow crowd at the Rizal Coliseum, the Green Archers came out on top of a tight, emotionally-charged game. It was a major turning point for the DLSU program. For Ateneo, the loss was humiliating, and only served to shine the spotlight on Gayoso.
"I had one lay-up, coming off the bench, and I missed it. Crucial. And the doubt magnified and I was accused of selling the game."
Stung by the accusation, Gayoso left the team, missing the entire second round and the second title. He was eventually cleared of any wrongdoing, but the damage had been done.
"I just shied away and moved on. That was the saddest point in my life. I didn't want to be the best I could be anymore. I mean, what's the point? Because of that I was always guilty before being proven innocent. But there was an investigation and I was vindicated. But still, I didn't want to play anymore."
Glory days with Ginebra
For the next two years, Gayoso plied his trade in the PABL with Philips Sardines and Sta. Lucia. During this time, people were urging him to move on to the PBA, but with the Ateneo incident still fresh in his mind, he felt he wasn't ready yet to return to the big stage.
"Because of what happened in Ateneo, I didn't want to go all-out," he revealed. "I didn't want to put myself in a situation anymore where I was going to be accused. The experience I had at Ateneo, after the fiasco there, I developed a lot of fears. I developed a lot of phobia. What people don't know, takot ako sa maraming tao. Even in Ginebra. And people accuse me of being suplado. What they don't realize is I have that fear. I'm afraid of negativity because of what happened to me."
Eventually he threw his hat into the 1991 draft, where he was picked fifth overall by the league's most popular ballclub. He was initially placed on the reserve list, and when he was finally activated it wasn't easy at first to win the fans over.
"What hurt me the most was I wasn't taken seriously as a basketball player. 'Guapo lang yan, hindi naman marunong.' It was tough to get over it."
But eventually he cracked the rotation, and became part of Ginebra's historic finals comeback from a 1-3 deficit against Formula Shell, which culminated with Rudy Distrito's game-winner in Game 7.
"Whatever they said about me at the start (of my PBA career), all they needed was time to see how I could contribute. I had to use my quickness because I didn't have the skills to penetrate. I could only move without the ball fast enough to get a pass."
Gayoso remembers being benched by Jaworski in that Game 7 because he skipped a team mass the night before to honor a previous commitment. But in the locker room celebration afterwards, the Living Legend bestowed upon him a nickname that his fellow Ginebra alumni still use to this day.
"Totoy K*pal!" Jaworski hollered at the rookie. "Huwag ka nang mag-aabsent ha!"
"Even today, the Ginebra legends call me 'Totoy K*pal,'" Gayoso said. "And that's my nickname."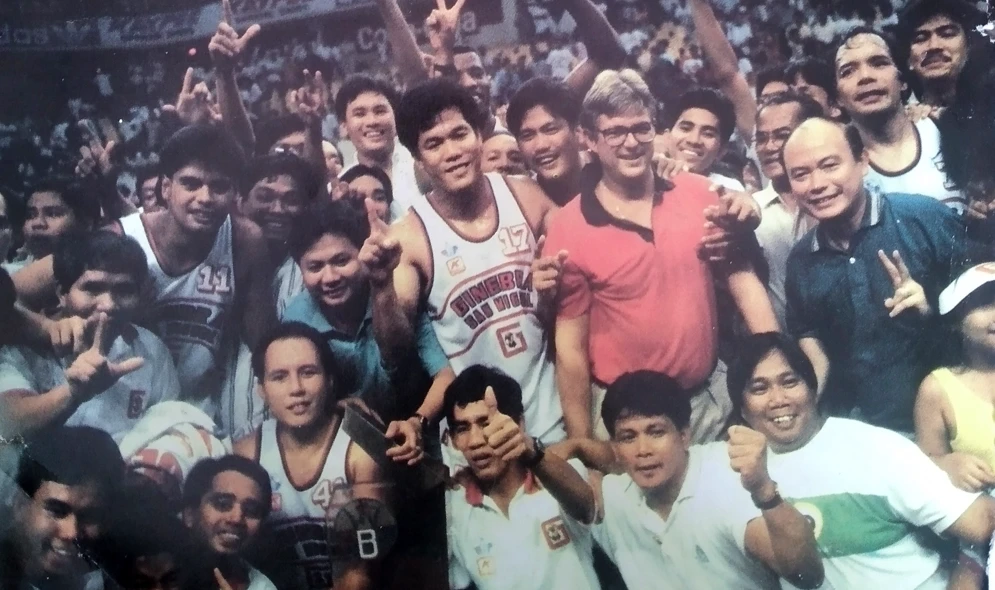 That championship was the last of the Distrito-Loyzaga-Gonzalgo era, but it was also where Gayoso learned what it took to be a pro in the PBA.
"When I was a rookie, the true professionals that you would see, sina Distrito, wow grabe ang training. Jaworski did not need to say, 'Work hard.' Lahat ng tahi ko sa mukha, apat iyan, sa practice ng Ginebra.
"People think you have to shoot well to stay long in the PBA. No, you don't. You have to play defense to stay long in the PBA. And that was my secret. That's what I tell players now. You don't have to be a great shooter. You just have to put it in when it's needed."
Indeed, Gayoso eventually turned defense into his calling card and became one of the league's better perimeter defenders. And while he will always be linked to Ginebra, he revealed he always had a desire to suit up for his favorite team.
"I was an Alaska fan. I never got to play for Alaska because I heard they didn't like my style of play. I don't know what style that was. I never knew I had a style.
"The toughest player I ever guarded was Jojo Lastimosa. And I have to apologize to him why I went all-out. Because in my heart and in my mind, I wanted to play for Alaska. And every time we played Alaska, I wanted to outshine, I wanted to stop the best.
"When he was playing in Ateneo, I was in high school. I would watch him jog around the campus. Hayop 'yung mga hita niya, Jolas legs talaga."
Giving back
Gayoso eventually won another PBA championship with Ginebra in the 1997 Commissioner's Cup. He and Jaworski are the only players who were part of both the 1991 and 1997 Ginebra champion teams. For better or for worse, he will always be identified with his former coach.
"Without me being associated with Coach, I wouldn't get this blessing. Wherever I go I'm recognized as one of Jaworski's players."
After a brief stint with Tanduay, he called it quits in 2001. Like many former players, he has tried his hand at sportscasting, where he is a natural given his quick wit and knowledge of the game. He went through a rough patch in recent years, but has since turned to religion to lift himself up again.
Today, Gayoso is based in Batangas and runs a basketball teaching advocacy for kids in Alfonso, Cavite. It's growing, and pretty soon he will need help running it.
"I started out with 20 kids. Now we have around 143 kids that we're teaching. Many more want to join but cannot afford."
These kids are lucky to have Gayoso as a mentor, for they will be taught not just basketball skills but life skills as well.
Those who wish to help with Jayvee Gayoso's basketball teaching advocacy may make donations to: Jaime Vicente Gayoso, GCash number 09292450778
Watch the whole Jayvee Gayoso episode on AEOB here: