Ten years ago, Nike brought in LeBron James to Manila and we became witnesses to history. Adidas countered by planing in Derrick Rose a few months after and later, sent James Harden. And while it's not uncommon to see our own PBA players jazz up their basketball outfits with the latest models of these imported brands, what may come as a shock to younger fans was that local shoe brands, proudly Philippine-made, actually lorded it over the market.
Let's trace it all the way back to the '70's. When everyone used to wear the pristine white hi-cut shoes from imported brands Converse and Adidas, as well as locally-made Jaguar, ABC, Spartan, Custombuilt or Bata, Royal Tru Orange's Dave Regullano stood out from the rest for wearing black canvass shoes courtesy of NBA, a local brand made by Rubberworld. Regullano and his kicks drew attention, as the pair became his venerable trademark – often remembered more for its color than his accomplishments inside the court.
Mind you, Regullano was no slouch – he was a proud member of the 1973 PHL team that won the ABC title in Manila and was also part of the 1974 PHL team that placed 13th out of 16 teams in San Juan, Puerto Rico in the World Basketball Championship. Regullano was also a pillar for the Orangemen (not Syracuse, but Royal) as the team's starting big man alongside Manny Paner.
But the attention of many was focused on the shoes worn by the superstars, primarily Robert Jaworski, Sr. The Big J, by then already the country's most recognizable and popular player, was extremely comfortable with his canvass Converse All Star, complete with the red star emblazoned prominently in the middle. Elder fans would recall that when Converse came up with a TV commercial featuring NBA superstars Magic Johnson, Larry Bird and Julius Erving, it was actually Jaworski who first made the brand popular in the Philippines. They were right!
But the no. 1 selling brand back then was definitely Adidas. Their biggest model was the hi-cut Top Ten, and Adidas had no hesitation advertising this practically on a daily basis in major broadsheets and through the TV and radio mediums. It was the classic aspirational brand – every Totoy, Pedro and Juan wanted to wear the Top Ten as wearing these could make one feel as smart as Philip Cezar, as ferocious as Abe King or as deadly as Bogs Adornado. Top Ten was so big that it supplanted Superstar and the Pro Model, a pair of Adidas products, as the no. 1 selling basketball shoe in the country. There was also the Adidas Abdul Jabbar, a testament to the wide variants of the three-striped wear.
It's interesting to note that Adidas didn't just lord it over the basketball shoe market, they were also doing well with other brands like the Stan Smith, Rome, Vienna, Samba, Gazelle, Campus, Siena, and Hurricane. This was why Adidas was a common fixture in various Olympic games and the common shoe wear of upper to middle Filipino classes in the 70's and early 80's.
What many didn't know though was, while Adidas was a foreign brand, it was actually being manufactured here in the Philippines in a factory along Quirino Highway in Novaliches, Quezon City. The company's name was Rubberworld.
Rubberworld was the country's biggest shoemaker back then. They were known for their quality rubber shoes sold at affordable prices. Rubberworld was contracted by top foreign shoes like Adidas to manufacture their shoes in the Philippines with strict quality control measures. They also were the makers of the top rubber shoes brands in the country.
Yet, snooty teenagers wouldn't want to be seen wearing "local." Imported, or PX, remained to be the meter stick of glamour and good dress sense back then. It wasn't because the local shoes didn't look good – it's just that they were, well, "local."
Then, Billy Ray Bates came. And everything turned around 180 degrees. Bates, fresh from an impressive stint in the Continental Basketball Association (CBA) for the Maine Lumberjacks, came highly touted when he joined the PBA in 1983. Once described as one of the most gifted players ever to play in the NBA, Bates' entry to the PBA was much heralded because of his credentials. Add the fact that Crispa, which just won the 1983 All Filipino title, was still smarting from a zero-titled season of 1982 and was bent on coming back strong.
True enough, Bates was hhhuuuuuugggee! His all-around skills wowed every basketball fan that even fans of their rivals, the Toyota Silver Coronas, would grudgingly admit that they want to be like Billy Ray (yes, much ahead of Mike).
Rubberworld seized the opportunity. Unleashing its flagship brand Grosby, they offered Bates a fat contract that included a pair of signature shoes designed especially for him. Complete with his personalized signature.
To be called "Black Superman," Grosby launched this with so much fanfare. In the first few days that it was offered to the public at Shoemart (yes, that's how SM was called back then), the fancy QUAD mall or the mainstream Ali Mall in Cubao, Black Superman (the shoes) didn't last long in the shelves. Rubberworld had to work double time to produce more Black Superman shoes as these were literally being gobbled up in the market.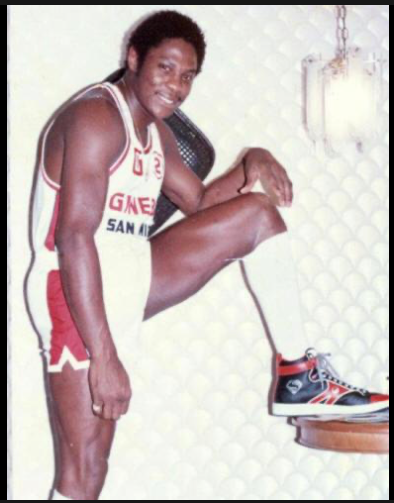 It didn't take long for Grosby to seize market leadership for the first time in their corporate history. And this was against the bigger, multinational brands like Adidas, Converse and Nike at that. And while Bates continued to fly high wearing his own personalized shoes, other local players followed suit. Discarding their imported brands, they started wearing Grosby as well even without an endorsement contract. They obviously liked the fit – Grosby had this soft spot in the corners that made it very comfortable for the player. It was also much lighter than some imported brands, giving the impression that you're not wearing one at all.
Curiously, before Bates came into the picture, Grosby collaborated with the PBA by coming up with the Grosby "First Five" – specially-designed shoes for the PBA Mythical First Five of the 1982 season. This was the first time top PBA superstars became product endorsers for the brand – and the marketing was a success. Toyota's Ramon Fernandez, Abe King and Francis Arnaiz, Crispa's Atoy Co and U/Tex's Bogs Adornado strutted around in their "First Fives" on their very first game of the 1983 season.
It was too bad that Jaworski was injured for most of the 1982 season – Grosby would have loved to have him as one of their endorsers.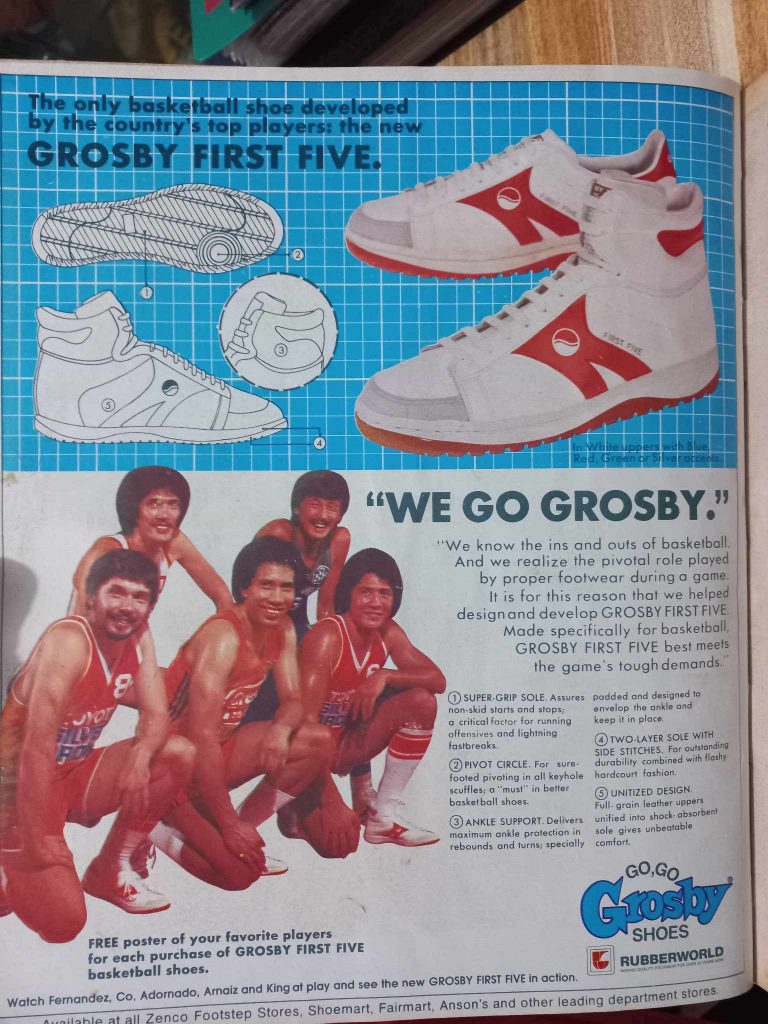 And while Nike suddenly found a resurgence in sales in the United States with Michael Jordan as their primary endorser, it surprisingly didn't gain as much traction here as expected. Quite curiously, Grosby held its own; fueling its brand firepower through advertising. They were all over – sponsoring PBA special features, presenting the PBA awarding ceremonies, 30-second ads on local and canned TV shows, even being the chief sponsor of the Philippine Bulaga Association, a segment on the noontime TV show, Eat Bulaga aired on RPN 9.
As Grosby's sales began to plateau, Rubberworld had to come up with something to regenerate the brand…or perhaps come up with a totally new brand altogether. It was no coincidence that the PBA was at its peak in terms of popularity. The younger generation of players led by the former NCC national team was threatening to take over the place of their esteemed veteran colleagues. And with Alvin Patrimonio, Jerry Codiñera and Jojo Lastimosa heading the rookie batch of 1988, even teenage girls became regular fixtures at the ULTRA. Everything peaked in 1989 with the rookie group led by Benjie Paras and Bong Alvarez. Just when everyone thought that the league would die a slow death with the disbandment of Toyota and Crispa, its popularity even surged further. And so did the shoes.
Soon after in the late 80's, Rubberworld launched Kaypee a revolutionary pair of shoes with soft soles and strong traction. It was rumored back then that Kaypee's name came about as the initials of one of the children of Rubberworld's owner. What was sure though was Kaypee offered the benefit of protecting athletic leapers and players with exceptional lateral movement and added shield from injury.
Fittingly, Kaypee contracted the services of the PBA's best player and his likely successor. Ramon Fernandez, who was already lording over everyone else in the PBA with 4 MVP plums while wearing Grosby, shifted to sister brand Kaypee. On the other hand, up-and-coming star Alvin Patrimonio, Fernandez's teammate at Purefoods, was the best endorser they could get among the young Turks. Fernandez personified the shiftiness and footwork associated among fundamentally skilled players while Patrimonio represented the players with exceptional athleticism and leaping ability.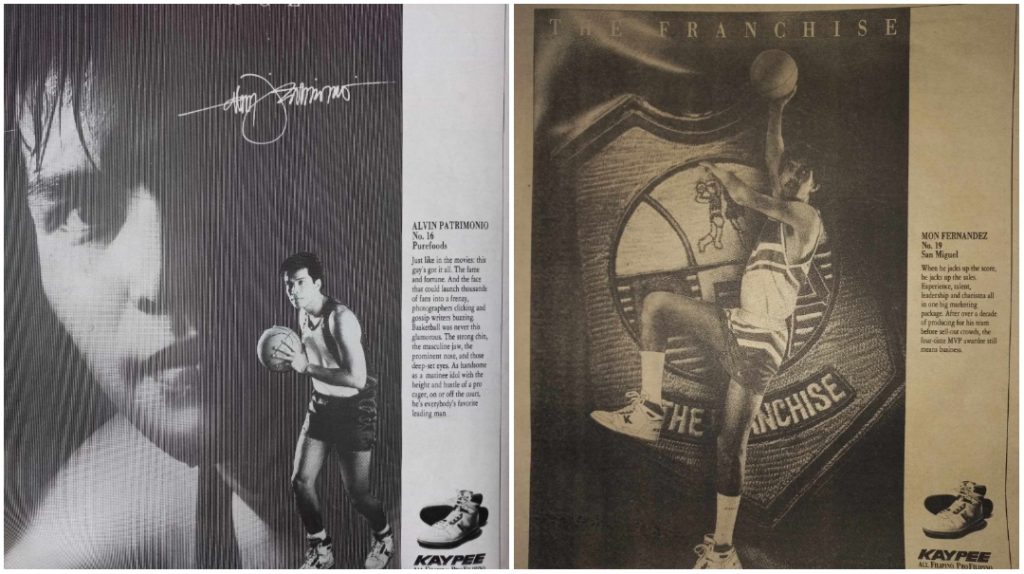 The two came out together in a Kaypee TVC that catapulted the brand to the top-selling pair of basketball shoes in the Philippines, dislodging Grosby. What was even more fascinating was how Kaypee was packaged as not just being reliable but being fashionably glamorous as well. A print ad came out featuring Fernandez and Patrimonio wearing their classy barong tagalog, formal slacks with the Kaypee togs. The ad clicked and became huge, albeit, it was ripped off from the Nike ad in the United States that featured Clyde Drexler.
This morphed later on when Kaypee added more players in the roster, with a caption, "All Filipino, Pro Filipino" – headlining the star-studded photo. The list was made up of Fernandez, Patrimonio, 2x MVP Abet Guidaben, 1979 PBA Rookie of the Year Arnie Tuadles, Abe King, Yoyoy Villamin, Manny Victorino, Padim Israel, Bong Alvarez and Harmon Codiñera.
Adidas showed its competitive spirit, not wanting to lag behind with the marketing coup that Kaypee achieved in getting Fernandez and Patrimonio. In 1989, Adidas contracted the services of five top players to endorse their product. Sophomores Ronnie Magsanoc, Jojo Lastimosa and Jerry Codiñera were joined by rookies Benjie Paras and Elmer Cabahug to make up a formidable quintet of brand endorsers meant to give Kaypee a run for its money. The competition heated up especially during this period when Nike was already releasing the first few batches of Air Jordan in the local market was slowly eating up the market that Rubberworld used to dominate.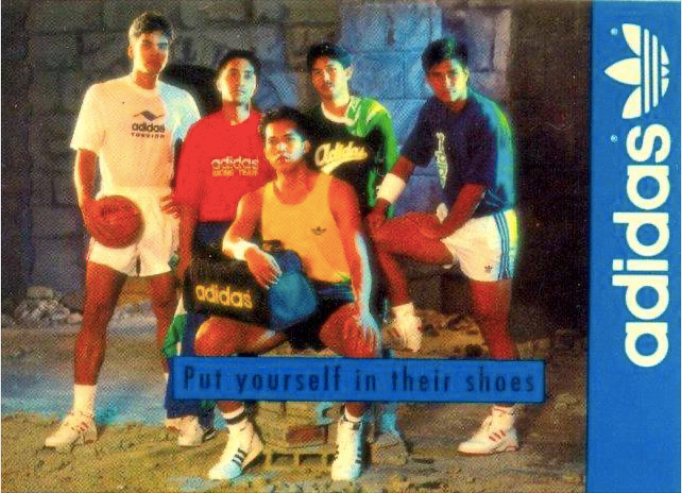 Kaypee's coup de grace though was signing up the league's most popular player, Jaworski, to carry the brand. Jaworski, for all his success as an endorser of different brands like Timex, Toyota Macho, Juvelon E+, Cerveza Negra, Pepsodent, among many others, NEVER got to endorse any rubber shoe brand. Instead, Jaworski was already contented with his trusty pairs of Converse often bought from the United States. And since Jaworski was size 12, getting a local pair here of that size was extremely difficult. Hence, when Kaypee pulled off this advertising hattrick, the brand's revenues skyrocketed.
Converse, though, fought back. With most of the big names being gobbled up by the two Rubberworld companies, they pulled off a coup by annexing two major superstars in 1990 – Allan Caidic and Samboy Lim. Endorsing the brand's latest basketball togs – the ERX 300 – Converse got its due reward as Lim and Caidic carried the RP Dream Team to the finals of the 1990 Beijing Asian Games, as well as Lim winning the 1990 PBA All Star game and Caidic copping the 1990 MVP season plum.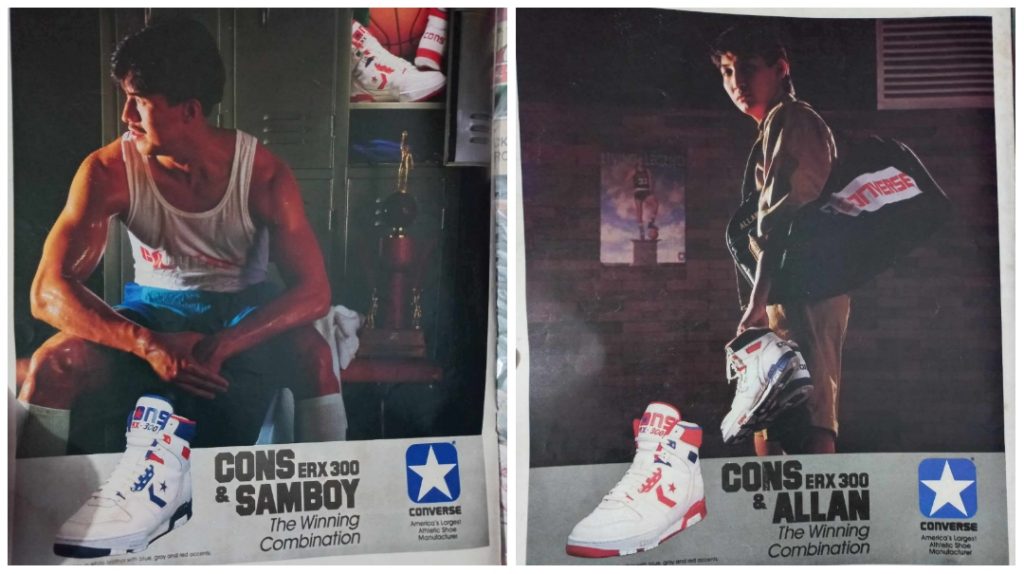 The environment changed dramatically in the 1990's though. Global trade was relaxed in 1994 with the signing of the GATT by the World Trade Organization, liberalizing the entry of foreign brands into the local market. Michael Jordan and his band of Nike endorsers became household names as the NBA was already being given live coverage by the local networks.
The PBA, on the other hand, suffered in terms of gate revenues brought about by its debacles in the 1990 and 1994 Asian Games as well as the league's most popular team, Ginebra San Miguel's poor performance from 1992 to 1995.
And then, Rubberworld got embroiled in a labor dispute that didn't see a conclusion, eventually closing shop in the late '90's. Foreign brands, apart from Nike and Adidas, flooded the local markets with top department stores carrying other big names like Puma, Converse, New Balance, Reebok, Fila, among many others. As such, the local brands were displaced as every player and young fan was enamored and wanted "to be like Mike."
In the early 2000's, a local brand came out with the hope of making a dent in the rubber shoe market dominated by the foreign brands. Accel was released to the public and made a huge advertising impact by locking up with the PBA to become the league's official sole wear and outfitter. Similarly, Accel didn't hesitate to manufacture the uniforms of all the PBA teams, including the classic Crispa and Toyota jerseys worn by their players in the 2003 PBA Reunion Game. Accel even came out with a TV commercial that featured a very young Marc Pingris alongside then-MVP Paul Asi Taulava. Accel continues to exist to date, having established a niche for itself in the market.
Just recently, 2021 PBA MVP Scottie Thompson inked a deal with local brand World Balance with his own signature pairs of kicks. The ST1 was launched and was devoured by his legion of fans. Not surprising as Thompson is perhaps the most popular PBA player today, with World Balance coming up with a goldmine move of making sure that Thompson and his minions would look good down there. Embodying Thompson's values of faith, hard work and discipline, the World Balance ST1 is now one of the market's bestsellers at present.
Will we ever get to see another genuinely-made Filipino brand reap the same success that Grosby and Kaypee had in the past? Can World Balance replicate this? The odds are difficult but with ingenuity and creativity from enterprising Filipino businessmen, apart from a new generation of fans who don't care anymore about the "imported" brand, the future is bright.