Mau Belen is a pioneer for women's sports in the Philippines, the first female coach in the PBA. It's a title that she takes seriously, even if she feels it's long overdue.
"Yes, that's a very fortunate and unfortunate title," she tells The Rivalry. "Fortunate because we are always grateful for the opportunity, but unfortunate because it happened after 46 years, but as they always say, better late than never."
Hailing from San Pablo, Laguna, Maureen Kris Belen, is the current head coach of the 3×3 TNT Tropang Giga, a brand endorser for Nike, an advocate of women's basketball, and the first female to be part of the coaching staff of a PBA team. A game-changer is what they call her. 
Mau was exposed to the sport at a really young age playing pick-up games with her brothers and cousins who needed a 10th player to form a team. These games would then become a topic of discussion in the dinner table and throughout the whole night analysing every play.
It seems the cliché runs true for the Belen family, basketball is life.
You can feel Mau's confidence when she communicates her ideas, beliefs and what she stands for during her interview in Who The Heck are We? podcast. The strong-willed determination she exudes is what makes her successful in what she has achieved, an eight-time leg PBA 3×3 Champion and back-to-back Grand Champion.
Her coaching career started while playing for Assumption San Lorenzo. In her last playing year tragedy hit after a partial ACL and MCL on her left knee kept her out of the playing court. Being the captain and leader of the team, she was given chance to sit beside her coaches just to encourage and cheer on her teammates.
She did more than that, she started to shout out instructions to her teammates to a point the coaches themselves would tell her "Umupo ka nga, mas-nakatayo ka pa sakin."
After graduating from Assumption she decided to take on the path of being a coach. So she volunteered to be one of the coaches in the Coach E camp which eventually sparked something inside her. She knew then that she wanted to be a coach. She found her calling.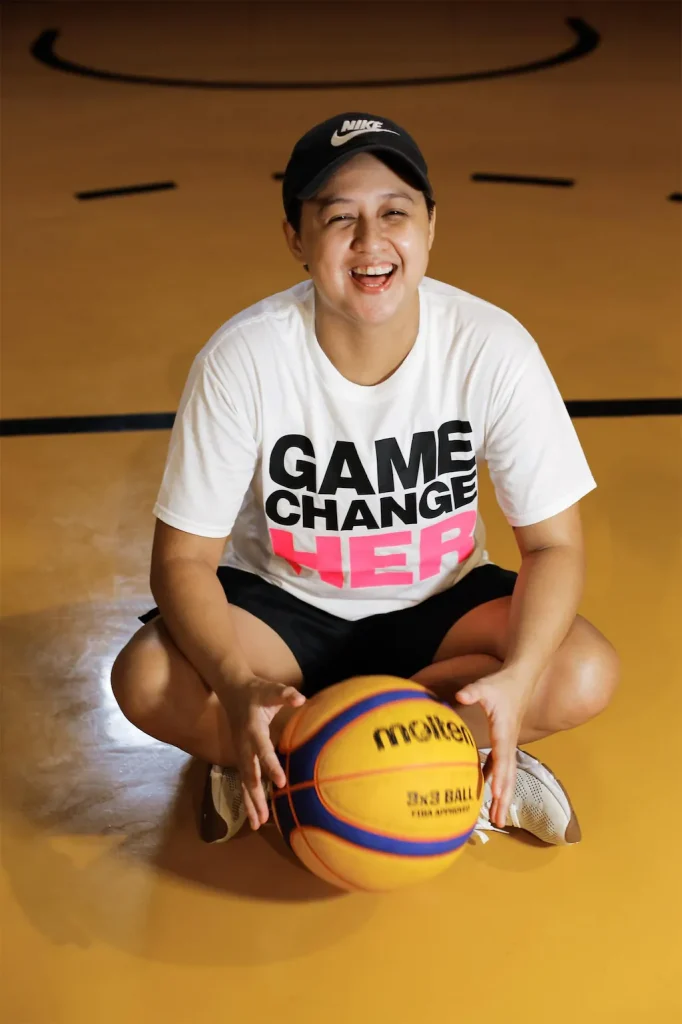 It was a seminar, during the pandemic lockdown, that jumpstarted her journey into the PBA. She was looking for something to do in order for her to not lose her passion for the game. She wanted to learn more; she was hungry. She came across a free 12-week coaching program of Coach Chot Reyes called "Puso Para sa Nagtuturo." Only 16 participants would be part of this workshop. Belen was included. This was in August 2020. Early January 2021 Coach Mau decided to move to Dubai. She packed her bags, sold all her belongings and booked her one-way ticket out. March 9, her despedida party and 10 days before her flight, she got a call from Coach Chot that would change her life.
"You know, it was God's way of testing you if you really want something," she recalls. "And the moment he (Coach Chot) texted me if he can call me. I replied 'Yes, Coach, you know where I am, I am at a very, very happy and wasted despedida party.'"
"He calls me and he said, 'I'm coming back as TNT Coach and you are one of the few people who knows this, and I am forming my coaching staff and I want you to be part of my coaching staff.'"
Of course, we know her answer. She took the bull by its horns and took on the challenge.
She is currently the coach of the winningest team in the PBA 3×3. Asked about her winning formula for success is and if it was any different from what the other coaches are doing, she had this to say:
"Working on our relationship on and off the court every day is probably the secret ingredient to our success. I don't think I am doing any different from other coaches, except for the fact that from the beginning I really tried my best to earn their trust by giving my 100% whether in practice or in games. That way they also voluntarily give their best every time they step on the basketball court."
Earn their trust she did. She is the first head coach to pilot a team to the Grand Championship of the PBA 3×3 tournament, not once but twice.
"Whatever we do in life, we always have to prove ourselves twice, sometimes three times, or more."
Coach Mau has spent her entire life playing, learning and understanding the game of basketball. By improving herself to make sure she can be at the same level as her male counterparts, she has proven that women can play and coach, too.
Is there added pressure for her, being a female in a male dominant sport?
"Certainly, 100%," she replies. "Whatever we do in life, we always have to prove ourselves twice, sometimes three times, or more. Yeah, sure we are not gifted with physique, we are not gifted with a lot of things they're saying that the men are gifted with, but I think if we are talking about people in general everyone has a gift, so if we can only see people like that and accept people for who they are and not look, not judge them based on their gender, probably the other teams can win, too."
With all that she has attained and given to the game of basketball, what is next for Coach Mau?

"To coach a women's basketball team in college or to be the 3×3 national team coach."
Coach Mau has accomplished so much in her career. She pursued, persevered and emerged as one of the biggest influencers in women's sports.
Belen has broken many barriers and has reached achievements that many other women can only dream of. Yet she continues to carry the torch that lights up the path that young women athletes can walk on. She brings hope and encouragement to future women athletes who are trying to create their own mark in the sports world. A journey which started almost 18 years ago continues today. Today you can see Coach Mau's face in Nike stores and billboards as a platform to voice out her dreams for women's sports. She wants to send out a message that this is just the beginning, she is not done and will never be done changing the game.