As rains poured heavily in Metro Manila Thursday night causing floods and massive traffic all over, organizer Gil Cortez expressed concern if the guests would be able to make it the next night for the party to celebrate 4x PBA MVP Ramon Fernandez's 70th birthday and PBA 25 Greatest player, Francis Arnaiz's homecoming.
Cortez, the 1976 PBA Rookie of the Year and the lead organizer of the legendary Toyota team's first three gatherings since February, did not hide his apprehension to this writer the morning of the event. "Let's pray that the weather would be better tonight, or else, attendance would be affected.
There were a couple of invited personalities who weren't able to make it. Some guests and teammates who accepted the invitation failed to make it for undisclosed reasons. But this didn't dampen the spirits of those who made it, and only made the party more intimate, yet special.
The early birds welcomed by Dante Silverio in his homey Gaslight Al Fresco events place along Pasong Tamo Extension in Makati City were Cortez, Emerito Legaspi, Rollie Marcelo and Ompong Segura. A former race car driver and five-time PBA champion coach, Silverio proved to be the most gracious party host, setting up the venue for 100 persons, providing the party music using his sophisticated sound equipment that came with a karaoke, and a delectable buffet dinner.
When Arnaiz arrived, he was warmly welcomed by everyone, with clicking cameras and phones. Indeed, while the PBA's Mr. Clutch may have been regularly coming to Manila the past couple of years from his now hometown Sacramento, this was the first time he would get the chance to see some of his former teammates.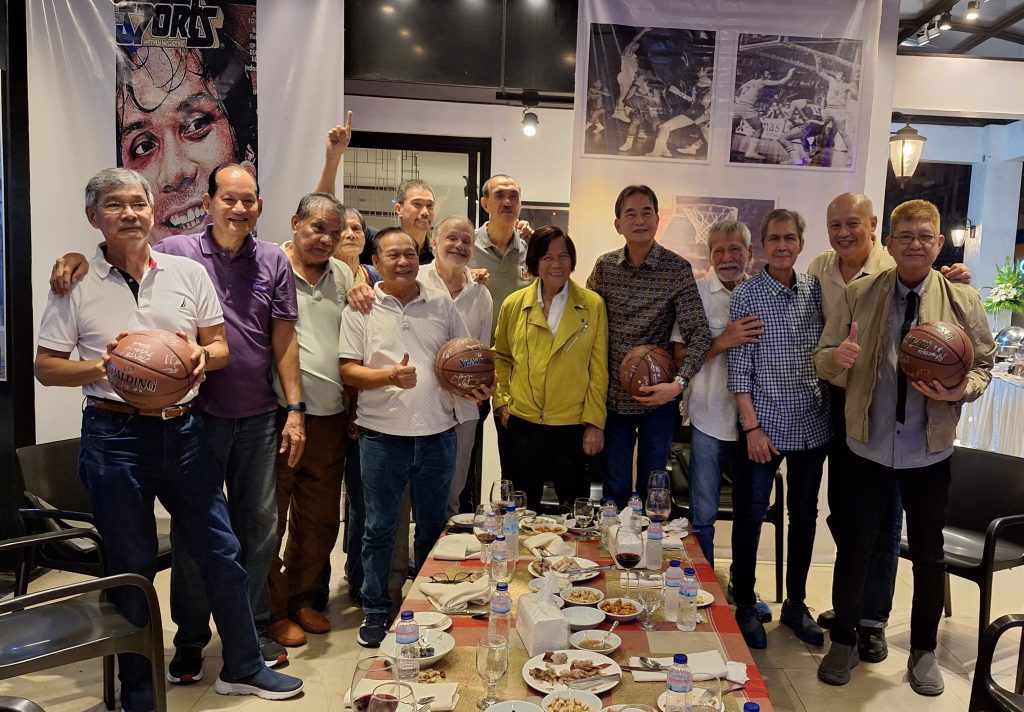 Upon seeing Oscar Rocha, Arnaiz gave him a warm hug and said, "Osky, my friend. It's been a long time. I will never forget you for always protecting me inside the court," a testament to Rocha's role as Toyota's enforcer. It was one of those rare occasions when we actually saw Rocha smile after the Arnaiz quip.
Arnaiz also made sure to chat with everyone by constantly moving around. In Episode 17 of the weekend podcast show, "An Eternity of Basketball," (AEOB) the former Ateneo stalwart revealed that one of his biggest regrets was how he wished he would've been more accommodating to the fans during his halcyon years. He expressed his admiration for his close friend, Robert Jaworski, who never turned down a fan asking for his autograph. True enough, Arnaiz walked around the venue comfortably while chatting with everyone.
Fernandez arrived later, and was greeted with a birthday song by everyone as he sashayed himself into his seat. Fernandez, who is now based in Cebu, had a business meeting in Manila which prompted Cortez to set the date of the gathering. It was also the weekend before El Presidente's 70th birthday, the exact date being October 3.
Fernandez's arrival was the cue to start the program organized by AEOB. Top PBA broadcaster and AEOB host, Charlie Cuna, served as the perfect emcee, and welcomed everyone. Legaspi offered the opening prayers, and gave special mention for Jaworski, asking for his complete recovery. Silverio provided the welcome remarks and promised that he'll be more than happy to host more Toyota reunions.
Cuna then called Arnaiz to the stage who gave a prepared speech, thanking everyone who became a major part of his life. After he spoke, a video tribute, produced by AEOB, featuring various Arnaiz's vintage photos and a part of his AEOB guesting was shown on the screen, misting some of the eyes of the players as they walked through memory lane.
It was then that Cuna called Cortez and asked him to give a brief message to the co-celebrators. Cortez was profuse with thanks to Silverio for generously hosting each event and to his former teammates who always looked forward to seeing one another.
Another video tribute was aired, also produced by AEOB, this time for Fernandez's 70th birthday. A part of the video aired the last play of the 1989 PBA All-Star game where Fernandez and Jaworski collaborated for the winning play that ended in a buzzer-beater by Fernandez. In the middle of the players' celebration inside the court, their coach, Baby Dalupan, then brought the two together where they shook their hands to the shrieks and cheers of the full-packed ULTRA crowd that watched the game.
Cortez then surprised him with a birthday cake and everyone sang "Happy Birthday" once more.
When called to speak, Fernandez said he was filled with joy and described that night as "very memorable." He also showed his deep appreciation to Silverio and his teammates for making his birthday weekend special and hoped for more opportunities to see everyone again.
A sumptuous buffet dinner was prepared. Silverio made sure everyone won't go home hungry. Roast beef, roast suckling pig (lechon), giant prawns, chicken inasal, lumpia ubod, pancit with leche flan and puto bumbong were in the menu list. Wine, liquor and beer were equally overflowing.
Of course, a Silverio-hosted party will never be without the karaoke sessions with no less than the 85-year old mentor leading the way, crooning to standards of Perry Como, Engelbert Humperdinck and Frank Sinatra. Even Silverio's daughter, Chi Chi, delivered a couple of songs to the delight of everyone, giving her own version of Sergio Mendes' "Put a Little Love Away."
When the house singer sang "Sweet Caroline" a 1969 classic by Neil Diamond, all the players stepped into the dance floor and swooned to the beat. Not a surprise really because this may have been the same track that they were swaying back in their youthful days.
There was so much fun and revelry. And yes, the weather cooperated and not an ounce of rain came from the skies. It was extremely humid though, but this didn't stop the players and the guests from having the times of their lives.
Happy Birthday Don Ramon Fernandez and welcome back home, Francis "Kiko" Arnaiz!