The NorthPort Batang Pier's prized guard Robert Bolick found himself the statistical leader among locals at the end of the elimination round of the 2022 PBA Commissioner's Cup.
Bolick, who also led all locals in scoring with 21.7 points per game, had an average of 35.9 statistical points (SPs) after 12 games. He was followed by two Barangay Ginebra players, Jamie Malonzo and Scottie Thompson, who registered 31.3 and 31.1 SPs, respectively. Coming in fourth was Magnolia's Jio Jalalon (30.4) while San Miguel's CJ Perez (30.3) was right behind at fifth.
Rounding up the top ten were NLEX's Don Trollano (29.09), NorthPort's Arvin Tolentino (29.08), Phoenix's Javee Mocon (28.6), Barangay Ginebra's Christian Standhardinger (27.9), and Converge's Jeron Teng (27.8).
Lurking just outside the top ten is Converge big man Justin Arana (26.8), making him the highest-ranked rookie.
Among the imports, NLEX's Earl Clark led the way with 56.0 SPs. However the Road Warriors were ousted last Sunday, so Clark's numbers are final. In second place was Converge's Quincy Miller (55.3) followed by Barangay Ginebra's Justin Brownlee (52.4), Magnolia's Nick Rakosevic (52.3) and SMB's Devon Scott (48.3)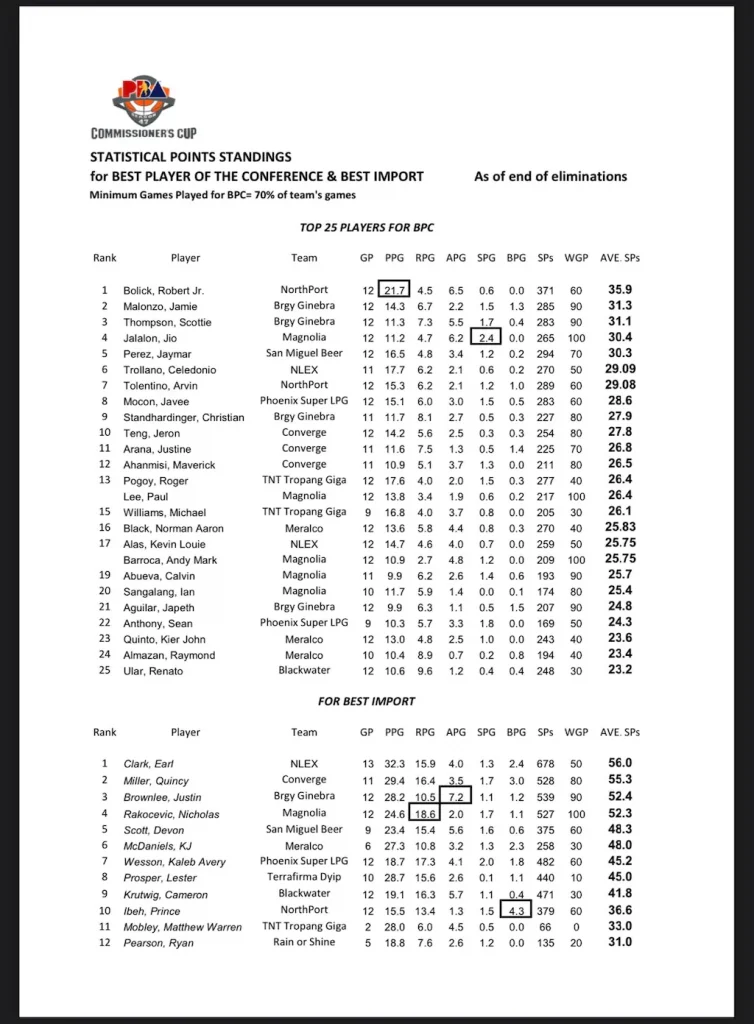 Players from the guest team Bay Area Dragons, who topped the elimination round with a 10-2 record, are not eligible to win BPC or Best Import, but are included in overall statistics.
The Dragons' towering 7'5" center Liu Chuanxing led all players in two-point field goal percentage, shooting a phenomenal 82.6% (38-of-46). Trollano led in three-point shooting percentage, shooting a scorching 46.5% (33-of-71), while Liu led in total percentage at 80.9% (38-of-47). Magnolia's Paul Lee shot 93.4% (41-of44) from the free throw line to lead that category.
SMB's June Mar Fajardo, who missed seven games with a throat injury, led the way in rebounds with 10.4rpg. Bolick topped the assists department, dishing out 6.5 dimes per game, while Jalalon had the most steals per game (2.4). Barangay Ginebra's Japeth Aguilar, meanwhile, was the top shot-blocker, averaging 1.5 swats per contest.
Bolick was also the leader in minutes played at 41.2mpg, while Bay Area's Zhu Songwei had the most turnovers per contest with 2.8.