It has been 50 years since Delta Motors Corporation of the Philippines officially debuted in the Philippine basketball scene by putting up a basketball team for the PANAMIN basketball tournament upon the invitation of organizer, Manda Elizalde. The team was first known as the Komatsu Komets, and featured Robert Jaworski, Alberto Reynoso, Fortunato Acuña, Francis Arnaiz, Cristino Reynoso, Ramon Fernandez, Rodolfo Segura, Ulysses Rodriguez, Edilberto Canamo and Edward Camus as the first batch of players.
The Silverio-owned team went on to become one of the greatest teams in the PBA, winning nine championships. The team eventually disbanded prior to the start of the 1984 season, leaving behind a huge void and a set of grieving hearts from their loyal base of fans.
The last time they were seen together playing in public was in 2003 in the nostalgic PBA Reunion Game featuring Toyota against their arch rivals, the Crispa Redmanizers. The Tamaraws defeated Crispa, 65-61, in a memorable ending that saw Fernandez and Jaworski collaborating to give Toyota the victory.
This year, the Toyota Athletic Club basketball team will hold a major reunion in an undisclosed location. This was revealed to The Rivalry by Virgilio "Gil" Cortez, the 1976 PBA Rookie of the Year, and one of the prime movers of this event. Cortez told The Rivalry that it was a consensus among those who are still in touch that "we ought to have a reunion and see each other in person. Plus the fact that the franchise will celebrate the 50th year of its founding."
The reunion's theme will be "Back to the 70's" where the attendees are expected to be wearing attires that they used to wear 50 years ago – from Niknik shirts, floral-printed long-sleeved shirts to bell-bottom jeans. "It's a suggestion from Coach Dante and me," said Cortez. Not really surprising as the Toyota players, led by their coach and Cortez, are known for being models of sartorial elegance and exceptional fashion taste.
With the blessings from head coach and team manager Dante Silverio, Cortez reached out to Toyota players from 1973 to 1984 and invited them to the gathering. "It's an opportunity for us to see and reconnect in person after all these years, while we still are able to," added Cortez. 
Just recently, Fernandez, Francis Arnaiz, Ricky Relosa and resident import Andy Fields met up in Las Vegas, inspiring the idea for the reunion. The last time the players saw each other as a group was in the 2003 reunion game. "We had a celebratory dinner in a restaurant in Makati after the game and had a great time," Cortez said.
Cortez was happy to learn that the response has been very warm and met with excitement. "Some of our teammates based in the US and elsewhere will be coming home just for this reunion. The numbers have been very promising and we're hoping more than 20 former players would be around to attend. Who knows, maybe former imports can even join us, we're crossing our fingers that some of those who are still around can visit the Philippines once more for this reunion." Two of their greatest imports, Bruce "Sky" King and Carlos Terry, have already passed on.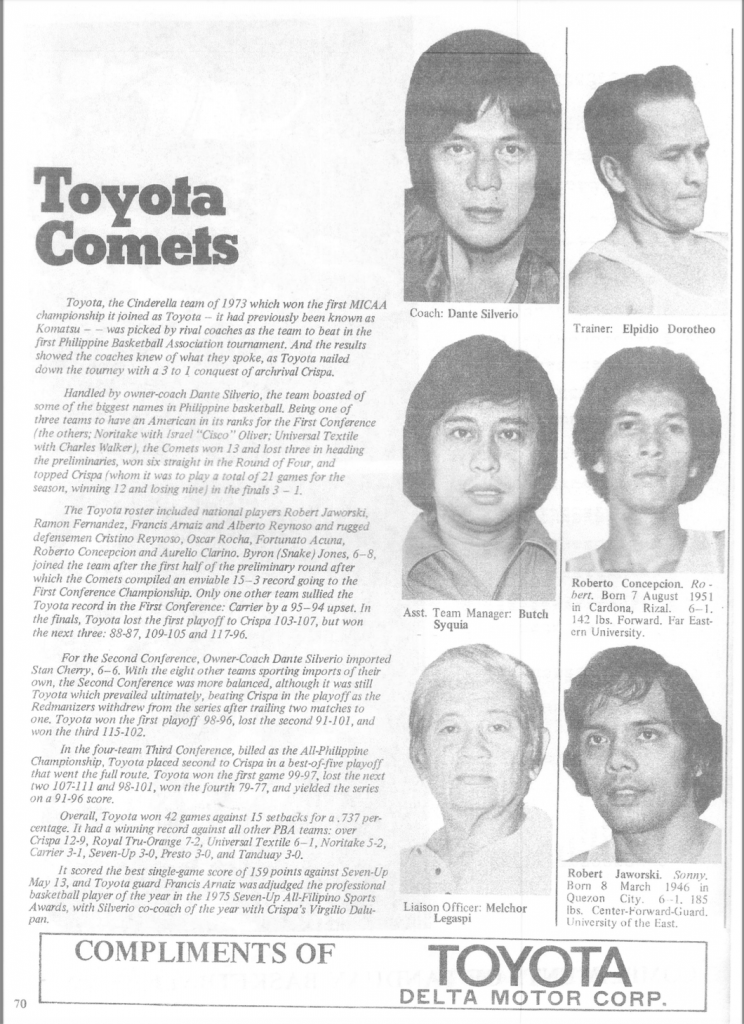 Cortez is excited to meet up with his former teammates. Being part of Toyota, he understood how special it was for a player to be part of the glorious history of the franchise. "When you play for Toyota or Crispa and did well, your basketball career is pretty much assured and set. That is why playing for these teams is a plus. It was a dream of every basketball player to play for these teams. Particularly Toyota given its wonderful reputation of taking good care of its players – when we were treated like family." The Toyota players were quartered in Bel-Air, Makati where they were pampered with so much luxury.
Asked how he wants Toyota to be remembered by basketball fans, Cortez didn't think twice. "It's only the youth who needs to be told that it is the Toyota vs. Crispa rivalry that paved the way for making basketball an important part of the Filipino culture. The games were always packed to full capacity. The rivalry of these two teams was what set the tone for how basketball is valued in the country. We somehow helped plant the seeds, so to speak," he eloquently put.
Despite the graying hair, recurring body pains and daily maintenance medicine, fans have stood by their favorite teams. The allegiance of both Toyota and Crispa fans is legendary, and this became recently evident when Crispa's Atoy Co, in an interview with the popular weekend sports show, "An Eternity of Basketball," quipped, "Jaworski was an ordinary player without any trademark move. What he did have though was his heart, spirit and discipline." The statement drew mixed reactions from senior fans, triggering heated online discussions during the first few months of the pandemic.
It will be a night full of nostalgia, wild banter, constant ribbings and memorable stories from 50 years back. More importantly, it's a time for the personalities of the team to re-establish ties and catch up with one another after three years into the pandemic.