On November 2, 1996, former PBA player Arnie Tuadles was shot in the head over a heated card game at the International Business Club in Greenhills, San Juan. He was only 40.
Tuadles wasn't any ordinary player. Veterans and young players of his time were in awe and amazement of what the 6'1 Cebuano can do inside the court. He had an assortment of moves that completely befuddled his opponents. His most patented was his "kontra-tiyempo" move that was not within rhythm and appear off-timed. His twisting aerial shots ("bale," in local parlance) were arguably the best-looking among the players who used it. Combine this with an exceptional accuracy with his midrange jumpers – later to extend to rainbow territory – as well as his proficient ability to post up his defender, Tuadles was the complete offensive weapon.
Early years
Having honed his skills in Cebu playing for the University of Visayas Green Lancers, Tuadles was already a major star in a province teeming with talent. Other noted Visayan players included Marlow Jacutin, Biboy Ravanes, Paul Velasco, Leo Paguntalan, Dodie Ramas, Willie Generalao, Ben Ocariza, Ponky Alolor, Eddie Boy Mendoza, Allan Abelgas, Woodrow Balani, and Jerry Pingoy.
He initially played for the Manilabank Golden Bankers in the mid-70's, alongside Jimmy Taguines, Jojo de Guzman, Rudy Hines and Manny Chan. It wasn't a surprise, however, that San Miguel, a team known to hire mostly Visayan players, took interest and then secured Tuadles' services to play for the Braves.
Moving to the Silverio Group
But a celebrated trade consummated by the Braves with Frigidaire in 1978 changed the course of Tuadles' career. The smooth-moving forward was dealt to the Silverio-owned refrigerator distribution company for the rights to prolific point guard Ramon Cruz. Tuadles went to a star-studded Frigidaire team that had the likes of Bokyo Lauchengco, Pol Herrera, Ricky Relosa, Ed Merced, Joel Banal, Cho Sison, Joey Marquez, Django Arce and Titong Sagarbarria under Coach Nat Canson. In Tuadles' last conference with Frigidaire, they ended up runner-up to eventual champions YCO Painters, losing 2-1 in the Finals series.
That was when Tuadles was finally able to secure his release papers from the BAP in order to play in the PBA. His fine performance in the MICAA didn't go unnoticed, as Coach Dante Silverio of Toyota decided to bring in Tuadles to shore up their small forward spot. Danny Florencio, who played that position, took a leave of absence that season, allowing a roster spot for Tuadles.
Turning pro
It wasn't like Tuadles was new with Toyota. He was already practicing with the Tamaraws as early as 1978 after the trade. Silverio relished the idea of having a multi-talented swingman who could play guard and forward and also perform well in transition. At that time, Toyota was the best offensive team in the PBA and was number one in fastbreak points. In the first three seasons, it was Ompong Segura who received the outlet passes and scored in transition. In 1978, it was Florencio. The freshman Tuadles scored most of his 13.95 points per game with easy buckets from transition attacks. He also came up with respectable 5.1 boards and 2.17 dimes a game to earn the distinction of being the first rookie to enter the Mythical Five (First Team). Tuadles was also the runaway winner for the Rookie of the Year award in 1979. He was immediately christened "The Wonder Boy," a moniker that didn't pan out.
Even with Florencio returning to the Toyota fold in 1980, Tuadles' spot was secured. With Estoy Estrada leaving and opting to play for the Great Taste Discoverers, he and Florencio shared floor burn at the small forward position. New head coach Fort Acuña, like Silverio, appreciated Tuadles' game that was ideal for the Tamaraws' fastbreak machine.
He eventually became a vital cog for the Tamaraws, later to be called the Super Diesels (1981), the Super Corollas (1982) and the Silver Coronas (1983). He was a starter for all Toyota teams that won four championships from 1979 to 1982, a testament to how he was able to earn the trust and confidence not just by the carousel-like coaching staff of the team but also by his teammates.
He was even part of the 1982 Mello Yello (soda brand) All-Star games where he scored 50 points in Cebu to lead the South All Stars to a 122-119 victory over the North All-Stars at the Cebu Coliseum. While South ended up losing by two points in the cumulative scoring system (242-240) after North won in Manila, 123-118, where he tallied 20, the eye-popping 50 markers earned for him the All-Star MVP award, as selected by the participating players.
Tuadles' one-on-one prowess was also in full display when he participated in the 1982 Shakey's one-on-one tournament won by teammate Ramon Fernandez at the expense of Tanduay's Rey Lazaro. While Tuadles got eliminated after losing to Lazaro, fans took notice of his ability to post and score easy inside.
Toyota's disbandment
The economic recession in 1983 forced the Silverio family to sell the franchise to Basic Holdings, Inc., a holdings group owned by Lucio Tan, Sr., and represented by their alcohol brand, Beer Hausen. While the transaction agreement was considered "lock, stock and barrel," there were players like Robert Jaworski, Francis Arnaiz, Abe King, Chito Loyzaga and Tuadles who didn't join the Brewmasters. Only Ramon Fernandez, Ed Cordero, Emer Legaspi, Tim Coloso, Pol Herrera, Nic Bulaong and Ricky Relosa joined Beer Hausen while Jaworski and Arnaiz went to Gilbey's Gin, King to Gold Eagle Beer, and Loyzaga and Tuadles suiting up for Great Taste. Tuadles ended his Toyota career toting averages of 13.97 points, 4.35 boards and 2.33 assists in 268 games with a single game high of 36 points notched in 1982.
In Episode 29 of "An Eternity of Basketball," Toyota import Andrew Fields described Tuadles as a "true and raw talent. I would call him a bad boy, he could ball. A lot of things I had in common with Arnie, we were both rookies, I had to give him advice as well, as he was one of those hype guys, he was hyped and played on instinct, raw instinct. Most of the time it worked for him, but sometimes, we gotta put our head above ourselves, and that's where I try to help him."
Fields particularly relished his memory of Tuadles getting the ball from his baseball pass. "The thing about Arnie, it was easier for me to pass it to him compared to someone like Francis, but if it was Arnie out there, it was money every time. I just knew he would outreach someone. It was that Tuadles was a bigger target for me to throw to."
RELATED CONTENT
Moving on
Tuadles joined a powerhouse team in Great Taste Coffee in 1984. He was part of a stellar cast of players that included Ricardo Brown, Bogs Adornado, Manny Victorino, Jimmy Manansala, Joel Banal, Joy Carpio, Alolor and Frankie Lim under coach Baby Dalupan. Almost immediately, Tuadles proved his worth, and became the team's fourth-highest scorer behind Brown, Adornado and Victorino. But more than his scoring, Tuadles also discovered a new dimension to his game – passing out dimes to teammates. True enough, he ranked 11th overall that season with his 5.4 assists per game.
The Coffee Makers bagged their first PBA title in the 1984 Second All-Filipino Conference, sweeping the Brewmasters in their best-of-five series. In Episode 44 of "An Eternity of Basketball," Joel Banal recalled how Tuadles helped the team bond by hosting a dinner at his Bel-Air residence just before the finals.
"The first time we went to the finals with him, I remember he held a party in his house just to tell us what it means to win a championship," Banal recalled. "So we swept [Beer Hausen] and I felt that Arnie did the right thing and he was so wise and he offered his house for the party. And I felt it helped us. We bonded and we had that one goal, that was to win the championship."
The next season, after moving to Ginebra San Miguel under Toyota teammate Jaworski, Tuadles broke the PBA record in most assists made in a game by dishing off 23 dimes on the same November 21, 1985 night when import Michael Hackett scored 103 points to break the scoring record of 88 points held by Larry McNeil of the Winston Kings. He played 49 games and averaged 12 points per game with a single game high of 42 points, a career-best up to that point.
But Tuadles didn't stay long with the popular Gins, and instead joined expansion team Alaska in the 1986 season. Tasked by management to lead the team as he was the most veteran in the lineup, the team didn't do badly in their maiden season, entering the semifinals on their very first conference, while cracking the quarterfinals in the succeeding two conferences. Tuadles led the locals in scoring with 17.4 points per game, the fourth-best among locals in the season, while adding 5.7 rebounds and 4.5 dimes per.
"The first time we went to the finals with him, I remember he held a party in his house just to tell us what it means to win a championship."

– Joel Banal on Arnie Tuadles
Back to Great Taste
Tuadles found himself being welcomed back at the Gokongwei franchise at the start of the 1987 season. Dalupan's familiarity with him served the Cebuano ace well – he played in all the team's 60 games that season. Curiously, Dalupan found a way to mesh his former Crispa players with the Toyota guys this season. Abe King and Tuadles joined forces with Redmanizers Philip Cezar, Atoy Co, Bernie Fabiosa and Joy Carpio to play alongside resident superstar Ricardo Brown, hotshot rookie Allan Caidic and surrounded by role players like Noli Banate, Aaron Torres, Aldo Perez, Noni Robles and bruiser Rey Ramos. Tuadles ended up as the team's fourth top local scorer once more with 12.2 points per outing, just behind Brown, Caidic and Cezar.
The year after, Tuadles once more played in all 60 games of the Coffeemakers. He upped his scoring even further, tallying 15.3 points per game with a single game high of 34 points. His scoring was ninth-best in the league, prompting coach Ron Jacobs to say that, "Arnie is probably the best forward in the PBA."
Reuniting with Silverio
When Dante Silverio made a coaching comeback to handle the Formula Shell team after a 10-year hiatus, he understood the talent that he was handling. Having drafted generational player Benjie Paras as the top pick of the rookie draft, then trading with Añejo for Romy Dela Rosa vice Rey Cuenco, while retaining sophomore point guard Ronnie Magsanoc, Silverio needed a veteran leader to preside over this youth-laden squad. Silverio easily convinced Tuadles to join him at Shell, a deal that was further sweetened by the drafting of Arnie's younger brother, Calvin. It turned out that the younger Tuadles came out to be a complete package and ended up in double digits in scoring on his rookie season at 12 ppg.
Calvin, when he guested on Episode 145 of "An Eternity of Basketball," was excited to have his brother as his teammate. "Accepted ko yan na mas sikat si Arnie sa akin, pero mas komportable ako kasi kasama ko siya, kaya yun game ko, pati focus ko, talagang andun. Siya nag-udyok sa akin na mag-practice hard, and siya din ang nag-suggest na mag-tryout ako sa Shell kasi dun ako pupunta," revealed Calvin.
The elder Tuadles, on the other hand, played his leadership role to the hilt, instilling pride and honor to his teammates. He wasn't just a voice inside the dugout, he also spoke by action, averaging 15.3 points per game once more while being Shell's third leading scorer (behind Paras and DL Rosa) and the league's 12th best. He was the team's third best rebounder and second in assisted passes.
In Episode 123 of "An Eternity of Basketball," Paras shared the leadership qualities of Tuadles. In a game against Ginebra, Paras said, "First time ko siya nakita magalit sa amin. Nun halftime, sinigawan kami, sabi sa amin, 'Napakaduwag niyo, wala kayong ba*ag. Sige, pakikitaan ko kayo, pagbalik natin, yun unang mag-drive jan, hindi na makakalaro.' Dumrive si Leo Isaac, naputol yun wrist ni Isaac sa hampas ni Arnie. Yun pangalawa naman, si Chito Loyzaga nag-drive din, lumipad yun head band." While Paras clarified that Tuadles didn't mean to hurt anyone, "kailangan naming matuto. And then, para malaman naming na andun siya, na hindi pwede na pababayaan mo lang, kung kailangan ng hard foul, para ma-ilang, gawin mo. Ganun ang basketbol nun araw."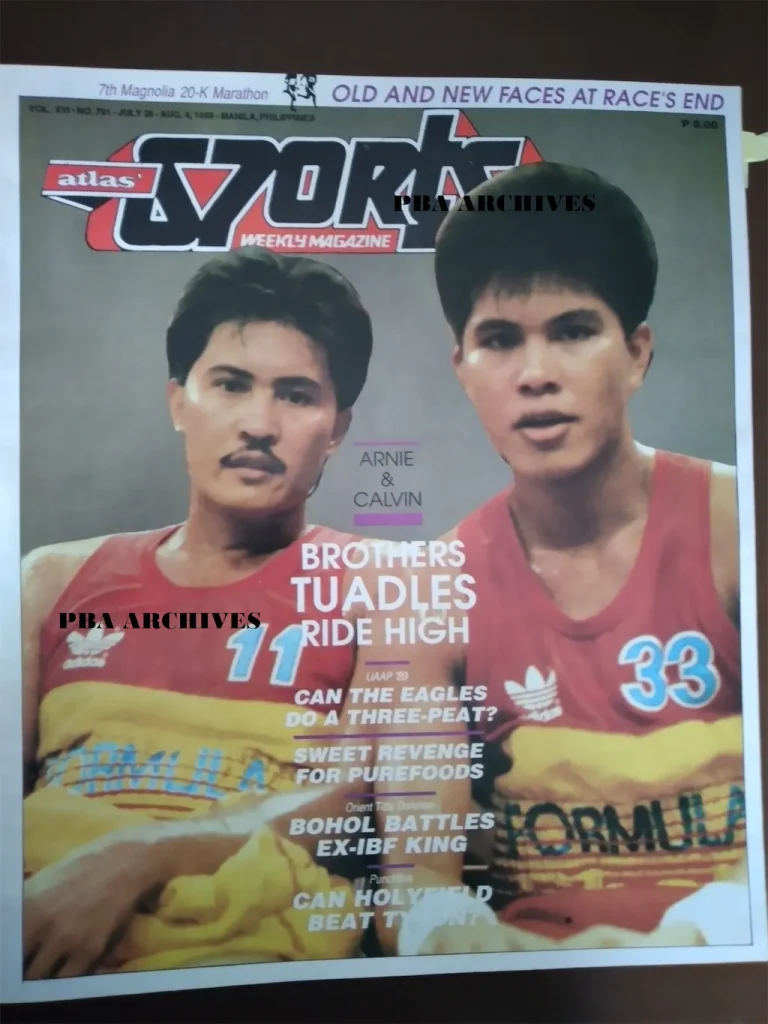 Lo and Behold – PRESTO again!
It's uncommon for players to go back to their teams. In Tuadles' case, he not only came back once, but twice. After helping Shell win its first franchise championship in the 1990 First Conference, he went back to Great Taste (now called Presto) after a contract dispute. The move turned out providential as Presto, making full use of its veteran-laden lineup providing support to franchise player Caidic, won another title in the prestigious All Filipino. This would also turn out to be Tuadles' last title as well.
Going into Game 7 of their Finals series with the youthful Purefoods Hotdogs mentored by their former coach Dalupan, Presto had to play without Caidic after he suffered a broken wrist in Game 6. In Episode 36 of "An Eternity of Basketball," rugged point guard Onchie Dela Cruz recalled that fateful game. "Marami nagsasabi na 'Di kayo magcha-champion diyan, wala si Allan.' Nagkagulo ang Purefoods, kasi di nila alam kung sino sa amin ang babantayan. Eh lahat kami, kumamada. Si Arnie, hindi nila mapigil sa low post, gumawa ata ng 33 points. Kinain yun depensa ng Purefoods."
True enough, the Presto veterans stepped up, with Tuadles leading the charge with 33 markers, in perhaps his most iconic PBA game. Victorino added 25 while Dela Cruz and Generalao were also in twin digits with 17 and 12, respectively. King put up a modest six points, but ruled the boards with 14 caroms to outclass Jerry Codiñera and Alvin Patrimonio inside. Tuadles made mincemeat of the defense put on him by Glenn Capacio, Bay Cristobal and Jojo Lastimosa, scoring mostly on one-on-one forays while posting up.
Tuadles ended up being the first ever PBA player to win back-to-back championships in the same season for two different teams. Cris Bolado eventually approximated this record in 1997 when he won a title in the first conference for Purefoods then moving to Gordon's Gin to win the Commissioner's Cup.
Retirement
Tuadles eventually retired from the PBA when Presto disbanded at the end of the 1992 season. After 692 games spread in 14 seasons, Tuadles scored 9,430 points for an average of 13.63 points per ballgame. He also dished out 2,262 dimes, the 21st in the all-time list, for an average of 3.27 assists per game.
On the early morning of November 2, 1996, he was killed instantly after being shot in the head.
After learning of his passing, Fields unabashedly admitted, "I cried. He was a good person, I couldn't understand why situations like that would happen. I teared up a lot for him because he had a good heart, a good man."
To date, Arnie Tuadles' name has yet to be included in the list of 40 Greatest Players of the PBA. He would have easily made the first 25 list but was once more surprisingly snubbed in the next 15. Hopefully, in 2025, when the PBA comes up with an additional 10 in their list, Tuadles would be finally be included.
For in the end, young kids of his generation will never forget trying to ape Tuadles' "kontra-tiyempo," twisting "bale" moves that have become his signature and representations of basketball skills and smarts, with smothered with teeming, almost unlimited talent.