As crazy basketball aficionados, Filipinos have long dreamed of a local baller playing in the National Basketball Association (NBA). That dream was supposed to have been realized earlier this year when 20-year old Kai Zachary Sotto, a 7'2" center out of Ateneo High School, applied for the 2022 NBA Rookie Draft. A Gilas Pilipinas campaigner and former Universities Athletics Association of the Philippines (UAAP) Juniors MVP, Sotto was among the over 200 players around the globe that declared for this year's NBA Draft. But after two rounds and 58 draft picks, his name was not called.
The snub from the NBA clubs not only broke Kai's heart but also of the millions of Filipinos who eagerly followed the much-awaited event. To many, this came as a huge surprise as the young behemoth from Las Pinas City improved immensely after training in the United States and playing one season in Australia's National Basketball League (NBL). But for some, Sotto's entry into the 2022 NBA Draft may have been at least a year too early.
We can all agree that Kai has come a long way from his humble beginnings as a young and lanky high school kid. Skills-wise, he has surely raised his game to a much higher level than when he was towering over everybody in the UAAP Juniors just a few years ago. It's certainly undeniable that he has improved in all facets of the game – shooting, ball-handling, passing, foot work, inside game, and defense. Also noticeable is the quantum leap in Kai's basketball IQ as evidenced by some of his stellar plays in recent NBL and FIBA Asian Qualifiers games. And let's not forget that he is 7'2" and the tallest high-level basketball player this country has ever seen. So why did all 30 NBA teams pass up on Kai?
I've asked some of the most respected hoops gurus including Nash Racela, Jong Uichico, Eric Altamirano, Jeffrey Cariaso, and Rajko Toroman about their thoughts on why Sotto was undrafted in the last NBA Draft. There was one common remark that stood out – he wasn't physically ready for the NBA. While "height is might" is generally true in basketball, the NBA is just a different animal. Being 7'2" alone doesn't necessarily give one a significant advantage in the NBA if he doesn't have the physical strength and size to battle with the other giants in the league. This is clearly true in the case of Sotto, whose body frame is still that of a teenager than a pro athlete. While Kai has had some success in playing against more seasoned centers from other national teams, he would have his hands full versus the very best big men the sport has to offer, and they're all in the NBA.
His one-year stint in the NBL helped toughen Sotto, without a doubt. After all, the NBL may very well be the third most competitive pro basketball competition in the world after the NBA and the Euroleague. But even in the NBL, Kai's one year tour of duty may not be up to par when it comes to the NBA. He played 23 games last season for the Adelaide 36ers, averaging 15.3 minutes, 7.5 points, 4.5 rebounds, and 0.8 block per game on 50% shooting from the field. Not bad for a young Filipino playing in the NBL. But with these numbers, there are probably a hundred other candidates the NBA clubs would rather bet on.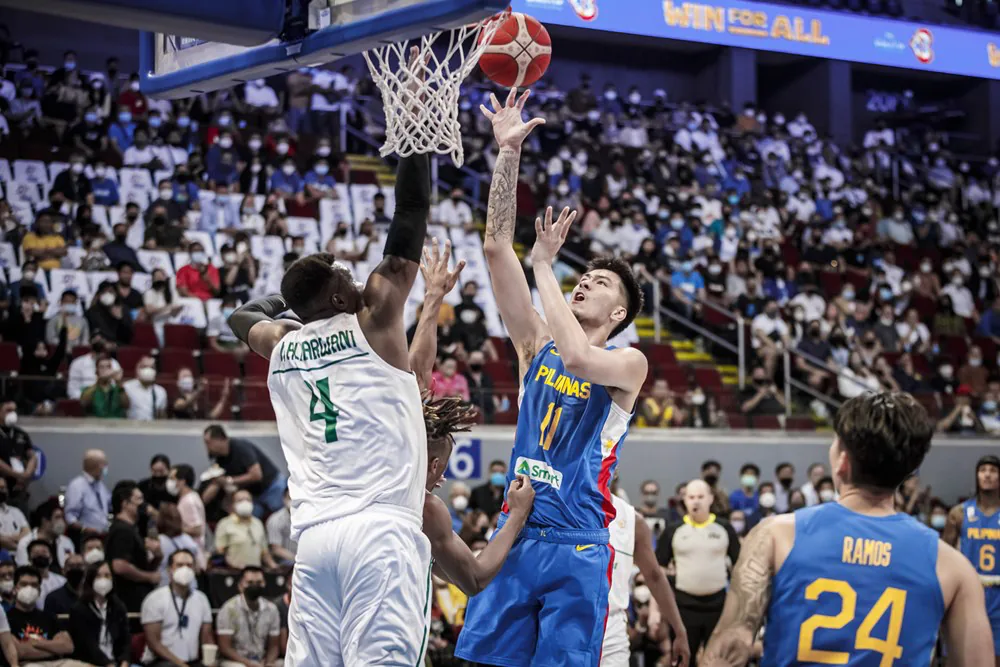 For Racela, Kai needs to bulk up a little bit and work on his upper body strength. This is of utmost importance since clashing bodies with the NBA's titans is inevitable. Uichico agrees and adds that Sotto needs to be ready with the league's physicality and to be better equipped in playing defense against the Joel Embiids and Bam Adebayos of the NBA. Speaking of the NBA's strongest centers, Cariaso thought that Kai may be caught in between playing the center and big forward positions. At center, he clearly isn't strong enough versus the bulkier counterparts and at big forward, he may not be quick and agile enough against the Giannis Antetokounmpos and Kevin Durants. Toroman offered an interesting insight too, which is that the global game has evolved so much that we're now experiencing more of a "small ball" style where teams prefer quick and athletic big men with the ability to dribble-drive and shoot from long distance over the traditional pure post specialists. This means that Kai also needs to elevate his outside game, quickness, and athleticism apart from bulking up.
Now, Sotto recently re-signed with Adelaide to play for another season in the NBL. Voted as the Fans MVP last year, the 36ers expect him to play a more impactful role in 2022. Playing at least 20 minutes per game as opposed to his 15 minutes last season can surely go a long way in his preparations for a future NBA stint. After all, the NBL is not wanting in hulking centers or power forwards. Altamirano believes that the NBA must have considered the fact that Kai wasn't part of the 36ers' core group. And so, it becomes paramount for him to crack the 36ers' first group this coming NBL season. Playing a bigger part for Adelaide's 2022 campaign and with more playing minutes will definitely speed up Sotto's maturity in the game and readiness for the NBA.
To summarize, Kai needs to do the following: bulk up, improve agility and quickness, work on his overall skills, learn to defend against tougher opponents, earn more playing minutes in the NBL, and try to make the 36ers starting or best five. Tall order and easier said than done, I know. But Kai is young and he seems to be determined to uplift his game. As a free agent now, he can get a call from the NBA anytime. But perhaps one or two years more in the NBL can augment Sotto's chances of earning a spot in one of the NBA's rosters. I am still optimistic this will happen in the near future. That Filipino dream is very much alive.