Terry Saldaña's basketball career took off in the late 70's when he was still playing for the Letran Squires in the NCAA Juniors tournament. Aside from his lanky 6'3 frame, coaches took notice of Saldaña's deft handling of the pirouette inside the paint. He would post up, his back behind the basket, then turn around and make a quick basket using the glass. He was also physical, given his frame's muscular structure and could mow his way inside.
It wasn't surprising then that Turo Valenzona, who was handling several teams back in 1979, took notice. Valenzona was then coaching Solid Mills in the MICAA, the FEU Tamaraws in the UAAP and the RP Youth team that went to Sao Paolo, Brazil for the 1979 World Youth Basketball Tournament. He was also tasked to form the team that would play in the 1980 Asian Youth tournament to be held in Bangkok.
Saldaña, who died on Wednesday, was the type of player Valenzona wanted for a big man. Known to have handled the likes of Yoyoy Villamin at Solid Mills and Rey Lazaro, Anthony Williams, Chris McGarry in FEU, and JB Yango in the Youth team, Valenzona immediately saw the potential in Saldaña. And like hand to glove, it was a perfect fit.
National Youth Team
The first big break came when Valenzona included Saldaña in the 1980 RP Youth final lineup. The move came as a major surprise to basketball pundits that time as the 6'3 forward was hardly known at that time. Other players named in the roster were Valenzona's boys from FEU like Bay Cristobal, Alfredo Amador, Lazaro and Joel Valle; rising UST star Ed Cordero, UE stalwart Ramon Cruz, Letran hotshot Itoy Esguerra, Lyceum's pride Dante Gonzalgo, Trinity's inside operator Zaldy Latoza, and Villamin of Solid Mills and Melvin Martin of MAN Diesel. YCO's Frankie Lim was to have been part of the final lineup but was dropped as he got injured and was relegated to the reserves.
With Valenzona relying on Cristobal, Cruz, Esguerra, Lazaro, Valle and Cordero for offense, he also utilized Villamin, Gonzalgo, Latoza and Saldaña on the defensive end. The Youth team reached the gold medal match where they bowed to China. The Chinese led all the way and was up at the half, 56-45, before coasting along to a 94-84 victory and the gold medal.
McGarry fondly recalls his fun moments with Saldaña. "I remember when he got his first car at a young age, showing it to us at the Herdis gym, and being young fresh from high school, he put stickers all over the dashboard like Batman, Superman even Hello Kitty. That was funny." As a teammate, McGarry recalled, "We would go out after practice in Singapore and look at beautiful women as it was first time for him going overseas. Funny guy, but no question about it, he was a mad dog during actual games." He then recalled what Saldaña told him in their game against Malaysia. "They had a big guy bullying us in the back court. Terry told me, 'I'll get him. You get the other guy,' his casual way of saying 'Ako bahala diyan!'"
Another teammate, Cordero, has his own share of memories. Cordero remembers how "Terry loved music and of course having not just a good sound system, but a great one – I remember him looking around for that in one of our trips abroad for the Philippine team. He was a funny guy, in an odd kind of way, but mostly quiet."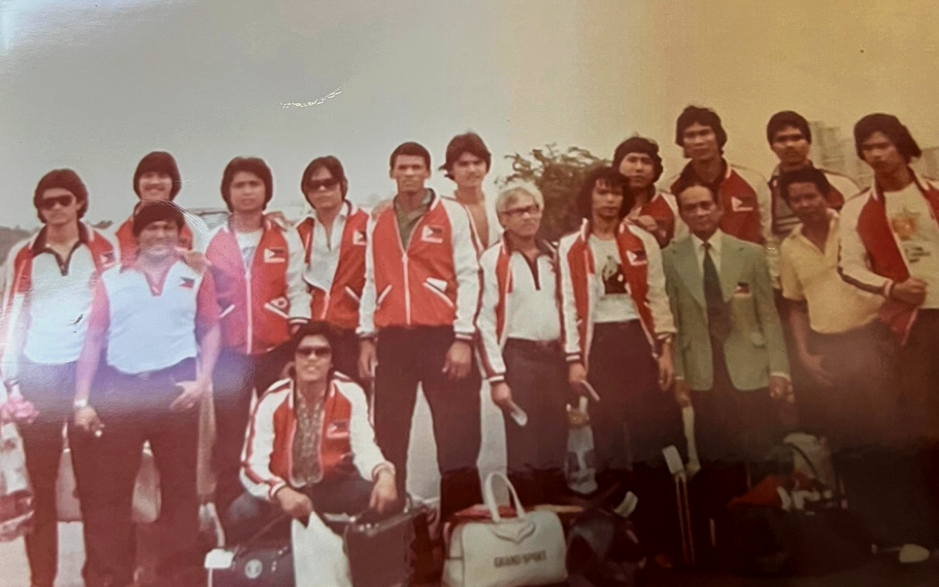 Joining APCOR
Saldaña's performance impressed Valenzona further, as the coach eventually inserted him into the roster of the mighty APCOR Financiers in the 1981 season. By that time, the Financiers were the best team in the MICAA, having won two titles the previous year and eventually winning another pair in 1981. Saldaña was part of a stellar list of players suiting up the Disini-owned company like Mon Cruz, Bay Cristobal, Rad Pasco, Marte Saldaña, Padim Israel, Gerry Samlani, Alex Clariño, Rey Lazaro, Yoyoy Villamin, Rey Ramos, Florante Dela Cruz, Joselito Dangoy, Allan Meimban, Romeo Martin and Rudy Garcia.
The Rivalry spoke with Terry's APCOR teammate and namesake, Marte Saldaña, and, while admitting he was never really close to Terry, found him to be "nice, quiet, and he'll just smile if you say hi to him." Marte added that "As a player, I admired him because he worked hard and being a forward, we could depend on him as he can outjump a bigger import because of his athleticism and tenacity." Another teammate, Lazaro, remembered Terry very well – "Yun smile nya ang di ko makakalimutan sa kanya."
Turning pro
APCOR disbanded after the second conference of the 1981 MICAA season when team owner, Herminio Disini, left the country. This paved the way for four APCOR players – Villamin, Cristobal, Israel and Cruz – to join the Crispa Redmanizers in the PBA second conference. The acquisition of these four superstars stunned archrival Toyota, forcing the hand of then team manager Ricky Silverio to secure top amateur players in 1982. Hence, Ricky Relosa, Tim Coloso, Cordero and Saldaña were recruited to bring youth to the Super Corollas' roster. With Rino Salazar joining the coaching staff, the Toyota roster increased from 11 to 14.
Saldaña's entry to the big league was met with a minor controversy. At that time, he was listed at 17 years old, having been born in 1965. Everyone was already penciling Saldaña as the youngest ever player to join the PBA, but skeptics doubted this given that he played in the 1980 Asian Youth. Eventually, Saldaña's real age was revealed to be 23 years old when he joined the PBA.
Surprisingly, from among the 4fourToyota rooks, Saldaña would create the biggest impact for the team. With import Donnie Ray Koonce, Saldaña backstopped Abe King at the power forward slot as the Super Corollas demolished the Norman Black-fueled San Miguel Beer in seven games to win the Reinforced All Filipino Conference.
In the Asian Invitational conference, controversy struck as Saldaña became involved in a melee against the visiting South Korean team. Terry punched a South Korean player in retaliation to how the Korean was physically manhandling one of his teammates, thereby triggering a brief free-for-all. Emer Legaspi, his Toyota teammate, revealed, "Walang kinakatakutan at walang nerbyos si Terry…at pag nasaktan mo siya siguradong gagantihan ka niya like what he did to the Korean whom he kicked which cost him his Rookie of the Year award." Legaspi was referring to how Saldaña, a runaway leader in the Rookie of the Year race, was disqualified by the PBA for getting himself involved in the brawl.
Cordero praised Saldaña's game. "He was such an athletic player, the moniker plastic man I guess was because even if on an awkward footing or pivot, he can manage to get the rebound or put the shot up. We were never close as you can define closeness, but I always had a soft spot for him."
On the other hand, Legaspi was more vivid in his recollection. "I remember Terry as a very shy type of person…when he talked, he hardly looked at the person he was talking to. Parang may inferiority complex siya pero pagdating sa laro ay para siyang tigre."
Legaspi then spoke about Saldaña's discovery of urban living. "He loved the nightlife. Siguro dahil hindi nya naranasan nung bata pa sya. Ang alam ko, ulila na sya nung nagpunta sya sa Manila to play. Nakasama ko rin sa quarters pero tahimik talaga. He was super strong. I mean physically." Emer even recalled his close friend and teammate Abe King mention, "Sabi nga ni Abe, malakas ang katawan niya pero mas malakas si Terry sa kanya."
Legaspi then revealed that "Ka-close ni Terry si Tim Coloso, pareho kasing Letran boys. Mabait na tao si Terry, I liked him as a person. Hindi mayabang, tahimik pero malalim."
Moving to Gilbey's / Ginebra
Saldaña though, continued to be relevant, albeit less playing time, and helped the Super Corollas win their crown that year by sweeping Gilbey's Gin, 3-0, in the Open Conference finals. He ended his rookie year averaging 6.5 points on 51.78% FG and 4.7 boards. But the negative impact of his misdemeanor soured his relationship with management, paving the way for the player to reunite with his old mentor, Valenzona.
1983 was the year when Terry won his first and only individual award – the Most Improved Player plum. His stats that season will explain – 13.49 points, 8.6 boards and 1.54 dimes, practically doubling his productivity the previous year while helping the Gins to a runner-up finish behind Crispa in the All Filipino.
It was in 1984 though that Saldaña produced All-Star numbers. With Sonny Jaworski and Francis Arnaiz joining the team, Saldaña's potential were unleashed as he became the recipient of Jaworski's post feeds or Arnaiz's drop passes. In 48 games, Terry averaged 18.94 points, 11.21 rebounds and 2.44 assists in once more leading the Gin Tonics to a runner-up finish in the All Filipino.
When Jaworski took over the coaching mantle at Ginebra (formerly Gilbey's Gin), Terry became one of the best power forwards in the league. He produced consistent numbers of 12.60 and 7.29 the next two seasons, earning the trust of the Big J to deliver at crunch time. Even with the arrival of 1986 ROY winner Dondon Ampalayo, Saldaña continued to deliver, particularly in Game 1 of their Open Conference finals conquest against Manila Beer. While Ginebra remained a doughnut team that had no center, Saldaña and Ampalayo more than held their own against their taller rivals.
While his defenders failed to stop him from scoring inside, it was a horrific injury that nearly ended his career. Hyperextending his knee after landing badly from a block attempt on his 12th game in the 1987 season, Saldaña's injury, seen vividly on national television, brought shockwaves to every player. It wasn't a pretty sight and many thought they had seen the last of the Plastic Man.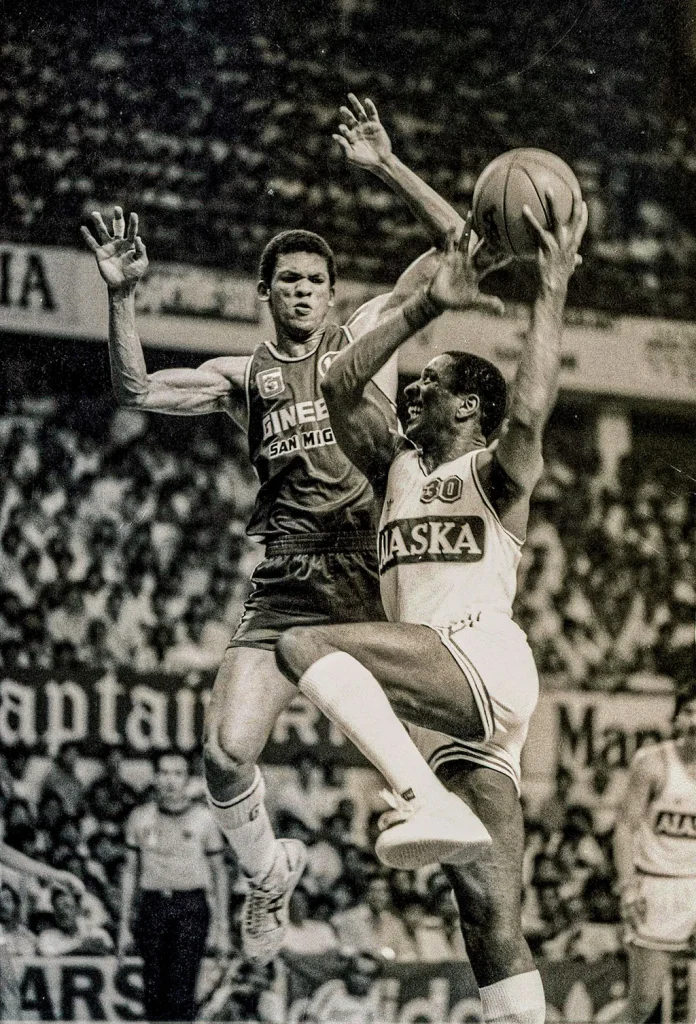 Comeback Kid
Saldaña missed the entire 1987 season save for his team's first 12 games. It came as a surprise therefore to see him coming back in 1988 playing for the Alaska Air Force. Ginebra coach Tim Cone, in a tweet, marveled at Saldaña's resilience. "He was so hard to stop around the basket, and I'll remember him from coming back from a gruesome injury. It took a lot of character to do that."
He didn't play the entire 1989 season. But many were surprised when then new coach Yeng Guiao of the expansion team, Pop Cola, included him in their maiden roster. Guiao's confidence in Saldaña paid dividends as Terry proved his worth in four seasons with the franchise. Despite playing for a star-laden squad, particularly from 1992 to 1994, Terry put up impressive numbers of 7.76 points and 6.34 rebounds in 216 games for the Concepcion team. In those four years, the team won two championships.
Swift teammate Eric Reyes, then a rookie in 1992, shared his thoughts on Saldaña's passing. "Terry was tough and despite his young age was a physical player that can handle the 'no harm no foul' rule of the PBA. From Toyota to Ginebra where he was also feared by many because he can easily do a standing reverse slam. Unfortunately, he suffered a career threatening knee injury and back then only solution was a big surgical cut compared to arthroscopy today. When I entered the league in '92, I'm glad he was my teammate. He can be both a kuya and enforcer should there be anyone who dare play physical on any of his teammates. His demeanor was a silent but effective operator, hardly says much but just a simple scratch on his head during interviews…His undergoal shots require a skillful plastic man type of flexibility and is also an expert of a 'pa-banda' off the glass shot."
Terry then moved to Shell from 1994 to 1996 and provided frontline support to Benjie Paras. In 157 games with the Oilers, he chalked up decent numbers for a reserve, scoring 5.13 points and 4.49 boards.
When Saldaña found no takers after his contract with Shell ended in 1996, Jaworski decided to take him back at Gordon's Gin to provide veteran support to young bigs Marlou Aquino, Noli Locsin and Wilmer Ong. In what may be his best game as a Boar, Jaworski was forced to give Terry 26 minutes of floor burn in Game 3 of the Commissioner's Cup finals against Alaska due to Chris King's torn hamstring suffered in Game 2. Saldaña responded by scoring 10 points and collaring 12 rebounds, all in the thirrd quarter. The 12 boards in the third was more than the combined total rebounds of their opponents for the quarter in an impressive display of interior dominance. Gordon's Gin won, 87-86, to give them a commanding 3-0 lead in the best of 7 finals series. They eventually won in 6 games.
A short one-year stint in the MBA for the Batangas Blades paved the way for another PBA comeback as Guiao, returning to the league this time as head coach of the expansion team Red Bull, gave him a roster spot. This turned out to be Saldaña's final year in the PBA. Guiao, in an interview with The Rivalry, expressed sadness by his death. "Terry made a name for himself as a gifted, talented young player in the PBA, one of the youngest as a matter of fact to ever play in the league. I was a young coach when he first played for me with the Swift franchise. He was very instrumental in our early success with this franchise and made an indelible mark in the way I viewed the value of toughness in "big" men." Guiao then added that "Terry was a soft-spoken, shy and humble soul who let his game speak for itself. I have fond memories of Terry at his prime that's why I was heartbroken when I learned of his failing health these past years."
He was last seen in the PBA Reunion game between the Crispa Redmanizers and the Toyota Tamaraws where he was adjudged the Best Player of the Game, scoring 15 points, 15 rebounds including seven off the offensive glass, and two blocks. Displaying the passion that the legendary rivalry has created, Saldaña and Atoy Co were involved in a psy-war game with Terry sticking out his tongue at Co after making a basket and one.
For almost two decades, Terry Saldaña was a fixture in the PBA. Having won six championships, he was a bonafide winner. Fans easily recognized him because of the way he played. He made most of his points from inside, whether through post up plays, reverse layups, putbacks, or even a recipient of nifty passes from his teammates. He was also a monster offensive rebounder and was known for his incomparable blue-collar work ethic. More than anything, it was his resolute will to come back from a career-threatening injury that will always be remembered by his fans.
Rest in peace, Terry!