This is part of a series from The Rivalry naming the five greatest PBA players from UAAP and NCAA member schools. Some ground rules to explain the rankings:
1. Players are ranked according to their PBA achievements, and NOT their college achievements.
2. If a player played for more than one school in college, the series writers – Jay Mercado and Jude Roque – will decide between themselves which school the player will fall under.
3. Players who excelled in college but whose playing years preceded the PBA are unfortunately not included (i.e., Caloy Loyzaga for San Beda).
4. Players who played for a college or university before that school joined the UAAP or NCAA are included for consideration.
5. Only current UAAP and NCAA member schools are included in the series, but not necessarily all of them.
San Sebastian College Golden Stags
San Sebastian College-Recoletos (SSC-R) has been a member of the National Collegiate Athletics Association (NCAA) of the Philippines since 1969. Based in Claro M. Recto Avenue in the City of Manila, the proud Catholic institution is the owner of 12 NCAA men's basketball championships, with the first one won in 1973. SSC-R's men's cage team is known as the Golden Stags, with Gold and Red as its official colors. The Stags won five straight NCAA men's basketball crowns from 1993 to 1997, the most consecutive titles ever won in the event. This feat was duplicated by San Beda University later on, from 2010 to 2014.
Here is The Rivalry's list of the five greatest PBA players produced by San Sebastian College – Recoletos.
5. Eugene Quilban (NCAA 1986-1989/PBA 1991-1999)
College Career
Eugene Quilban was considered one of the best point guards in college basketball during his time. Not only was he a stellar playmaker but also an outstanding scorer, which earned him back-to-back MVP honors in the NCAA in 1987 and 1988. In 1988, he teamed up with fellow San Sebastian star Paul Alvarez to help the Stags score a 10-0 sweep of the NCAA tournament. The next year, Quilban also starred for SSC-R in its successful two-peat campaign after defeating the Bong Hawkins-led Perpetual Help Altas in the best-of-three finals.
PBA Career
Accomplishments: 1x champion (with Alaska in the 1991 Third Conference); 1991 Rookie of the Year; holds the record for most assists in a single game with 28 dimes; led the 1992 season in assists with a total of 384; played for five different franchises namely Alaska, Pepsi, Mobiline, Pop Cola, and Sta. Lucia Realty; played in nine seasons averaging 8.63 points, 2.52 rebounds, 4.66 assists, and 1.11 steals.
Quilban's entry into the Philippine Basketball Association (PBA) was highly anticipated after his sensational stint in the NCAA. Only 5'8" tall, this diminutive point guard was picked No. 3 overall in 1991 by the Alaska Aces. At Alaska, he joined SSC-R teammate Alvarez in the talent-laden team that also included Jojo Lastimosa. The dynamic duo helped the Aces and head coach Tim Cone win their first ever PBA championship in the Third Conference of 1991. In the same year, Quilban bagged the Rookie of the Year (ROY) plum.
After one season, Alaska traded Quilban to Pepsi for Jun Reyes. It was with the Pepsi franchise that he spent most of his memorable playing years in the PBA. On August 9, 1992, Eugene set a record that still holds today – dishing out 28 assists in a 123-100 drubbing of Formula Shell. In 1994, another top PBA court general Dindo Pumaren moved to Pepsi, which caused Quilban's playing minutes to dip. He became a journeyman in the PBA shortly after, playing for Mobiline, Pop Cola, and Sta. Lucia Realty before leaving the league in 1999. From the PBA, Eugene joined the Davao Eagles team in the now defunct Metropolitan Basketball Association (MBA).
4. Rommel Adducul (NCAA 1994-1997/PBA 2003-2012)
College Career
Rommel Adducul was the most dominant center in college basketball during his time with the Golden Stags. At 6'5", he lorded it over all his counterparts inside the shaded area with his brute strength and great timing. He was so superior that he led SSC-R in ruling the NCAA for four years, from 1994 to 1997, when the Stags posted their record five-year reign that began in 1993. The pride of Tuguegarao City was voted NCAA season MVP in 1996 and 1997. He was also the league's top rookie in 1994. Adducul became the most sought-after college player after a remarkable career in the NCAA and also the semi-professional Philippine Basketball League (PBL). But after his amateur years, he joined the thriving MBA where he played for five years, from 1998 to 2002. In the MBA, Adducul won two championships and an MVP award. He was also a many-time member of the Philippine men's national team.
PBA Career
Accomplishments: 3x champion (two for Barangay Ginebra, and one for Purefoods); 4x All-Star; 2004 Mythical Second Team; played for five franchises namely Barangay Ginebra, San Miguel Beer, Purefoods, Powerade, and Global Port; played 356 games in ten seasons (2003 to 2012) averaging 5.8 points and 5.9 boards.
Adducul entered the PBA in 2003 after a colorful five-year stint in the MBA. He was picked by the Barangay Ginebra Kings second overall in the 2003 PBA Rookie Draft, behind Mike Cortez. In the same draft, other big men like Eddie Laure, Harvey Carey, Billy Mamaril, Enrico Villanueva, and Reynel Hugnatan were also selected by various squads. After dominating the NCAA, PBL, and MBA, Adducul found himself battling with many other behemoths in the PBA including Danny Ildefonso, Eric Menk, Asi Taulava, Davon Harp, and Kerby Raymundo. But Rommel was instrumental in Ginebra's two championships – 2004 Fiesta Cup and 2005 Philippine Cup. His third PBA diadem came five years later, with Purefoods during the 2010 Philippine Cup. He hung up his jersey in 2012 and now serves as an assistant coach with the Adamson University men's varsity. 
RELATED: The top five PBA players from Adamson University
3. Ian Sangalang (NCAA 2009-2012/PBA 2013 – present)
College Career
In 2009, new recruits from the province of Pampanga bolstered the Golden Stags already formidable roster. This was the time then San Beda College dominated the NCAA for three straight years, from 2006 to 2008. Ian Sangalang from Lubao town was among the fresh Kapangpangan recruits who would immediately make an impact in the oldest collegiate league. The lanky 6'7" center formed one-third of the dreaded Pinatubo Trio along with Calvin Abueva and Ronald Pascual. They collaborated to end San Beda's four-peat hopes that year as the Stags annexed their last NCAA men's basketball title. Sangalang played four years for SSC-R in the NCAA where he had a marvelous collegiate career, winning the league MVP honor in 2012, the Defensive Player of the Year award in 2011, and being named to the Mythical Five in both years.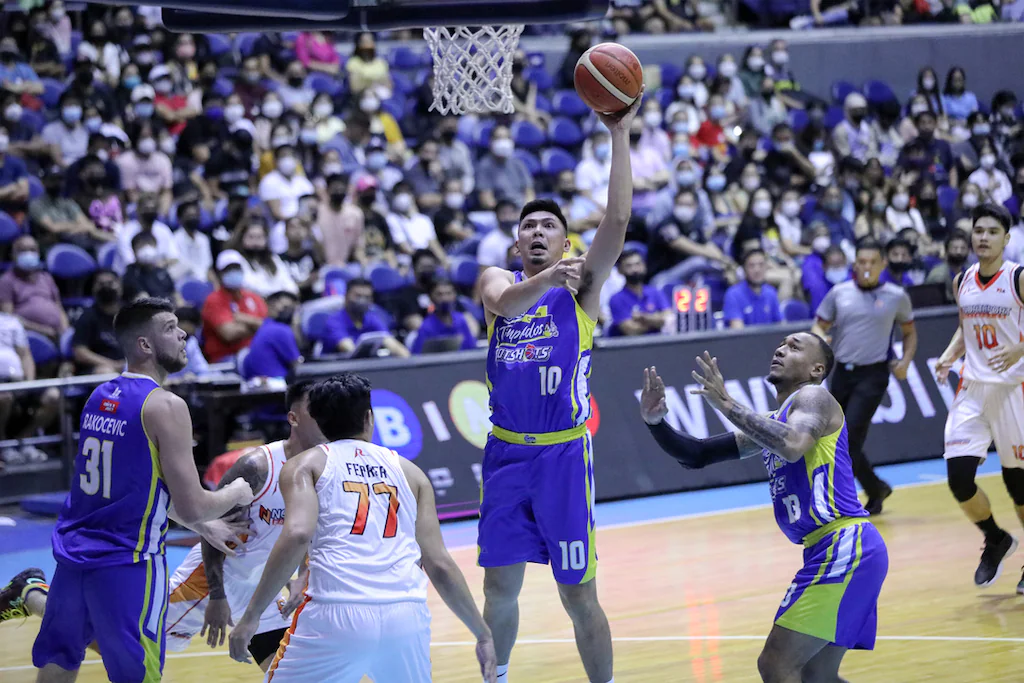 PBA Career
Accomplishments: 4x champion (all with Magnolia); 1x All-Star; 2x Mythical Second Team; from 2013 to 2021, his averages were 10.9 points, on 47.7% field goal shooting, and 6 boards. He remains one of Magnolia's best locals in the current season.
Sangalang was drafted second overall by San Mig Coffee (now Magnolia Hotshots) in 2013, right after top pick Greg Slaughter. He was picked ahead of other eventual stars from the same draft year like Terrence Romeo and Raymond Almazan. In his first year in the PBA, he helped steer San Mig to a grand slam finish (2013 Philippine Cup, 2014 Commissioner's Cup, 2014 Governor's Cup). It did not take long until Ian developed to be one of the top big men in the PBA until today. In 2018, he got his fourth PBA crown when Magnolia topped the Governor's Cup. The next year, Sangalang had his best season to date, with norms of 15.1 markers, 8.5 rebounds, 1.5 assists, and 1.1 blocks.
2. Paul Alvarez (NCAA 1985-1988/PBA 1989-2004)
College Career
Since his high school days in the University of Manila, Paul "Bong" Alvarez had always been the crowd darling because of his electrifying moves. Gifted with exceptional athleticism and first-rate skills set, the young baller from Quiapo, Manila caught the eye of then San Sebastian coach Francis Rodriguez, who recruited him in 1985. Right in his very first year with the Stags, Alvarez sizzled in the NCAA and was a vital cog in SSC's winning the championship that year. His star continued to shine in the 1986 and 1987 seasons and he became the most popular figure in the NCAA. However, in both seasons, his Stags would lose in the finals to arch nemesis Letran Knights. Alvarez, along with star point guard Quilban, bounced back strong in the 1988 season, leading SSC-R to a sweep of the tournament and another NCAA crown.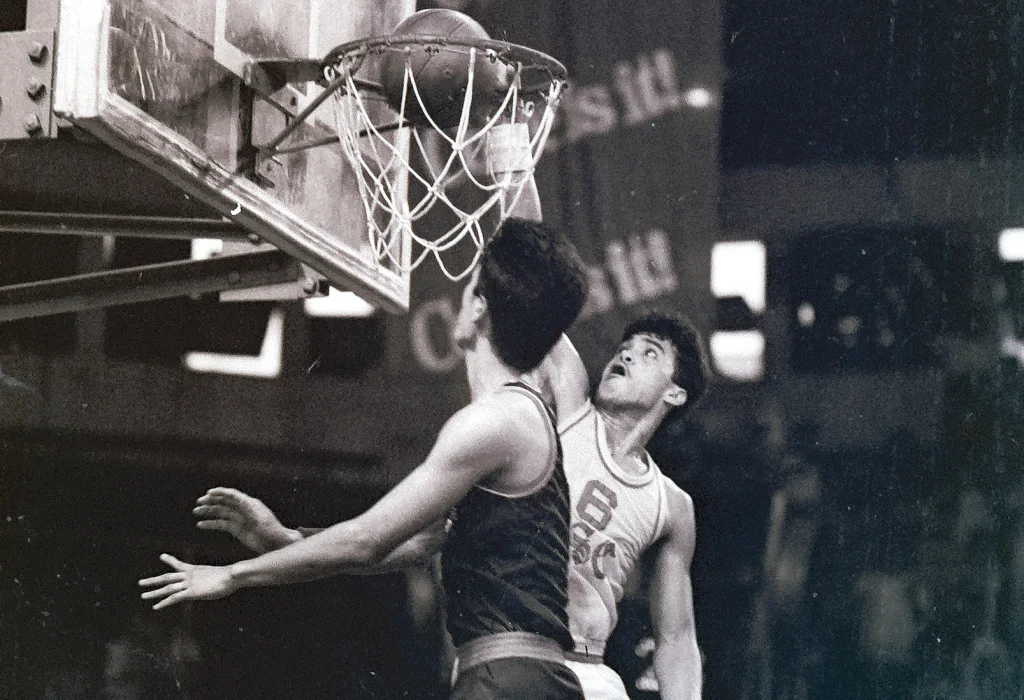 PBA Career
Accomplishments: 1x champion (Alaska, 1991 Third Conference); 2x Mr. Quality Minutes awardee; 2x Comeback Player of the Year awardee; 4x All-Star; 1x Mythical First Team; played for eight franchises from 1989 to 2004 namely Alaska, Sta. Lucia Realty, Formula Shell, San Miguel Beer, Barangay Ginebra, FedEx, TNT, and Red Bull; with career averages of 16.4 points, 5.3 rebounds, and 3.2 assists.
Alvarez brought his highly entertaining game to the PBA in 1989 when the Alaska Milkmen drafted him fourth overall. His high-flying game immediately wowed the PBA fans. Soon after, he was dubbed "Mr. Excitement." On April 26, 1990, he exploded for 71 points during a 169-138 shellacking of Formula Shell. This feat is the second all-time highest score by a player in a single game after Allan Caidic's 79. But while Caidic made a living mostly out of three-point shots, Bong's baskets were predominantly from dribble drives and perimeter shots. In 1991, he was among the key players in Alaska's first-ever PBA title. It was also Tim Cone's first championship as a PBA head coach. Alvarez was traded to Sta. Lucia Realty for Bong Hawkins after a contract dispute in 1993. In the years that followed, he was saddled with injuries and other issues that made him a journeyman in the PBA, moving from one team to another. He briefly left the PBA after the 1998 season to play in the MBA but returned shortly after. His last stint was with Red Bull in 2004.
1. Calvin Abueva (NCAA 2009-2012/PBA 2012 – present)
College Career
Calvin Abueva took the NCAA by storm right from his rookie season. Highly athletic, quick, strong, and skilled, this Angeles City native drew monster numbers while playing for the Stags. This earned him the nickname "The Beast." Calvin led SSC-R to its last NCAA championship in 2009, his rookie season, at the expense of the four-peat seeking San Beda Red Lions. He was voted in the NCAA Mythical Five for three straight years, from 2009 to 2011. Also in 2011, Abueva led the league in scoring (20.6 points per game) and rebounds (13.7 rebounds per game) to snatch the MVP trophy. In his four seasons with the Stags, he posted 16 double-double games and four triple-double games. He was a man among boys.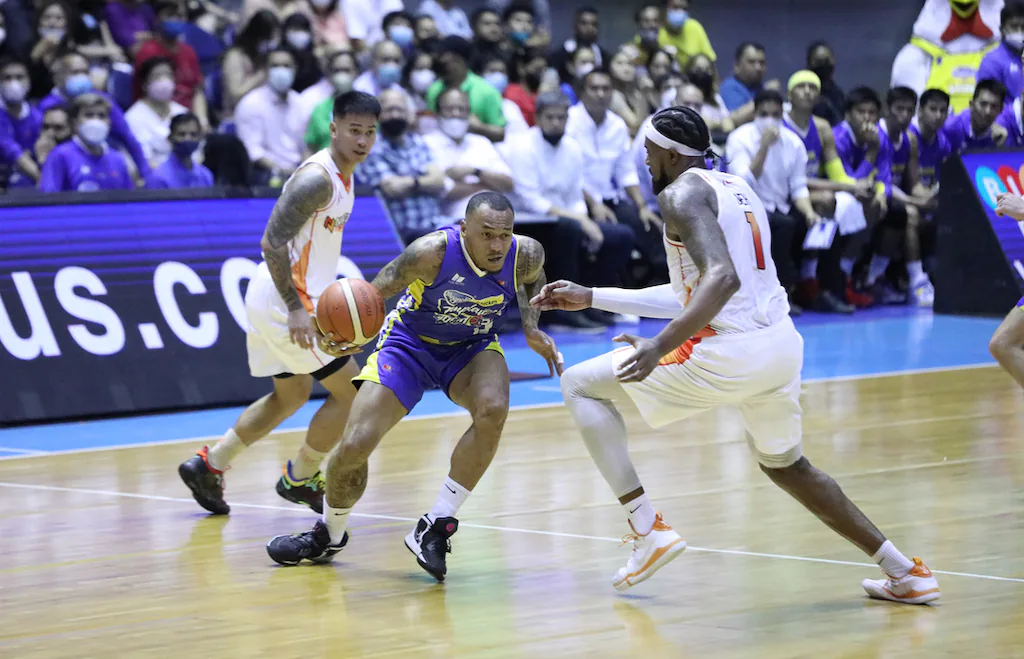 PBA Career
Accomplishments: 1x champion (Alaska, 2013 Commissioner's Cup); 2x Best Player of the Conference; 4x Mythical First Team; 7x All-Star; 2013 Rookie of the Year; 2x All-Defensive Team; 1x Mr. Quality Minutes; since 2013, he has played for three teams – Alaska, Phoenix, and Magnolia; from 2013 to 2021, his averages were 13.5 points, 9 rebounds, and 2.4 assists.
When most everybody thought Abueva could only slay in the collegiate ranks, he immediately made his presence felt in 2012, when he was selected by Alaska second overall in the rookie draft, next only to June Mar Fajardo. That same year, the Beast was unleashed, making Calvin a prime candidate for the Best Player of the Conference (BPC) in two conferences. He ended up bagging top rookie honors that season. Soon after, he harvested several other accolades in the PBA, including two BPC's, in the 2016 Commissioner's Cup and 2021 Philippine Cup.
In 2019, Abueva was slapped an indefinite suspension by the PBA after a physical altercation with TNT import Terrence Jones as well as improper behavior towards a spectator. The suspension lasted for over a year until he was allowed to suit up for Phoenix Petroleum in October 2020 during the "Bubble" conference. He showed no signs of rust in his game and was also in his best behavior during the said tournament. A few months later, Abueva was traded to Magnolia for Chris Banchero and some future draft picks. He is currently chasing his second PBA title as he rejoins former SSC-R teammate Ian Sangalang at Magnolia.
Honorable Mentions
Rodney Santos, Mark Macapagal, Michael Miranda, Bong Solomon, Art Dela Cruz