All nine teams have already seen action in the ongoing 2022 Premier Volleyball League (PVL) Reinforced Conference and while cohesion with each squad's import has yet to be optimal, there are indications on how these reinforcements could help their teams.
Some of these foreign guest players have been impressive, some have performed admirably and some have shown that they bring in a more complimentary role, but one thing is truly for certain: it is indeed refreshing for the PVL to once again have these foreign guest players back in the league after nearly three years.
Let's cite the three imports who have shown to be potential game-changers (in no particular order).
Prisilla Rivera (DOM) – Akari Chargers
Never mind that she's aged 37 and has already begun the process of transitioning into the coaching ranks in the Dominican Republic. This three-time Olympian has electrified the slowly growing Akari fanbase with her spunk and savvy as well as her mentorship of the players of the league's newest and youngest team.
Rivera scored 20 markers in their opener against Cignal in Sta. Rosa last October 8 where the Chargers also managed to steal the first set before going down in four against the HD Spikers.
But once the jitters gave way to self-belief, Akari went to Rivera for her veteran leadership as she scored 25 in the franchise's first ever PVL win against United Auctioneers, Inc.-Army (in straight sets, no less) on October 15.
Rivera commands so much respect due to her reputation and abilities that at one point in the match against the Lady Troopers all she had to do was stomp her foot against the opposing offense to cause an attack error. It was hilarious when it happened, but it was evidence of what she can do to influence the results on the court.
Akari now becomes a legitimate threat as the young core is slowly beginning to believe that they can be contenders—thanks primarily to the belief that this legend has bestowed upon her newfound wards.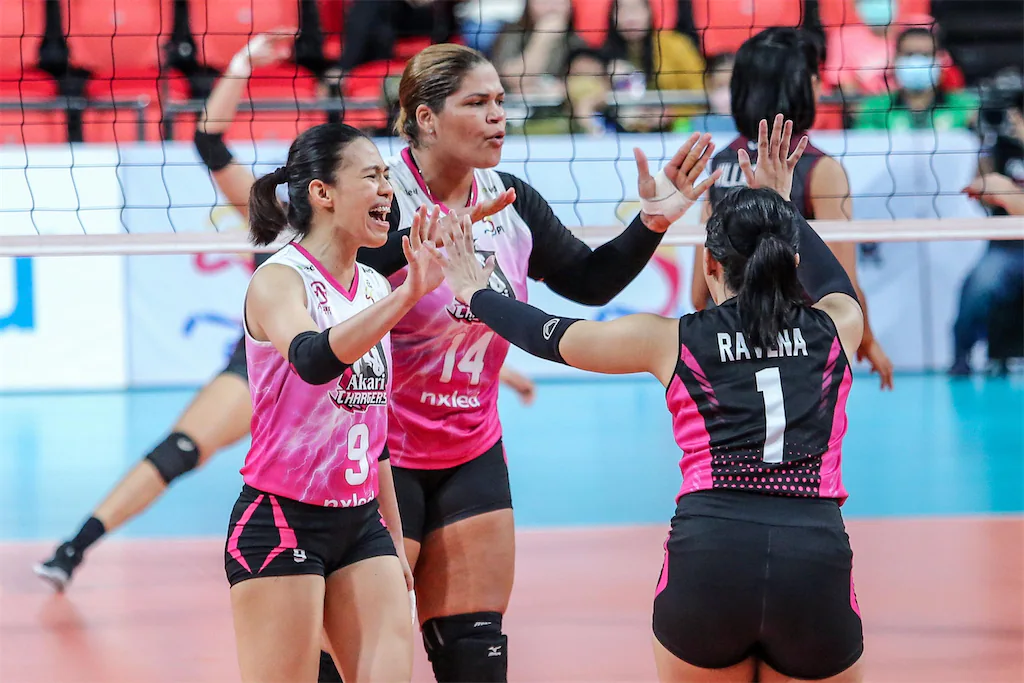 Lindsey Vander Weide (USA) – Petro Gazz Angels
From one of the most experienced in Rivera, we go to the youngest of the crop as this 24-year-old Californian out of the University of Oregon surprised many aficionados with court skills beyond her years, helping the Angels notch win number one against popular Choco Mucho last October 10.
Vander Weide had previously played internationally in France, Turkey and Greece before coming to the PVL and in those three years seemingly absorbed everything she could. The way she picked her spots against the Flying Titans was a big reason Petro Gazz won. Her attitude was that of a pro with eons of experience, and she blended well with the young starters (new Petro Gazz mentor Rald Ricafort opted to sit veterans Aiza Maizo-Pontillas and skipper Chi Saet for this assignment).
Vander Weide appears to have found instant chemistry with her club when she almost effortlessly came away with 25 points in her Philippine debut.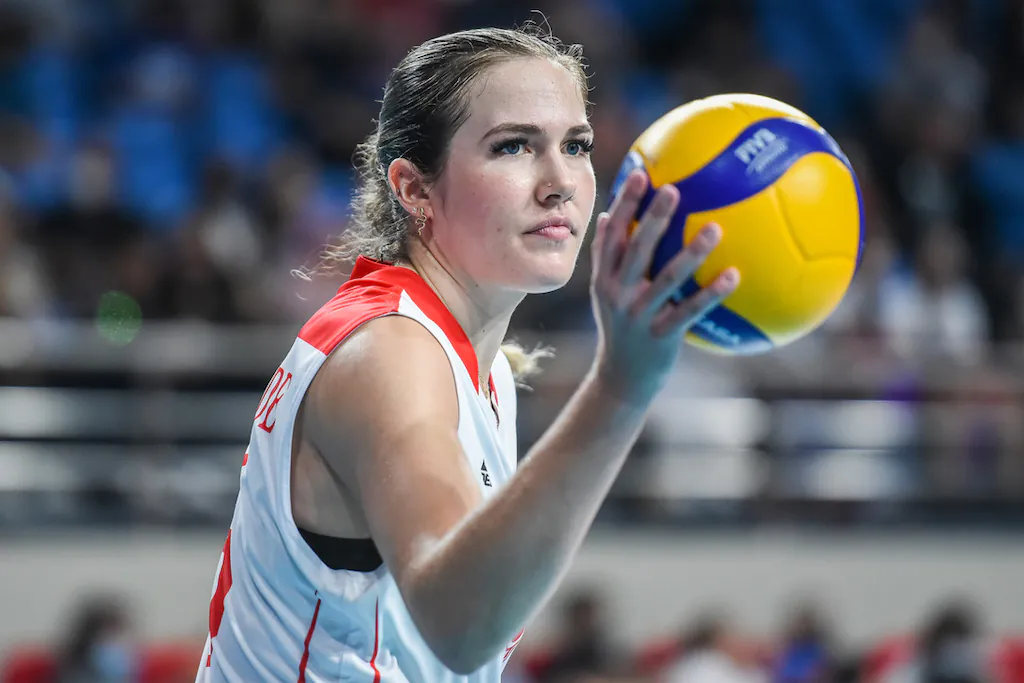 Elena Samoilenko (RUS) – PLDT High Speed Hitters
Team Manager Bajjie del Rosario was quite mum about their reinforcement during the press conference before the start of the tournament, saying the 27-year-old Russian was a good floor defender and had some quiet efficiency.
After Samoilenko detonated for 35 points (32 kills, 2 blocks, 1 ace and add to that 4 excellent digs) in the five-set triumph over UAI-Army on Opening Day, del Rosario said: "I didn't want to spoil the excitement for you."
Samoilenko started out like a nervous diesel tractor in the first set, but then when she got comfortable, began to dominate and became the cornerstone for the PLDT juggernaut.
And to show that wasn't a fluke, she scored 24 in the tough four-set loss to powerhouse Creamline and could have kept the valiant effort alive if not for obvious fatigue in the fourth set.
Samoilenko is a workhorse with a ridiculous motor that powers the High Speed Hitters on both offense and defense. At 6'4", she doesn't really need to be a leaper to see above the net and above the opposing defenses.
If PLDT can add just a bit more firepower in the diagonal wing (they used all three in Juls Samonte, Fiola Ceballos and Jovy Prado but they could only combine for seven markers), then Samoilenko's tasks could lighten and she could make a serious run for a post-season feting.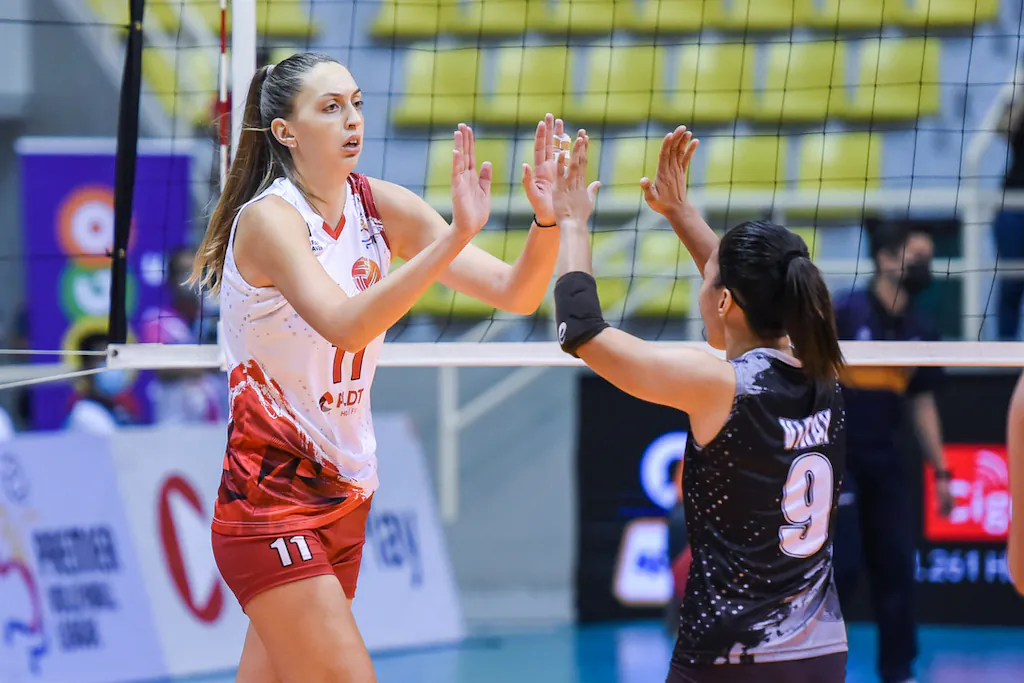 Again, the sample size may not be large enough yet, but volleyball fans across the archipelago are already being treated to high-quality performances this early in the new tilt. It can only get better.
Can Lindsay Stalzer—perhaps the most celebrated of them all—get back to peak form soon after her recent bout with COVID-19 to help F2 Logistics out of its 0-2 hole? Can Canadian beach star Laura Condotta do the same for the Lady Troopers? Will we see the true mettle of Creamline's Yeliz "Hielo" Basa in their next tiff? Can prolific reinforcements such as Cignal's Tai Bierria, Odina Aliyeva of Choco Mucho and defensive specialist Jelena Cvijovic get the much-needed local support to propel their teams forward?
Stand by for Week 2 of the PVL Reinforced Conference.
Noel Zarate has been in the sports broadcasting profession for nearly three decades. He began broadcasting volleyball in 2006 and has worked several international and local tournaments He is currently the lead anchor for the V-League.