On April 26, 1990, then PBA sophomore Paul "Bong" Alvarez broke the all-time scoring record for most points in a game, pouring in 71 markers and leading his Alaska Air Force club to a 169-138 demolition over the Formula Shell Zoom Masters.
He surpassed the previous record of 68 points that Allan Caidic made five months before in a game that featured Caidic's Presto and Alvarez's Alaska. The Tivolis ended up winning, 175-159.
For this week's Throwback Thursday feature, The Rivalry looks back at that fateful day of April 26, 1990 and how Mr. Excitement bannered the sports headlines with this record-breaking feat.
Kicking off the 16th season
The PBA was at its peak brought about by their huge success in both gate revenues and TV ratings. Having to endure five seasons with only six teams in the fold, the PBA became an ideal marketing platform once more as various companies started knocking on their door.
Two new franchises were welcomed, curiously, both belonging to the beverage industry and serving as immediate competitors. Pepsi-Cola, one of the top two soda brands in the Philippines, intensified its rivalry with the Coca-Cola brand by joining the PBA as the Pepsi Hotshots. Similarly, the Concepcion family, who used to be part of the PBA's first two years carrying the brand Carrier, Fiberlite and Quasar, came in after buying the Cosmos soda company (which owned the brands Sarsi, Pop Cola and Sunta) in late 1987. They used the Pop Cola Sizzlers as their team name.
Because the PBA has already committed to form a national team that will represent the Philippines in the 1990 Asian Games scheduled on September in Beijing, then Commissioner Rudy Salud decided to open the league one month earlier.
The season started with the First Conference, traditionally called the Open. It featured teams that paraded one import with a height ceiling of 6'5. The four teams were bracketed into two divisions with Group A parading Formula Shell, Presto, San Miguel and Pepsi. Group B had Añejo Rum, Alaska, Purefoods and Pop Cola. Teams from same group faced each other twice while playing the teams from the other bracket once for a total of 10 elimination games.
Elimination round results
Shell ended up with the best record in Group A after the eliminations with an 8-2 record, followed by Presto with 7-3, SMB at 5-5 and Pepsi at 1-9. In Group B, Añejo finished first at 8-2, Alaska secured a 6-4 card, Purefoods 3-7 and Pop Cola brought up the rear with 2-8. The Hotdogs, Sizzlers and Hotshots were eliminated and failed to reach the 5-team, double-round semifinals.
In the first round, Shell and Añejo, powered by two of the best imports in the conference with Bobby Parks and Sylvester Gray (who came in as a replacement to the ineffective Glenn Dedmon), respectively, ran roughshod over their opponents, both going 3-1. They finished the first round with 11-3 cards, with Presto at third with 9-5, Alaska at 7-7 and SMB at 6-8.
The Air Force needed to win their remaining four games and hope that either Shell or Añejo would lose all 4=four of their games to get a chance for a playoff spot. But the Tim Cone-mentored squad, after eking out a 103-101 victory over the 65ers, stumbled in their second game against SMB, losing 112-107 to end up getting eliminated. Presto, on the other hand, lost back-to-back games against Shell, 114-111, and Añejo, 150-113 and fell out of contention, giving the Zoom Masters and the 65ers the early finals seats with still two playdates remaining.
No-bearing record game
With the finals cast already determined, the April 26 games between SMB and Presto and Alaska and Shell were already non-bearing. Alvarez, though, had no inkling that he would shatter Caidic's 68-point record that night. In Episode 8 of "An Eternity of Basketball," Alvarez remembered what happened prior to that game. "One day before maglaro, may piyesta sa Calamba, Laguna. Sinama ako ni Boss Danny (Espiritu). Tapos, from Calamba, diretso kami ULTRA," Alvarez explained. 
But even without too much rest, Alvarez admitted he felt good that night. "Sobra gaan, sobra kondisyon ko nun. Hindi ko alam pero parang ang dali ng basketbol sakin." Alvarez also admitted that those were his best years as his pro player. "Bata pa lang ako nun nag-rookie ako sa Alaska, 20 years old pa lang. Pero sinuwerte ako, napunta ako sa coach na gusto yun laro ko." He was referring to a young Tim Cone who that time, just took over the Alaska coaching chores and has yet to win a PBA championship. "Nag-Mythical Five pa ako nun," he added.
He was obviously in the groove and scored well, chalking up 27 points in the first half alone. "Pero wala sa isip ko yun record nun. Maganda lang takbo ng laro ko nun, masarap pakiramdam ko." It was at the start of the fourth quarter when team manager Joaqui Trillo approached him and told him about the chance to go for the record. "41 points nako at the end of the 3rd quarter, lumapit sakin si Boss Joaqui, sabi niya baka raw kayanin ko ma-break yun record ni Allan."
Quite interestingly, Alvarez admitted that he never took a 3-point shot in the game. "Panay medium jumpers, saksak, layup at dunk ang mga score ko nun. Siguro mga sampu ang dunk ko nun game na yun." At a time when offense was the focal point of a team's strategy and with scores running up to the mid-hundreds, the Zoom Masters still tried to employ a defensive plan against the high-flyer. "Nun mejo nakikita na nila na gumagawa ako, ultimo si (broadcaster) Ronnie (Nathanielsz), pumunta sa likod ng Shell bench at galit na galit kasi di ako mabantayan. Eh sino ba naman team ang may gusto maka-record sa kanila, diba?" Alvarez said that Nathanielsz was that time supporting Benjie Paras and rooted for Shell. "Kampi si Ronnie sa Shell nun dahil kay Benjie, bata niya yun."
It was that time when then playing coach Bobby Parks opted to guard Alvarez himself. "Nagulat ako kasi si Bobby na yun tuma-tao sakin. Ayun, medyo bumagal na yun pace ng scoring ko, although nakaka-score pa din naman." Alvarez was also surprised to see a phalanx of defenders going up against him. "Kahit si Ducut, isipin mo, nagha-high foul sa akin. Tapos, dino-double team ako, nila Calvin (Tuadles) at (Jojo) Martin. Hirap din ako maka-shoot kasi sineryoso ako bantayan ng Shell by that time. Swerte na din naka-score pa ako ng 30 points sa fourth quarter." That 30 points in one quarter established a record for most points in a quarter. Coupled with the 14 he made in the third quarter, he also established another record for most points made in a half at 44.
"Kami nanalo nun," Alvarez proudly recalled. "Pero more than that, swerte ako kasi sinuportahan din ako ni Coach Tim. Nun nakita ni Coach Tim na malapit nako sa record, mga last five minutes kasi, may 60 points nako, ayun na, he said, 'give the ball to Bong.' Mas marami pa sana, kaya lang, ang dami ko na-mintis sa free throws."
Alvarez recalled making 31 field goals that night. A check with the PBA records revealed that Mr. Excitement made 31 of 38 attempts for a scintillating 81.6% FG clip. He also added nine free throws.
Alaska would end up 5th in the conference after losing to Presto, 111-110, in the final game of the semifinals. The Tivolis and the Beermen tangled in the battle for third won by the Beermen, 3-1, while Shell and Añejo figured in one of the most controversial finals series of all time. The Zoom Masters won its first franchise title, 4-2, but not after the 65ers walked out of Game 6 with still 2:52 left in the 2nd quarter, Shell ahead, 62-47, complaining about the officiating. The La Tondeña franchise didn't return to the court and the PBA awarded the title to Shell.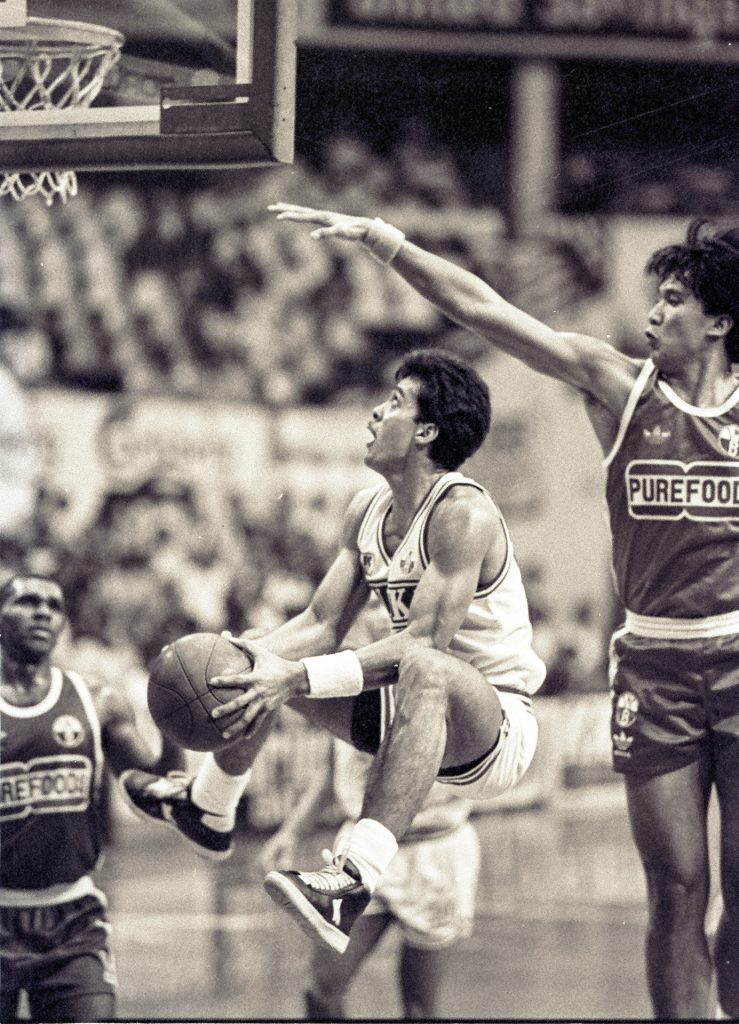 Caidic scores 79 points
19 months after, Caidic regained the all-time record for most points in a game when he scored 79 points in a 162-149 victory against Ginebra. Alvarez said he was genuinely happy with Caidic breaking his record. "Close kami ni Allan, lalo na nun nagsama kami sa San Miguel. Pareho kami ng posisyon na nilalaruan, pero iba naman yun playing style naming kaya pwede kami pagsabay." Alvarez, who was traded to Sta. Lucia for Bong Hawkins in 1993, later went to Shell then was traded to the Beermen for Vic Pablo in 1995. "Makikita mo naman sa record, si Allan, most of his 79 points nakuha niya sa labas. Ako, panay sa loob."
Alvarez's accomplishments didn't go unnoticed as RP team head coach Robert Jaworski selected him to be part of the 15-man pool that would play in the 1990 Asian Games. He ended 1990 with a career high 23.4 points per game in 55 games. He established himself as well as one of the best 2-way players of his era with his leech-like defense against Ginebra's Wes Matthews in the 1991 3rd Conference finals. It was one of the major factors that gave the Uytengsu franchise its first ever PBA championship.
But after another good stint with the Realtors where he played 19 games and averaged 20.4 points, his trade to Shell for Romy Dela Rosa took a hit on his career. He was very happy to move to SMB under Norman Black in 1995, but a coaching change in 1996 saw Ron Jacobs taking over. "Hindi ako kursunada ni Coach Ron, sayang talaga kasi gusto ako ni Coach Norman." And then, when he moved to Ginebra in 1998 (trade for rookie Steven Smith) to play under Robert Jaworski and his free-wheeling offense, he didn't get the opportunity to play for the Living Legend as he took a leave of absence from coaching to run for the 1998 Senate elections.
After a few more years in the PBA, MBA and the USBL, Alvarez finally decided to retire in 2005 after a brief stint with the Red Bull Barako. It was a sad ending on what may have been a phenomenal basketball career for the former King Stag. But no one will ever dispute that the player who owns perhaps the greatest moniker in PBA history was an elite offensive player and one of the best to ever lace basketball shoes.