On December 11, 1986, Ginebra San Miguel won its first-ever PBA championship at the expense of the Manila Beer Brewmasters in a highly-charged finals series featuring four of the greatest imports who have played in the league. The Gins carved out a 4-1 series victory that gave Robert Jaworski, Sr. the Open Conference crown, his first in his dual capacity as player and mentor.
For this week's Throwback Thursday, The Rivalry recounts the incredible run of the Ginebra franchise on their way to their first title.
The teams and format
There were seven teams participating – Ginebra Gins, Manila Beer Brewmasters, the Tanduay Rhummakers, the Great Taste Coffeemakers, the Alaska Milkmen, the Formula Shell Spark Aiders and the returning Magnolia Cheesemakers. Each team has two imports, with their combined height not exceeding 12 feet and 8 inches and no import taller than 6'6. It was a double round robin format where all teams faced each other twice for a total of 12 games each in the elimination round. The team with the worst record was booted out while the top two teams automatically entered the semifinals. The third to sixth placers then carried their records into the quarterfinal round where they met each other once, with the top two teams advancing to the semifinals.
Topnotch imports
It's not often you see a bumper crop of imports playing together in one conference. Alaska brought back the 1982 Open Best Import awardee Donnie Ray Koonce alongside another returning and two-time Best Import awardee, Norman Black. The partnership was considered lethal and put the fledgling Milkmen, on their maiden season, as early favorites. Koonce would eventually be replaced by Keith Morrison due to an injury. Great Taste started out with Eric Turner and Johnny Brown but both eventually would be replaced by Alvin Franklin and Lewis Jackson. Magnolia hired Don Collins and Rufus Harris, but Collins would be replaced by Bernard Title. Title was later  replaced by James Banks after three games.
ALSO READ: #ThrowbackThursday: When Michael Hackett scored 103 points
Shell brought in Fred Reynolds and Dexter Shouse with the former getting injured after 11 games and getting replaced by Perry Young. Tanduay, seeking a grand slam title to replicate the feat done by Crispa in 1976 and 1983, brought back import Rob Williams who recommended his friend and University of Houston teammate Benny Anders – the two being members of the famed Phi Slamma Jamma. Anders, though, turned out to be a lemon and was replaced by Williams' former partner in the Reinforced Conference, Andre McKoy. But with both imports standing no taller than 6'3, McKoy was replaced by Andy Thompson.
Only two teams didn't make changes with their import choices. The Brewmasters brought in another Phi Slamma Jamma member, Michael Young, to tandem with Harold Keeling. But it was Ginebra who got the most attention as they not only brought back 1985 Reinforced Best Import Michael Hackett, they also unveiled two-time Best Import awardee Billy Ray Bates. Experts were in unison that Ginebra, after placing runners-up to Tanduay in the previous conference, were the heavy favorites to win the championship.
Pre-tournament buildup
After a highly-charged and emotional All Filipino Conference that saw archrivals Tanduay and Ginebra squaring off for the crown jewel of all PBA tournaments, the former winning, 3-1, there was grand anticipation for the Open as Coach Turo Valenzona and his wards aimed for the grand slam. Tanduay's leader Ramon Fernandez was leading the MVP race and wanted nothing more than to win the triple crown. Teammate Freddie Hubalde, on the other hand, was aiming for his third slam.
Meanwhile, the San Miguel Corporation returned to the PBA after filing a two-conference leave of absence, bringing with them eight members of the NCC national team that won the gold medal in the Asian Basketball Confederation (ABC). Now mentored by PABL champion coach Derrick Pumaren, the Cheesemakers were able to elevate these eight players, along with Alvin Teng and Jeffrey Graves, to join forces with veterans Manny Paner and Allan Abelgas, in the hope of giving the franchise their third PBA title.
The Milkmen were the new kids on the block, but were no pushovers, having veteran superstars in their roster like Arnie Tuadles, Frankie Lim, Ponky Alolor, Marte Saldaña, Ricky Relosa, Rudy Distrito and Noli Banate. And with Norman Black returning as import, they were expected to contend for the crown.
Shell remained formidable, featuring a core of former Crispa players leading the way like Bogs Adornado, Philip Cezar, Bernie Fabiosa and Bay Cristobal, who, along with Rey Lazaro, formed a powerhouse starting unit. Coach Ed Ocampo, who had a tour of duty with Manila Beer the previous season, had now settled in his coaching seat after replacing Freddie Webb at the start of the second conference.
Aiming for playoff berths
True enough, Ginebra and Manila Beer established their dominance early, winning nine of their 12 games in the eliminations to wind up numbers one and two, respectively, earning the first two semifinals slots. Despite the tie, the Gins came out on top by virtue of their two victories against the Brewmasters in the eliminations.
Tanduay, Great Taste and Shell each had .500 records, winning six apiece in 12 games to qualify for the quarterfinals. Alaska secured the last seat with four victories against 8 defeats. Magnolia finished with a 2-10 card to end their season early.
In the quarterfinals, Tanduay and Great Taste won two of their three games each to end up with 8-7 cards, towing them into the Final Four. Shell, which started strong in the eliminations with a 6-2 card, floundered, winning only one of their last seven games to finish with 7-8, while Alaska came out with only one win to cap their season with a 5-10 card.
The Final Four
With their previous win-loss records erased, all four teams started at 0-0 as they faced each other twice in a double round robin format. Ginebra went 2-1 in the first round, demolishing Tanduay, 137-110, and nipping Manila Beer, 115-114, while losing to Great Taste, 142-128. Manila Beer also went 2-1, beating Tanduay, 114-111, and Great Taste, 115-114, while succumbing to Ginebra. Tanduay toppled the Coffeemakers, 116-107, but lost to Manila Beer and Ginebra.
Ginebra then avenged their loss to Great Taste, winning 130-125 to tie Manila Beer at 3-1 each. The Brewmasters beat Tanduay, 111-108 after Young scored a phenomenal turnaround shot from 30 feet at the buzzer. This put the Coffeemakers and the Rhummakers into do-or-die games against the Brewmasters and the Gins. In the first game, Ginebra finally put one over their arch rivals, taking the credit for eliminating the Elizalde-owned squad and preventing them from winning the coveted slam, winning 151-130 in a game that was so lopsided the Gins led by as many as 47 points. Meanwhile, Manila Beer also eliminated Great Taste, 122-121, to seal the Finals showdown. The final playdate featuring two no-bearing games were cancelled.
Pre-Finals expectations
It was a series that had several side stories. Both teams represented the Crispa-Toyota legacy, with the Brewmasters parading six former Redmanizers – Atoy Co, Yoyoy Villamin, Abet Guidaben, Itoy Esguerra, Mon Cruz and Tito Varela. On the other hand, Ginebra had Sonny Jaworski, Francis Arnaiz (who failed to play in the Finals as he flew to the United States), Terry Saldaña and Chito Loyzaga from the Silverio franchise. Interestingly, Bates, who led Crispa to the slam in 1983, was now with Jaworski along with another former Crispa player, Romy Mamaril. Manila Beer, on the other hand, had two former Super Corollas in Ed Cordero and Tim Coloso.
Another sidelight was that this was the first time after 34 conferences when two teams that hadn't won a PBA title were figuring in the Finals. The last time this happened was in the league's initial conference back in 1975 featuring Crispa and Toyota.
In Episode 78 of the sports show "An Eternity of Basketball," Hackett described his partnership with Bates as a "delight, but a nightmare when going up against him." He then added, "me and Billy got along great. And we played naturally together. We didn't have to tell each other who's going to score more, we just knew when that happened. And we took advantage."
Game 1 – game-winning slam
Game 1 turned out to be one of the best Finals games in PBA history. It also saw the textbook never-say-die comeback of Ginebra that endeared them to the masses.
In the fourth quarter, with only 7:35 left in the game and Manila Beer comfortably ahead, 118-101, fans were already conceding Game 1 to the Lucio Tan franchise.
But Bates put on his Superman cape and scored nine points to cut the lead down to 120-112. The two teams duked it out in the next few minutes, featuring Bates, Hackett and Saldaña in one end and Young and Keeling on the other. Bates cut the lead to three, 129-126, then intercepted a pass by Villamin, and threw an outlet to Hackett who was fouled by Co. After Hackett made both free throws, Young gave his team enough separation with a jumper, 131-128. But Loyzaga countered with a clutch trey in the other end to tie the game, 131-all, 55 seconds left.
As both teams botched a couple of offensive plays, Manila Beer would have the last opportunity to win the game with less than 10 seconds left in the game. Keeling went strong to the hoop, but lost ball possession. Jaworski picked up the loose ball, and with five seconds left, led a transition attack with Bates following suit. With Jaworski attracting the defense, he then hurled a last second pass to Bates, who went up and slammed the ball with one hand just as the buzzer sounded. There was jubilation on the court as the Gins celebrated while a stunned Manila Beer coach Tito Eduque left immediately after the game in sheer disappointment. Young and Keeling dominated with 50 points apiece but Bates' dunk had him two points ahead of the two with 52 markers.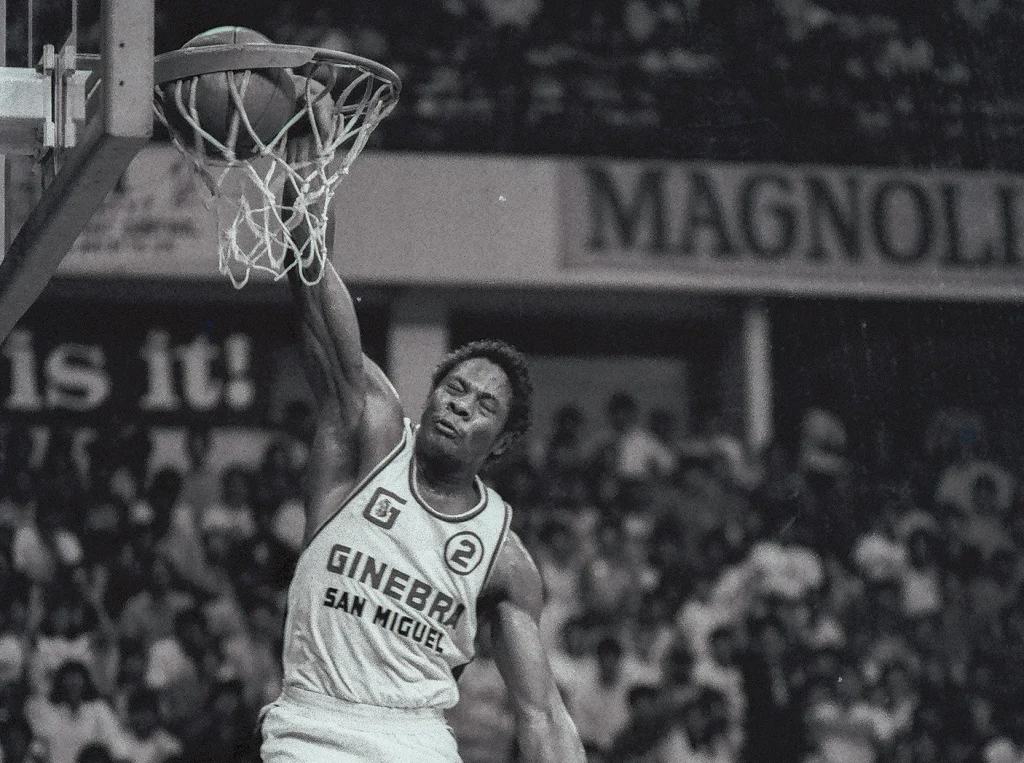 Game 2 – series-tying win
Eduque tinkered with his starting lineup and opted to send his strongest five of Guidaben, Young, Villamin, Keeling and Co. Jaworski countered with Hackett, Mamaril, Bates, Chito Loyzaga and Leo Isaac. Manila Beer broke away in the third with a 17-10 bomb, 13 from Keeling, to go up, 73-64. With Young, who had 43 points, and Keeling keeping the fort, Manila Beer had their biggest lead, 94-75 at the end of the third quarter. Ginebra was able to cut the lead down to 103-97. But this time, the Brewmasters were able to stifle every Ginebra attempt to rally, finishing the game on top, 121-111. Bates topscored for Ginebra with 45.
Game 3 – Jaworski's all-around game
Not wanting a repeat of the 1986 AFC Finals that saw Ginebra win Game 1 only to capitulate and lose the next three, Jaworski decided to put himself in the starting lineup alongside Isaac, Mamaril and his two imports. Eduque responded by putting the same first five he had the previous game.
Manila Beer took a 110-107 lead in the fourth, but Bates scored 11 straight points, coupled with a Jaworski trey, to give Ginebra the lead, 120-115. Jaworski finished with 28 points including six triples and punctuated his performance with a showtime fastbreak, bouncing the ball hard on the floor, off the glass, then tipped the last basket to seal the win, 139-130. Bates and Young led all scorers with 51 points each.
Game 4 – 40-year old Jaworski played 58 minutes
Game 4 went into double-overtime, and featured a 40-year old playing coach who played all 58 minutes. Hackett remembered that game vividly. "I honestly think Jaworski was older than 40. But he really took care of his body, never drank, never smoked. He was always in great shape."
With the score knotted at 114, Young made a difficult fallaway shot to give Manila Beer a slim 116-114 lead, 12 seconds left. Jaworski split his free throws after a foul with 9 seconds left while Keeling also split his on the next play. After Keeling missed his second free throw, Hackett grabbed the rebound and went to Bates, who was given a duty foul by Co as they weren't in penalty yet, two seconds remaining. Jaworski sued for time and mapped out the play. After reading the positions of the players, Eduque also called for timeout and devised a defensive plan to prevent Bates from making the shot. It turned out that Jaworski mapped a play for Hackett to take the last shot. He threw up a shot that hit the front rim, bounced off the glass and went in, sending the game into extension. "I went down in the lane with a runner, it bounced up high, and came back down to go into overtime," Hackett recalls.
In OT, both teams traded baskets until Bates drained back-to-back baskets to give Ginebra a 127-123 lead. Young then scored on the next play. Hackett was then called for a traveling violation. After a Young miss, Jaworski committed a turnover which Young used to score and tie the game, 127-all. Bates missed an attempted alley-oop pass in the final play to send the game to a second extension.
After Tim Coloso sank the first basket in the second OT, Ginebra dropped a 10-2 bomb to go ahead, 137-131. Tuckered out, Manila Beer couldn't make their shots as Ginebra went on to finally win, 145-135. Bates had 59 points while Young led all scorers with 63.
Game 5 – the clincher
Ginebra established a 13-point lead in the last few minutes of the third, 96-83, but the Brewmasters fought back with a 6-0 run to cut the lead to seven after 36 minutes. Manila Beer made a last stand in the fourth, cutting the lead to 112-107 after a Young three-pointer at the 5:22 mark. But Ginebra was quick to restore order, with Hackett and Bates leading the way. Hackett led all scorers this time with 45 points as Bates added 31. Young finished with 43 and Keeling tallied 35.
Hackett attributed his coach's able handling of the team as key. "Sonny kept it light for us, it was like we were never under pressure. Just go what you do, how you play, let the chips fall and that's how we started winning."
In the end, strength and stamina provided the difference as the Gins showed they were in better condition. While both teams were hungry for a first title, there was no denying Ginebra wanting it more. Jaworski, at 40, ended up the best local player in the series. After eight seasons and four bridesmaid finishes, the Ginebra franchise finally secured its first PBA championship.
Top photo credit: Ernie Sarmiento