When the dust had settled after the fierce Universities Athletics Association of the Philippines (UAAP) Season 85 men's basketball elimination phase battles, four schools remained in contention for the crown. Getting the top two spots, which enjoy a colossal twice-to-beat edge in the semis, are last season's finalists Ateneo de Manila University (ADMU) Blue Eagles and the University of the Philippines (UP) Fighting Maroons. No. 1 Ateneo will square off with the No. 4 Adamson University (ADU) Soaring Falcons, while No. 3 UP will clash with No. 3 National University (NU) Bulldogs in the semis round that begins on Wednesday.
Adamson was the last to enter the Final Four after a thrilling come-from-behind victory, 80-76, over the De La Salle University (DLSU) Green Archers last December 4 in a playoff match for the fourth and last semis spot. Once again, the King Falcon Jerom Lastimosa carried his team on his shoulders to hack out the hard-fought win as he sizzled with 22 points on 37.5% field goal shooting, six assists, and a steal. He delivered the big blows to climb back from a 13-point deficit and pull the rug from under the Green Archers. The Falcons entered the UAAP Final Four for the first time since Season 81.
Can Lastimosa rise to the occasion against Ateneo?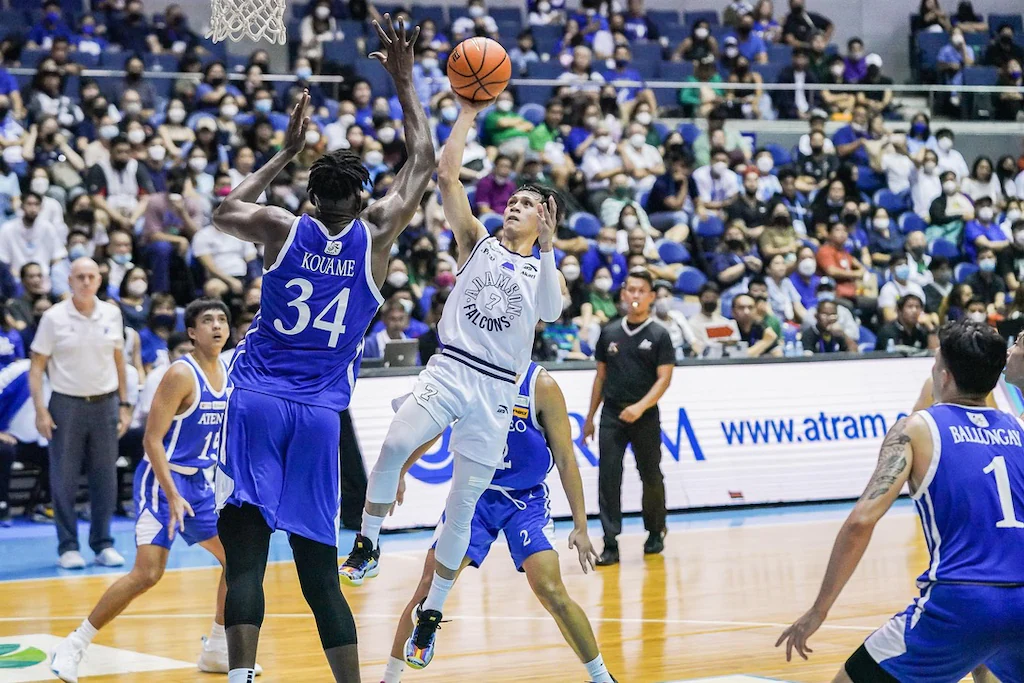 There's no doubt that the Blue Eagles are the heavy favorites in this match up. After all, Ateneo has defeated Adamson twice already this season, 76-55 in the first round and 66-61 in the second. Tab Baldwin and the rest of the Blue and White squad are eager to bounce back from last year's bridesmaid finish. Ange Kouame, Forthsky Padrigao, Dave Ildefonso, Kai Ballungay and Josh Lazaro are looking for redemption this season after losing the title to the Maroons last time. But they will certainly have their hands full when they face an Adamson side that's hungry for respect and glory. Second-season Falcons coach Nash Racela, a former UAAP champion coach with the Far Eastern University (FEU) in 2015, has done wonders with this San Marcelino-based crew this year even with a very young and previously untested roster. Lastimosa is expected to lead the Falcons' charge in the semis again. But the Dumaguete ace will need a strong backing from the other top Falcons like Lenda Douanga, Cedrick Manzano, Adrian Manlapaz, and Joshua Yerro. The chess match between Baldwin, a three-time UAAP champion tactician, and Racela will be an interesting sideshow.  
Ateneo is the second-best team in offense with 74.71 points per game (PPG), while Adamson is fifth with 69.4 PPG. On defense, ADMU is also No. 2, allowing just 65.5 PPG to opponents, while ADU gives up 71.0 PPG. The Eagles also rule the league in rebounding and second-chance points. We can expect heavy pressure defense to be applied by Ateneo, especially on Lastimosa. In the playoffs, the bigtime players usually shine. And since most of Adamson's players have not experienced a playoffs atmosphere, the Eagles will have a huge psychological advantage. But if the Falcons are able to withstand the tremendous pressure, what with a twice-to-win disadvantage, we may witness a slam bang affair.
How will NU's balanced roster match up against the star-studded Maroons?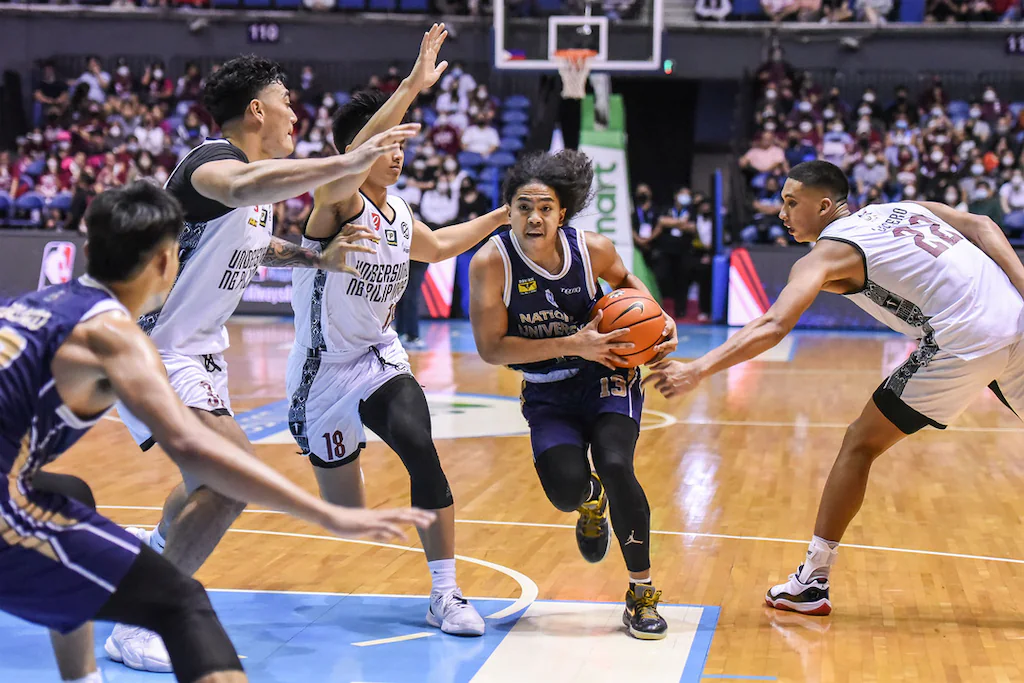 This should be a more interesting encounter as the Maroons and Bulldogs split their match-ups this season. NU took the first round, 80-75, while UP got back at the Bulldogs in the second, 75-63. In Season 84, National U missed the Final Four. But the Sampaloc-based cagers, under third-year mentor Jeff Napa, have been impressive in this tournament, even besting higher seeded teams like UP, Ateneo, and La Salle. Still, the gutsy Bulldogs will be a huge underdog against the defending champs, especially if the Maroons parade a complete and healthy roster. UP has the overwhelming upper hand in talent, size, and experience. When they hum harmonious music together, the Katipunan-based troop will be hard to topple. Under second-year coach Goldwyn Monteverde, the talent-laden charges of UP have learned to work together well, which showed in their conquest of Season 84 when they broke a 36-year dry spell in UAAP basketball. Malick Diouf, the new Season MVP and last year's Finals MVP, leads the all-star cast that also includes Gilas standout Carl Tamayo, Zavier Lucero, Terrence Fortea, Harold Alarcon, and Season 84 finals hero JD Cagulangan. But NU boasts of a do-it-all gang of work dogs that are resolute in scoring a gigantic upset in the semis. Omar John, NU's prized foreign player, will be an excellent match-up for Diouf. But the beauty in Napa's system is having no clear go-to-guy. They run a starless system that's built on a balanced offense. John Lloyd Clemente is NU's top scorer with just 11.07 PPG. But the other locals like John Figueroa, Kean Baclaan, Michael Malonzo, and Steve Nash Enriquez can also do much damage. UP is the league's best scoring team with 77.86 PPG, while NU is sixth with 67 PPG. That's a huge ten-point difference. But on defense, NU is No. 1 this season, giving up only 65.43 PPG to opponents, while UP allows 69.36 PPG. Obviously, defense will be the biggest key for an NU upset. The Bulldogs will need to stymie the Maroons' high-octane game and turn the contest into a deliberate and physical affair to keep the score low. But this is easier said than done.
We can expect both games this Wednesday to be highly explosive and dramatic as all four combatants will surely bring their A-game. But Adamson and NU will need a little bit of luck to thwart another UP-Ateneo finale.