Playing their first 5-on-5 game since November 2019, six-time defending champions NU Lady Bulldogs proved they're still the same old beast, crushing the UE Lady Warriors by 84, 131-47, in the UAAP Season 85 women's basketball tournament, Sunday at the SM Mall of Asia Arena.
The Lady Bulldogs stretched their historic winning streak to 97, dating back to 2014.
NU recorded the most points in the league's women's basketball history since the computerization of stats, surpassing University of Santo Tomas' 129 points on September 22, 2018 against University of the Philippines.
"We're just happy na bumalik na 'yung basketball for women's, ang tagal naming hinintay and I wanna congratulate the girls for starting this season with a convincing win," said Lady Bulldogs coach Aris Dimaunahan after his record-breaking debut.
"It was a statement to the UAAP that we're back. New coach, new players, but we still have the same culture and same goals," said Camille Clarin, who led the onslaught with 22 points, seven rebounds, and four assists.
During previous coach Pat Aquino's time with NU, their highest scoring output was 112 against De La Salle University back on September 11, 2019, a mark eclipsed by Dimaunahan right away.
NU stamped its class right from the opening jump, zooming to a 38-11 first quarter before holding the Lady Warriors to just two points in the second while dropping another 30 points to enter the half up big, 68-13.
The domination continued in the second half, reaching the 100-point mark with less than two minutes left in the third period.
Karla Pingol had 16 points, six rebounds, and six of the 22 steals of the Lady Bulldogs. Tin Cayabyab added 14 points while Annick Tiky had 11 points and eight rebounds in her first and only year for NU. Angel Surada tallied the game's only double-double with 10 points and 10 rebounds, while Gypsy Canuto got seven points and 10 assists.
They feasted on the Lady Warriors' 35 turnovers, scoring 40 easy points off them, while also having 41 fastbreak points.
Joyce Terrinal and Kamba Kone paced UE with 10 points apiece.
NU will next face the Ateneo Blue Eagles, who slipped past the FEU Lady Tamaraws in the second game, on Wednesday, 11 am, at the UST Quadricentennial Pavilion. The Lady Warriors will follow at 1 pm against FEU.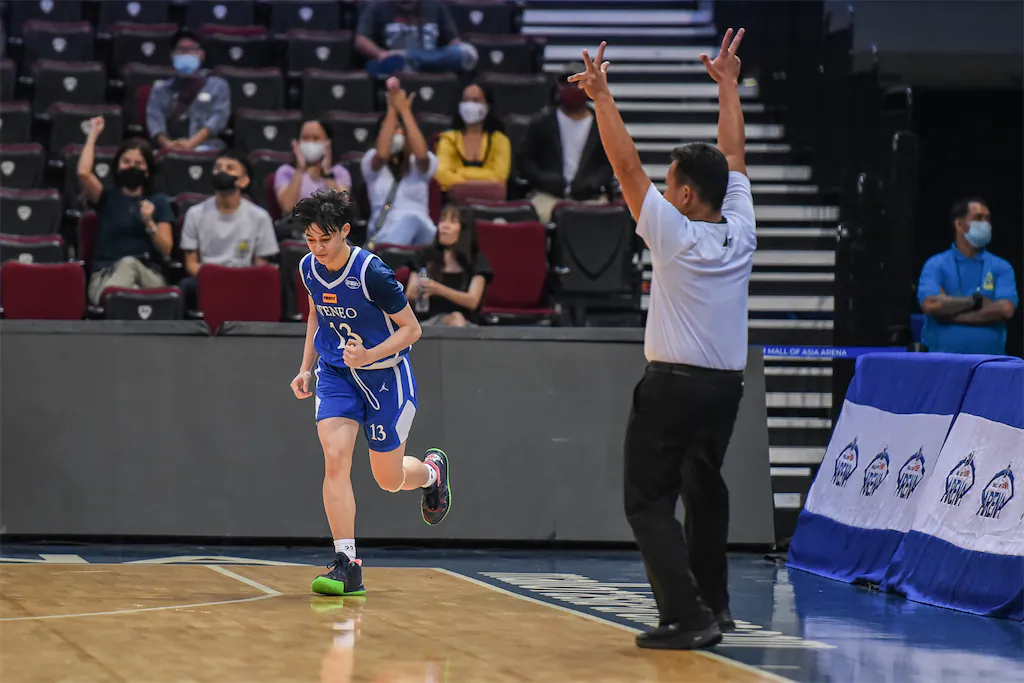 The Blue Eagles survived the Lady Tamaraws' tough stand, 67-64 after the Lj Miranda put the Blue Eagles ahead by three after a booming corner triple with 18.2 seconds left.
Angel Obien's attempt to send the game to overtime was too strong for the Lady Tamaraws.
FEU clawed its way back from 14 points down, unleashing a 20-10 third quarter to make it a close affair.
"I had to understand that I was expecting this that we will be full of jitters. Outside of Jhaz, 15 of our players have not even really played here in MOA," said Ateneo head coach LA Mumar.
But ultimately, the Blue Eagles steadied down the stretch, with a huge boost from Miranda.
Miranda the hero led Ateneo with 17 points to go with eight rebounds while Jhaz Joson added 14 points, seven rebounds, seven assists, and three steals. Rookie Kacey Dela Rosa had a debut to remember with 14 points, 14 rebounds, six blocks, and three steals.
Camille Taguiam was at the forefront of FEU's attack with 10 points, 12 rebounds, and nine assists, barely missing a triple-double. She, however, committed seven turnovers.
Ateneo joined National University, University of Santo Tomas, and De La Salle University as opening weekend victors.
The last time the Lady Eagles defeated FEU in UAAP women's basketball was on October 13, 2016, a 54-39 win.
Ateneo is all set for a matchup with the six-time defending champions Lady Bulldogs on Wednesday, 11 am, at the UST Quadricentennial Pavilion.
Meanwhile, the Lady Tamaraws will face University of the East later that day at 1 pm.
The Scores:
NU 131 — Clarin 22, Pingol 16, Cayabyab 14, Tiky 11, Fabruada 10, Surada 10, Baroquillo 8, Solis 8, Canuto 7, Ico 7, Betanio 6, Dimaunahan 5, Villareal 3, Bartolo 2, Talas 2.
UE 47 — Terrinal 10, Kone 10, Anastacio 9, Caraig 8, Ordas 4, Tinio 3, Gervacio 2, Lorena 1, Nama 0, Sajol 0, Dela Rosa 0, Paule 0.
Quarterscores: 38-11, 68-13, 102-25, 131-47
Ateneo 67 — Miranda 17, Joson 14, Dela Rosa 14, Villacruz 10, Makanjoula 5, Gino-Gino 3, Jajurie 2, Nieves 1, Eufemanio 1, Calago 0.
FEU 64 — Jumuad 11, Pacia 11, Taguiam 10, Go 9, Delos Santos 9, Obien 7, Lopez 5, Aquino 2, Samonte 0, Paras 0, Calinawan 0, Cunanan 0, Manguiat 0, Salvani 0.
Quarterscores: 24-17, 43-31, 53-51, 67-64The Scores: