Defending champion UP Fighting Maroons rallied from 16 points down in the first half and leaned on Terrence Fortea in overtime to turn back Adamson University, 87-78, for their second straight victory in the UAAP men's basketball tournament Wednesday at the Philsports Arena.
Fortea was superb in the extra session, nailing back-to-back triples and assisting on Malick Diouf's slam dunk to give the Fighting Maroons the needed separation at 82-74 with 2:28 remaining.
Continuing to shine in the absence of injured guard JD Cagulangan, Fortea scored 12 points and dished out five assists to go with three assists and two rebounds in 34 minutes of action.
"Terrence really picked up naman since before na mag-start," said Fighting Maroons coach Goldwin Monteverde. "Last season was a big adjustment for him kasi for that position but this season, I think unti-unti, siguro habang wala si Maimai (JD Cagulangan), nabibigyan siya ng time at nag-iimprove siya.
"Hopefully, pagbalik ni Maimai, at least puwede silang magsabay," he added.
The Falcons lost a 47-31 halftime lead but were able to send the game into overtime after Joem Sabandal calmly hit three free throws off a James Spencer foul with 0.1 second left in regulation, but the San Marcelino-based cagers could not get the job done.
Zavier Lucero led the Fighting Maroons with 15 points, seven rebounds and four assists while Senegal's Diouf produced a double-double outing of 13 points and 12 boards to go with four blocks and four assists.
Adamson University dropped into a tie with Far Eastern University at 0-2.
Jerom Lastimosa came through with 25 points, six assists and six rebounds while Congo's Lenda Douanga chipped in 11 points, eight rebounds and three blocks for the Falcons.
UE snaps losing streak
In the opener, the UE Red Warriors ended its 15-game losing skid after a 76-66 decision of the FEU Tamaraws.
The Red Warriors needed a huge 25-8 third quarter to even their record to 1-1 in the league's first-ever game at the fabled Pasig venue since August 2010.
It was UE's first win since nipping National University, 79-77, on October 30, 2019.
Although the Tamaraws were able to rally from a 44-65 hole and trim down the deficit to single digits, that huge lead was enough cushion for the Red Warriors to preserve the win.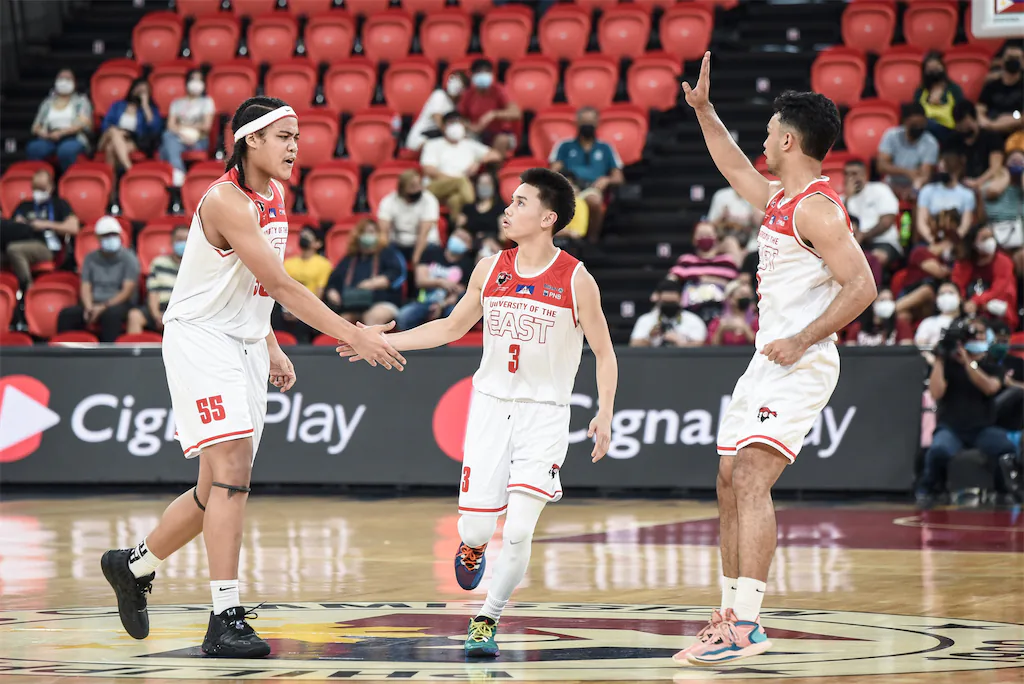 "Meron lang kaming lapses down the stretch but still the bottom line is the game plan was followed. I thank my boys, especially si Kyle (Paranada)," said UE coach Jack Santiago.
Paranada was solid for the Red Warriors with 25 points on 9-of-17 shooting and dished out five assists.
It was also UE's first victory against FEU since a 90-65 rout on September 30, 2018.
Patrick Sleat took the scoring mantle for the Tamaraws with 15 points while Cholo Añonuevo contributed 10 points, five rebounds and two assists.
LJ Gonzales, who suffered a cut on his left eye in practice Tuesday, only had five points after dropping 19 points in FEU's 70-79 loss to Ateneo Sunday.
DLSU thumps UST
In the third game, the De La Salle Green Archers held UST Growling Tigers main gunner Nic Cabañero to 10 points in a 83-63 victory.
Schonny Winston had 19 points, five rebounds, three assists and two steals, CJ Austria scored 13 points while Mike Phillips and Kevin Quiambao each scored 11 points for the Green Archers. Phillips also pulled down 11 rebounds.
Rebounding from last Saturday's 69-72 loss to defending champion University of the Philippines, De La Salle turned to its defense in the third period. The Green Archers limited the Growling Tigers to just six points.
De La Salle moved in a tie with UST and University of the East at 1-1 in the young season.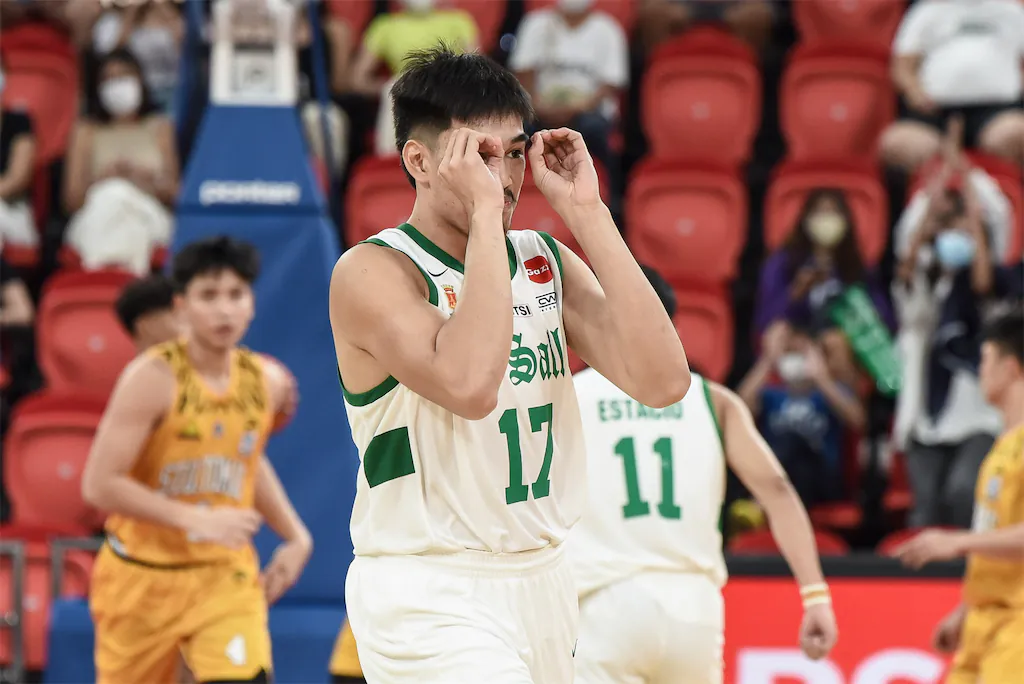 "We cannot dwell on that," said coach Derick Pumaren, referring to Green Archers' fourth quarter meltdown against the Fighting Maroons in the opener.
"The season has just started. The important thing is we were able to bounce back today."
The victory was a big confidence booster for De La Salle in their rivalry game against Ateneo on Sunday at the Smart Araneta Coliseum.
After an explosive 33-point outing against the Falcons on opening day, Cabañero could only shoot 5-of-20 from the field. Pumaren was happy that the Green Archers were able to scout the Cebuano well.
Migs Pangilinan took over the scoring mantle for UST with 11 points and grabbed nine rebounds, while Paul Manalang and Senegal's Adama Faye had 10 points apiece.
Blue Eagles rout Bulldogs
In the night cap, the Ateneo Blue Eagles used their patented third quarter run to beat National University, 77-60, and gain a piece of the early lead.
The Blue Eagles opened a 60-45 advantage at the end of the third period and led as much as 22 points the rest of the way to improve to 2-0 in the young season.
"I think there was an improvement over our first game in terms of our offense," said coach Tab Baldwin after Ateneo moved into a tie with titleholder University of the Philippines on top. "Defensively, we are still solid but we can be better."
The Bulldogs showed grit in the early goings and Baldwin noticed that they will be a tough side to deal with as the competition progresses.
"I'm really pleased to get the win. I think NU is going to be a difficult team throughout the season. They will gonna get better and better," said
Baldwin.
Reigning Most Valuable Player Ange Kouame had a double-double for the second straight game with 17 points and 12 rebounds to go with three blocks and three assists while Forthsky Padrigao chipped in 13 points, five assists, four boards, and three steals for the Blue Eagles.
The win will put Ateneo in good stead heading into Sunday's rivalry game with De La Salle at the Smart Araneta Coliseum.
Michael Malonzo led the Bulldogs with 13 points and nine rebounds.
The Scores:
UE (76) — K. Paranada 25, Tulabut 9, Villegas 8, N. Paranada 8, Pagsanjan 7, Sawat 6, Payawal 5, Stevens 4, Alcantara 2, Antiporda 2, Remogat 0, Beltran 0.
FEU (66) — Sleat 15, Añonuevo 10, Torres 8, Alforque 6, Bautista 6, Gonzales 5, Tempra 5, Tchuente 4, Gravera 3, Sandagon 2, Songcuya 2, Guibao 0, Ona 0.
Quarterscores: 18-19, 38-36, 63-44, 76-66
UP (87) — Lucero 15, Diouf 13, Fortea 12, Tamayo 11, Alarcon 9, Gonzales 9, Spencer 8, Galinato 3, Ramos 3, Torculas 2, Calimag 2, Abadiano 0.
Adamson (78) — Lastimosa 25, Douanga 11, V. Magbuhos 10, Sabandal 10, Hanapi 8, Yerro 4, Jaymalin 3, Manzano 2, Barasi 2, W. Magbuhos 2, Flowers 1, Colonia 0, Torres 0, Barcelona 0.
Quarterscores: 19-17, 31-47, 58-62, 74-74, 87-78
DLSU (83) — Winston 19, Austria 13, M. Phillips 11, Quiambao 11, Estacio 6, Abadam 6, B. Phillips 5, Nonoy 3, Blanco 3, Manuel 2, Nwankwo 2, Cortez 2, Escandor 0, Macalalag 0, Buensalida 0.
UST (63) — Pangilinan 11, Faye 10, Cabañero 10, Manalang 10, Garing 6, Lazarte 5, Escobido 4, Mantua 3, Calimag 3, Laure 1, Manaytay 0, Duremdes 0, Magdangal 0, Herrera 0, Gesalem 0.
Quarterscores: 30-21, 47-40, 65-46, 83-63
Ateneo (77) — Kouame 17, Padrigao 13, Ildefonso 12, Ballungay 10, Andrade 9, Koon 6, Lazaro 5, Gomez 3, Daves 2, Chiu 0, Garcia 0, Quitevis 0, Fornilos 0, Lao 0, Ong 0.
NU (60) — Malonzo 13, Clemente 9, Manansala 9, Baclaan 7, Figueroa 6, Yu 4, Galinato 3, Palacielo 3, Minerva 2, John 2, Tulabut 2, Mahinay 0, Padrones 0.
Quarterscores: 20-15, 38-30, 60-45, 77-60