Charmine Torres still remembers that day in December 2016, when the De La Salle Lady Archers came ever-so-close to handing the NU Lady Bulldogs their first loss in three years. It was the first game of the UAAP Season 79 women's basketball tournament finals, and DLSU was up 39-28 at halftime. The Lady Bulldogs, seeking a threepeat, stormed back to take a 56-49 lead after three quarters. But the Lady Archers wouldn't go away, briefly grabbing the lead before collapsing in the last two minutes as NU escaped with a tighter-than-expected 77-74. 
"Last two minutes bumigay lang kami," recalled Torres, who was a rookie on that team. "Laging last minute may bumibigay sa amin so nagkakaroon sila ng rhythm. Iyon ang pinakamasakit siguro, iyong 2016."
The Lady Bulldogs took care of business in Game 2, crushing DLSU by 24 to seal the threepeat. There would be three more unbeaten seasons and championships for Lady Bulldogs, who entered this season winners of a staggering 96 straight games. They won their first 12 games and were searching for win no. 109 on Wednesday morning at the UST Gym.
But the Lady Bulldogs found themselves in unfamiliar territory at halftime, trailing 25-32. They eventually righted themselves and forced overtime, but DLSU hung on to do what no other team has done over the past six UAAP seasons. When the final whistle blew, the scoreboard read DLSU 61, NU 57. The Lady Bulldogs' winning streak, the longest in Philippine basketball history, was over at 108.
Even when NU flashed its championship form and threatened to once again break the Lady Archers' hearts, Torres knew they would remain steadfast.
"Tiwala sa isa't isa," Torres said. Tiwala doon sa system na pinapagawa sa amin ni Coach (Cholo Villanueva). One stop at a time, and then score. Pinaghirapan namin. Tiwala ako sa sinasabi ni coach na kaya namin. Paulit-ulit niyang sinasabi na sa amin iyong game."
"Paulit-uli kong sinasabi na we should believe," Villanueva chimed in. "We should believe that we can win."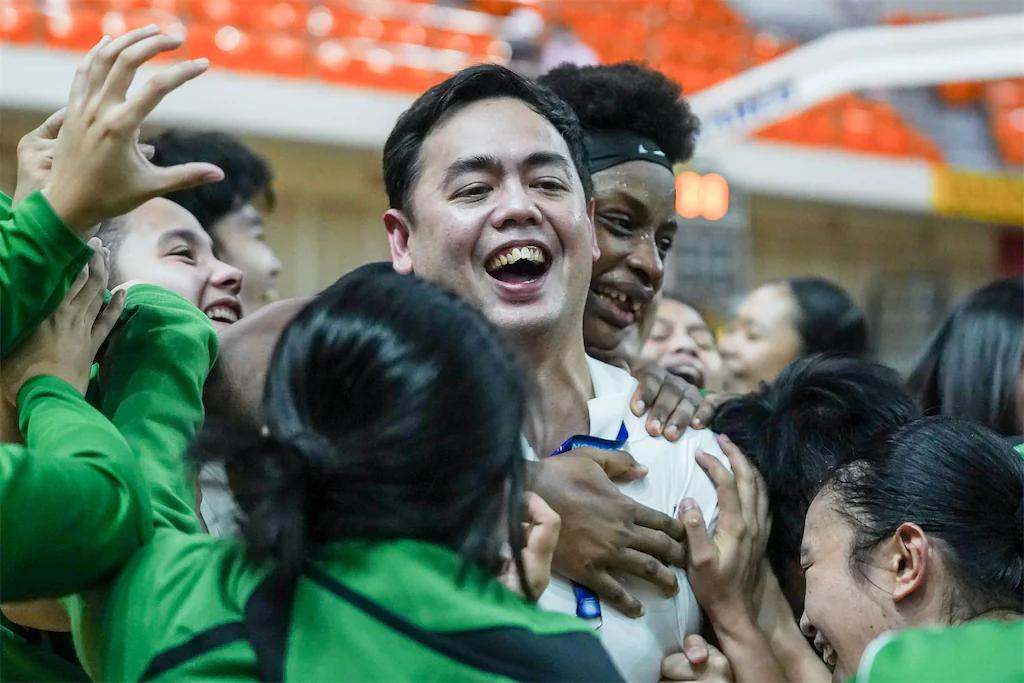 "My girls just wanted it more," Villanueva explained. "They get all the credit today. They were the ones making all the right decisions on defense, they were the ones making all the right decisions on offense. Every time they shot, they shot with confidence. So all the credit goes to my girls for one heck of a game."
The magnitude of La Salle's win may not be at the level of Saudi Arabia's shocker over Argentina in the World Cup, but it reverberates nonetheless in the local sports scene. The Lady Bulldogs were aiming for another spotless 16-0 season, which would have given them a 112-game winning streak, one more than the 111 straight wins of the University of Connecticut women's basketball team from 2014 to 2017.
The last time the NU Lady Bulldogs tasted defeat was on Oct. 5, 2013. The team that beat them? DLSU.
"Of course, it's an achievement for us," Villanueva said. "It's an achievement for the school, for our basketball program, for the women's program. We've been working for this for so long. We hadn't won a game against NU for the longest time. It's the first time that they sang their alma mater song second after how many years."
"It means a lot, playing a perfect game against a perfect team to win and end a streak. That's what you need to beat a team like NU. My girls played perfectly. Their hearts were always there. They didn't want to give that win even when we went into overtime."
In the grand scheme of things, this win, while historical, merely means that there will be a regular Final Four in the women's division for the first time in nine years. For La Salle, Villanueva knows they need to keep their eye on the big prize.
"Malayo pa. For us, we're just a work in progress, not coming into the Final Four the past few years and then eventually having that first achievement which is entering the Final Four. Now we have that twice-to-beat advantage which is what we want.
"It's a big achievement. Now one more achievement. We want to win the championship. We're happy for the first achievement. But we're not yet done."
The win was doubly special for Villanueva, who celebrates his birthday on Thursday.
"Special day, special win, special team. We wanted to win."