In Part 1 of this article, The Rivalry identified the first five players who deserved a slot in the PBA's 50 Greatest List. Set to be announced in 2025, this is in commemoration of the league's 50th anniversary on April 9, 2025.
For Part 2, we name the next five players who are most deserving for inclusion.
6. Elpidio Villamin
17 seasons; 9x champion; 1987 Mythical First Team; 3x Mythical Second Team; 7x All-Defensive Team; 1995 Comeback Player of the Year; 1983 grand slam champion; 1987 Scoop Most Outstanding Player; 1987 PSA Most Outstanding Player
Stats: played 871 games; averaged 9.7 points, 5.9 rebounds, 2.18 assists, 0.82 blocks and 0.2 steals
Yoyoy Villamin was already a superstar in the MICAA even before he suited up for Crispa for the 1981 Reinforced Conference. His numbers weren't initially impressive as he had to play backup to a loaded Redmanizers frontline led by Abet Guidaben and Philip Cezar. But he continued to impress and eventually became part of the Protected 4 centers list of the PBA alongside Ramon Fernandez, Guidaben and Manny Victorino – a rule that disallowed any two of these four to play together for one team.
In 1987, he placed runner-up to Guidaben in the MVP race but the PSA and SCOOP opted to give him the Outstanding Player of the Year award, a testament to his dominance that season working alongside Bruise Brother, Ricky Relosa, for the Hills Bros. Coffee Kings. One of the greatest two-way players in the league, his longevity has been impressive and continued to play relevant even at the age of 37 when he won Comeback Player of the Year honors in 1995. Villamin's numbers say it all….but his all-around game built on his defense will carry him through the 50 Greatest List.
7. Manny Victorino
15 seasons; 6x champion; 3x Mythical First Team; 1984 Most Improved Player
Stats: played 713 games; averaged 13.4 points, 6.2 rebounds, 1.1 blocks and 0.3 steals
The PBA in the '70s featured two dominant bigs – Guidaben and Ramon Fernandez. The others like Cezar, Kutch and Paner were relatively undersized until Victorino came along as a rookie for Presto in 1981. He became the league's tallest player at 6'5, same as Guidaben. But what made Victorino stand out was his speed, agility and athleticism, not normal for a 6'5 center that time. He was the lead center of the powerhouse Great Taste team that won 4 straight titles from 1984 and 1985.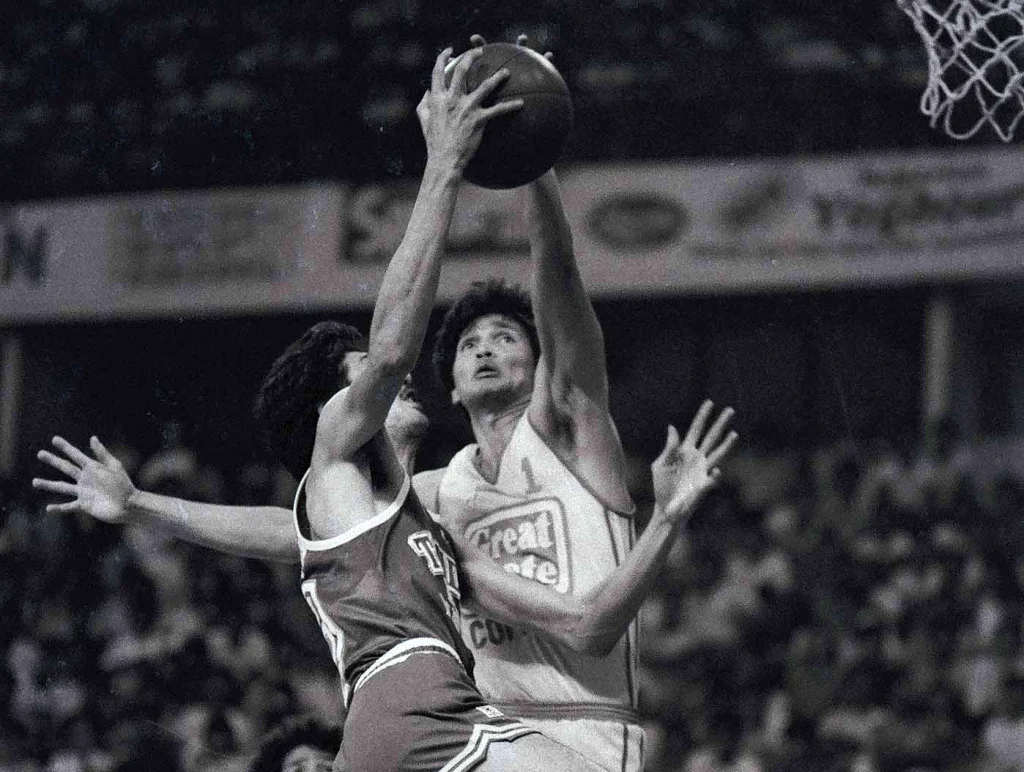 When Commissioner Rudy Salud implemented the Protected List, Victorino wasn't allowed to play with fellow top bigs Fernandez, Guidaben and Villamin. The former Jose Rizal College standout remained a starting center for his teams (Presto and Shell) up to the '90s, where he helped power the Tivolis to its final franchise title in the 1990 All Filipino, scoring 25 points and upstaging young Turks Alvin Patrimonio and Jerry Codiñera inside the paint. One of the best transition finishers in league history, Victorino's accomplishments far outweigh those that have been chosen before him and should be a shoo-in for the 50 Greatest List.
8. Danny Seigle
17 seasons; 8x champion; 4x Finals MVP; 2x Best Player of the Conference; 3x Mythical First Team; 1x Mythical Second Team; 1999 Rookie of the Year; 2006 Comeback Player of the Year
Stats: played 566 games; averaged 14.8 points, 5.5 rebounds, 1.7 assists, 0.5 blocks and 0.5 steals
Only a handful of players can be described as revolutionary, or those who have changed the landscape of professional basketball in the country. Danny Seigle, at 6'7 and playing small forward, changed the dynamics of the pro game with his all-around offensive game anchored on an explosive first step to leave his opponent behind when attacking the paint for a slam, plus pinpoint accuracy from beyond the arc. Seigle was a defensive nightmare as he brought one-sided mismatches that forced opponents to double team him even when he was playing outside.
Many felt that he deserved at least one MVP award, particularly during his first three years in the PBA. His Achilles tendon injury a few weeks prior to the 2002 Busan Asian Games spelled doom for the national team as he was expected to carry the offensive brunt of the team in the quadrennial competitions. Seigle came back though and won the Comeback Player of the Year award in 2006 and was immediately re-inserted into the national team in 2007. He broke Alvin Patrimonio's record by scoring 19 straight 20 point-plus games in the 2006 Philippine Cup, giving him the Best Player of the Conference award. Dynamite Danny deserved to have been part of the 40 Greatest List so there's no reason why his name won't be included in the next 10.
9. Jeff Cariaso
15 seasons; 8x champion; 1x Finals MVP; 1x Best Player of the Conference; 4x Mythical First Team; 1x Mythical Second Team; 4x All-Defensive Team; 1995 Rookie of the Year; 1996 grand slam champion
Stats: played 686 games; averaged 13 points, 4.5 rebounds 3 assists and 0.7 steals per game
There was a time when Jeff Cariaso was underappreciated, perhaps because he wasn't exciting enough like most of his peers who played the same position. He was dropped from the final roster of the all-pro national team that played in the Bangkok Asian Games, a similar experience he went through in 1994 when, as an amateur, he was also excluded in the last minute from the final selection. In the 1995 draft, Ginebra coach Robert Jaworski passed up on him and traded the Gins' first round pick in exchange for Alaska's Bong Solomon. That pick turned out to be Cariaso who went on to win Rookie of the Year honors.
Cariaso blossomed under Tim Cone's triangle system, and was one of Alaska's key players that gave them the grand slam in 1996. His disciplined approach to the game served as his calling card as he always makes the right decisions inside the court. One of the best two-way players of his star-studded era, Cariaso was not just a complete offensive player who can score inside and out, but was also one of the toughest defenders who went up against the likes of Vergel Meneses, Kenneth Duremdes and Danny Seigle, his four inclusions in the All-Defensive Team four times, proof positive of his tenacity in the other end.
10. Bong Hawkins
14 seasons; 10x champion; 1x Best Player of the Conference; 2x Mythical First Team; 2x Mythical Second Tam; 1x All-Defensive Team; 1994 Most Improved Player; 1996 grand slam champion
Stats: played 607 games; averaged 13.6 points, 6.8 rebounds, 2.8 assists, 0.4 blocks and 0.8 steals
Renato Hawkins, Jr. was a promising freshman when he joined the league in 1991 draft, having done well as an amateur standout playing for Crispa in the PBL. In his first two years with the Gokongwei franchise, he posted respectable numbers of 12 points, 4.8 boards, 1.5 dimes and 0.56 steals while meshing well with the Presto veterans. After Sta. Lucia bought the Presto franchise, he was traded after one conference to Alaska for Bong Alvarez in a stunning trade. Hawkins fit like hand to glove in Tim Cone's complicated triangle system, a testament to the cerebral ways of the former Perpetual Help Atlas star.
He won the 1994 Most Improved Player award as his numbers went up to 16.0, 7.8, 2.5 and 0.6 per game. And when the Alaska jigsaw puzzle was finally completed, the Aces won the grand slam in 1996, with Hawkins serving as one of the key components. It was in the Commissioner's Cup of their grand slam year when Hawkins won the Best Player of the Conference award and ended up as one of the major contenders for the MVP award that year won by teammate Johnny Abarrientos. Not exactly the most gifted athlete in the league with pint-sized leaping ability, he more than made up for this with proper jockeying for the boards, a velvet-smooth touch from the perimeter while using the bank, intelligent decision-making and an underrated level of physicality banking on his robust pigeon chest. Being a ten-time champion with solid individual numbers, the Hawk is expected to find his nest in the 50 Greatest List by 2025.
Bubbling under: Olsen Racela, Dennis Espino, Dindo Pumaren
Lead photo credit: Ernie Sarmiento
Note: The Rivalry opted not to include an active player in the list, unless the player is a former Most Valuable Player awardee (the criteria automatically includes all MVP winners in the list) as they still have an opportunity to crack the list on the league's 75th anniversary.