On November 6, a gathering of former basketball legends happened at the NIU Vikings located at the top floor of the Podium Mall at the Ortigas Center.
The list of attendees was like a who's who in Philippine basketball:
Atoy Co – Crispa, Manila Beer, Great Taste
Freddie Hubalde – Crispa, Tanduay, Shell, Ginebra
Padim Israel – Crispa, Tanduay, Presto
Fritz Gaston – U/Tex, San Miguel, Crispa, Manila Beer, Great Taste
Tito Varela – Crispa, U/Tex, Tanduay
Bong Dela Cruz – Crispa, U/Tex, Galerie Dominique, Countryfair
Etok Lobo – U/Tex, CDCP, San Miguel
Jimmy Manansala – Tanduay, Great Taste, Shell
Amang Ladores – Filmanbank, Gilbey's Gin
Emer Legaspi – Toyota, Beer Hausen
Elmer Reyes – San Miguel, Swift, Purefoods
Richard Dela Peña – Royal Tru Orange
Joel Gomez – Crispa
Marlowe Jacutin – San Miguel, Gilbey's Gin, Countryfair
Gerry Samlani – U/Tex, Gold Eagle
Nilo Cruz – Filmanbank 
Ricky Valero – UST
Coach Nemie Villegas – Letran, Gilbey's Gin
There was palpable excitement in the eyes of the early birds. Joel Gomez, Bong Dela Cruz, Nilo Cruz, Ricky Valero and Etok Lobo were the early birds, all coming in as early as 10:30AM. Gomez and Lobo were part of the steering committee that made the reunion possible along with another former MICAA basketball stalwart, Bobby Delos Reyes, who's based in San Antonio, Texas and couldn't come.
Speaking to The Rivalry in a phone interview, Delos Reyes, who played for ITM and Filsyn in the MICAA from 1979 to 1981, explained how the get-together came about. He learned that Gomez and Dela Peña, both US-based, were spending a vacation in Manila this November. Delos Reyes mentioned that he also planned to take a similar homecoming trip but had to beg off in the last minute due to other concerns. It was then they decided to come up with a gathering among former Mapua players and friends. Delos Reyes generously offered to sponsor a part of the cost that will be spent in the restaurant.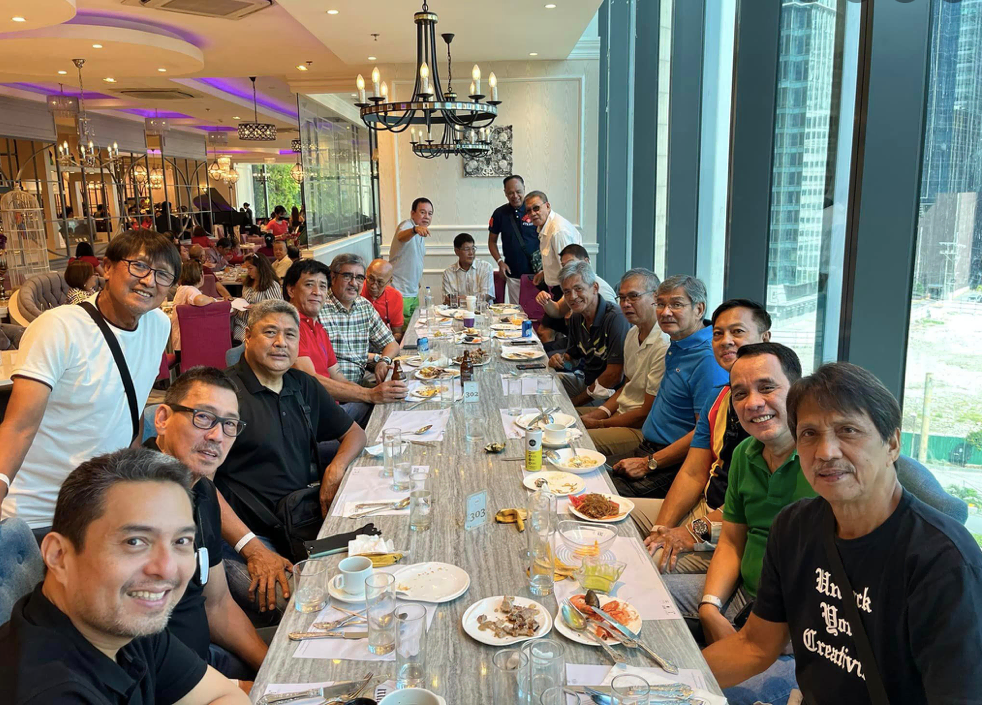 Later on, they learned that Lobo was also taking a vacation on the same month. This made the list of attendees bigger, with the former two-time PBA champion offering to share a part of the total cost as well.
Given that the invitees were former players, mostly in their mid to late 60's and early 70's, a buffet restaurant was most convenient to allow everyone to select which meal would be ideal for them.
At around 11AM, the guests started to arrive. Dela Peña and his lovely wife, Susan, joined Lobo's wife, Lina, Samlani's better half, Gel, and Gomez's spouse, Juna. The most recognizable was Israel, now a pastor, who still looked very young and healthy. Atoy Co's arrival not only caught the attention of the other guests but also the kibitzers inside the restaurant, instantly recognizing the now popular actor. Another easy recognizable figure was Tito Varela, who didn't seem to age, and even appears more buff today than what he was when he was still actively playing. A former vice mayor of Kalookan City, Varela's signature shining head made people turn to take a second look.
Reyes arrived with a basketball which Delos Reyes asked him to have all the guests sign. For one of the greatest fastbreak finishers the league has ever known, it was his turn this time to do a fastbreak on everyone for their autographs.
RELATED: FEU great Etok Lobo watches first live UAAP game in over 30 years
Hubalde was the last guest to arrive but there was obvious joy in everyone to see him hale and hearty. While he has long shaved his beard and now merely sports a moustache, Hubalde was the same quiet, genteel person we've come to know. Still reticent and humble, he offered a sincere smile when we shook his hand.
There was friendly banter all around. Jacutin kept on ribbing Manansala for the latter's midcourt buzzer-beater heave back in 1977 that cost UV, Jacutin's team, the game against the UE Red Warriors. Forty-five years and Marjack obviously hasn't gotten over that incident yet – but of course, it was his way of ribbing Manansala.
Manansala had a long conversation with this writer and proudly spoke about his son, Jinno, who is doing very well as the head coach of the UST Cubs and St. Clare University where he was a many-time champion coach. Seeing him eat mostly vegetables and fruits, it's no wonder Manansala looked no older than 40. 
LATEST POSTS

Gaston wore a nice tan and invited everyone to play golf with him. Fritz was known as a ruthless defender and a tough coach during his halcyon days but he's completely relaxed and fulfilled even if he's now more recognized as the father of volleyball player and Choco Mucho star Ponggay.
Israel, Gaston's Ateneo teammate when they won the NCAA crown in 1975 and 1976 and with Crispa in 1984, remained as humble as ever, offering an inspiring prayer before the meal, the pastor politely turned us down after we invited him to guest on the online show, An Eternity of Basketball, saying, "in God's time." How does one get turned down and not get offended? Padim just showed us how.
There was a photo opportunity that saw Ladores, Legaspi, Manansala, Lobo and Co seated beside each other, making everyone exclaim, "shooters gallery." True enough, these players were part of a multitude of shooters that the Philippines had back in the 70's. Ladores, Legaspi, Manansala and Lobo even figured in a mini-rivalry during their MICAA stint in the mid to late 70's, normally atop the scoring leaderboard.
Then, you couldn't miss out on the Crispa players photo op. At least seven Redmanizers came to the party – Co, Hubalde, Dela Cruz, Israel, Gaston, Varela and Gomez. For those who may not know, from this list, only Gomez and Dela Cruz were part of the Redmanizers' original pioneer team of 1975. That time, the superstars – Co, Cezar, Adornado, Hubalde, Guidaben, Fabiosa and Soriano only joined the Floro franchise on the franchise's fifth game due to national team commitments. As such, players like Gomez, Rey Vallejo, Alex Azurin, Cesar Ijares, Jess Santamaria and Eric Leaño temporarily filled the void.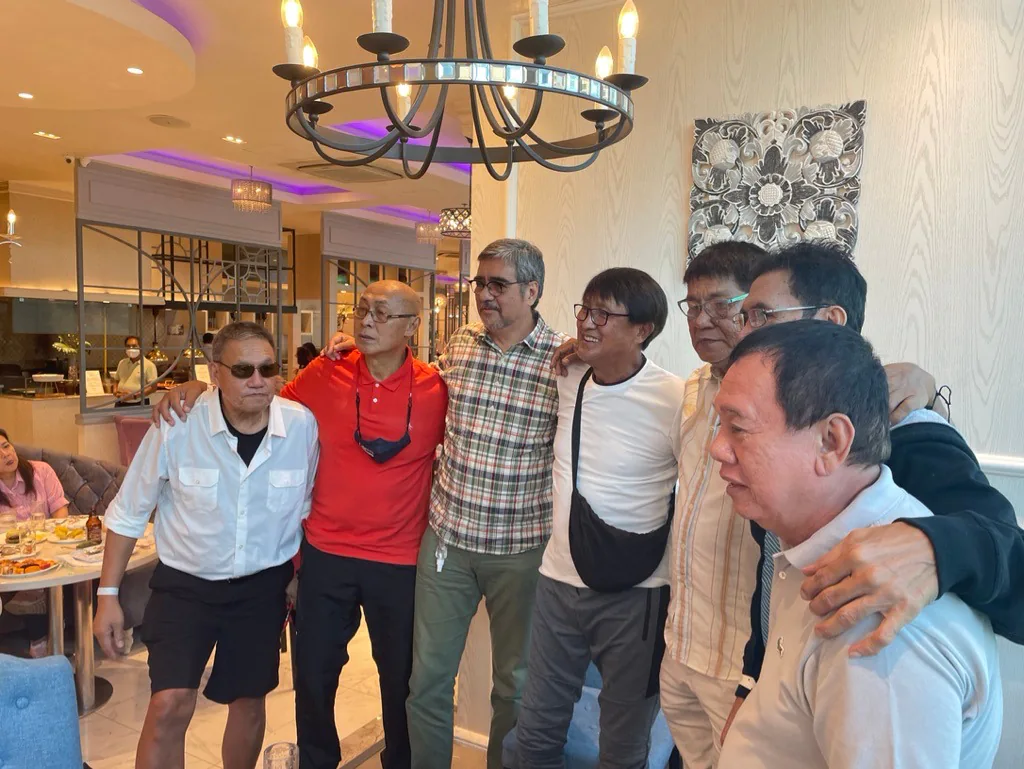 Ladores relished recalling past moments with Co and Gomez and had their ribbing session with one another. Outspoken and opinionated, Ladores had his hands full battling against the jeers of his co-guests but was up to the task.
An Eternity of Basketball host Charlie Cuna couldn't help but feel like a child in front of his heroes. He revealed that all these guys in front of him were icons while he was growing up and was grinning from ear to ear. Not wanting to waste any opportunity, he posed for photos with his idols like a star-struck fan. Who wouldn't?
It wasn't like it was only Cuna who benefited from getting his share of selfies. Customers who enjoyed the Sunday meal in the establishment easily recognized several of the players and made sure they had their own share of photos with them. One particular fan, Albert John Tolentino, a Crispanatic, even had his photos posted already on the Crispa Redmanizers FB page.
It seemed no one wanted to leave, except for Gaston who had, what else, a golfing session in the afternoon. It was already 3PM and the restaurant was already closed and preparing for the evening dinner but everyone stayed on. The banter remained and everyone was asking if there'll be a part two of this gathering.
Delos Reyes told The Rivalry that if plans don't miscarry, the next gathering would be November next year, preferably in a more private dining area. Perhaps also, with a bigger roster of guests. Rudy Lalota, Boy Mora, Benjie Poblete and Bogs Adornado were also invited but weren't able to come.
Delos Reyes served as the generous host for An Eternity of Basketball and The Rivalry by allowing them to come as guests. It's not a surprise that AEOB has featured practically everyone, with the exception of Dela Cruz (who already committed himself to the show), Israel (in God's time, as mentioned), Gomez (standing invitation) and Villegas (standing invitation) on the show. Looking forward to Part 2 next year.