This is part of a series from The Rivalry naming the five greatest PBA players from UAAP and NCAA member schools. Some ground rules to explain the rankings:
1. Players are ranked according to their PBA achievements, and NOT their college achievements.
2. If a player played for more than one school in college, the series writers – Jay Mercado and Jude Roque – will decide between themselves which school the player will fall under.
3. Players who excelled in college but whose playing years preceded the PBA are unfortunately not included (i.e., Caloy Loyzaga for San Beda).
4. Players who played for a college or university before that school joined the UAAP or NCAA are included for consideration.
5. Only current UAAP and NCAA member schools are included in the series, but not necessarily all of them.
Jose Rizal University Heavy Bombers
Jose Rizal University (JRU) has been a member of the National Collegiate Athletics Association (NCAA) of the Philippines since 1927. Located in Shaw Boulevard in Mandaluyong City, this 103-year-old private institution named after the country's national hero Jose Rizal holds six NCAA men's basketball championships. Known as the Heavy Bombers, the school's men's cage team first won the NCAA diadem in 1948, followed by two back-to-back triumphs in 1963-1964 and 1967-1968. It last held the title in 1972 with a stellar roster led by the brothers Philip and David Cezar. Blue and gold are the team's official colors. Its moniker – Heavy Bombers – got its roots from the many vintage bombs that were found buried under the school campus after World War II. JRU's high school team is called the Light Bombers. Throughout the NCAA's history, JRU has produced six league MVPs – Rhoel Deles (1967), Sixto Agbay (1969), Philip Cezar (1972), Estelito Epondulan (1990), Ernani Epondulan (2001), and John Wilson (2009).
JRU has the distinction of having the most products among all Philippine college teams in the inaugural season of the Philippine Basketball Association (PBA) in 1975 with 17, namely Sixto Agbay, Jose Aldamese, Manuel Aldamese, Cris Calilan, Rene Canent, David Cezar, Philip Cezar, Rhoel Deles, Egay Gomez, Lucio Lim, Roberto Ramirez, Ulysses Rodriguez, Roberto Salvador, Jesus Santa Maria, Oscar Tuazon, Roberto Victorino, and eventual actor-comedian Jimmy Santos.
Here is The Rivalry's list of the five greatest PBA players produced by Jose Rizal University:
5. Mark Borboran (NCAA 2003/PBA 2008-present)
College career
Although Mark Borboran only played one season for JRU during the 2003 NCAA tournament, he was a prominent member of the school's juniors basketball program. The next year, he moved to the University of the East (UE) in the Universities Athletics Association of the Philippines (UAAP) where he eventually became one of the top forwards in college hoops. Standing 6'4" and with a long wingspan, Mark was known for his three-point bombs. He was also a reliable defensive player and rebounder, making him one of the most versatile college players at the time. In the UAAP Season 70 championship series, Borboran was one of the top scorers for the UE Red Warriors along with Paul Lee. However, UE bowed to La Salle 0-2 in the three-game series. Borboran made it to the Mythical First Team that year alongside Ateneo's Chris Tiu, La Salle's JV Casio and Rico Maierhofer, and UST's Jervy Cruz.
PBA career
Accomplishments: 1x champion (with Alaska in the 2010 Fiesta Cup); played for six different franchises namely Alaska, Meralco, Air21, NLEX, Phoenix, and currently Rain Or Shine; has played 401 games so far in 15 seasons averaging 4.7 points, 2.8 rebounds, and a three-point shooting clip of 31.3%.
Borboran was picked sixth overall by the Air21 Express in the 2008 PBA Rookie Draft but traded to Alaska on the same day. With Alaska, he became a PBA champion in 2010 when the Aces subdued the San Miguel Beermen, 4-2, in the best-of-seven Fiesta Cup finals. Alaska had a powerhouse roster then with Willie Miller, Cyrus Baguio, Joe Devance, and a young LA Tenorio, along with sensational import Diamon Simpson. After more than two seasons with the Aces, the Bicolano ace also suited for the Meralco Bolts, Air21 Express, NLEX Road Warriors, and Phoenix Petroleum before settling with the Rain Or Shine Elasto Painters where he is still part of the active roster.
4. Rene Canent (NCAA 1963-1966/PBA 1975-1980)
College career
Rene Canent was among the key players in the mighty Jose Rizal College squad that bagged back-to-back NCAA titles in 1963 and 1964. Many of the members of that double champion team became pioneers of the PBA when it opened in 1975. After his collegiate stint, Rene was invited to join the elite Yco Painters ball club in the pre-PBA commercial league Manila Industrial and Commercial Athletic Association (MICAA) by no less than the great Carlos Loyzaga, the head coach at the time, through his former Heavy Bomber teammate Edgardo "Egay" Gomez. At YCO, he joined forces with other former collegiate stars like Ed Ocampo, Turo Valenzona, and Sonny Jaworski. He developed from being a back-up player to becoming the team's starting point guard after Jaworski and other main players left for other squads.
PBA Career
Accomplishments: Played for six seasons from 1975 to 1980 and was part of the pioneering 1975 batch; played for only one team – YCO Tanduay, where he figured in 244 games averaging 13.8 points.
Rene Canent, along with several of his former Jose Rizal teammates joined the PBA in its birth year in 1975. He was among the veteran players in the pro debut of the YCO Tanduay team that also included David Cezar, Ricardo Cleofas, Rino Salazar, and Marte Samson. In his six years as a pro however, the closest that Canent came to a PBA title was a runner-up finish in the 1978 Invitational Tourney. He retired in 1980 and later on migrated to the USA.
But Canent made his biggest mark in the PBA off the wooden court, as the first ever president of the league's Players' Association. He was voted by a great majority of his peers in the PBA, both former teammates and rivals. And to their benefit, Canent was instrumental in the many association perks that the PBA players still enjoy to this day. Among those benefits is a scholarship grant for one child of a PBA player who stayed in the league for at least five years. 
3.  Manny Victorino (NCAA 1977-1980/PBA 1981-1996)
College career
Manuel "Manny" Victorino stood out during his college basketball days in the NCAA. A versatile 6'5" center forward, he was the Heavy Bombers' main man for at least two years before he turned pro in 1981. While playing for the Mandaluyong-based school, he was also a prominent member of the Philippine Youth team that participated in the 1979 World Youth Basketball Championship in Brazil.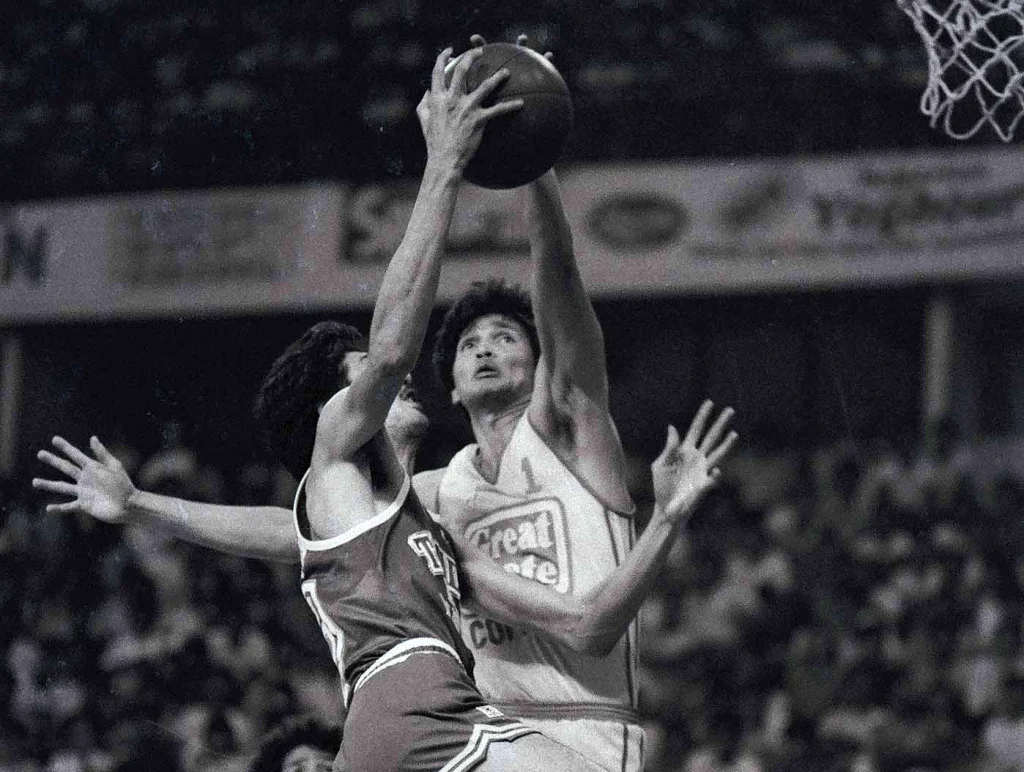 PBA career
Accomplishments: 6x champion (5 with Great Taste/Presto and 1 with Purefoods); 5x All-Star; 3x Mythical First Team from 1984-1986; 1984 Most Improved Player; played 15 seasons, in 727 games he compiled 9,956 points, 4,450 rebounds, 1,035 assists, 817 blocks, and 222 steals, with a career average of 13.2 markers. 18th player in league history to reach the 5,000-point mark, and 7th to make 1,000 rebounds.
As expected, Manny Victorino had a stirring PBA career that spanned 15 seasons, from 1981 to 1996. His greatest games were under the Gokongwei-owned Great Taste franchise, where he helped the squad amass five PBA crowns, the last in 1990. During his prime, Victorino was among the top big men in the league when he held his own against the likes of Ramon Fernandez, Philip Cezar, and Abet Guidaben. He was selected to the Mythical First Team in three straight years, from 1984 to 1986. He was also voted the 1984 Most Improved Player. He played for five other franchises namely Shell, Pepsi, Ginebra San Miguel, Purefoods, and Sunkist. His playing time started to dwindle when younger post players entered the PBA later on. Manny won his last PBA championship in 1991 while playing for Purefoods as a back-up center to Jerry Codinera.
2. Philip Cezar (NCAA 1971-1973/PBA 1975-1991)
College career
Philip Cezar, along with brother David, led the Heavy Bombers to their last NCAA crown in 1972. That same year, he won the MVP plum. Although only 6'3" in height, he was a rebounding and shot-blocking monster who wreaked havoc in the NCAA during his time. But although he was more regarded as a defensive specialist, Cezar was also a proficient scorer under the basket. From Jose Rizal College, he went on to play at the MICAA for the Crispa Redmanizers in 1974, leading them to the title. 
PBA career
Accomplishments: 15x champion (13 for Crispa, and 1 each for Great Taste and Añejo); 1x Season MVP (1980); 7x Mythical First Team; 4x Best Defensive Team; 2x All-Star; Member of the 25 Greatest Players All-time; Member of the PBA Hall of Fame; Member of the 5,000 and 10,000 points club, 1,000 offensive rebounds and 2,000 defensive rebounds club, 2,000 assists club, 900 and 1,000 blocks clubs, and 500 steals club; Played a total of 918 games, accumulating 12,077 points, 5,834 boards, 3,130 dimes, 1,370 swats, and 599 steals.
Without a doubt, Cezar is one of the all-time greats in the PBA. For 17 years, he built a solid pro basketball career, attaining so many accolades that only a select few could achieve. Because of his outstanding basketball skills, he earned several monikers including "The Scholar," for being a witty player, "Tapal King," for being a tiptop shot-blocker, and "Mr. Stretch," for his patented stretch lay-up.
Entering the PBA in its maiden season in 1975 along with 16 other ex-Heavy Bombers, Cezar had his glory years while donning the green jerseys of the Crispa Redmanizers from 1975 to 1984, where he won most of his 15 PBA diadems. In 1980, he was voted the season MVP. He also made it to the PBA's Mythical First Team seven times, and twice in the Mythical Second Team. Also, a four-time Best Defensive Team member, Cezar earned a reputation of being a shot-blocking whiz. He was also often assigned to shackle imports on the defensive end. But in 1979, Philip would prove to be a skilled scorer as well when he upset Ramon Fernandez in the first Sprite One-on-One challenge, where he emerged as the champion, pocketing 25, 000 pesos as a hefty prize money during that time. He also played for Shell and Presto before signing a three-year deal with Añejo Rhum in 1989. He collaborated with playing coach and old rival Jaworski at Anejo to claim his last PBA championship in 1991. After retirement, Cezar pursued a brief coaching career and also entered politics, becoming Vice Mayor of San Juan City in 1992.
During the PBA's 25th anniversary in 2000, Cezar was picked one of the 25 Greatest Players of All-Time. Then, in 2005, the PBA launched the Hall of Fame, inducting 12 members that included Philip. The others were Jaworski, Fernandez, Atoy Co, Bogs Adornado, and Francis Arnaiz, along with non-players Baby Dalupan (coach), Leo Prieto (commissioner), Emerson Coseteng (founding president), Rudy Salud (commissioner), Danny Floro (team manager), and Joe Cantada (broadcaster).
1. Vergel Meneses (NCAA 1989-1991/PBA 1992 – 2006)
College career
Vergel Meneses became an instant star the moment he set foot in the NCAA arena. While playing for the Heavy Bombers, the Bulacan native electrified the crowd with his high-flying and acrobatic moves. He was often compared to fellow NCAA stars Samboy Lim and Paul Alvarez. During warm-ups, Meneses would often wow the spectators with his creative dunks. Though he never won an NCAA trophy with Jose Rizal, Vergel had always been one of the league's best scorers during his stint. He was also called for National team duties many times throughout his spectacular career.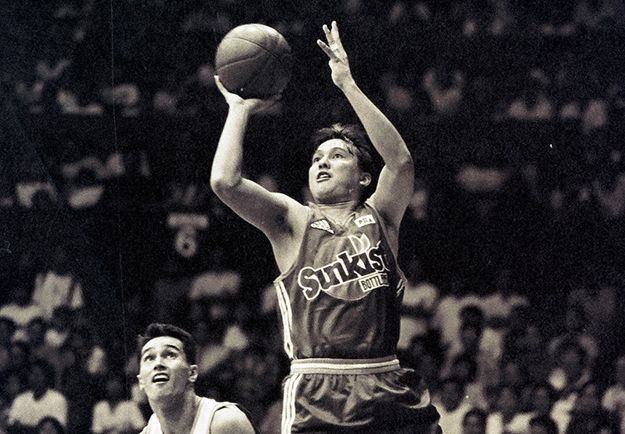 PBA career
Accomplishments: 3x champion (1993 Commissioner's Cup, 1995 All-Filipino Conference, and 1995 Commissioner's Cup); 1995 Season MVP; 1993 Most Improved Player; 3x Best Player of the Conference; 2x Mythical First Team; 1x Mythical Second Team; 4x All-Star Game MVP; 10x All-Star; 1996 Scoring Leader; 2x Slam-Dunk Champion; Member of the 5,000 and 9,000 point clubs, and 2,000 assists club; played from 1992 to 2006 for seven teams – Sta. Lucia Realty, RFM-Swift, Barangay Ginebra, FedEx, Red Bull Barako, and Talk 'N Text; Alaska, for a total of 590 games; his career averages are 16.02 points, 3.21 rebounds, and 3.61 assists.
Like in the NCAA, Meneses took the PBA by storm because of his highly entertaining style. Dubbed the "Aerial Voyager," he was a scoring machine, who made a living mostly out of breathtaking drives to the hoop and out-of-this-world moves. He was very creative and highly athletic. And he had a crack outside shot too. Vergel was the first overall pick in the 1992 PBA Rookie Draft by Presto Ice Cream. It was with the RFM Swift franchise, however, where he took off, winning three championships and bagging the 1993 Most Improved Player and 1995 MVP awards. He was also voted Best Player of the Conference thrice. As a surefire crowd darling, Meneses was also voted All-Star MVP four times. He was part of the All-Star games for ten seasons. In 1996, he led the league in scoring. He last suited up for the TNT Phone Pals in 2006. In 2000, Meneses was chosen as among the 25 Greatest PBA Players of All-Time. His No. 18 jersey was retired by the Air21 franchise.
A few years after retirement, he went to coach his alma mater in the NCAA from 2010 to 2018, where he led the Heavy Bombers to four Final Four appearances. He is currently the mayor of Bulacan, Bulacan.
Honorable Mentions
Dennis Abbatuan, John Wilson, James Sena, Philip Paniamogan