On November 14, 1978, or 44 years ago this week, the U/Tex Wranglers carved out a decisive 3-0 sweep in their best-of-five finals series of the Open Conference against the defending champion, Crispa Redmanizers to become the first ever franchise outside of Toyota and Crispa to win a PBA title.
The Rivalry remembers the event that led to this monumental victory for this week's Throwback Thursday feature.
The format
As part of the handicapping system, the four teams that ended up in the semifinals of the 1978 All Filipino Conference (Toyota, Filmanbank, Crispa and Tanduay in that order) were allowed to hire two imports with unlimited height but they could only field one at a time. The next two teams, U/Tex and Royal Tru Orange, were allowed to hire one import of unlimited height and another with a ceiling of 6'6. The cellar-dwelling teams of the previous conference, the Great Taste Discoverers and the Honda Wildcats, were allowed to bring in and play two imports of unlimited height at the same time.
It was a double round robin elimination format with the top four teams carrying the best win-loss records proceeding to the semifinals. The semifinals was a double round robin format as well, with the top two teams entering the finals.
The imports
The defending champions, wary of three-time champion import Cyrus Mann's temperamental ways in the 1977 Invitational Conference that cost them a finals slot, opted to bring in two new reinforcements in 6'8 Ansley Truitt and 6'8 Paul Mills. Toyota opted to rehire 6'8 Bruce "Sky" King instead of John "Dr. I" Irving as he was more coachable. He was partnered with 6'11 TJ Robinson, who was eventually shipped out in favor of the dazzling 6'5 Carlos Terry.
Filmanbank brought back Big Billy Robinson, who just powered the Bankers to a runner-up finish behind Toyota in the All-Filipino Conference. Backing him up was the 6'8 James Allen. Tanduay brought in 6'7 David Payne to collaborate with old hand 6'10 Gene Moore, the Esquires' import the previous season.
U/Tex reacquired the services of Byron "Snake" Jones, Toyota's import in 1975 and 1976, and the Wranglers' import in the 1977 Open Conference. Jones led the Wranglers to their first ever finals stint alongside the 6'2 Charlie Neal, but they got waylaid by the Redmanizers. Coach Tommy Manotoc also brought in an overweight and out-of-shape Henry Williams, who after a few games, was immediately replaced by 1976 NBA Finals hero, Glenn McDonald of the Boston Celtics.
Royal Tru Orange paraded Frank Gugliotta and Larry Williams. Great Taste brought in Israel "Cisco" Oliver, who had played for different local teams in both the MICAA and PBA, to partner with James Collins, while Honda tapped Paul Marigney and Jeff Randall.
RELATED: Remembering Cyrus Mann, beloved Crispa Redmanizers resident import
The rookie cast
There were 16 rookies who joined the PBA in 1978. San Miguel welcomed six new freshmen in a virtual revamp of their roster, namely Marlowe Jacutin, Richard Dela Peña, Rudy Lalota, Tony Torrente, Leo Paguntalan and Jess Migalbin. Great Taste brought in Carlito Traviño, Alfonso Jovero and Leonardo Aranzaso. Three teams paraded a pair of rookies – Tanduay (eventual ROY Jimmy Manansala and Abe Monzon), Crispa (Willy Tanduyan and Jimmy Javier), and U/Tex (Anthony Dasalla and Renato Lobo) while Filmanbank paraded hotshot Amang Ladores.
There was no doubt that Manotoc brought in a pair of stellar rookies in Dasalla and Lobo, two names that will forever be partnered. They were together when they won the 1976 UAAP title for the FEU Tamaraws and were also instrumental in giving Solid Mills the 1977 MICAA championship. They were also members of several national teams, including the 1977 ABC, 1977 SEA Games, the 1976 Asian Youth, among others. Lobo was also named the Most Outstanding Player in the MICAA in 1977, a testament to his sweet-shooting ability.
RELATED: FEU great Etok Lobo watches his first UAAP game in over 30 years
Elimination round
Bucking a slow start that saw them lose their opening game against Tanduay, 116-113 in overtime, U/Tex finished the first round of the eliminations with a 4-3 card. Obviously dissatisfied with Williams' poor play, Manotoc found a gem of a replacement in McDonald, who led the team to six wins and only one loss in the second round. That loss was against the Toyota Tamaraws, 117-113, after Coach Dante Silverio relieved the ineffective Robinson for Terry. Toyota avenged their first round loss against U/Tex, 132-123.
At the end of the eliminations, U/Tex and Crispa were tied for the top slot at 10 wins and 4 losses apiece. Tanduay and Toyota ended up with even 7-7 cards to earn the remaining semifinals slots, while Honda came up a win short with a 6-8 card.
Pre-final four sideshow
Prior to the semifinals, the PBA gave way to the 1978 World Basketball Championship held in Manila at the Araneta Coliseum. It also coincided with the 1978 Asian Youth championship that was being held at the Rizal Memorial Coliseum.
Early birds Yugoslavia and Canada arrived a few weeks before the start of the world basketball hostilities and decided to play exhibition games against Crispa and Toyota. While the Redmanizers lost to the eventual world champions and sixth placers, the Tamaraws proved to be a world-class quintet, defeating the Canadians first, 92-88, before shocking the Yugos, 118-113. Imports King and Terry proved to be a major force as King scored from the outside while Terry dominated inside. But it was also the fine plays of locals Robert Jaworski, Ramon Fernandez, Francis Arnaiz and Abe King that led to the Silverio franchise's twin victories.
LATEST POSTS
The semifinals
The Wranglers went on a tear, relying heavily on McDonald's NBA talent level, to mow down the opposition in first five games. They beat Tanduay twice (106-96 and 100-98), Toyota twice (117-103 and 108-105 in overtime) and Crispa in the first round. Toting a 5-0 card and assured of the first Finals seat, Manotoc decided to give his players a break in their last game against the Redmanizers and lost to end up with a 5-1 card. With the win, its first against the Wranglers for the conference, Crispa ended up with a 4-2 card. Toyota, disheartened after seeing that their hope for the second Finals seat dissipate with the Wranglers' loss to Crispa, dropped their final match against Tanduay to end up with a 2-4 card, while giving the Esquires their only win in the semifinals.
The U/Tex loss to Crispa didn't come without controversy though. Toyota leader Sonny Jaworski heavily criticized the intentional loss of U/Tex, thereby depriving them of a chance to tie Crispa for a playoff for the second Finals seat. Many fans felt that the Wranglers wanted to go up against the Redmanizers in the finals over the Tamaraws because of their perceived manpower advantage.
In an interview with sports scribes that time, Manotoc admitted that "they had an edge in manpower over Crispa, our title rival." It was in response to a question raised to him if he would feel bad about losing once more to the Redmanizers in the same Open conference for a second straight season. "Of course, I would have felt bad had we again finished second. We were already second in 1977, and there was no goal left for us but to improve on that record."
Experts also felt that Toyota, with its sleek running game, would have given U/Tex more problems. Couple that with Terry's dominance inside the paint, the Tamaraws would have been a more competitive opponent, match-up wise, against the Wranglers.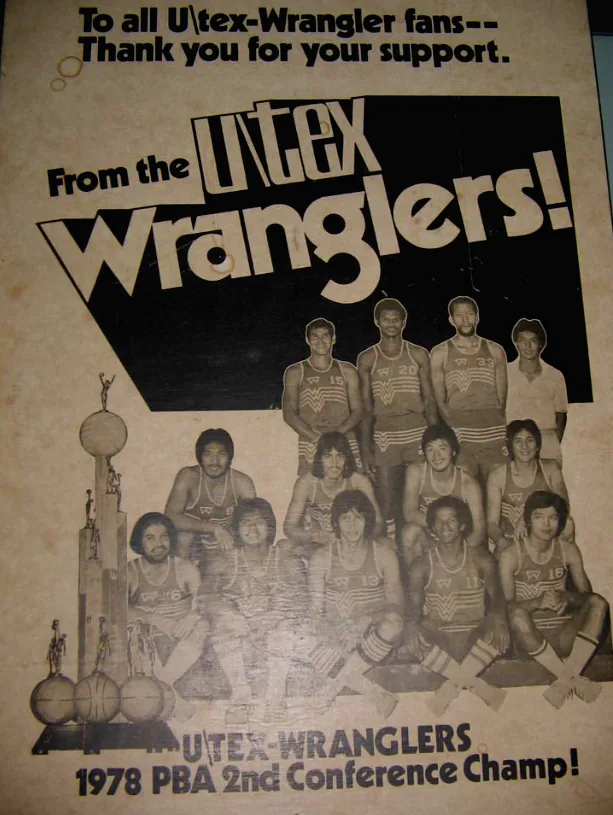 First championship
The Euyang franchise had always been identified as the third best team in the PBA, next to Crispa and Toyota. Prior to this conference, the Wranglers placed third three times and runner-up once.
The Wranglers extended the Redmanizers to a five-game series in 1977, losing out in a heartbreak ending, 90-88 in Game 5. But Manotoc was more prepared this time. Aside from Lobo and Dasalla, he also got Romeo Frank while losing Danny Basilan (Great Taste), Boy Clariño (Great Taste), Carlos Rodriguez (Honda) and Tino Reynoso (Honda). At the same time, the presence of McDonald was a major upgrade over Charlie Neal from the previous season.
On the other hand, Crispa didn't have Cyrus Mann inside to man the paint. The Redmanizers did have a more offensive-minded Ansley Truitt and a low-key Paul Mills but Mann's advantage was that he knew how to defend Jones.
In Game 1, it was a nip and tuck affair as both teams duked it out. U/Tex effectively employed Manotoc's signature slow break, thereby limiting the Redmanizers' transition points. With the Wranglers ahead by one, Jimmy Noblezada stole off Atoy Co in the closing seconds of overtime to preserve the one-point lead and turning it to victory, 95-94.
It was a game that saw Jones fouling out in what could have been a dire predicament for the Wranglers. But McDonald came to the rescue, playing a yeoman's no-relief job in taking over Jones' job as interior protector.
Manotoc felt that Game 1 was a turning point in the series. He said, "Had we lost Game 1, things could have been different. That win provided us with the necessary momentum. It also revealed greater possibilities. Jones fouled out and I thought everything was lost. You see, I'd rather that Glenn (McDonald) fouled out in the crucial homestretch because Jones was a stronger rebounder." He then added that McDonald "overdid himself, while everybody on the floor labored for that go-ahead victory. Glenn's a top scorer, but that doesn't make him less of a magnificent team man. He always works hard on all areas of the game."
In Game 2, with momentum riding on the Wranglers' side coupled with the Redmanizers' disappointment of their Game 1 loss, U/Tex started strong and never relinquished the lead to pull off a 100-93 caper, a win away from a sweep and their first franchise crown. Manotoc though had to manage the emotions of his players, who were bursting with excitement and anticipation of savoring a first PBA championship. "We were confident, but we also knew Crispa can come back so we had to be very cautious and wary," explained the young coach.
Game 3 was pretty much the same as Game 2, and with McDonald exploding for 40 points, the Wranglers broke away from Crispa in the final two minutes of the game to seal a 104-96 victory. Manotoc was able to accomplish a feat that more esteemed coaches like Caloy Loyzaga, Bay Mumar and Tito Eduque weren't able to do – win a PBA title. Crispa coach Baby Dalupan felt that McDonald was the difference. "Perhaps," Dalupan said, "if McDonald were of the same size as my locals, we had a chance.
Aftermath
On the other hand, Manotoc attributed the victory to their defense. "All the games in the title series were tough. If there was one single factor that did it for U/Tex, it was defense. Our defense was our strongest weapon. Everybody worked hard to be in top shape, because, you see, the secret of good defense is good conditioning and cooperation. I always believe in good team defense. No man can do it by himself."
Manotoc also felt that McDonald's entry came at the most appropriate time. "I think we were also a bit lucky because, had we retained Williams, whom we hired ahead of McDonald for the whole second conference, we could have not gone far. I took in Williams, even as he was terribly overweight, because I got impressed with his talent and bearing during my brief five-day scouting spree in America." It turned out that McDonald had been strongly recommended to Manotoc by former U/Tex import Lee Haven, but Manotoc felt they needed a big guard could carry the team. "Williams started out quite well," Manotoc added, "but when he failed to trim down so that we had to convert him into a forward, I decided that we might as well get a legit forward. McDonald was it."
Significance
U/Tex's victory came as a major shock that shook PBA fans. While this was only the 4th time in 11 conferences when Crispa and Toyota didn't figure in the Finals (the first were Honda, U/Tex and Emtex Sacronels), no team has ever beaten either teams with the stakes at its highest. The Wranglers became only the third franchise in PBA history to win a title.
It also presented the formula for other teams to achieve the same. The year after, in the same Open conference, Royal Tru Orange won its first franchise title at the expense of Toyota.
Snake Jones also became the first PBA import to win championships for two different teams. Jones powered the then Toyota Comets to two championships in the league's maiden season, just barely missing out on a grand slam.
At the same time, the victory also meant Glenn McDonald became the very first player in the world to become an NBA and PBA champion. In Episode 35 of the online sports show An Eternity of Basketball, McDonald explained that "it's a big honor to be the first player to win titles in both leagues."
He then described the breaking of the duopoly as amazing. "All I've been hearing was Crispa this and Toyota that, and I was talking to Snake Jones and he was telling me, we got to beat the s*hit out of these two. It's all about them, we gotta take them out. And I'm like I don't really know what you're talking about, but you know, that's what we're gonna do. And he was a great teammate to have, along with Lim Eng Beng, Rudolf Kutch, Ricky Pineda, we had some pretty solid players to work with."
Working with Tommy Manotoc was also a blessing. "He knew what he was talking about. I never knew if he really played basketball, but when I listen to him, just talk strategy, talk about the intricacies of winning and losing, I could see he understood what it takes to be a winner," McDonald said. "He understood the team concept, emphasizing on teamwork and playing hard as a unit, there were critical situations when they usually go to imports, but in the case of someone like Lim Eng Beng, hey, he may not need an import to do it for him. But Tommy had a good relationship with the players even away and not just on the court. The guys genuinely respected Tommy and that's important."
It came as no surprise therefore that when Tommy Manotoc became Deputy Commissioner of the league in 1984, one of his most successful accomplishments was to instill parity in the league. Not surprising given that Manotoc had to go through his share of frustrations and debacles competing against the heavyweight teams like Crispa and Toyota with less stellar rosters to work with.
Watch Glenn McDonald's guesting on An Eternity of Basketball: