This is part of a series from The Rivalry naming the five greatest PBA players from UAAP and NCAA member schools. Some ground rules to explain the rankings:
1. Players are ranked according to their PBA achievements, and NOT their college achievements.
2. If a player played for more than one school in college, the series writers – Jay Mercado and Jude Roque – will decide between themselves which school the player will fall under.
3. Players who excelled in college but whose playing years preceded the PBA are unfortunately not included (i.e., Caloy Loyzaga for San Beda).
4. Players who played for a college or university before that school joined the UAAP or NCAA are included for consideration.
5. Only current UAAP and NCAA member schools are included in the series, but not necessarily all of them.
National University Bulldogs
The National University Bulldogs are a founding member of the UAAP in 1938 along with the University of the Philippines, the University of Santo Tomas and the Far Eastern University. They set up a rival collegiate league after leaving the NCAA, of which the four schools were also founding members back in 1924.
The Bulldogs won their first UAAP title back in 1954 mentored by Leonardo "Skip" Guinto. They went on to win their second championship in 2014 after beating the FEU Tamaraws in the best-of-three finals, 2-1.
Here is The Rivalry's list of the five greatest PBA players who went to National University.
5.  Cris Bolado (UAAP 1987-1989/PBA 1994-2003)
College Career
Cris Bolado was NU's answer to the opposing teams' quality bigs like Benjie Paras of UP, Jerry Codiñera of UE, Danny Francisco and Alex Araneta of Ateneo, Jack Tanuan of FEU, and Joey Santamaria of DLSU. It was a daunting task for the 6'7 Bolado, then hailed already as the tallest player in the league alongside Francisco. But the Bulldogs couldn't get out of the cellar and remained to be the UAAP's doormats. Bolado eventually left NU in 1989 to play for the University of Manila Hawks in 1991.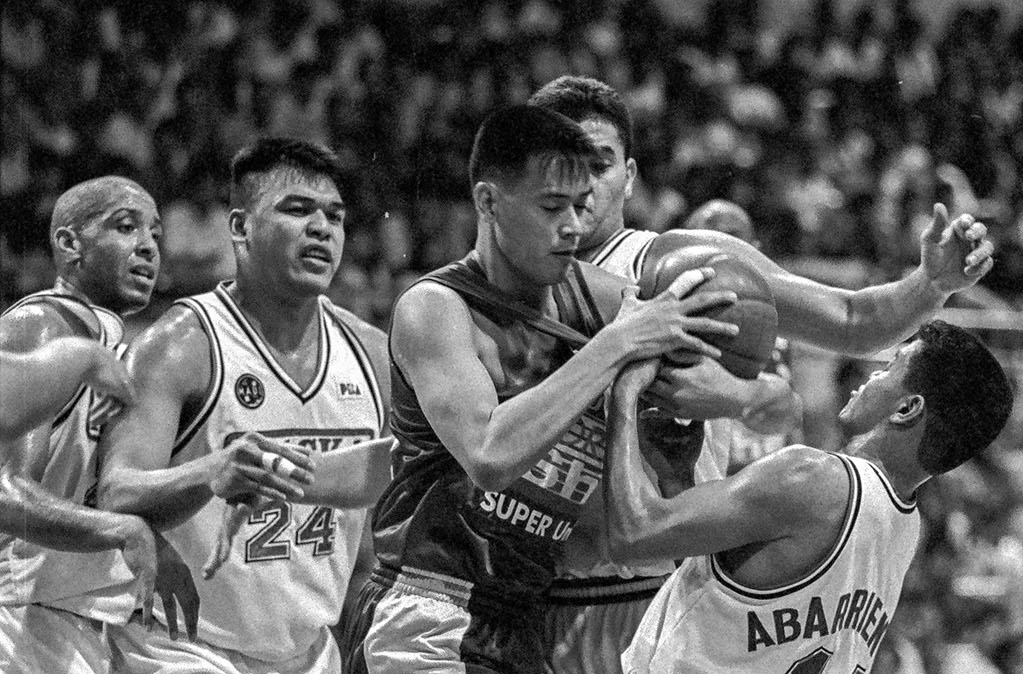 PBA Career
Accomplishments: 11x PBA champion; member of the 1996 grand slam champion team, Alaska; played 419 games; averaged 2.36 points, 2.09 rebounds, 0.26 blocks
Cris Bolado was never a part of any starting unit among the six franchises that he played for. When he was drafted in the second round of the 1994 Draft (13th overall) by Tim Cone and the Alaska Aces, the expectations weren't high, even if the Aces' frontline depth was suspect. At that time, they had to draft Poch Juinio as their 5th pick to shore up their bigs' roster made up only of Alex Araneta, Bong Hawkins, Bong Solomon, an oft-injured Dondon Ampalayo and Dickie Bachmann. Bolado would be fortunate to earn 10 minutes of playing time per game, mostly during garbage time or when one of the bigs went into foul trouble.
But even with the low numbers, Jumbo Bolado proved to be a source of good fortune, having won at least one championship for every franchise that he played for (Alaska, Purefoods, Ginebra, SMB, Red Bull, Coke). His numbers may not have been impressive but his on-court presence, coupled with his mammoth 6'7, 230-lb size, made opponents think twice about attacking the interior. Bolado's soft touch also allowed him to have a nifty short range game and was uncannily accurate from the FT line for a big man.
4.  Troy Rosario (UAAP 2012-2014/PBA: 2015-present)
College Career
Troy Rosario initially played for the Technological Institute of the Philippines for two years before joining his RP Youth mentor, Eric Altamirano, at National University. After redshirting in 2010, Rosario couldn't immediately join the official roster due to enrollment issues, forcing him to sit out for another season. He eventually got to play in 2012 and played in the Final Four for back-to-back years, before finally helping the Sampaloc-based school win its second UAAP title against the Tamaraws in 2014.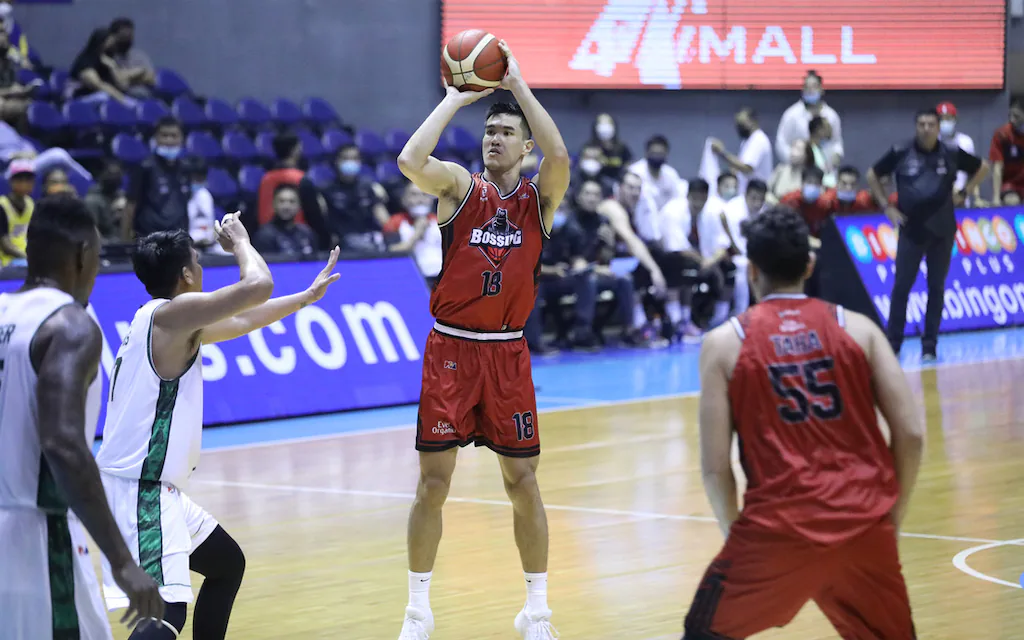 PBA Career
Accomplishments: 2021 Philippine Cup champion; 2019 Mythical Second Team; has played 260 games so far; averaged 11.16 points, 6.01 boards and 1.01 assists
Upon joining the PBA Draft, Rosario was selected second overall by the Mahindra Enforcers behind Mo Tautuaa, the Fil-Tongan taken #1 overall by TNT (via a previous trade with Blackwater). It turned out to be a short-lived stint with the Alvarez franchise as Rosario was immediately shipped to TNT in a three-way trade with TNT sister team NLEX. Rosario immediately proved himself worthy of becoming a starter for a star-studded team under different coaches like Jong Uichico, Nash Racela, Eric Gonzales, Bong Ravena, Mark Dickel, and Chot Reyes. That same year, Rosario was plucked by then national team coach Tab Baldwin to be part of the pool for the 2015 FIBA-Asia championship held in Changsha. Rosario, though, was not included in the final lineup.
A noted shooter who can play the twin forward positions effectively, Rosario relied on his quickness, agility and guile to seamlessly move from small forward to power forward. Well-known for his ability to be a floor spacer and zone buster, he has become an indispensable cog for any team that he's playing for because of his versatility and length. If he continues to play at a high level, he may have an opportunity to get ahead of the third-best PBA player who came from NU….
3.  Lordy Tugade (UAAP 1996-1998/PBA 2000-2012)
College Career
There was a time when Lordy Tugade and Danny Ildefonso teamed up for the NU Bulldogs in the mid-90s but somehow, despite the lethal combination, the team just couldn't take off. Tugade was already known as a stellar gunner from the outside but he eventually honed his defensive skills to become one of the better two-way players of the league. While success didn't come his way at NU, he was able to sign a contract with Red Bull to team up with Ildefonso and Jonas Mariano in 1997, then later, with Kerby Raymundo, Jimwell Torion, Davonn Harp and Junthy Valenzuela in 1999. In 2000, when Red Bull decided to join the PBA, Tugade was one of the team's six players who were directly hired from their PBL team.
PBA Career
Accomplishments: 5x PBA champion; 2005-06 Fiesta Conference Finals MVP; 2006 Mythical First Team; played 441 games, averaged 10.26 points, 3.23 boards, 0.86 assists, 0.31 steals per game
Born in Alaminos, Pangasinan, Tugade became the Alaminos Assassin after displaying his shooting form and equally impressive defensive presence even in his early years with the Red Bull Batang Thunder. It didn't take long for Coach Yeng Guiao to give Tugade his full trust and confidence by having him close out games. It's also notable that when Red Bull had a mini-rivalry with San Miguel Beer in the early 2000s, it was Tugade who was asked to defend against SMB top gunner Danny Seigle.
2006 was obviously Tugade's best year. He became a member of the Mythical First Team, was the top local in the Finals between Red Bull and Purefoods, and was the league's most accurate marksman in the Philippine Cup with a phenomenal 56.7% from beyond the three-point arc. More importantly, he was also known to deliver in the clutch, his treys from the flanks forcing the defense to open up, and also had the capability of slashing into the paint and draw a foul. Tugade's career was generally under-the-radar as he suited up for a small market team like Red Bull in his most productive professional years. An assortment of injuries, starting in 2006, led to a relatively early retirement for one of the most accurate three-point shooters in league history.
2.  Jun Papa (UAAP mid-1960's)/PBA (1975-1980)
College Career
The Bulldogs may have won a title in 1954 but they weren't able to come close to approximating this feat until 1970 when they ended up runners-up to the UE Red Warriors. For most of the time, NU was a lowly to middle-of-the-road team, normally finding themselves in the bottom half of the standings. Papa came into Sampaloc and revived the hopes of the NU faithful after seeing his incredible shooting wizardry. This does not come as a surprise as Papa made old-timers remember Narciso Bernardo, another NU superstar, who torched the nets with his fiery outside shooting. It didn't take long for Papa to get the attention of local scouts and was immediately taken in by the Ysmael Steel Admirals to play for them in the MICAA.
PBA Career
Accomplishments: 1977 Mythical First Team member; played 200 games, averaged 17.47 points per game for three different franchises (Mariwasa-Honda, Filmanbank, Great Taste)
Jun Papa was already 30 years old when he became part of the PBA's pioneer year of 1975. Obviously, his best basketball years came from his playing stints with Ysmael Steel and Crispa in the 60's and 70's. But despite having to play against younger opponents in the pro ranks, Papa proved that he could still knock down those points from afar. Papa once held the league single game scoring record of 59 points achieved in the 1977 All Filipino Conference. Danny Florencio eventually surpassed that by scoring 64 a few months later.
Having played in the PBA when there was no three-point shot yet, Papa would have easily been one of the league's best trey makers as he was capable of knocking down baskets beyond 25 feet. In 1977, he averaged 25.24 points per game, earning for himself a seat in the Mythical First Team. Known as "The Rifleman," Papa was Honda's best local player from 1975 to 1977, powering his team to the Finals in the 1977 All Filipino Conference, only to end up losing, 3-1, to Crispa. The next year, after moving to Filmanbank, he was in the All-Filipino finals once more, only to lose this time to Toyota, 3-1, to settle for second place. There are times we regret seeing players born early, and Papa would definitely have been a delight to watch as a designated hitman for any PBA team that he suited up for.
1.  Danny Ildefonso (UAAP 1995-1997/PBA 1998-2015)
College Career
Danny Ildefonso was discovered after playing in the Palarong Pambansa representing his province Pangasinan. A reed-thin big man at the time, Ildefonso learned to develop his laterals and footwork when he joined the Bulldogs in 1995. That same year, he made it to the under-19 RP Youth team. Yet, despite the promise, Ildefonso, who teamed up with Tugade with NU starting 1996, couldn't lift the team from the cellar. But because of his agility and ability to score from medium range, it didn't take long for Ildefonso to establish himself as the second-best big man in the amateur ranks behind San Sebastian's Romel Adducul. Ildefonso continued to show his promise while donning the colors of Agfa Color, carrying the team to second place behind perennial champions, Tanduay Gold
PBA Career
Accomplishments: 8x PBA champion; 2000 and 2001 Most Valuable Player; 1998 Rookie of the Year; 3x Finals MVP; 5x Best Player of the Conference; 2011 Comeback Player of the Year; 2x Mythical First Team; 3x Mythical Second Team; Named one of the 40 Greatest PBA Players; played 714 games, averaged 10.8 points, 6 boards, 2.3 dimes, 0.6 steals and 0.7 blocks per game
Ildefonso was already a decorated amateur cager suiting up for Agfa Color in the PBL. He was a regular member of the Philippine national team, either as a starting or backup center. He and Romel Adducul had a personal rivalry in the PBL which would have moved to the MBA after Ildefonso agreed to suit up for the Pangasinan Waves while Adducul signed up with the Manila Metrostars. But Ildefonso opted instead to join the PBA draft after Coach Ron Jacobs sought him out.
Ildefonso ended up getting drafted by Shell at no. 1 in the 1998 draft only to be traded on the same day for Shell's no. 2 overall pick, Noy Castillo, plus cash. The Demolition Man quickly established his presence in a rebuilding San Miguel Beer squad, earning Rookie of the Year honors and then copping back-to-back MVP titles only on his third year as pro. He then signed an offer sheet from SMB's corporate rival Tanduay in 2001 for a 16-year contract worth PhP 96 million at PhP 500,000 a month. The offer sheet was later disapproved by the PBA, and Ildefonso continued to play for the Beermen until 2013. Only nine players in league history have won multiple MVP crowns, and Ildefonso doing this in 2000 and 2001 makes him, undisputedly, the greatest ever PBA player who came from the NU Bulldogs.
Honorable Mentions: Bobby Ray Parks, Jewel Ponferrada, Glenn Khobuntin
PREVIOUS LISTS