This is part of a series from The Rivalry naming the five greatest PBA players from UAAP and NCAA member schools. Some ground rules to explain the rankings:
1. Players are ranked according to their PBA achievements, and NOT their college achievements.
2. If a player played for more than one school in college, the series writers – Jay Mercado and Jude Roque – will decide between themselves which school the player will fall under.
3. Players who excelled in college but whose playing years preceded the PBA are unfortunately not included (i.e., Caloy Loyzaga for San Beda).
4. Players who played for a college or university before that school joined the UAAP or NCAA are included for consideration.
5. Only current UAAP and NCAA member schools are included in the series, but not necessarily all of them.
University of Santo Tomas Growling Tigers
The University of Santo Tomas Growling Tigers (previously Glowing Goldies) are a founding member of the UAAP along with the University of the Philippines, the National University and the Far Eastern University. They set up a rival league after leaving the NCAA in 1932 along with UP and NU and formed the Big 3 tournament, featuring sports like basketball, football, volleyball, baseball, athletics, tennis, swimming and boxing.
The España-based school won its first UAAP basketball championship in a tie with UP in 1939. They have a total of 18 titles already, tied for second overall with UE and behind FEU's 20. Their last championship was in Season 69 in 2006 when the Tigers defeated the Ateneo Blue Eagles, 2-1, where Jojo Duncil was adjudged Finals MVP.
The school's rich basketball history has spawned several of the greatest basketball players ever to play in the country.
Here is The Rivalry's list of the five greatest PBA players who went to the University of Santo Tomas.
5. Cyrus Baguio (UAAP: 1998-2000; 2002 / PBA: 2003-19)
College career
Cyrus Baguio was set to play for the Dela Salle Green Archers but was initially only penciled for Team B of the school. Wanting to immediately suit up, Baguio went to España where Aric Del Rosario immediately took a liking of his potential. He joined the final roster in 1998 and made it to the Final 4, where they lost to top seeds Dela Salle Green Archers. Curiously, the Archers and the Tigers tangled once more in 1999, this time in the finals where La Salle won, 2-1, for its second straight UAAP title. Due to academic deficiencies, he was forced to sit out in 2001 but came back with a bang in 2002, leading UST to the Final 4 and earning for himself a Mythical First Team selection.
PBA career
Accomplishments: 3x PBA champion; 2010 Finals Co-MVP (with LA Tenorio); 2008 Most Improved Player, 2x Mythical Second Team; member, 2009 PBA-led national team member in the Tianjin FIBA-Asia tournament; played 741 games, averaged 10.1 points, 3.1 rebounds, 2.5 assists, and 0.9 steals per game
When Yeng Guiao saw the name of Cyrus Baguio still available when Red Bull was drafting at no. 14 in the second round of the 2003 PBA Draft, he didn't think twice about securing the high-leaping Tiger. Fans thought Baguio should have been drafted much earlier, but given the depth of this rookie batch, Guiao felt he was lucky to get hold of Baguio. And while he had to share playing minutes at the same position with the likes of Lordy Tugade, Junthy Valenzuela, Willie Miller and Vince Hizon, Baguio earned Guiao's trust as he became part of the regular team rotation.
"Skyrus" became Red Bull's leading scorer in 2007-08, a breakout year where he averaged 18.0 points, 3.7 dimes and 1.3 steals – all team highs. He became a highly marketable player and Ginebra was able to pull off a trade to get him. He proved himself by winning Finals MVP in the 2010 Fiesta Conference. Guiao, who was named head coach of the national team to play in the 2009 FIBA-Asia, reunited with Baguio by selecting him in the final roster and was one of the more prolific scorers for that team in Tianjin. He was then traded to Alaska where he had a productive stint, displaying his all-around offensive game coupled with a great sense of timing and court sense. One of the most exciting players of his generation, Baguio is no doubt deserving of being part of this greatest list of PBA players from UST.
4. Rey Evangelista (UAAP: 1991-93 / PBA: 1994-2008)
College career
Rey Evangelista is a cousin of UST teammate, Raymond Fran, the latter introducing him to Aric Del Rosario for a possible stint with the team. Del Rosario was impressed with Evangelista's high-leaping ability, given his volleyball background in Ormoc, plus his championship pedigree, having helped Leyte win the SCUAA tournament in Region 8. Evangelista had an impressive collegiate stint, being named to the elite Mythical First Team in 1992 and 1993. He was also a key player in UST's phenomenal 1993 season that saw them sweep the tournament with 14 straight victories. Many regard this 1993 UST team as one of the greatest UAAP basketball teams of all time.
PBA career
Accomplishments: 4x PBA champion; 2002 Governors' Cup Best Player of the Conference; 2002 Mythical Second Team; 3x PBA All Defensive Team; member, 1994 PBA-led national team in the Hiroshima Asian Games; #7 jersey retired by the Purefoods franchise; played 665 games, averaged 7.29 points, 5.21 rebounds, 1.48 assists per game
Rey Evangelista was selected by Purefoods as the second overall pick of the 1994 draft, just behind Tondeña's Noli Locsin. While Locsin proved to have stellar numbers, his team floundered in all three conferences, making Evangelista the outstanding favorite to win Rookie of the Year honors. It came as a surprise to many, including Evangelista himself, that Boybits Victoria was instead selected as top rookie that year.
This didn't affect how he played in the succeeding seasons though. He became an integral member of four Purefoods championships, and was even named Best Player of the Governors' Cup in 2002. A sleek post operator, he also excelled in midrange jumpshots until he extended his offense from beyond the arc in his later years. It was Evangelista's versatility to play both the 3 and 4 positions that made him extremely valuable to all his coaches, as he could be used to relieve Alvin Patrimonio coming off the bench or start and play alongside him at the wings. He was also admired for his high game IQ, a trait that endeared him to all his coaches.
3. Dennis Espino (UAAP: 1990-94 / PBA: 1995-2011)
College career
Dennis Espino may perhaps own the greatest collegiate career in UST history. The 6'6 slotman won everything while playing out all his five years in the collegiate level. Three Mythical First Teams (1991, 1993, 1994), one Mythical Second Team (1992), two MVP awards in 1993 and 1994 and two UAAP championships. Espino was the dominant player of the league who sowed terror in the interior with his ability to post up behind the basket or face the ring and make a nifty jumper from 15 feet. While the Tigers were convincing in their 1993 title run, they struggled a bit in 1994, placing third in the eliminations but were able to beat UE twice and DLSU in three games for back-to-back titles.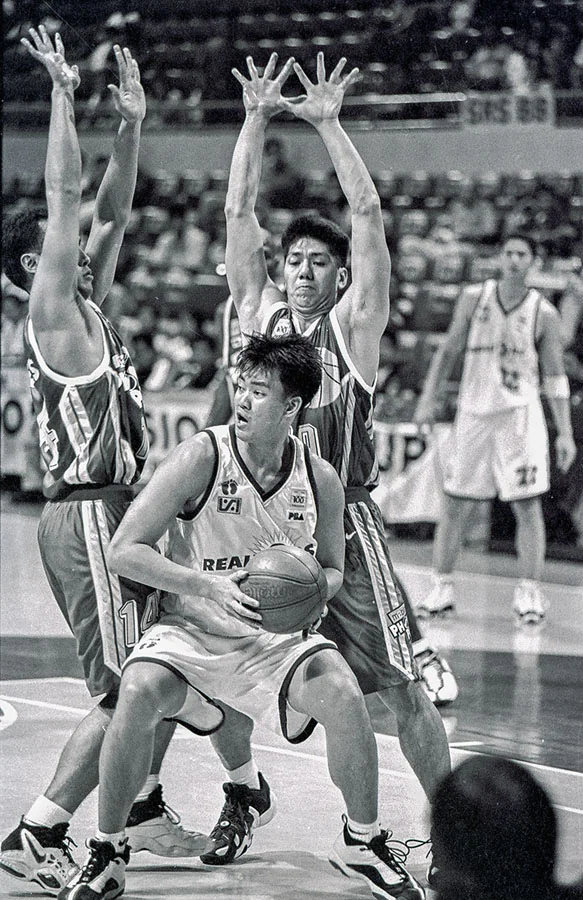 PBA career
Accomplishments: 2x PBA champion; 2005 Defensive Player of the Year; 2007 Philippine Cup Finals MVP; 2x Mythical First Team; 2x PBA All-Defensive Team; member, 1998 PBA-led national team in the Bangkok Asian Games; played 669 games, averaged 13.23 points, 6.61 rebounds, 1.92 assists, and 0.64 blocks per game
Dennis Espino was a highly-touted applicant in the 1995 rookie draft and was a unanimous choice to be selected no. 1 overall. His accomplishments in the amateur ranks, apart from being a winner, was what separated him from the rest of his batchmates. Buddy Encarnado, team manager of Sta. Lucia, didn't think twice about using their pick to get the 6'6 big man, known for his outstanding two-way game and partner with another talented big, Jun Limpot to form a super twin tower combination.
While Espino flourished, the Realtors struggled to win its first franchise championship. This finally happened in the 2001 Governors' Cup when Sta. Lucia pulled off a man-size upset against San Miguel Beer, 4-2. Espino wound up runner-up in the Finals MVP race won by teammate Gerard Francisco. In 2007, he won another crown for the team against Purefoods in the Philippine Cup and was honored with the Finals MVP award. While he was a big man with a complete offensive game, Espino stamped his class by being one of the greatest post defenders in league history. Asi Taulava once described Espino as perhaps the greatest player to defend against him – he was just incredibly smart, shrewd and cunning. A candidate to be named part of the 50 Greatest PBA players in 2025, Espino is an easy pick to be at no. 3 in this list.
2. Danny Florencio (UAAP: 1965-67; PBA: 1975-83)
College career
One of the most exciting collegiate stars in the 60's, Danny Florencio turned instant superstar in the 1965 season after helping lead the Goldies to the finals against the UE Red Warriors. It was a classic rivalry– UE led by Robert Jaworski and coached by Baby Dalupan was up against Florencio, mentored by Caloy Loyzaga. The series went three games and the Warriors and Jaworski, who scored 29 points, ended up the victors although Florencio pumped in 40 points in the decider. The same two schools faced each other in the 1966 and 1967 Finals, the former won by UE once more while the latter season saw both teams ending up as co-champions in a controversial Game 3 ending. In a phone interview with The Rivalry, Bogs Adornado, who looked up to Florencio, recalled a game when Florencio etched his legendary status by scoring 60 points in one game. "Yun ang naging dahilan kung bakit naging paborito ng marami si Danny (Florencio), sobrang galing na, ang exciting pa panoorin."
PBA career
Accomplishments: 5x PBA champion; led the league in scoring in 1977 and 1978; holds the all-time PBA record for highest scoring average in one season with 33.4 points per game; member of the 25 PBA Greatest Players; played 343 games, averaged 16.0 points per game
Just how good was Danny Florencio? For starters, he was only 5'8 but was one of the most prolific scorers inside the paint because of his devil-may-care attacks to the basket. One of the most favorite basketball figures among his peers and colleagues, Florencio was a sight to behold because of his wide array of offensive moves. He was one of the league's leading scorers from 1975 to 1978. In 1977, he scored 64 points to topple Honda's Jun Papa's previous record of 59 points achieved a few months before, and went on to average 33.4 points per game for the entire season – a league all-time record until now. When he joined the superstar-studded Toyota Tamaraws in 1978, he led the team in scoring with 23.4 points per game.
More than the stats though, it was Florencio's impact to the game that made him a PBA legend. Players and fans marveled at how a 5'8 guard would run rings around his younger opponents, then attack the paint and still a get a basket despite shooting in front of the outstretched hands of imports at least a foot taller than him. His double clutch, jackknife of a shot was his signature move inside, suspending himself in mid-air and releasing the ball on his way down. There were not too many players that were more exciting to watch than Florencio, which made him an easy choice at no. 2 in this list.
1. Bogs Adornado (UAAP: 1968-71; PBA – 1975-87)
College career
William "Bogs" Adornado joined the UST Goldies in the 1968 season and played off the bench in his rookie year. Soon thereafter, the sweet-shooting Bogs earned the trust of his coaches and teammates and was immediately inserted in the starting lineup in 1969. He was part of the 1968 co-champion team and led UST to runner-up finishes in 1969 and 1971. Adornado was a phenomenal achiever, perhaps the most decorated amateur player of his time. At the age of 23, he had already played in all the major international tournaments – Olympics in 1972, World FIBA in 1974, ABC in 1971 and 1973, Asian Youth in 1970, Asian Games in 1974. He was also basketball's player of the year in 1973 and 1974 – a testament to how he dominated the amateur ranks that time.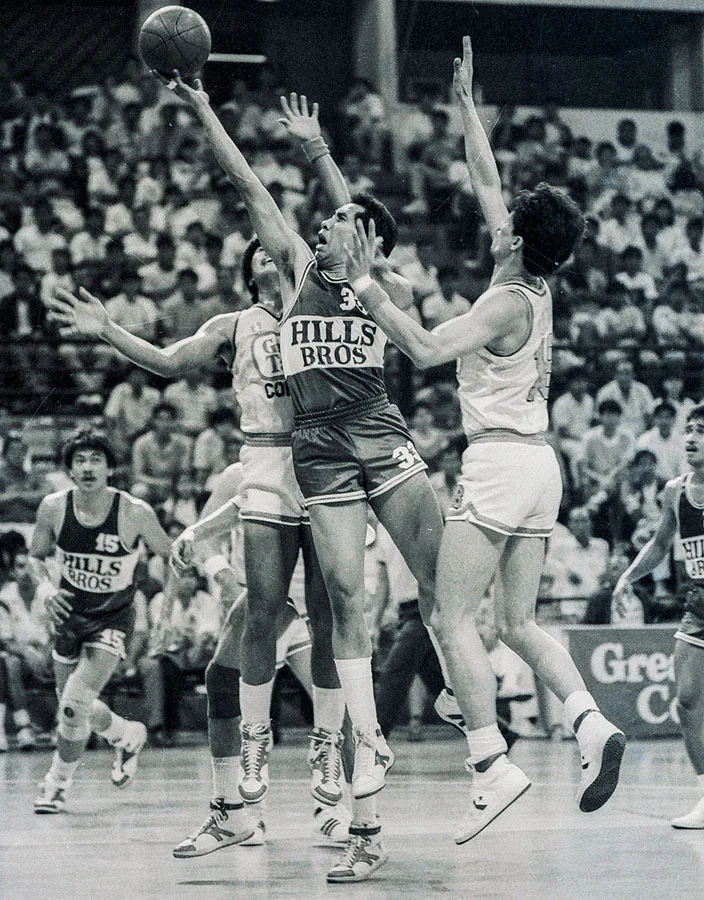 PBA career
Accomplishments: 10x PBA champion; 3x Most Valuable Player; 7x Mythical First Team; 1984 Mythical Second Team; member of the 25 PBA Greatest Players; 5x scoring champion; played 586 games, averaged 20.4 points per game.
Bogs Adornado is one of a few players whose names are often mentioned in the PBA GOAT discussion. He was the first player to win the MVP award, the first player to win the MVP award twice, and the first player to win the MVP award three times. His incredible return to the PBA after a near-career ending knee injury suffered in 1976 has led the PBA to name the Comeback Player of the Year award after Adornado.
Adornado told The Rivalry that much of his success as a PBA player was brought about by clean living, no-nonsense playing, and a fierce desire to be on top. "Maswerte din ako kasi napakaraming awards at accomplishments ang nakuha ko sa career ko mula amateurs hanggang pro, dahil alam ko naman na pinaghirapan ko din yan. Hindi naging madali, lalo na nung na-injure ako." Adornado also played sans controversies, as he even won the Sportsmanship Award in both the PBA and the MICAA – proof that nice guys can still end up first. And in this list, there's no doubt Bogs sits at the perch as the greatest PBA player to come from UST.
Honorable Mentions: Bal David, Patrick Fran, Allein Maliksi, Pido Jarencio
PREVIOUS LISTS