This is part of a series from The Rivalry naming the five greatest PBA players from UAAP and NCAA member schools. Some ground rules to explain the rankings:
1. Players are ranked according to their PBA achievements, and NOT their college achievements.
2. If a player played for more than one school in college, the series writers – Jay Mercado and Jude Roque – will decide between themselves which school the player will fall under.
3. Players who excelled in college but whose playing years preceded the PBA are unfortunately not included (i.e., Caloy Loyzaga for San Beda).
4. Players who played for a college or university before that school joined the UAAP or NCAA are included for consideration.
5. Only current UAAP and NCAA member schools are included in the series, but not necessarily all of them.
Ateneo Blue Eagles
The Ateneo Blue Eagles became the seventh member of the UAAP when they joined the league in 1978 after leaving the NCAA due to the frequent violence erupting among players and spectators. The Blue Eagles, who were original members of the NCAA, won 14 basketball championships before leaving the league.
The Loyola-based school struggled in their early UAAP years and couldn't crack the finals from 1978 to 1986. It was only in 1987 when the Eagles finally netted their first championship at the expense of the UE Red Warriors. They followed this up the year after by upending college arch rivals, Dela Salle University. Overall, Ateneo has already won 12 UAAP titles, the latest being Season 85, the most recent one that ended last December.
Here's the list of the greatest PBA players who came from Ateneo.
5. Olsen Racela (UAAP 1987-91/PBA 1993-2011)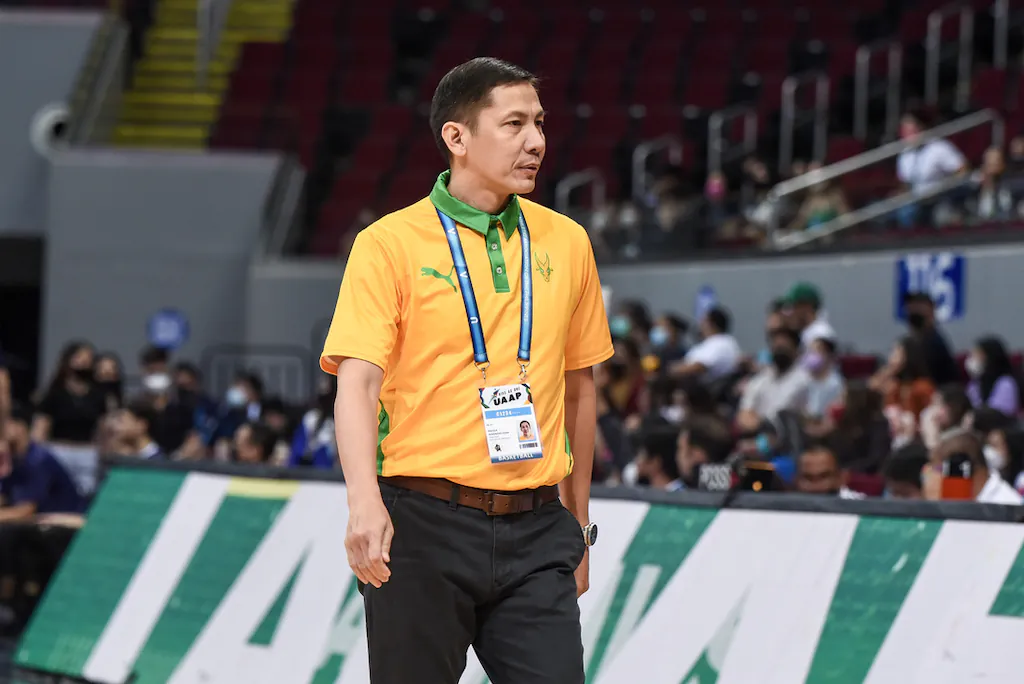 Collegiate career
He initially started as a backup for Gilbert "Jun" Reyes as the primary point guard for the Eagles. But there's no denying his contribution in Ateneo's championship in 1988, the second of a back-to-back. He then went to play in the PBL and suited up for Crispa 400's. He also suited up for the RP Youth team in 1989 where he was the team's leading point guard, playing alongside the likes of Danny Francisco, Vergel Meneses, Vic Pablo, John Cardel, and Joey Guanio. He was drafted in the PBA as the 12th overall pick of the 1993 PBA Draft by Coach Chot Reyes and the Coney Island Ice Cream Stars.
PBA career
Accomplishments: 9x PBA champion; 2x Mythical First Team; 3x Mythical Second Team; 1993 Mr. Quality Minutes; member of the 1998 national team in the Bangkok Asian Games and the 2002 national team in the Busan Asian Games; played 925 games; averaged 7.8 points, 1.9 rebounds, 3.3 assists, 0.8 steals.
The depth at Coney Island's guard corps saw Racela playing third fiddle behind lead point Dindo Pumaren and veteran Frankie Lim. While he was part of two champion squads from the franchise, he played a limited role. But it was his energy and "rah-rah" spirit every time he was fielded in that was generally appreciated by Reyes and allowed him to stay with the team. Yet, he slowly upped his stats performance, from 3 points and 1 dime a game to 6 points and 3 assists in 1996.
In 1997, SMB coach Ron Jacobs made a major move by acquiring Racela from Purefoods for two second round picks. Jacobs has always been known to run his team through his point guards, and Racela was his designated court general to run his system. Almost immediately, Racela proved his worth, averaging 11.4 points and 4.7 assists per game, making him a contender for the season's Most Improved Player award. It was a major career turnaround as he continued to blossom, being selected twice to the PBA-reinforced national team in the Asian Games in 1998 and 2002. He eventually became the league's top point guard, cracking the Mythical First team twice in 2000 and 2001. Longevity-wise, Racela proved to be an ironman himself, becoming only the fifth player in league history to play 900 games.
4. Japeth Aguilar (UAAP 2003-05/PBA 2009-present)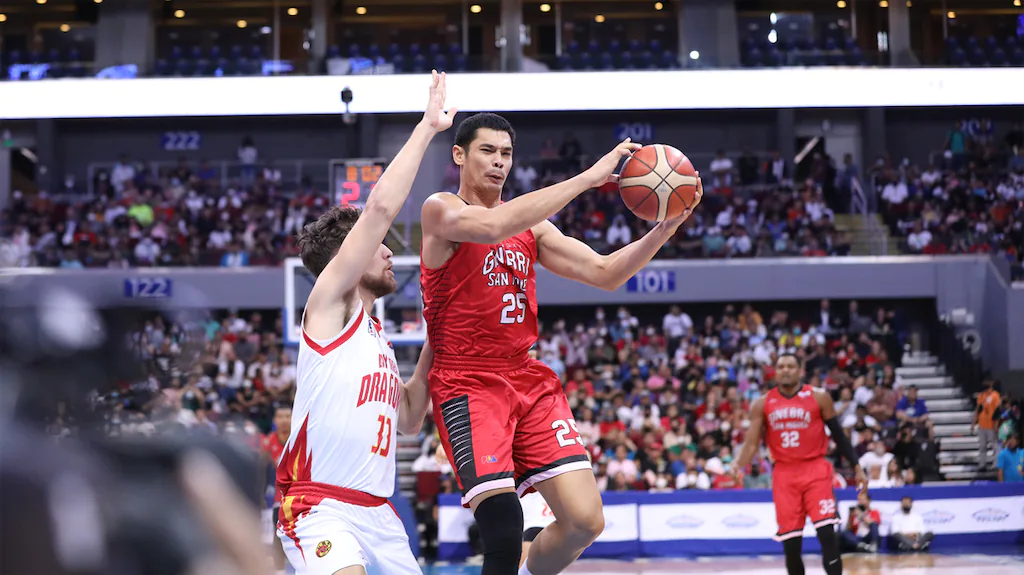 Collegiate career
At 6'9 with a basketball pedigree being the son of former PBA forward Peter, Aguilar was one of the blue-chip rookies of the 2004 UAAP season. But due to a bout with appendicitis, he only played 10 games. In his second year, he improved his numbers with 5.7 points, 9.3 boards and 3.2 swats, including a high of 7 blocks to lead the league and became one of the best defensive players. His Ateneo career was cut short though as he opted to play for the Western Kentucky Hilltoppers in the US NCAA in 2007, one of a few Filipino players to suit up for an NCAA Division I team. He was then taken in by Coach Yeng Guiao to be part of the 2009 Philippine team in the Tianjin FIBA Asia championship and has become a regular member of the national team to date.
PBA career
Accomplishments: 8x PBA champion; 2019 Finals MVP; 3x Mythical First Team; 2x Mythical Second Team; 3x All-Defensive Team; many-time member of the PBA-reinforced PH national team starting 2009; has played 448 games; averaging 12.92 points, 6.77 rebounds, 1.27 assists, 1.61 blocks
Aguilar's pro stint was off to a rocky start. Drafted first overall in the 2009 draft, Aguilar played only one game for Burger King and then announced that he wanted to play for the SMART-Gilas national team under Coach Rajko Toroman. This didn't sit well with BK team manager Lito Alvarez who even threatened to have him banned from playing in the PBA. An agreement was done though where Aguilar would be traded to Talk 'N Text for future draft picks with the condition that Aguilar would only play for the Texters in 2012.
Aguilar played 52 games for TNT until he was traded to GlobalPort. From there, he was again traded to Barangay Ginebra where he finally found a home. Aguilar started putting his game together, averaging double digits in points on his first year with Ginebra. He further improved his game with the arrival of Coach Tim Cone, winning seven titles, cracking the Mythical First Team three times (all under Cone) and the Finals MVP award in the 2019 Governors' Cup. He continues to be a vital cog for the national team and is part of the Gilas pool that will be considered to be part of the national team in the 2023 FIBA World Cup.
3. LA Tenorio (UAAP 2001-05/PBA 2006-present)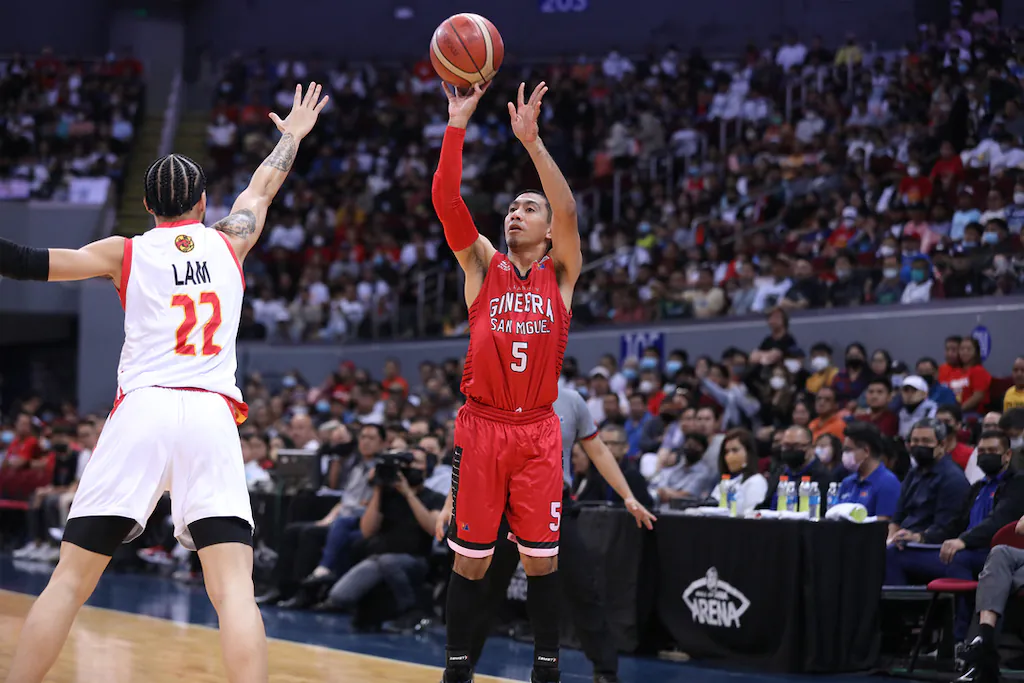 Collegiate career
Ever since he was a San Beda Red Cub in high school, LA Tenorio's calling card has always been his court smarts and leadership. He was the team's lead point guard that won the 2002 UAAP championship in an emotion-filled victory against arch-rivals, Dela Salle Green Archers. While he may have only won one UAAP title, Tenorio's arrival at Katipunan served as the catalyst for the school becoming one of the major powerhouses of the league after leading the team to three straight Finals appearances from 2001 to 2003. He is a two-time Mythical First Team member, accomplishing this feat in 2004 and 2005.
PBA career
Accomplishments: 8x PBA champion; 4x Finals MVP; 2013 Commissioner's Cup Best Player of the Conference; 2x Mythical First Team; 2x Mythical Second Team; 2010 Most Improved Player; many-time member of the PBA-reinforce PH national team starting 2012; has played 738 games; averaging 11.73 points, 3.81 rebounds, 4.56 assists, 1.18 steals
LA Tenorio may be 38 years already but he seems capable of playing for a couple of years more. Not surprising as he has a few more records to surpass. He already owns one – most number of consecutive games played with 738 without missing one since he turned pro. He is also 42 treys behind Allan Caidic's record of 1,242 three-point shots, the second best in league history, and 201 behind all-time leader Jimmy Alapag.
Initially drafted fourth overall by the San Miguel Beermen in the 2006 draft, he and Ateneo teammate Larry Fonacier were traded to Alaska for Mike Cortez and Ken Bono. The deal turned out favorable for the Aces as Tenorio was one of the pillars in the team's 2010 Fiesta Conference conquest where he was named Finals MVP. He was then traded to Ginebra in 2012 but it was when Tim Cone took over when Tenorio established his dominance, winning seven championships, including three more Finals MVP awards.
2. Jojo Lastimosa (UAAP 1981-82/PBA 1988-2002)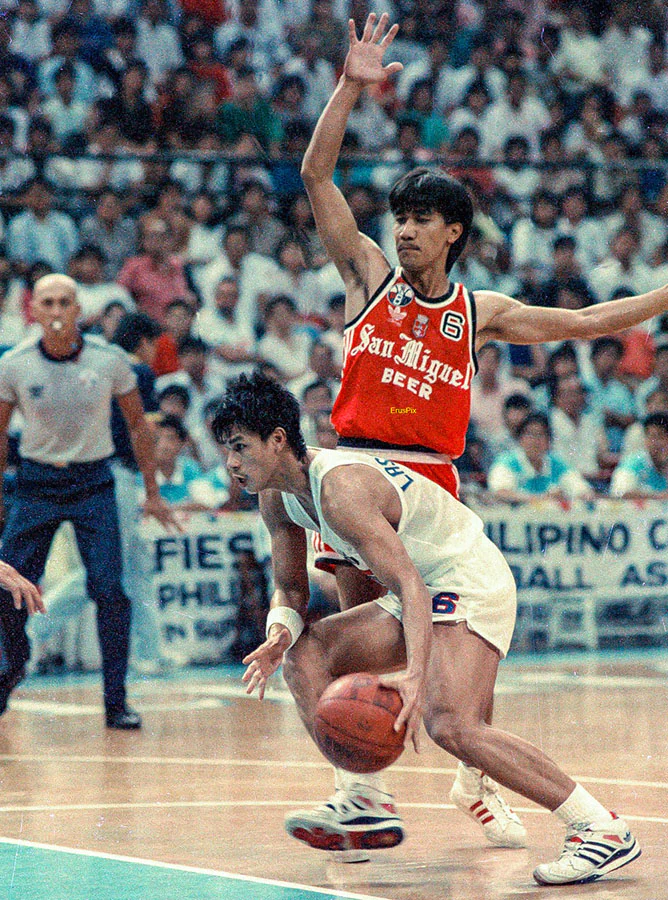 Collegiate career
Isabelo "Jojo" Lastimosa, Jr. didn't have an eventful UAAP career, playing two forgettable seasons for the Blue Eagles in 1981 and 1982. It didn't help that the Eagles didn't fare well as FEU and UE were dominant. He moved to Cebu in 1983 to play for the University of San Jose-Recoletos Jaguars. Yet, before he turned pro in 1988, he had one of the most glorious careers as an amateur player. He became PABL MVP in the first conference of the 1985 season while playing for Mama's Love and was a member of the Golden Bronze national team in the 1986 Seoul Asian Games.
PBA career
Accomplishments: 10x PBA champion; 1996 All-Filipino Finals MVP; 1988 Rookie of the Year; 3x Mythical First Team; 4x Mythical Second Team; PBA's 25 Greatest Players; member of the 1998 Centennial team in the 1998 Bangkok Asian Games; played 789 games; averaged 15.3 points, 2.8 assists
There wasn't any doubt on anyone's mind that Jojo Lastimosa would immediately make a big impact upon turning pro in 1988. Having joined the young, expansion team Purefoods TJ Hotdogs that year, Lastimosa was expected to create a major impact immediately. True enough, he won Rookie of the Year honors and became one of the Hotdogs' most coveted assets. Unfortunately, Lastimosa's role diminished when Alvin Patrimonio came in a little later in the 1988 season, leading to a trade for Boy Cabahug of Alaska.
The move to Alaska allowed Jolas to flourish under Tim Cone's system. He went on to win his second PBA title in the 1991 Third Conference against Ginebra after winning his first as a Hotdog in the 1990 Third Conference. Forming a deadly triumvirate with Johnny Abarrientos and Bong Hawkins, the Aces went on to win the grand slam in 1996 and stamping Lastimosa's claim as one of the greatest to ever play the game. No surprise he's the second greatest PBA player who went to Ateneo.
1. Francis Arnaiz (NCAA 1969/PBA 1975-86)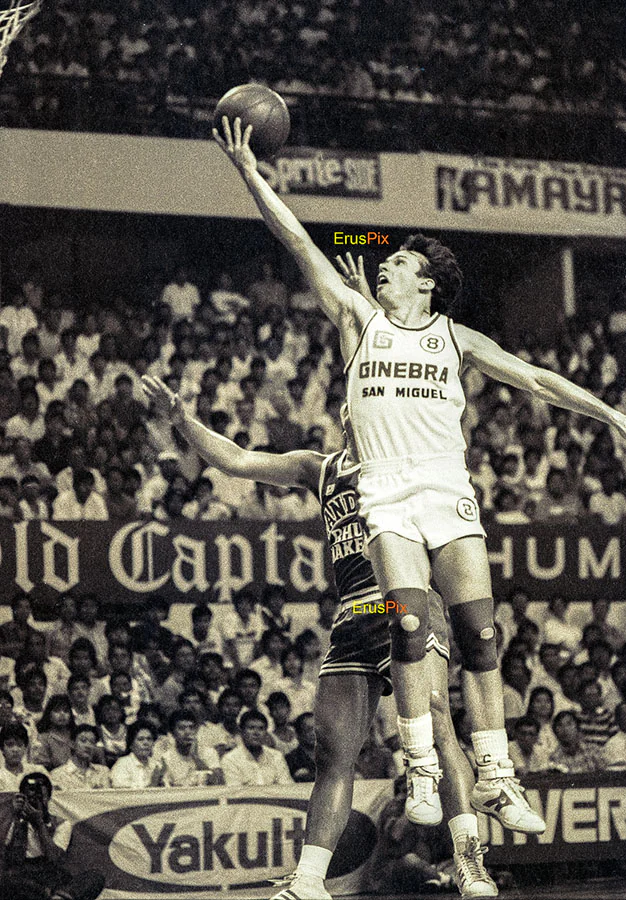 Collegiate career
Given that Ateneo only joined the UAAP in 1978, Francis Arnaiz collegiate career at Katipunan happened when the school was still in the NCAA. But in the one season that Arnaiz played college ball, the Blue Eagles won the 1969 championship. One of the most popular Ateneo teams of all time, the Eagles boasted of the likes of future pros Joy Cleofas, Marte Samson, Cesar Ijares, Baby Boy Morales as well as standouts Chito Afable, Ricky Palou, Lyle Ross, Frank Harn and Tito Panlilio. He played high school basketball at St. Clement's Academy in La Paz, Iloilo and led his school to the PRISAA championship.
PBA career
Accomplishments: 10x PBA champion*; 3x Mythical First Team; PBA Hall of Fame; PBA's 25 Greatest Players; played 613 games; averaged 16.8 points, 4.8 assists
One can argue that Francis Arnaiz didn't win enough awards to merit a first-place distinction in this deep list of Ateneo top players. What many would not know was that there were very few awards given out when Arnaiz played in the PBA from 1975 to 1986 compared to the present. In 1975 alone, he was a favorite to win the first MVP award of the league but eventually lost to Bogs Adornado. Arnaiz, though, won the PSA citation for Basketball Player of the Year.
Arnaiz would also easily make the mythical selection if there was a Second Mythical Team award. He was the second player in PBA history to score 5,000 points in 1980, a year after Atoy Co achieved this milestone. He also cracked the 10,000-point club, and is presently 14th in the all-time list of players with most points scored. More than this, he was a principal player in Toyota's nine championships from 1975 to 1983, and formed one half of what may perhaps be the greatest backcourt duo in PBA history alongside Robert Jaworski. Whether in terms of numbers, accomplishments or impact to the game, Francis Arnaiz definitely tops the list of greatest Ateneans to play in the PBA.
*Arnaiz was on Ginebra's roster at the start of the 1986 Third Conference but migrated to the United States before the Gins won the championship. He is still considered part of the championship team and thus is credited with 10 PBA titles.
Honorable Mentions: Enrico Villanueva, Larry Fonacier, Joy Carpio, Padim Israel, Greg Slaughter
PREVIOUS LISTS