This is part of a series from The Rivalry naming the five greatest PBA players from UAAP and NCAA member schools. Some ground rules to explain the rankings:
1. Players are ranked according to their PBA achievements, and NOT their college achievements.
2. If a player played for more than one school in college, the series writers – Jay Mercado and Jude Roque – will decide between themselves which school the player will fall under.
3. Players who excelled in college but whose playing years preceded the PBA are unfortunately not included (i.e., Caloy Loyzaga for San Beda).
4. Players who played for a college or university before that school joined the UAAP or NCAA are included for consideration.
5. Only current UAAP and NCAA member schools are included in the series, but not necessarily all of them.
Letran Knights
The Colegio de San Juan de Letran is the second most successful team in the NCAA with 20 titles won since joining the league in 1928. The Intramuros-based school opted to leave in 1933 after a dispute with league officials. They rejoined the league three years later and won their first ever NCAA championship in 1938.
That 1938 team, coached by national team mainstay Jacinto "Jumping Jack" Ciria Cruz, was led by team captain and eventual national team head coach Fely Fajardo. They defeated the San Beda Red Lions, 42-30, to capture the championship. Just last December, they demolished the College of Saint Benilde to win their 20th championship and their third straight title.
Here is The Rivalry's list of the 5 greatest PBA players who played for the Letran Knights.
5. Kevin Alas (NCAA 2009-12/PBA 2014–present)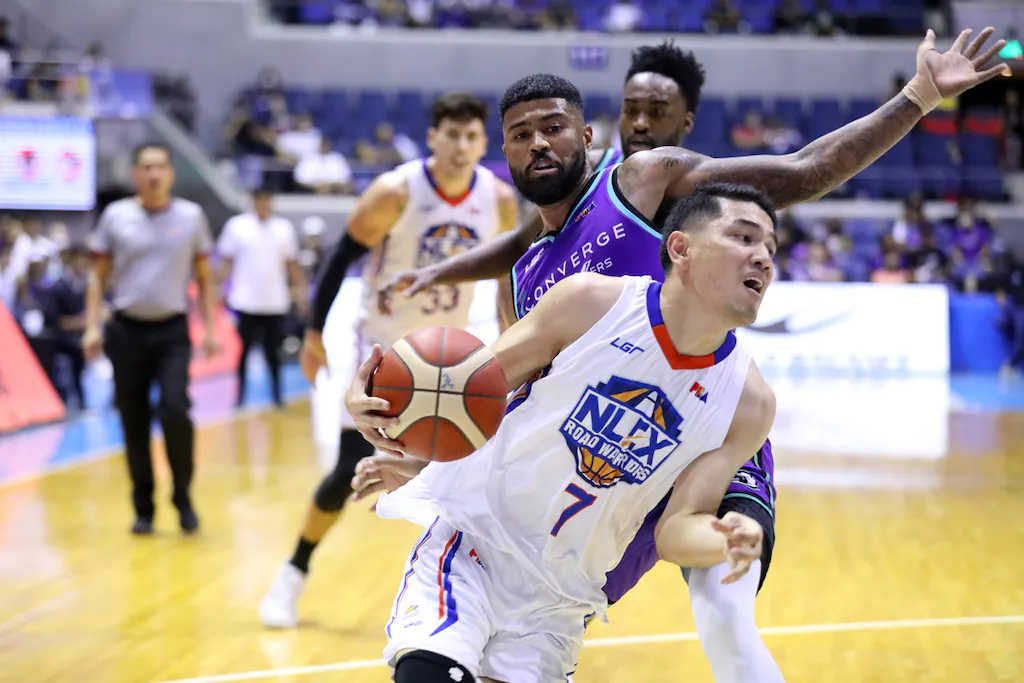 College career
It was already destined that Kevin Alas would build a strong basketball career. He was already a high school standout for the Letran Squires and while his team lost to a Ryan Buenafe-led San Sebastian Staglets team twice in the championship, his talent, along with his pedigree, was bound to carry him to greater heights. Curiously, he opted to stay at Letran despite numerous offers from other schools. He eventually became a member of the Mythical First Team in 2011 and 2012. He eventually played for Gilas Pilipinas and was a member of the gold medal-winning team in the 2013 SEA Games.
PBA career
Accomplishments: has played 196 games in 8 seasons; averaged 10.5 points, 3.6 rebounds, 2.85 assists and 0.67 steals a game entering the 2022-23 Governors' Cup; 2015 PBA Commissioner's Cup champion; played for the PBA-reinforced Gilas national team from 2017 to 2019.
Twice, Kevin Alas suffered an ACL injury on his right knee – the first time in March 2018 and the second a year after in February. A normal person may not have been able to recover from these twin setbacks but Alas' mental strength became evident. Today, he's having a career breakout conference, averaging close to 20 points per game, along with 4.86 points and 3.14 dimes. Not surprising that his Road Warriors team currently belongs to the upper third of the standings.
Now the undisputed leader of the NLEX team, Alas' uncanny ability to find a small crack in the defense and zip through a maze of towering defenders has become a common sight in every Road Warriors' game. More importantly, the son of Coach Louie Alas is best known for his twisting, unorthodox and off-balanced layups that somehow manage to swish through the net. Now at the peak of his career and under a new coach in Frankie Lim, his stock continues to rise, as we may even see him go up the echelon of the best PBA players from Letran in the future.
4. Raymond Almazan (NCAA 2010-13/PBA 2013–present)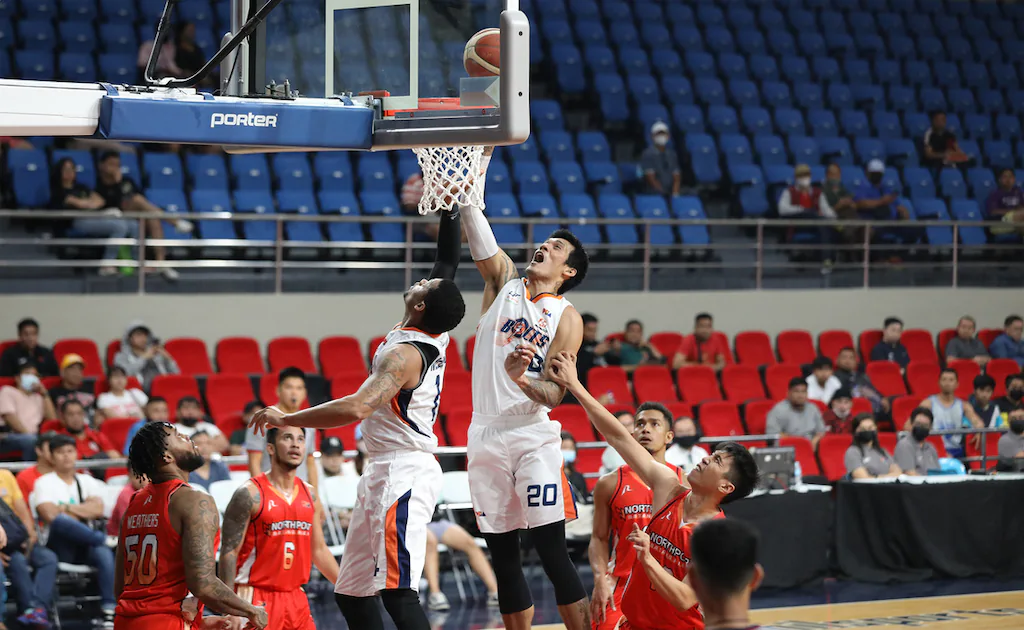 College career
This 6'7 beanpole had an outstanding collegiate career. He won the MVP plum in 2013, was a two-time Mythical First Team awardee, was back-to-back NCAA Defensive Player of the Year in 2012 and 2013 and Most Improved Player in 2011. The only blotch in his collegiate résumé? He wasn't able to give Letran a championship as chief rival, San Beda went on a five-peat romp from 2010 to 2014. Nonetheless, Almazan's performance was more than enough to get the attention of Coach Yeng Guiao of Rain or Shine. He was drafted third overall in the 2013 PBA Draft just behind two other centers – Greg Slaughter and Ian Sangalang.
PBA career
Accomplishments: has played 340 games in 10 seasons; averaged 8.26 points, 6.46 rebounds, 0.79 assists and 0.98 blocks per game entering the 2022-23 Governors' Cup; 2016 PBA Commissioner's Cup champion; PBA All-Rookie Team in 2013; played for the PBA-reinforced Gilas national team from 2017 to 2019.
Because of his height and potential, Almazan was already penciled in as a potential top three draft pick, regardless of what year he would enter the league. While many thought he was still raw and reed-thin when he joined the PBA in 2013, he compensated with his physical toughness, willingness to bang inside and even psyche out his opponents. Which was why he was a perfect fit for Yeng Guiao's Rain or Shine team – it gave him the opportunity to blossom as a big man while learning to conceal his lean physical frame behind the likes of teammates Beau Belga and JR Quiñahan.
His performance, in terms of statistics, has been consistent all throughout his pro career. A reliable rebounder who specializes in putbacks off the offensive glass, Almazan has blossomed to become one of the best centers of the league today. He has been a regular fixture in the Gilas pool even up to today, a testament to how reliable he can be even against international opponents. The knock on his game is his penchant to pick up unnecessary fouls, but if Almazan can control himself better, he should be able to crack the Mythical Second Team in the future.
3. Kerby Raymundo (NCAA 1997-99/PBA 2000–2013)
College career
When Kerby Raymundo joined the team in 1997, he was a gangling 6'5, 16-year old kid who went to Jose Rizal Institute. On his second year with the Knights, he won his first NCAA championship, powering Letran against San Sebastian in the finals alongside Willie Miller and Chris Calaguio. The year after, Raymundo steered the team to another championship, winning the MVP award in the process while defeating the Jose Rizal Heavy Bombers in the finals. So young and full of potential, Coach Yeng Guiao included him in Red Bull's original team in 2000, making him the youngest player ever to play in the PBA at 19 years and 1 month old.
PBA career
Accomplishments: played 474 games in 12 seasons; averaged 12.20 points, 7.20 rebounds, 2.3 dimes, 0.50 steals and 0.60 blocks per game; 4x PBA champion; 2002 Governors' Cup Finals MVP; 2006 Mythical First Team member; 2x Mythical Second Team member; played for the PBA-reinforced Philippine basketball team in the 2007 and 2009 FIBA-Asia Championship; member of the PBA's 40 greatest players.
When Red Bull joined the PBA in 2000, Kerby Raymundo was one of six players from their PBL team to be elevated to the pro ranks without passing through the draft. The others were Davonn Harp, Jimwell Torion, Lordy Tugade, Bernard Tanpua and Junthy Valenzuela. Unfortunately, after only six games, Raymundo was suspended indefinitely by the league due to eligibility documentary issues.
Raymundo provided decent numbers with 6.9 points and 5.1 boards in 50 games the next season, helping the Thunder to the 2001 Commissioner's Cup championship. He was then shipped to Purefoods for future picks (2003 first and second round). It was under Coach Ryan Gregorio where Raymundo flourished as he became one of the team's leading scorers alongside a young James Yap. He was runner-up to Yap in the 2006 MVP race and was eventually selected by Chot Reyes to the 2007 national team for the Tokushima FIBA-Asia. He was only 34 years old when he retired from the sport in 2015, but his accomplishments, willingness to take the last shot at crunch time, and an array of difficult, pirouette moves inside the paint will forever be remembered.
2. Willie Miller (NCAA 1995-98/PBA 2001–2015)
College career
Willie Miller was a pure and genuine talent from the get go. With silky smooth moves, incredible dribbling ability with the propensity to shoot from anywhere within 25 feet, he was bound for superstardom even when he was just starting out. In 1995, he won the Rookie of the Year award in the NCAA. It was unfortunate that he wasn't able to snag an NCAA crown in his two years as the dominant team that time were the Romel Adducul-led San Sebastian Stags from 1993 to 1997. He did take home the Rookie of the Year award in 1996.
PBA career
Accomplishments: played 643 games in 14 seasons; averaged 13.5 points, 4.5 rebounds, 3.8 assists, and 0.9 steals a game; 2002 and 2007 MVP; 2x Finals MVP; 4x PBA champion; 2x Best Player of the Conference; 3x Mythical First Team; 2x Mythical Second Team; 2003 All-Defensive Team; member of the PBA's 40 Greatest Players
Everyone expected Willie Miller to shine in the PBA. After a stellar collegiate stint, he brought his wares to the MBA for the Nueva Ecija Patriots and immediately wowed the fans with his incredible offensive game where he was second in league scoring with 23.6 points per game. But the ultimate challenge was the PBA. He joined the draft in 2001 and was Coach Yeng Guiao picked him as the #1 overall pick for Red Bull.
Even if he averaged less than 26 minutes per game in the first two seasons because of Guiao's equal opportunity system, Miller showcased his brilliance, making him one of the most exciting players to watch during his era. He failed to make it to the 24-man national team pool of Coach Jong Uichico that was to play in the 2002 Busan Asian Games, but he took advantage of this, leading his Thunder team to the 2002 Commissioner's Cup title, subsequently earning for himself the MVP award. He later won the same plum in 2007 under similar circumstances when he wasn't included by Coach Chot Reyes in the national team roster that was to play in the 2007 Tokushima FIBA-Asia tournament. On offense, it would be easy to pick Miller in the Top 10 of the deadliest scorers in league history because of his wide assortment of offensive artillery, thereby making him as the second greatest PBA player from Letran.
1. Samboy Lim (NCAA 1982-84/PBA 1986–1997)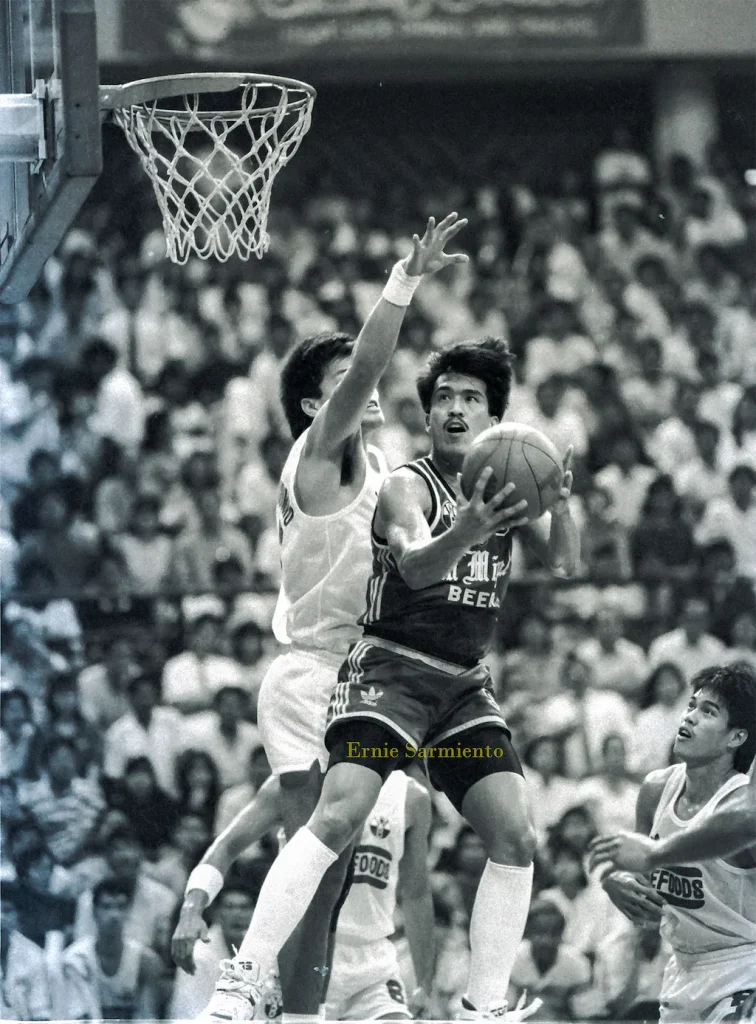 College career
Avelino "Samboy" Lim, Jr. had a sterling collegiate career, winning three championships for Letran from 1982 to 1984 as he teamed up with Romy Ang and Jerry Gonzales to give the school a grand slam. The high-flying Lim was already one of the team's leading offensive players and nearly won the MVP awards in 1982 and 1983, losing out to his two teammates. In 1984, he finally won the MVP award after giving the Knights the crown. He then joined the NCC team under Ron Jacobs and became one of the leading pillars of the team, eventually winning the 1986 ABC title in Kuala Lumpur.
PBA career
Accomplishments: played 335 games in 10 seasons; averaged 16.03 points, 2.76 rebounds, 1.96 assists, 0.44 steals and 0.72 blocks per game; 9x PBA champion; 2x Mythical Second Team; member of the 1989 San Miguel Beer grand slam team; member of the PBA's 25 Greatest Players; PBA Hall of Fame inductee (2009); played for the PBA-reinforced national team in the 1990 Asian Games
One of the league's biggest what-ifs – what if Samboy Lim was healthy for most of his career? How many awards would he have won? Would he have won more championships? Would Ato Agustin have found a niche at SMB? When Lim played, the Beermen were almost invincible. If SMB needed a bucket, they would isolate Lim at the right side and go one-on-one. He would cradle the ball, take time to determine if he'd attack in the middle or pass through the flanks. Either way, a basket plus a foul would be automatic.
In SMB's 1989 grand slam conquest, the Skywalker played 53 games and contributed 15.9 points and 2.9 boards a game. He upped his game further the succeeding year in an injury-free season, putting in 22 and 3 a game. He also won the PBA All-Star MVP award, exploding for 42 points. He was also the national team's second leading scorer behind Allan Caidic in the 1990 Asian Games. More importantly, he spiced the league with his thrilling incursions and explosive three-point shooting. No fan disliked him and was once ranked the second most popular cager in the land behind Sonny Jaworski. In the end, the tangible citations may not have been abundant but it was his intangible contribution to the game that makes him the greatest PBA player from Muralla.
Honorable Mentions: Dave Regullano, RJ Jazul, Chris Calaguio, Ricky Pineda, Freddie Webb
The Rivalry extends its appreciation to Letran alumnus, Mr. Francis Marasigan, for being the writer's resource person for this article.
PREVIOUS LISTS