This is part of a series from The Rivalry naming the five greatest PBA players from UAAP and NCAA member schools. Some ground rules to explain the rankings:
1. Players are ranked according to their PBA achievements, and NOT their college achievements.
2. If a player played for more than one school in college, the series writers – Jay Mercado and Jude Roque – will decide between themselves which school the player will fall under.
3. Players who excelled in college but whose playing years preceded the PBA are unfortunately not included (i.e., Caloy Loyzaga for San Beda).
4. Players who played for a college or university before that school joined the UAAP or NCAA are included for consideration.
5. Only current UAAP and NCAA member schools are included in the series, but not necessarily all of them.
De La Salle Green Archers
The Dela Salle Green Archers were a pioneer member of the National Collegiate Athletics Association (NCAA) in 1924 and won five basketball championships in the league until they opted to leave in 1980 after a riotous Finals series versus the Letran Knights. They then applied to become the eighth member of the UAAP but were only accepted in 1986.
Since then, the Archers have been one of the most successful basketball teams in the league, winning nine championships in a 36-year span. Their last championship was in Season 79 (2016) when the Taft-based squad swept their arch rivals, the Ateneo Blue Eagles, 2-0, in the Finals.
Here is The Rivalry's list of the 5 greatest PBA players who played for the De La Salle Green Archers.
5. Noli Locsin (UAAP 1990-91/PBA 1994–2005)
College career
When word got around that Noli Locsin, a recruit from Bacolod, was to play for the Archers, the community brimmed with excitement in anticipation of someone who can support center, Jun Limpot, inside. He played La Salle's first 3 games in the 1990 season but ended up being forfeited as he wasn't able to complete his one-year residency. Locsin eventually became eligible in Season 54 but despite his presence, the Archers could only salvage a runner-up finish. Locsin also suited up for Triple V Foodmasters and Nikon Fan, both times winning PBL crowns.
PBA Career
Accomplishments: played 413 games in 12 seasons; averaged 11.31 points, 6.23 rebounds 2.13 assists, 0.48 steals, and 0.42 blocks per game; 2x PBA champion; 2x Mythical Second Team member
Locsin wasn't penciled to be the first pick of the 1994 draft but when Marlou Aquino wasn't allowed to join because of lack of completed academic units at Adamson University, it was a no-brainer to secure the beefy power forward. While undersized at a generous 6'3, experts felt that Locsin's game was perfect for the PBA. Fans marveled at his physical strength as much as his ability to lift and suspend himself in mid-air. And to play under Robert Jaworski, who was known for his preference for physical players, it was like a perfect fit. To many oldtimers, he was like a second coming of Alberto "Big Boy" Reynoso, an erstwhile teammate of the Big J at Meralco and Toyota.
The downside was that his team, Tondeña Rhum, was also the weakest team in the league. Despite the Tank's stellar rookie numbers of 18.50 points, 8.78 boards, 2.91 dimes, 0.78 steals and 0.81 swats, he only got to play 32 games as the franchise got booted out in every playoff spot that year. The lack of games cost him the Rookie of the Year award, which went to Boybits Victoria of Swift. But there was no denying that for two straight seasons, Locsin was the primary offensive and defensive weapon of the league's most popular team. By the end of his second season, he was already bruited to be one of the top power forwards in the PBA. He finally won a championship for Gordon's Gin in the 1997 Commissioner's Cup. Locsin moved on to different teams thereafter, Pop Cola, Tanduay, Red Bull, Talk 'N Text before signing up for one final season with Sta. Lucia in 2004-05.
4. Jun Limpot (UAAP 1988-92/PBA 1993–2007)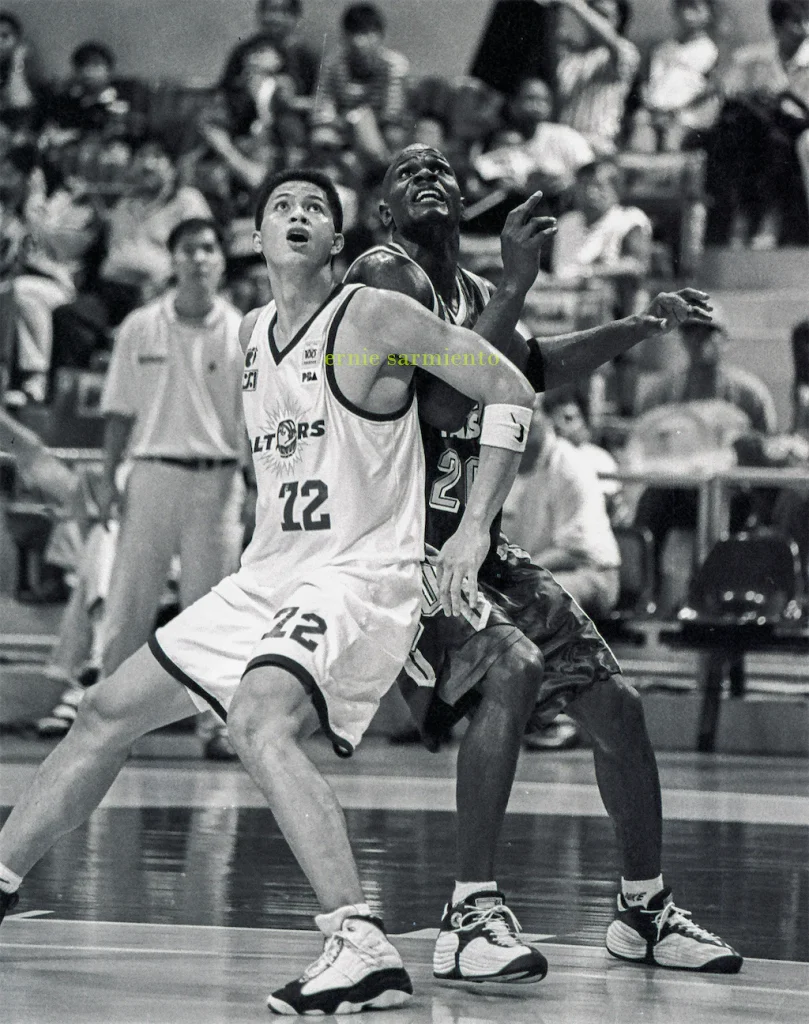 College career
Even when he was still in high school at the University of Manila, scouts were already salivating over the prospect of having Jun Limpot for their collegiate team. After Coach Ron Jacobs revealed Limpot's identity as a budding star from high school, schools scrambled to secure his services. It was La Salle which eventually won out and in his rookie year in 1988, he was already contending with the likes of Benjie Paras of UP and Danny Francisco of Ateneo. When the two left the league, Limpot started to dominate, giving the Archers back-to-back crowns in 1989 and 1990, while winning MVP honors. He was also a mainstay in the national team, having suited up in the 1989 ABC, the 1989 and 1991 SEA Games. He won his third MVP plum in 1992. On the side, he also suited up for Magnolia in the PBL, winning an MVP award before joining the draft in 1993.
PBA Career
Accomplishments: played 558 games in 14 seasons; averaged 16.15 points, 6 rebounds, 1.84 assists, 0.44 steals and 0.77 blocks per game; 2006 Philippine Cup champion; 1993 Rookie of the Year; 1994 scoring champion; 1993 All-Defensive Team; 2x Mythical Second Team member.
Sta. Lucia bought the franchise of the disbanded Presto franchise prior to the start of the 1993 season. The Realtors looked forward to getting the first pick in the draft after learning that Limpot put his name in the rookie batch. Nicknamed the "Main Man" and the "Big Deal," he became the cornerstone of the Robles franchise, helping the team to a third-place finish in the Governors' Cup that year while averaging 20.6 points, 8.09 boards, 2.27 assists and 1.64 blocks per game. However, for all of Limpot's individual success, he couldn't give his team a title. Even after partnering with Dennis Espino in 1995, the two failed to bring the Realtors to the PBA Finals.
At one point, Limpot was also offered the highest salary in the PBA through an offer sheet extended by Pepsi Mega. When Limpot's three-year rookie contract ended in 1995, Pepsi laid out a five-year, P28M offer sheet which the Realtors eventually matched to retain his services. Eventually, Sta. Lucia agreed to trade Limpot to Ginebra for Marlou Aquino in a move initiated by Jacobs, who played for their PBL franchise in the amateur ranks. But it was only in the 2006 Philippine Cup when Limpot won his first PBA title while playing for the Purefoods Chunky Giants alongside James Yap, Marc Pingris, PJ Simon, Roger Yap, Rey Evangelista and Kerby Raymundo. Had Limpot won more championships, he would have easily ranked higher than fourth in this list as he owned one of the most impressive statistical records among La Sallians in the PBA. It was fortunate for him that in the twilight of his career, he was able to win a championship with the Giants.
3. Mark Cardona (UAAP 2001- 04/PBA 2005–17)
College career
It comes as a surprise that Mac Mac Cardona wasn't actually recruited to play for the Archers. Instead, he walked in for a tryout, fully aware of the school's rich basketball program. His talent didn't go unnoticed as Coach Franz Pumaren immediately inserted him in the lineup in 2001. He became Rookie of the Year while helping the team win the UAAP title. He went on to win Finals MVP honors in 2004 after lifting the team to the title, 68-65, against FEU. Unfortunately, the Archers lost the title and were eventually suspended in the 2006 season after fielding two players with spurious academic records. Cardona was the league's scoring leader in 2003 and 2004 and later played in the PBL for ICTSI and Harbor Center, the latter happening in 2005 when he also won the MVP award in the Unity Cup.
PBA Career
Accomplishments: played 425 games in 12 seasons; averaged 14.62 points, 3.94 rebounds, 2.19 assists and 0.81 steals; 2008-09 Finals Most Valuable Player; 2008 Philippine Cup champion; 2008 Philippine Cup Finals MVP; 2007 Fiesta Best Player of the Conference; 2008-09 Mythical First Team member; 2x Mythical Second Team member; 2008 scoring champion
Nicknamed "Captain Hook" for his famed teardrop shot that swishes the net every time he'd attack the paint, Cardona was the fifth overall pick of the 2005 draft by the Air21 Express. However, the Express opted to trade him to Talk 'N Text then mentored by Derrick Pumaren. After averaging close to 8 points per game in his rookie year, his averages more than doubled the year after, chalking up 18.1 points, 4.4 rebounds, 2.5 feeds and 0.7 steals a game, leading the Phone Pals to a runner-up finish behind Alaska in the Fiesta Conference in a grueling 7-game series.
He finally won his first and only PBA title under Chot Reyes in the 2008-09, nosing out the Aces in 7 games while claiming Finals MVP honors. It was also his most prolific season as a pro, averaging 20 points per game, excelling in the offensive system of Reyes as their main offensive weapon. He moved to sister team, Meralco, then was traded to Air21 where he played for his college coach, Franz Pumaren. He then played for another MVP team, NLEX, before ending his PBA career with the GlobalPort Batang Pier team in 2017 again under Pumaren.
2. Dindo Pumaren (UAAP 1986-88/PBA 1989–2002)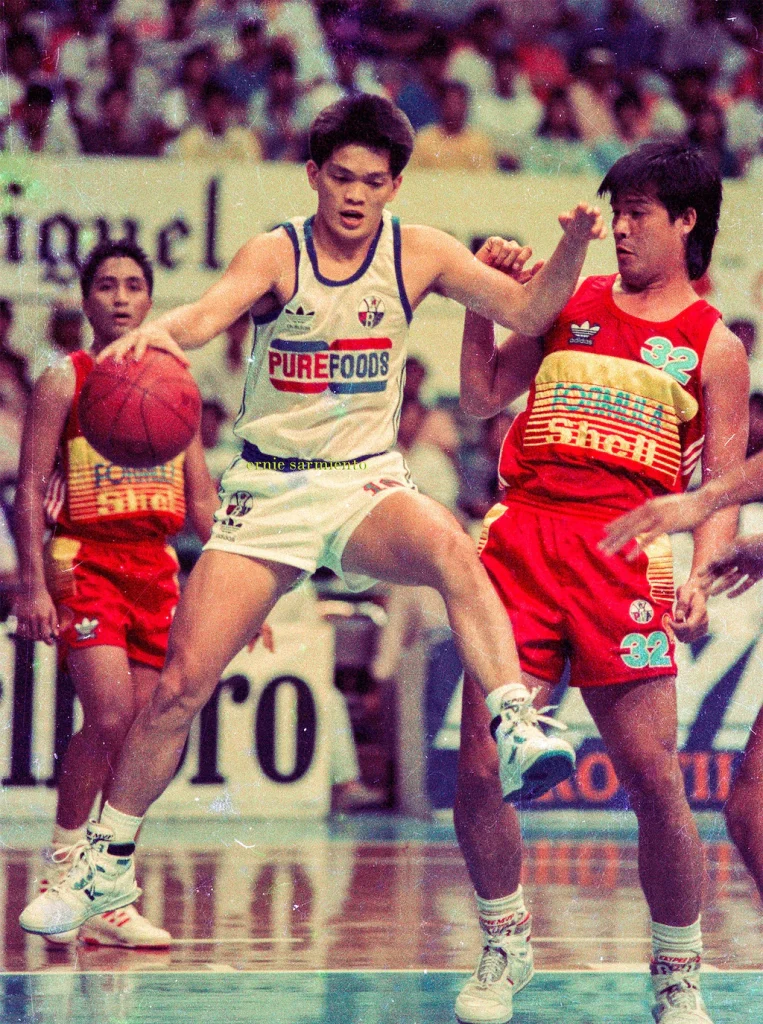 College career
Dindo Pumaren was considered the most talented among the Pumaren siblings. There was basis in this claim as he not only played for the San Beda Red Cubs team under Coach Ato Badolato, he he laso had more offensive weapons and was faster than Derrick and Franz. He played two seasons with the Archers, finishing runner-up to Ateneo in 1988 with Pumaren doing most of the heavy lifting. Unfortunately for him, he opted to join the PBA draft in 1989, thereby missing the opportunity of winning a championship in college as the Archers went on to beat the FEU Tamaraws, 2-0, in the 1989 season.
PBA Career
Accomplishments: played 692 games in 14 seasons; averaged 7.58 points, 2.27 rebounds, 5.84 assists and 1.30 steals per game; 4x PBA champion; 2x Mythical Second Team member
Because there were only six PBA teams in 1989, Pumaren ended up as the first pick of the second round by the Purefoods TJ Hotdogs. The Hotdogs were fortunate to acquire him at no. 7 as he almost immediately became the team's lead point guard after Willie Generalao was traded to Presto. Pumaren rounded up perhaps the most formidable young core of PBA players in that era – alongside Jerry Codiñera, Alvin Patrimonio, Nelson Asaytono and Jojo Lastimosa. Management expected nothing less than a championship, but this only happened in the 1990 Third Conference when veteran coach Baby Dalupan steered his young squad to the championship vice Tim Cone's Alaska.
Pumaren stayed with the Hotdogs until 1993, winning three championships, before joining his brother Derrick at Pepsi in 1994. He went back to Purefoods in 1996 and was part of the franchise's 1997 All-Filipino Conference championship. In 2001, he rejoined his brother, Derrick, who was already handling Tanduay Rhum Masters, and then was absorbed by FedEx Express when the latter bought the Lucio Tan franchise prior to the start of the 2002 season. He opted for retirement at 37 years old even though fans felt he still had at least two good years left in his tank. Pumaren's gifted ability to steal the ball, particularly in crucial situations, as well as come up with the right decisions at crunch time, are more than enough reasons to put him as the second-best PBA player to come from La Salle.
1. Lim Eng Beng (UAAP 1971-74/PBA 1975–1986)
College career
Lim Eng Beng's storied collegiate basketball career is well-chronicled and he is considered a hero in the La Sallian community. Not only did he help steer the Green Archers to two NCAA titles in 1971 and 1974, he also was known as the "Eagle Slayer," the man who conquered their arch rivals. In 1974, he established a league record of 55 points in a game, still the all-time NCAA record for most points registered by a player in a game. The product from Chiang Kai Shek won MVP honors that year, leading the team to the championship. For his accomplishments, the school retired his no. 14 number. When the PBA opened in 1975, he suited up for Concepcion Carrier as one of the league's pioneers and more popular superstars.
PBA career
Accomplishments: played 416 games in 11 seasons; averaged 14.10 points, 2.87 rebounds, 2.93 assists and 0.52 steals; PBA 25 Greatest member; 1978 Mythical First Team; 4x PBA champion
There was no question as to how good LEB's offensive game was. While many considered his defense as suspect because of his lack of laterals, he was able to compensate for this by using his brains when covering his man. In his first season, he established himself as one of the league's top guns, averaging 18.93 points, 3.39 rebounds, 1.89 assists and 0.68 steals in 28 games. U/Tex manager and later coach Tommy Manotoc, another La Sallian, brought LEB to the Wranglers where he suddenly found himself with a major contender. His 1978 stats of 22.26 points, 3.86 rebounds, 4.07 assists and 0.77 steals made him a contender for the league's MVP award, eventually won by Robert Jaworski.
LEB stayed with U/Tex until 1981 before Manotoc brought him to SMB where they won the 1982 Asian Invitationals (Second Conference). In 1984, Manotoc got him once more to play for Crispa. He was part of the team's final championship in the 1984 All-Filipino. He retired in 1985 but was given another roster spot, this time by Andy Jao at Manila Beer, where he finished his career after playing nine games. The master of the pump fake (arguably second best in league history behind Bogs Adornado), LEB's ability to draw the foul, especially at the crucial moments of the game, was his primary calling card. And given LEB's ability to sink his free throws (he was a career 79.2% FT shooter), he was generally acknowledged one of the greatest clutch players of the league. It's not surprising that he ends up as the greatest PBA player to come from Taft Avenue.
Honorable Mentions: Mike Cortez, Ren Ren Ritualo, Franz Pumaren, Don Allado, Yves Dignadice
PREVIOUS LISTS