This is part of a series from The Rivalry naming the five greatest PBA players from UAAP and NCAA member schools. Some ground rules to explain the rankings:
1. Players are ranked according to their PBA achievements, and NOT their college achievements.
2. If a player played for more than one school in college, the series writers – Jay Mercado and Jude Roque – will decide between themselves which school the player will fall under.
3. Players who excelled in college but whose playing years preceded the PBA are unfortunately not included (i.e., Caloy Loyzaga for San Beda).
4. Players who played for a college or university before that school joined the UAAP or NCAA are included for consideration.
5. Only current UAAP and NCAA member schools are included in the series, but not necessarily all of them.
San Beda Red Lions
The San Beda Red Lions was part of the original ensemble of schools that formed the NCAA in the Philippines back in 1924, although they took a leave of absence in 1984 and 1985. It is the only founding member school left in the NCAA roster as six of the eight academic institutions went on to become part of the UAAP.
San Beda is the most successful NCAA school in basketball, having won 22 championships, the most recent coming in 2018. Their most notable alumnus is the Big Difference, Caloy Loyzaga, recognized by many as perhaps the greatest Filipino basketball player of all time.
This week, The Rivalry lists down the top 5 PBA players who came from San Beda.
5.  Boybits Victoria (NCAA 1990–92/PBA 1994–2001)
NCAA career
The moment Emmanuel "Boybits" Victoria laced his shoes and donned the red jersey of San Beda, experts already penciled him in to become a future superstar. He was part of the 1990 RP Youth team that won fourth place in Nagoya, Japan, playing alongside the likes of future pros Marlou Aquino, Jun Limpot, Boyet Fernandez, Wilmer Ong and Peter Naron. While the Red Lions were not able to win a championship in Victoria's there years, yielding to Mapua twice (1990 and 1991) and Letran (1992), there wasn't any doubt Victoria was the King Lion of his generation.
PBA career
Accomplishments: played 524 games in 10 seasons; averaged 7.69 points, 2.19 rebounds, 3.02 assists and 0.74 steals per game; 1994 Rookie of the Year; 2-time Mythical Second Team member; 7x PBA champion
Victoria joined the 1994 PBA Draft at only 21 years old. Yet, he was already one of the hottest prospects in the rookie list, which was why not too many were surprised to see him being selected by Coach Yeng Guiao and Swift at no. 3 overall, just behind Tondeña's Noli Locsin and Purefoods' Rey Evangelista. With Swift ending up runner-up to Alaska in the Governors' Cup that year, Victoria nosed out Evangelista for the Rookie of the Year award.
He went on to pick up two more championships for the Concepcion franchise, in the process impressing Coach Ron Jacobs who was then already set to turn over his SMB coaching function to protégé, Jong Uichico. Victoria was brought into a rebuilding SMB unit in a trade for big man Cris Bolado. Victoria was convinced by Uichico to play backup to lead point guard, Olsen Racela. He flourished under Uichico's system and won four more championships with the Beermen. He eventually retired after the 2001 season despite not being in his 30's yet.
4.  JB Yango (NCAA 1977–78/PBA 1982–1988)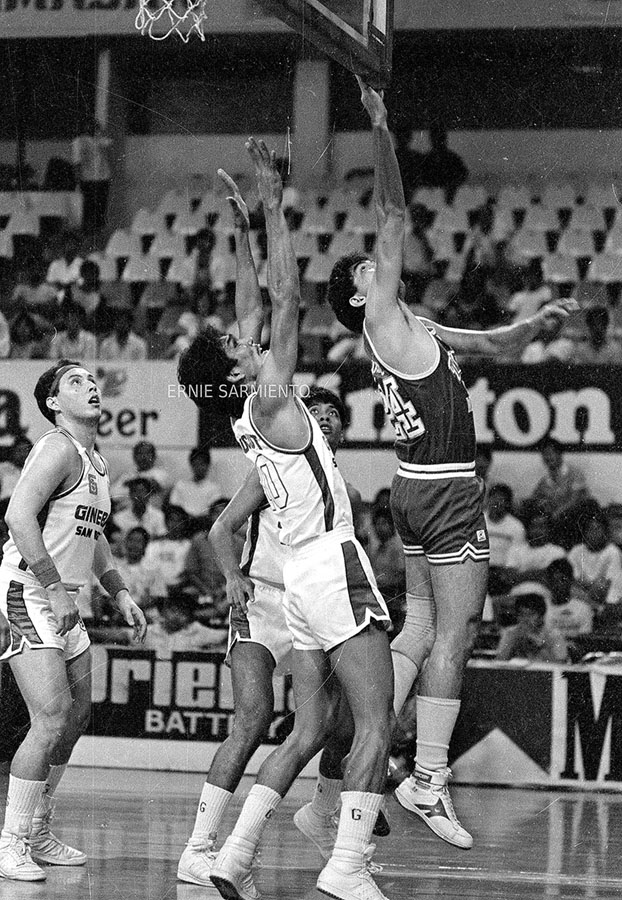 NCAA career
The Red Lions had two bitter setbacks against rivals Ateneo Blue Eagles where they lost in back-to-back finals in 1975 and 1976. JB Yango took over the role of Abe King at the slot when the latter opted to turn pro in 1977. It didn't take long for Yango to assert his presence inside, battling against the likes of Joy Carpio and Steve Watson to carry San Beda to back-to-back championships in 1977 and 1978. The first one was as historic as it was tumultuous as Game 3 was held at the Araneta Coliseum in closed doors. Yango canned two free throws to put San Beda ahead for good, 77-75. Later on, Yango became a fixture in the national team and was part of the first batch of local players to be included in the NCC Training Team program.
PBA career
Accomplishments: played 273 games in 7 seasons; averaged 9.55 points, 5.34 rebounds, 1.0 assist and 0.53 blocks per game; 1986 Mythical Second Team member; 3x PBA champion
When the NCC Training Team was initially disbanded, Yango decided to turn pro and was one of four rookies that joined YCO/Tanduay. Yango's extensive amateur experience earned him the trust of Coach Freddie Webb, who immediately inserted him in the team's starting lineup. He averaged 10.73 points and 6.24 rebounds in his rookie year but because his team could only muster two quarterfinals finishes, he lost out in the ROY selection to Marte Saldaña of SMB.
Yango's best season statistically though was in 1984 when he played 38 games for the Rhum Makers and averaged 17.05 points, 10.00 rebounds 1.79 assists and 0.92 blocks. Yet, Tanduay was only able to win its first PBA championship in the 1986 season with the arrival of Ramon Fernandez and Coach Turo Valenzona. In the 1986 All Filipino Finals, Yango pumped in 40 points in Game 2 of the Tanduay-Ginebra series despite the defense of Chito Loyzaga, Terry Saldaña and Dondon Ampalayo to prevent Ginebra from gaining a 2-0 lead while giving momentum to the Rhum Makers to sweep the remaining two games, 3-1. He was later named MVP of the championship series. It was around this time when he was carving out his name as one of the league's best power forwards but he eventually retired at the end of the 1988 season after a short one-season stint with the Purefoods TJ Hotdogs.
3.  Elmer Reyes (NCAA – 1978 – 80/PBA 1986 – 1992)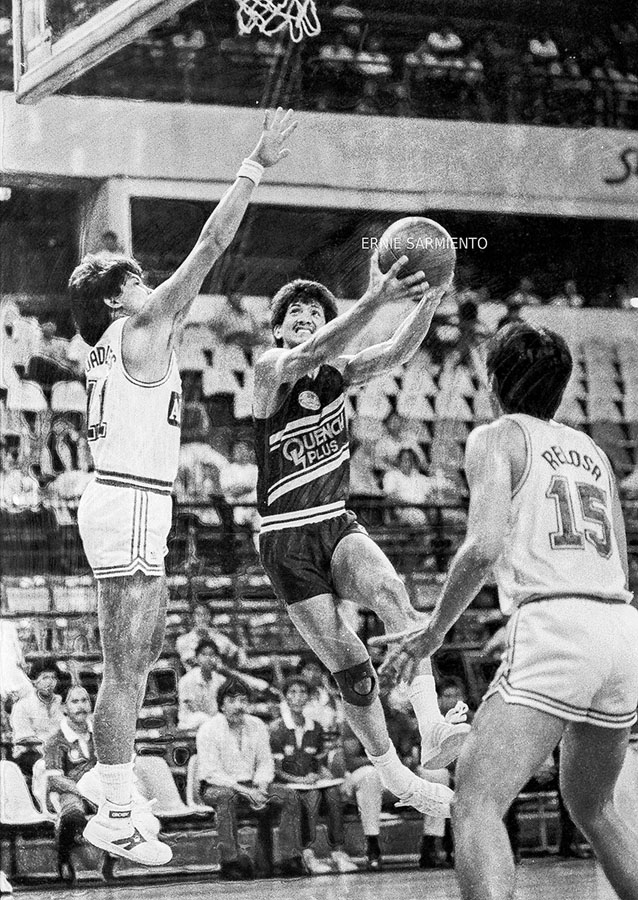 NCAA career
A battle-scarred veteran who initially played for the La Salle Greenies before moving to the Red Cubs, Elmer Reyes' career with the seniors team of San Beda started off well as he became an integral part of the 1978 title-retention team, subsequently winning back-to-back cronwns. He then played for the Red Lions the next two seasons, but the loss of key veteran players forced them to give way to the Letran Knights, the team that won the 1979 championship. Reyes then started playing in the MICAA for the Presto Fun Drinks in 1980 then with Masagana 99 in the Interclub in 1981 before being secured by Ron Jacobs to play for the 1982 RP Youth team. He then became a mainstay for the national team as he played for the NCC team in the PBA in 1984 and 1985 and went on to play in the 1984 ABC Interclub, 1985 World Interclub, 1985 Jones Cup and the 1985 ABC tournament.
PBA career
Accomplishments: played 318 games in 7 seasons; averaged 10.21 points, 2.24 rebounds, 3.13 assists and 0.76 steals per game; 7x PBA champion; 1989 Mythical Second Team member
Having established himself as one of the premier swingmen in the amateur ranks, Reyes further flourished in the PBA after being directly acquired by Magnolia at the third conference of the 1986 season. What made Reyes special though was his willingness to play off the bench, serving as reliever to Samboy Lim, even if he was more senior. His ability to score inside and outside – whether through interior penetrations coming off an explosive first step, or an impeccable set shot from beyond the arc – made him one of the most difficult players to defend.
The Beermen went on to win the 1989 grand slam, with Reyes playing an instrumental factor despite the deep bench of the team. He averaged an impressive 14.80 points, 2.97 rebounds, 3.45 dimes and an impressive 1.02 steals a game that year to earn for himself a Mythical Second Team selection. Quite surprisingly, he was released to the expansion pool in 1990, allowing expansion team Diet Sarsi to take him in their roster. He shone well for the Sizzlers, scoring 12.8 points per game but was eventually traded to Alaska for Yoyoy Villamin. He didn't stay long with Alaska though, as he was shipped right away to Purefoods for the latter's first round pick of 1991. This pick turned out to be Alex Araneta. Reyes played for two more seasons before hanging up his jersey at the end of the 1992 season.
2. Chito Loyzaga (NCAA 1976-78/PBA 1981, 1983–1993)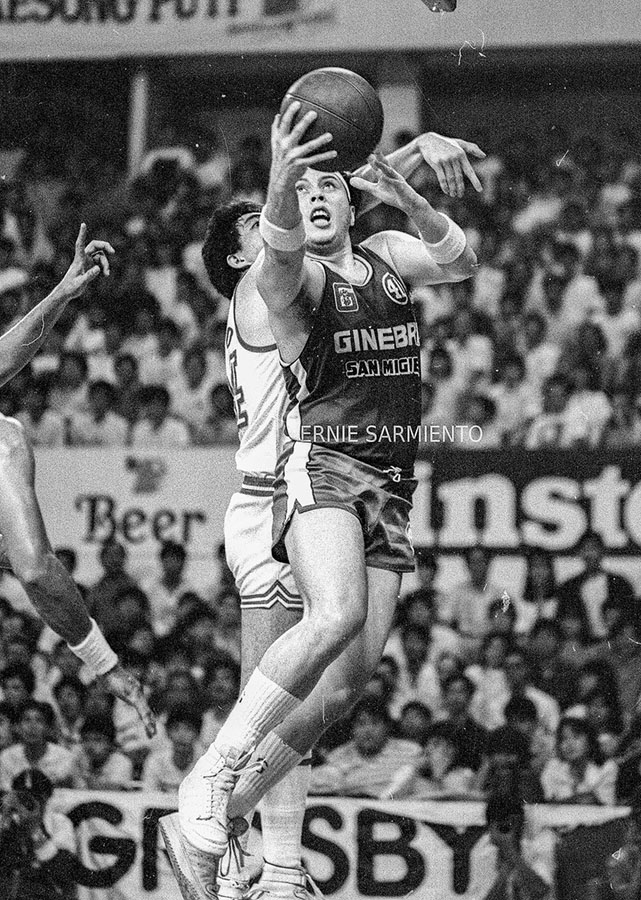 NCAA career
Joaquin "Chito" Loyzaga understood he had big shoes to fill. The elder playing son of the legendary Caloy, Chito went to San Beda right smack in the middle of their intense rivalry with Ateneo. His first year with the Red Lions saw them make the NCAA finals, losing out to the defending champions, the Ateneo Blue Eagles. But the next two seasons, Loyzaga helped the team win back-to-back titles to preserve the family legacy. He went on to play for the RP Youth team that retained its Asian Youth crown held at the Rizal Memorial Coliseum in 1978. The championship gave the Philippines a seat to the 1979 World Youth championship where it placed 10th among 12 teams. It didn't come as a surprise that he eventually went to the YCO Painters in the MICAA, the same team his father played for back in the 50's.
PBA career
Accomplishments: played 566 games in 12 seasons; averaged 9.29 points, 4.36 rebounds, 2.30 assists and 0.95 steals per game; 1986 Mythical Second Team member; 7x PBA champion; member of the 1990 PBA-reinforced national team in the 1990 Beijing Asian Games; 7x PBA All-Defensive Team; member of the PBA's 40 Greatest Players
Not too many people recall that Loyzaga turned pro in 1981 and played one game for the Yco/Tanduay squad, churning out a decent 10, 8 and 5. He then left the team and resurfaced in 1983, this time suiting up for the Toyota Silver Coronas, the last local player that the franchise hired. When Toyota disbanded, he brought his wares to Great Taste Coffee where he became a solid defensive sentinel, helping the team to four straight championships bridging the 1984 and 1985 seasons. In 1986, he moved to Ginebra and rejoined former Toyota teammates Sonny Jaworski and Francis Arnaiz where they won their first franchise title in the Open Conference.
It was with Ginebra when he became a household name and a fan favorite. "Dynamite" symbolized the kind of defense that the team became known for – tough, rugged, and physical. The do-it-all player who could play all five positions was Coach Jaworski's stabilizing presence, the one player who could control the tempo of the game using his game smarts and high basketball IQ. He was also the team's primary big man stopper – whether it was Ramon Fernandez, Benjie Paras, Alvin Patrimonio or imports Norman Black, David Thirdkill, Michael Young or Sean Chambers, Loyzaga took on all of them. In 2015, he was recognized as one of the PBA's Greatest 40 players, an outstanding accomplishment from the player who carried the biggest pressure in living up to the high expectations that his father set forth.
1. Abe King (NCAA 1976/PBA 1977–1994)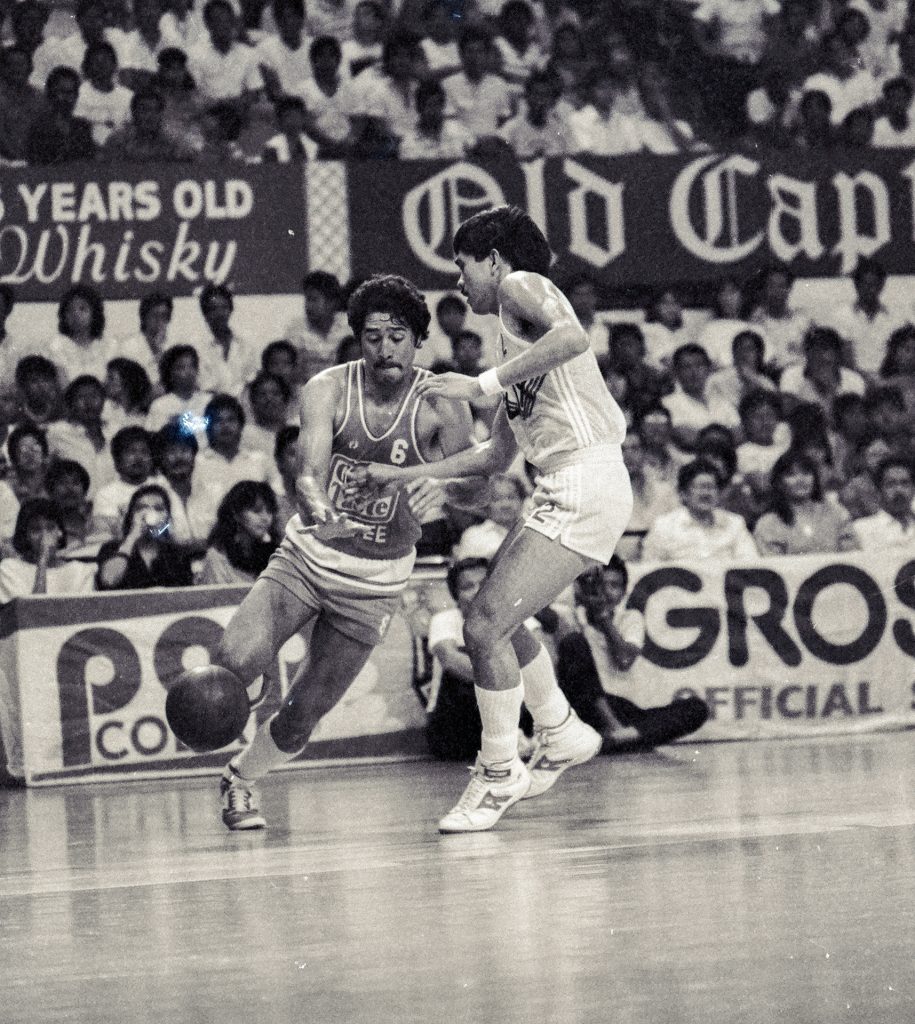 NCAA career
While Abraham Colombus King, Jr. may have only played one season for San Beda in the 1976 season, he was one proud Bedan who wore his red jersey with pride. King immediately made an impact and became the team's best big man and interior protector. It didn't take long for him to create a positive impression on the Silverio family, immediately putting him as the starting center for the Crown Motors squad in the MICAA. Crown, the top-of-the-line brand among the Toyota vehicles sold in the Philippines, was led by King, UE hotshot Emer Legaspi and FEU court general Pablo Javier when they won the 1976 MICAA title at the expense of Solid Mills. At age 19 years old, King became one of the youngest players ever to turn pro as the Toyota Tamaraws immediately signed him to a PBA contract in the 1977 season to replace another Bedan, Big Boy Reynoso, who eventually moved to Mariwasa Honda.
PBA career
Accomplishments: played 782 games in 18 seasons; averaged 10.02 points, 6.68 rebounds, 1.78 assists, 0.74 blocks per game; 1982 Mythical First Team member; 1985 Mythical Second Team; 2x All-Defensive Team member; 13x PBA champion
You can't find one player who revolutionized a playing position like what King did at the power forward slot. He practically redefined the position, crystallizing the power in power forward. Teammate Ramon Fernandez expressed his appreciation of King as the difficult job of guarding the opposing teams' import went to the Chairman of the Boards, allowing the lanky center to focus on his all-around game. But King was no slouch in offense, as proven by his amazing 60-point performance in a game against arch rivals Crispa Redmanizers in 1979.
In 1982, King finally got his individual recognition by being named in the Mythical First Team after the Super Corollas won two championships that season. A few weeks prior to Toyota's disbandment, King was taken in by Gold Eagle Beer to become their franchise player, the cornerstone of the team. His stint with the Beermen was short-lived (one season), and he moved to Great Taste and became one of the pivotal cogs as the veteran leader of the Coffeemakers. He led the Gokongwei franchise to four more championships. When the team disbanded at the end of the 1992 season, King joined a young Coney Island squad and mentored Alvin Patrimonio and Jerry Codiñera, giving them two more championships in 1993 and 1994 before hanging up his jersey. But this was not before he established himself as one of the greatest power forwards in PBA history and the greatest PBA player to hail from Mendiola.
Honorable Mentions: Joey Loyzaga, Frankie Lim, Totoy Marquez, Baser Amer
PREVIOUS LISTS